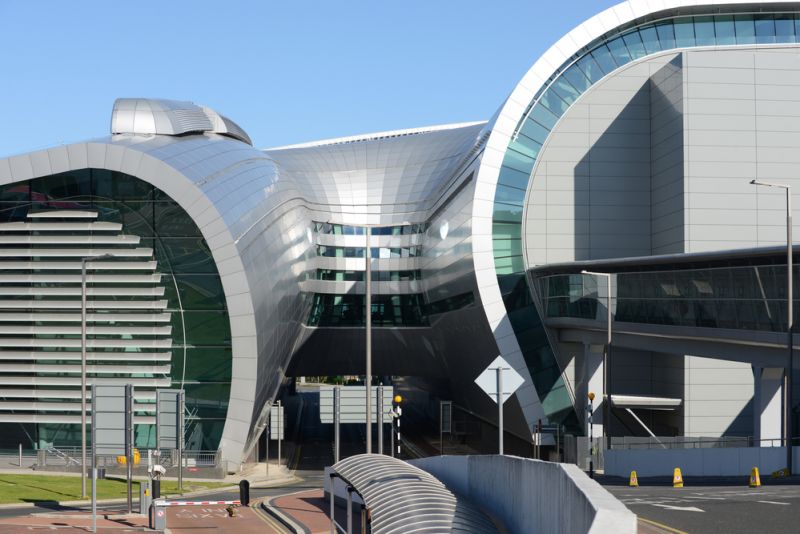 Dublin International Airport, located approximately 10 km north of Dublin city centre, is the largest and busiest airport in Ireland, serving as a primary hub for Aer Lingus, Ryanair and several other airlines. Handling over 32 million passengers annually, the airport boasts two terminals, with Terminal 2 being a state-of-the-art facility that opened in 2010. Even with modern facilities, there's always a chance you might experience delays and inconveniences, as remains true for any airport operation. But, under European Union Law, you're typically entitled to compensation.
Here at AirAdvisor, our goal is to equip you with the resources and guidance to help you manoeuvre the legal intricacies of gaining compensation for various travel disruptions you might encounter. In this article, we delve into the compensation types available at Dublin International Airport, discuss the potential value of these compensations and outline how to make a claim.
Find out if you are owed compensation for a disrupted flight.Check Your Flight
How to Claim Dublin Airport Flight Delay Compensation
Regardless of what airport you're travelling via, unforeseen variables can hinder your travel plans, causing delays, whether it's adverse weather conditions, technical issues, security concerns or just late flights. Fortunately for you, you have rights as a passenger and you're likely eligible for some compensation for a delayed flight at Dublin Airport.
Passenger Rights in Case of DUB Flight Delay
Many airports across Europe, including Dublin International Airport, are subject to EU261. This is a regulation establishing your rights as a passenger in the event of travel disruptions, such as delayed or cancelled flights. There are some criteria, though, for being eligible for compensation under EU261. This statutory regulation states your flight must be delayed by three or more hours and the delay must be a result of the airline's actions. If these variables fit your circumstance, you're likely eligible for financial compensation, although your claim must be made within three years of the incident.
While you may receive compensation for disruptions caused by the associated airline, there are occasionally situations where delays are out of the airline's control, such as extremely hazardous weather conditions. In these unforeseen events, you might not be eligible for compensation.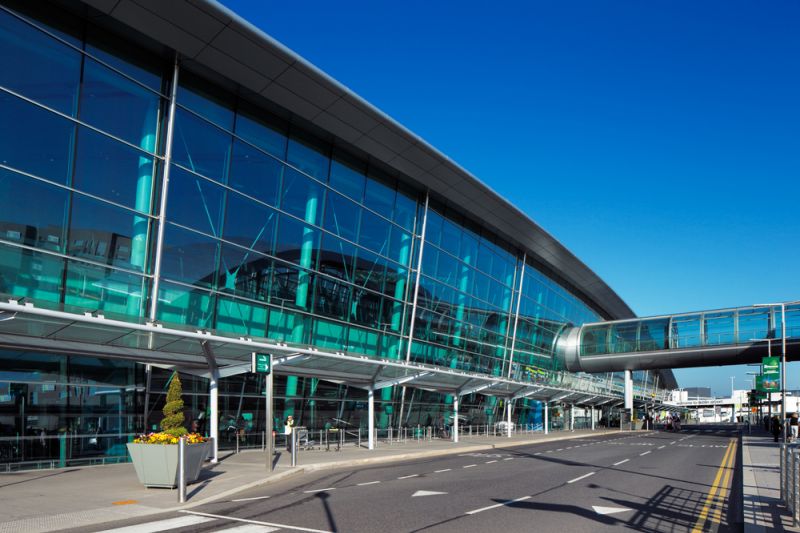 How Much Can You Claim for Dublin International Airport Delay
The financial value of your compensation usually depends on your flight's distance and the duration of the delay. So, if you're flying from Dublin Airport to Belfast and experience minor delays, you might not receive substantial compensation. Below, you can review the typical financial values you might receive for delayed flights of varying distances:
Flights less than 1,500 kilometres: Up to €250
Flights between 1,500 kilometres and 3,500 kilometres: Up to €400
Flights longer than 3,500 kilometres: Up to €600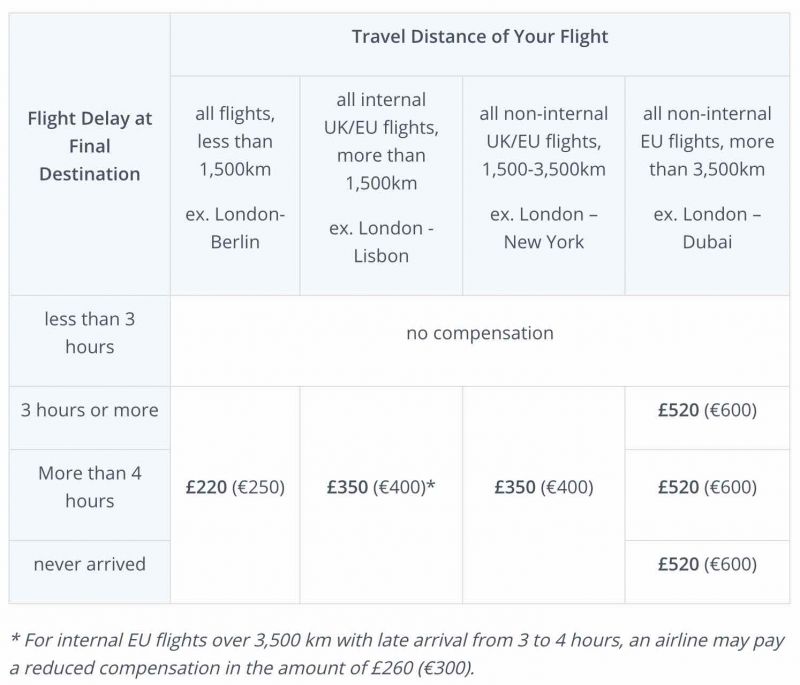 Dublin Airport Cancelled Flight Compensation & Refund
Having your flight delayed is one thing, but having it entirely cancelled can cause major headaches and heartaches. However, just like a flight delay, EU261 ensures your rights as a passenger are addressed, allowing you to claim compensation for a cancelled flight at Dublin International Airport.
Cancelled Flight Law in Europe
If your flight departs from Dublin International Airport and, for whatever reason, it's cancelled, your rights as a passenger allow you to claim compensation. As stated in EU261, the airline you're travelling with must provide a refund or the option to book an alternative flight at no additional expense. If the cancellation was at the hands of the airline, you might also be able to claim financial compensation, provided the cancellation occurred within 14 days of your scheduled departure date.
A flight cancellation can cause more inconveniences than financial loss, though! In the event of a cancelled flight, the airline must also ensure you have access to basic amenities, including food, drink, accommodation and communication. While your passenger rights allow you to claim compensation, the airline also has rights that might exempt your compensation claim. Similar to a delayed flight, some cancellations are out of the airline's control, meaning you might not be eligible for financial compensation in the event of extraordinary circumstances.
Disrupted flight? You might have a right to compensation - up to €600.Check Your Flight
Dublin Airport Cancelled Flight Compensation You Can Claim
Just like compensation for a delayed flight, the financial compensation you receive for a cancelled flight depends on the flight distance. Below, you can find the different compensation values for cancelled flights, based on their distance:
Flights less than 1,500 kilometres: Up to €250
Flights between 1,500 kilometres and 3,500 kilometres: Up to €400
Flights longer than 3,500 kilometres: Up to €250
Take, for example, a flight between Dublin International Airport and Dubai International Airport. This is around a 5,225-kilometre flight. If you're departing from Dublin International Airport and the airline cancels the flight, you might be eligible to claim up to €600 in compensation.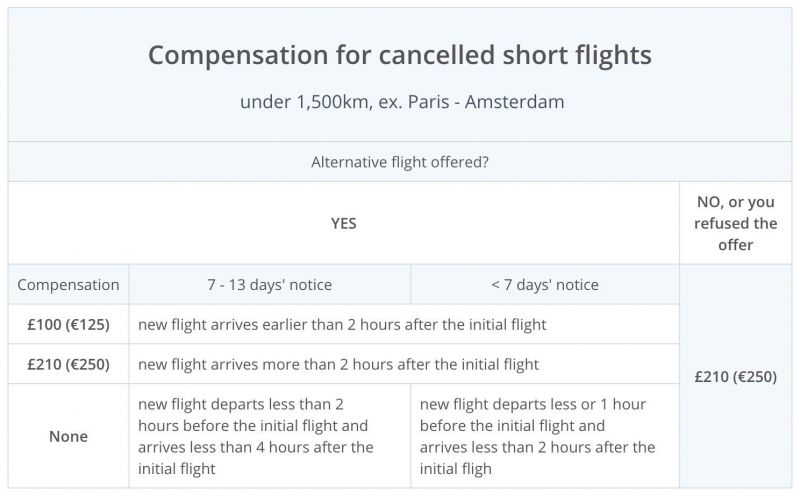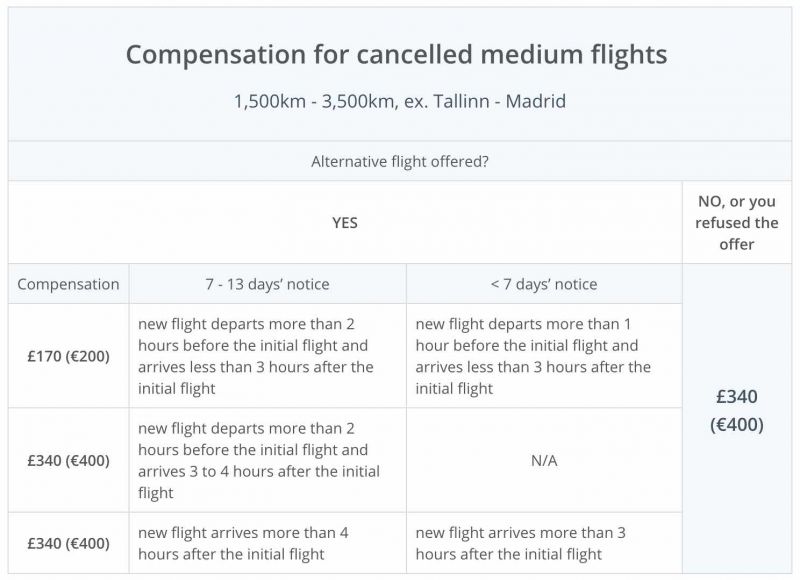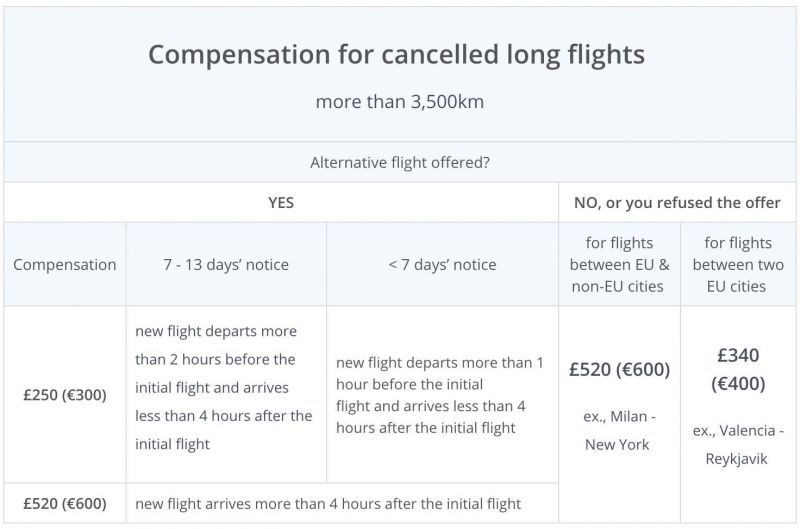 Denied Boarding at Dublin International Airport
A common practice amongst airlines is overbooking. This is when airlines sell more tickets than available seats on a flight. The aim of this practice is to maximise their revenue, but unfortunately, it doesn't do many favours for you as a passenger. In the event of an overbooking, the airline might ask you to volunteer your seat in exchange for compensation. The compensation value for denied boarding at Dublin Airport typically varies depending on the flight distance and specific circumstances surrounding your denied boarding. The values usually range between €250 and €600.
You might also receive compensation for financial loss due to the necessity for amenities as a result of denied boarding. For example, if you can't board the flight because of overbooking, you might require accommodation, food and beverages, all of which come at a personal expense. Fortunately, you can typically claim compensation for these expenses, as they're a direct result of overbooking.
Figuring out how much you are owed for a disrupted flight can be complicated. We're here to help. Let us assess your compensation for you.Check Your Flight
Claim Dublin Airport Compensation With AirAdvisor
At AirAdvisor, we recognise the inconvenience and frustration caused by flight disruptions at Dublin International Airport. We know these disruptions can derail your travel plans and turn a holiday or business trip into a nightmare. Our commitment lies in simplifying the compensation process to alleviate your stress. Our proficiency and dedication enable us to work relentlessly to secure the compensation you're entitled to.
We have a user-friendly online claim form that requires only your flight information and any relevant details. From there, we take care of the rest! You don't have to worry about the legalities of your claim. Simply sit back and let us take care of the legal lifting on your behalf.
At AirAdvisor, we ensure you pay nothing unless we successfully obtain compensation for your disrupted flight. Our fee is deducted from the compensation amount, eliminating any upfront expenses for you. We believe in fairness and we don't want you to experience financial risk while using our services.
Questions and Answers
Here, you can explore some answers to questions frequently asked by passengers travelling from Dublin Airport:
Why do flights get delayed at Dublin International Airport?
Dublin International Airport is subject to external variables like all other airports. Below, you can review some common reasons for flight delays at Dublin Airport:
Weather conditions: Arguably the most common reasons for delays are adverse weather conditions, such as heavy rain, strong winds, fog or even rare snowfall.
Air traffic congestion: As the busiest airport in Ireland, Dublin International Airport experiences high volumes of air traffic. Sometimes, this can lead to congestion, causing delays.
Technical issues: Aircraft may experience mechanical or technical problems, which require immediate attention before the flight can depart.
Crew availability: If a crew member exceeds their allowed work hours or there's a shortage of staff, flights may be delayed until a replacement is found.
Connecting flights and passengers: Sometimes, flights may be delayed to accommodate passengers or baggage transferring from a connecting flight that has been delayed, ensuring they can continue their journey.
How do I claim compensation if my flight from DUB was delayed or cancelled?
If you have the misfortune of experiencing a delayed or cancelled flight from Dublin Airport, you can make a claim directly with the airline. A more efficient and stress-free course of action is to use our expert team who's willing and able to guide you through the claim process.
What to do if I am denied boarding at Dublin Airport?
In the event that you're denied boarding at Dublin International Airport, it's essential to request an explanation from the airline, ideally in written form. Typical reasons for denied boarding encompass overbooking or passengers not fulfilling travel documentation prerequisites. Should the airline be accountable for your boarding refusal, you could qualify for compensation under EU261 regulations.
The next step is to ensure you keep the relevant documentation, as these documents can help you support your claim. And don't forget, AirAvisor is also here to help you process your claim!