Czasem w trakcie lub przed podróżą drogą lotniczą nadarzyć się może nieoczekiwane wydarzenie ze sporymi konsekwencjami. Wśród nich bez wątpienia trzeba wymienić opóźniony albo anulowany przelot. W takich przypadkach warto ubiegać się o należne odszkodowanie. Dotyczy to w szczególności poniższych zdarzeń:
Zasadniczo skarga dotycząca uzyskania odszkodowania jest rozpatrzona w sposób indywidualny na podstawie stosownych norm prawnych. W UE ubiegać się o odszkodowanie można zgodnie z rozporządzeniem pod numerem 261/2004. W poniższym zestawieniu przedstawiamy sytuacje, w których lot jest objęty takowym rozporządzeniem. Należy mieć na uwadze, że Emirates linie lotnicze nie są podmiotem zarejestrowanym w UE.
| | | |
| --- | --- | --- |
| Geograficzny zakres połączenia | Przewoźnik zarejestrowany w UE | Przewoźnik zarejestrowany poza UE |
| Wewnątrz UE | Tak | Tak |
| Z UE poza UE | Tak | Tak |
| Z UE poza UE | Tak | Nie |
| Poza UE | Nie | Nie |
Jeśli rozporządzenie unijne nie jest obowiązujące, to uzyskać odszkodowanie można na mocy innych norm prawnych.
Zakłócony lot? Możesz mieć prawo do odszkodowania - do €600Sprawdź odszkodowania
Opóźniony lot Emirates odszkodowanie do nawet 600 euro
Na początku należy określić czy o Emirates odszkodowanie za opóźniony lot można aplikować, powołując się na prawodawstwo unijne. Jeżeli tak jest, to:
Opóźnienie musi opiewać na przynajmniej 180 minut, aby Emirates reklamacje mogła zostać rozpatrzona pozytywnie.
Reklamacja opóźniony lot Emirates może zostać również być przedstawiona dla lotu transferowego (czyli przesiadkowego) na pojedynczej rezerwacji. W takich sytuacjach wiążący jest czas opóźnienia na lotnisku docelowym.
Obowiązkowym warunkiem tego, by Emirates odszkodowanie mogło być naliczone, jest odpowiedzialność ponoszona przez linie lotnicze za daną sytuację. Może to być błąd organizacyjny albo awaria. Czynnikiem niezależnym jest z kolei np. trudna sytuacja atmosferyczna.
W przypadku opóźnienia, które jest objęte prawem UE, suma rekompensaty jest następująca:
250 EUR — lot o długości nieprzekraczającej 1500 km.
400 EUR — lot od 1500 km do 3500 km.
600 EUR — lot o długości przekraczającej 3500 km.
Platforma AirAdvisor specjalizuje się we wspomaganiu pasażerów linii lotniczych chcących zdobyć rekompensaty na mocy rozporządzenia UE albo zupełnie innych przepisów. Trzeba zauważyć, że dostępne jest również Emirates ubezpieczenie od opóźnienia. Nabywa się takowe przed podróżą w dowolnym towarzystwie ubezpieczeniowym. Co do zasady to jednak odszkodowania na mocy aktów prawnych są lepsze pod względem warunków i sum.
Odwołany lot Emirates odszkodowanie dla klienta
Gdy nastąpi odwołany lot Emirates, także trzeba zastanowić się nad prawnymi aspektami. Jeżeli dane Emirates odwołanie lotu jest uwzględnione przepisami UE, to
Za anulowanie lotu Emirates odpowiadać musi przewoźnik. W efekcie Emirates odwołany lot reklamacja nie będzie rozpatrzona pozytywnie, jeśli np. do odwołania lotu dojdzie z powodu zamknięcia przestrzeni powietrznej lub innego powodu niezależnego od linii lotniczych.
Kiedy Emirates odwołuje loty i przekaże informacje na ten temat pasażerowi z co najmniej dwutygodniowym wyprzedzeniem, to odszkodowanie nie zostanie naliczone.
Okres poinformowania może skrócić się do siedmiu dni, jeśli linie lotnicze spełnią dodatkowy warunek. Mianowicie anulacja lotu Emirates musi być połączona z przedstawieniem klientowi innego połączenia lotniczego ze zbliżonymi parametrami czasowymi.
Jeżeli Emirates wniosek o odszkodowanie składa się, bazując na prawodawstwo UE, to obowiązuje odszkodowanie zgodną z tabelą ukazaną niżej.
| | |
| --- | --- |
| Dystans | Wartość naliczonego odszkodowania |
| Do 1500 km | 250 EUR |
| Od 1500 km do 3500 km | 400 EUR |
| Ponad 3500 km w granicach UE | 400 EUR |
| Ponad 3500 km poza granicami UE | 600 EUR |
Wątpliwości dotyczące odwołanych połączeń lotniczych mogą tyczyć jeszcze jednej opcji. Po tym, jak nastąpią Emirates odwołane loty, pasażerowi przedstawione może być połączenie zastępcze. W tego typu sytuacji roszczenie odszkodowawcze może być zmniejszone o 50%. Równocześnie ten zastępczy lot powinien dotrzeć do celu w określonym czasie. Odszkodowanie za odwołany lot wylicza się zgodnie z tabelą poniżej.
| | | |
| --- | --- | --- |
| Odległość połączenia | Spóźnienie zastępczego lotu | Odszkodowanie w wysokości |
| Do 1500 km | Do 2h | 125€ |
| Od 1500 km do 3500 km | Do 3h | 200€ |
| Więcej niż 3500 km w UE | Do 4h | 200€ |
| Więcej niż 3500 km poza UE | Do 4h | 300€ |
Odwołane loty Emirates wiążą się z całkowicie odmiennymi regułami odszkodowawczymi, gdy trzeba uwzględnić inne prawo niż te unijne. Na przykład w Stanach Zjednoczonych prawodawstwo nie zobowiązuje linie lotnicze do wypłacania roszczeń odszkodowawczych za odwołane połączenia lotnicze.
Po tym, jak nastąpi Emirates anulowanie lotu, to same linie mogą zaoferować klientowi rekompensatę pod postacią kuponów. Możliwe jest ich późniejsze wykorzystanie na następne loty. Zwykle jednak lepiej wykorzystać odszkodowania wynikające z przepisów prawa. Są one przecież wypłacane w gotówce. Co więcej, opiewają na wyższe sumy.
Jeśli Twój lot był opóźniony, odwołany lub przepełniony w ciągu ostatnich 3 lat, możesz kwalifikować się do odszkodowania w wysokości do €600Sprawdź odszkodowania
Zwrot pieniędzy za bilet Emirates i innych kosztów
Prawa klienta linii lotniczych wskazują sposobność do ubiegania się o Emirates zwrot biletu. Ta kwestia zwrotu opiewa na całkowitą wartości wcześniej zakupionego biletu. Emirates zwrot na konto dotyczy także innych kategorii kosztów. Wśród nich można wymienić np. wydatki na transport, posiłki, czy nocleg.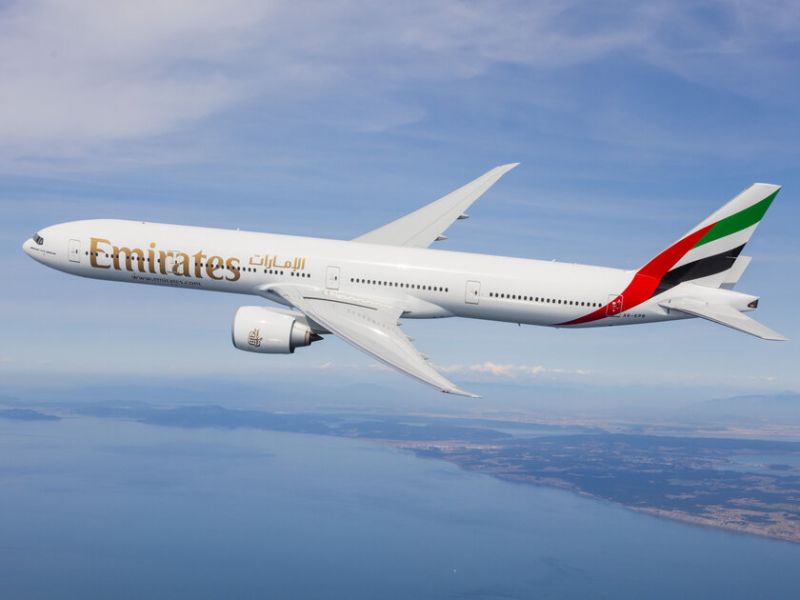 Aplikując o Emirates zwrot kosztów za bilet i innych poniesionych kosztów, koniecznie trzeba zwrócić uwagę na to, że:
Aplikację o Emirates zwrot za bilet lotniczy i innych kosztów powinno się składać jak najszybciej. Wtedy szybciej uzyska się należne pieniądze.
Zwrot pieniędzy Emirates może objąć wyłącznie koszty, które są naliczane w sposób adekwatny do zaistniałego wydarzenia.
Aby uzyskać Emirates zwrot o pełnej wysokości, niezbędne jest przedstawienie wszelkich dokumentów potwierdzających koszty oraz wydatki np. rachunki za wyżywienie.
Innymi słowy, zwrot biletu Emirates i pozostałych kosztów obejmuje każdy poniesiony wydatek, który można logicznie powiązać z niepunktualnym, czy anulowanym połączeniem lotniczym.
FAQ
Które dokumenty są potrzebne, by można złożyć Emirates skargi i reklamacje?
Aplikując np. o odszkodowanie rekompensaty za opóźnienie, czy zwrot za odwołany lot Emirates, należy zachować pełną dokumentację, a zwłaszcza bilet.
Jak starać się o odszkodowanie za opóźniony lot Emirates ?
Chcąc zdobyć odszkodowanie, za spóźniony Emirates lot dobrze jest wspomóc się wiedzą specjalistów AirAdvisor.
Jak odzyskać pieniądze z Emirates?
Starając się zdobyć np. Emirates zwrot za odwołany lot, potrzebne jest złożenie wniosku i powołanie się na właściwe dla danej sprawy przepisy.
Jak odzyskać pieniądze za odwołany lot Emirates i jaka suma zostanie wyliczona?
Chcąc uzyskać rekompensatę, czy dokonać zwrotu biletu, należy złożyć formularz i powołać się na właściwe przepisy prawa. Uogólniając, pasażerowi przysługuje rekompensata do równowartości paru tys. zł.
Jak można odzyskać pieniądze za bilet Emirates?
Aby zdobyć zwrot kosztów za odwołany lot Emirates, w tym ten dotyczący biletu, trzeba zgłosić się z roszczeniem do przewoźnika.
Reklamacja Emirates za odwołany lot — ile czasu na złożenie?
3 lata, licząc od terminu planowego wejścia na pokład.
Samolot Emirates opóźniony — Ile czasu na reklamacje?
Trzy lata od dnia lotu.
Czy odszkodowanie za opóźniony lot podlega opodatkowaniu?
Rekompensata, czy zwrot za opóźniony lot Emirates nie są obarczone obowiązkiem rozliczeń podatkowych.
Zgłoś się do AirAdvisor i uzyskaj do €600 odszkodowania. Sprawdź ile Ci się należy.Sprawdź odszkodowania
Linie lotnicze Emirates — ogólne informacje i opinie
Te arabskie linie działają od 1985 roku. Ich baza lotnicza jest zlokalizowana w Dubaju. Numer telefonu do działu obsługi klienta Emirates Polska dla ogólnych zapytań to: +48223060808. Emirates infolinia działa szybko. Natomiast serwis internatowy funkcjonuje pod adresem: emirates.com/pl. Emirates Airlines opinie dotyczące działania portalu internetowe zazwyczaj mają pozytywny wydźwięk.
Większość pasażerów pozytywnie wypowiada się o tych liniach lotniczych, twierdzą też, że Emirates kontakt jest profesjonalny. Są one znane z dbania o jakość i zapewnienia bezpieczeństwa. Dobrze również zwrócić uwagę na statystyczny lot Emirates. Połączenia tych linii lotniczych w 91% docierają punktualnie na miejsce. Dla porównania średnia EMEA wynosi 83%. Z kolei współczynnik anulowanych lotów wynosi 0,3%. Średnia EMEA wynosi zaś na 3,9%. Wynik jest więc rewelacyjny, a Emirates loty naprawdę rzadko bywają anulowane.