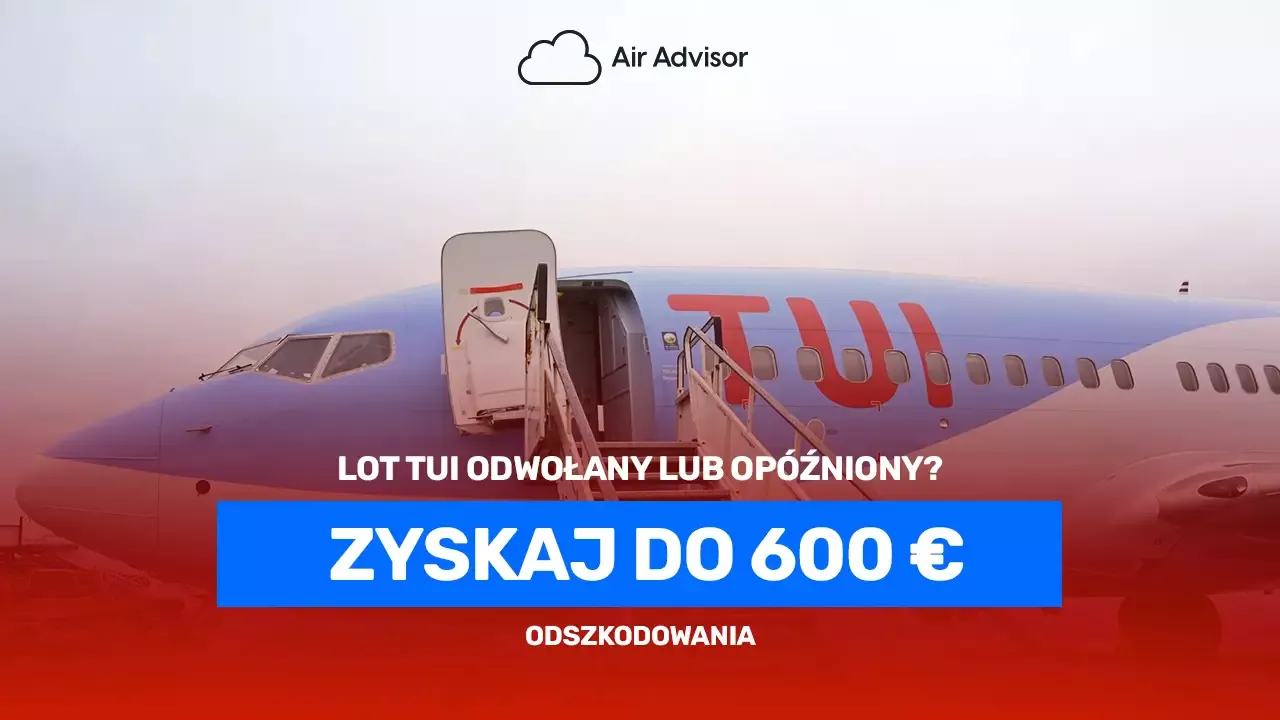 Jak ubiegać się o odszkodowanie za opóźniony lub odwołany przewoźnika TUI Airways?
Odwołane bądź opóźnione loty to sytuacje, które mogą przydarzyć się każdemu podróżującemu. Nieistotne, czy planujesz słoneczne wakacje czy służbową podróż, nikt nie pragnie przeżywać nerwowych sytuacji związanych z utrudnieniami podróżowania. Jeśli Twój lot został odwołany lub notuje spore opóźnienie, warto pamiętać w takiej sytuacji o przysługujących prawach pasażera.
Wśród nich mieści się prawo do ubiegania się o odszkodowanie, w tym przypadku o odszkodowanie od TUI. Sytuacje, w których złożenie wniosku o rekompensatę jest możliwe, regulowane są przez odpowiednie przepisy oraz regulacje. Możesz mieć prawo do odszkodowania, gdy nastąpił:
W przypadku lotów grupy TUI, powyższe sytuacje również kwalifikują do ubiegania się o rekompensatę. Kwestie odszkodowań lotniczych regulowane są przez odpowiednie przepisy prawne. W Unii Europejskiej wiążące jest między innymi Rozporządzenie (WE) nr 261/2004. To właśnie na jego podstawie można ubiegać się o należne odszkodowanie.
Zgodnie z rozporządzeniem WE 261, pasażer może ubiegać się o rekompensatę na mocy rzeczonych przepisów w określonych przypadkach, zróżnicowanych pod względem zakresu terytorialnego lotu, a mianowicie:
Lot odbywał się na terenie Unii Europejskiej.
Trasa lotu swój początek miała w kraju UE, ale koniec już poza UE.
Lot rozpoczął się w kraju poza UE, ale kończył już na terytorium UE. Dodatkowym warunkiem jest lot obsługiwany przez unijną linię lotniczą.
W przypadku lotów podróżujących z Polski, przepisy unijne zazwyczaj mają zastosowanie. W przypadku lotów z TUI należy dokładnie rozeznać się w kwestii przebiegu lotu, bowiem należy pamiętać, że Wielka Brytania nie jest już członkiem Unii Europejskiej.
Opóźniony lot TUI Airways? Możesz mieć prawo do odszkodowania, nawet do €600.Sprawdź odszkodowania
Odszkodowanie za opóźniony lot TUI
Pierwszym przypadkiem, któremu warto się przyjrzeć jest reklamacja za opóźniony lot TUI. Przede wszystkim należy zweryfikować, jakie przepisy obowiązywały w przypadku danego połączenia. Jeśli zastosowanie miało prawodawstwo unijne, możesz zażądać odszkodowania, gdy:
Opóźnienie samolotu wyniosło co najmniej trzy godziny.
Przyczyna opóźnienia leży wyłącznie po stronie przewoźnika (np. strajk TUI). Należy pamiętać, iż wystąpienie wszelkich nadzwyczajnych sytuacji, które nie wynikają z działań linii lotniczej (np. złe warunki pogodowe) zwalnia ją z obowiązku wypłaty rekompensat.
TUI opóźniony lot z przynajmniej jedną przesiadką również kwalifikuje się do odszkodowania. Wówczas brana jest pod uwagę różnica między planowanym a faktycznym dotarciem samolotu do końcowego portu lotniczego.
Po spełnieniu powyższych wymogów, zgodnie z rozporządzeniem unijnym określona jest następująca wysokość odszkodowania:
Odległość lotu TUI

Opóźniony lot

Odszkodowanie TUI (na jednego pasażera)

Poniżej 1500 km

250 euro

Od 1500 km do 3500 km

400 euro

Ponad 3500 km

600 euro
Przedstawiony podział wysokości odszkodowania jest szacunkowy, bowiem każda sprawa odszkodowawcza rozpatrywana jest jednostkowo. Na uznanie wniosku, a kolejno na wysokość rekompensaty wpływ ma zasadność przepisów oraz charakterystyka konkretnego wniosku.
Przy ubieganiu się o rekompensatę, warto skorzystać ze wsparcia specjalistów od prawa lotniczego. eksperci z AirAdvisor służą pomocą w zróżnicowanych przypadkach ubiegania się o prawa pasażera. Po twojej stronie pozostaje jedna czynność - wypełnienie krótkiego wniosku.
Jeśli Twój lot był opóźniony, odwołany lub przepełniony w ciągu ostatnich 3 lat, AirAdvisor może Ci pomóc uzyskać odszkodowanie. Sprawdź odszkodowania
Odszkodowanie za odwołany lot linii TUI
Chcąc uzyskać odszkodowanie za odwołany lot z TUI, obowiązują te same zasady co w przypadku rekompensat za opóźnienia. Ważne jest wiec zweryfikowanie, czy Twój lot obejmują unijne regulacje. Następnie, kluczowym jest fakt, aby za przyczynę anulacji lotu odpowiadał wyłącznie przewoźnik lotniczy (np. awaria samolotu).
W sytuacji wystąpienia okoliczności nadzwyczajnych (np. niekorzystne warunki atmosferyczne czy zamknięcie przestrzeni powietrznej), lot nie kwalifikuje się do ubiegania o odszkodowanie. Warto poprosić pracowników linii lotniczej o pisemne, jak najdokładniejsze, opisanie przyczyny anulacji lotu. Może się to okazać niezwykle istotne przy składaniu wniosku o odszkodowanie.
W dochodzeniu o rekompensatę ważną rolę odgrywa również moment, w którym pasażer został poinformowany o odwołaniu lotu. Linia ma obowiązek poinformowania pasażerów o anulacji co najmniej 14 dni przed planowanym wylotem. Jeśli poinformowanie miało miejsce mniej niż 14 dni przed lotem, jest to przesłanka do złożenia wniosku o odszkodowanie. Okres na poinformowanie o anulacji może ulec skróceniu do 7 dni, jeśli jednocześnie przewoźnik zaproponuje podróżnym alternatywny lot o podobnych parametrach czasowych.
Spełnienie powyższych wymogów upoważnia do otrzymania odszkodowania w wysokości do €600. Orientacyjnie wysokość rekompensaty naliczana jest na tych samych zasadach, co w przypadku opóźnień lotu.
| | |
| --- | --- |
| Lot TUI — odległość | Odwołane loty TUI — odszkodowanie |
| Mniej niż 1500 km | 250€ |
| Od 1500 km do 3500 km | 400€ |
| Powyżej 3500 km na terytorium UE | 400€ |
| Powyżej 3500km poza obszarem UE | 600 € |
Prawa pasażerów linii lotniczych są inne, gdy odwołany lot nie podlega przepisom rozporządzeń unijnych. Należy wtedy powołać się na odpowiednie przepisy i regulacje. Przykładowo w Kanadzie czy Stanach Zjednoczonych należy powoływać na się odrębne przepisy.
Zakłócony lot to możliwość ubiegania się o kompensatę.Sprawdź odszkodowania
Zwrot biletu i zwrot kosztów za odwołany lot TUI
Pasażer w określonych przypadkach ma prawo nie tylko ubiegać się o odszkodowanie, ale także o zwrot kosztów biletu oraz pieniędzy za poniesione koszty. Wniosek o TUI zwrot pieniędzy ma uzasadnienie między innymi w przypadku odwołania lotu, jedynie na kilka godzin przez planowanym odlotem.
W takiej sytuacji pasażerowi przysługuje zwrot kosztów biletu w pełnej kwocie. Dodatkowo można domagać się zwrotu kosztów wyżywienia, transportu oraz zakwaterowania, jeśli ich zakup był wymagany w wyniku zaistniałej sytuacji. Ważne, aby te wydatki były adekwatne do zdarzenia.
Zwrot kosztów za odwołany lot TUI obejmuje wszelkie uzasadnione rodzaje wydatków, które pasażer musiał ponieść z powodu powstałej sytuacji. Należy skrupulatnie dokumentować wszelkie wydatki, bowiem dokładna dokumentacja to większe szanse na uzyskanie odszkodowania. Skorzystanie z pomocy specjalistów AirAdvisor jeszcze bardziej zwiększa te szanse!
TUI Airways - często zadawane pytania
TUI: ile wynosi odszkodowanie za opóźniony lot?
Jeśli opóźnienie wynika z winy linii lotniczej, według regulacji unijnych, przysługuje odszkodowanie w wysokości od 250 do 600 euro. Wartość rekompensaty zależna jest od długości trasy lotu.
TUI: czy odszkodowanie za opóźniony lot podlega opodatkowaniu?
Odszkodowanie oraz zwrot kosztów otrzymane za opóźniony lot nie podlegają opodatkowaniu.
Jak starać się o odszkodowanie za opóźniony lot TUI?
Wniosek o odszkodowanie od linii TII można złożyć samemu bądź z pomocą ekspertów w tej dziedzinie. Warto skorzystać ze wsparcia ekspertów z AirAdvisor, którzy swoją wiedzą oraz umiejętnościami, pomogą w efektywnym wyegzekwowaniu należnego odszkodowania.
Ile czasu na reklamacje TUI?
Pasażer ma 3 lata na złożenie wniosku o odszkodowanie za odwołany lot. Zaleca się jak najszybsze aplikowanie, aby równie szybko uzyskać należną rekompensatę.
AirAdvisor pomoże Ci uzyskać należne odszkodowanie i zwrot kosztów za zakłócony lot.Sprawdź odszkodowania
Jak odzyskać pieniądze za bilet TUI?
Należy zgłosić odpowiedni wniosek w linii lotniczej TUI. Można zrobić to samemu bądź z pomocą specjalistów w tej dziedzinie. Należne wsparcie znajdziesz w AirAdvisor. Pamiętaj, aby do wniosku dołączyć skrupulatnie skompletowaną dokumentację.
TUI: odszkodowanie za opóźniony lot jakie dokumenty?
Aby ubiegać się o odszkodowanie za opóźniony lot czy o zwrot biletu TUI, należy zgromadzić jak najwięcej informacji oraz niezbędnych dokumentów. Wśród nich powinna się znaleźć między innymi karta pokładowa, bilet elektroniczny czy potwierdzenie rejestracji. Niezwykle istotne jest udokumentowanie wszelkich wydatków (np. w postaci paragonów). Im dokładniejsza dokumentacja, tym większe szanse na bezproblemowe uzyskanie odszkodowania.
Skontaktuj się z AirAdvisor i zdobądź nawet do 600 euro rekompensaty.Sprawdź odszkodowania