Flying With A Dog: Everything You Need To Know
12.10.2022
Nowadays, it's not too uncommon to see a furry friend like a cat or a dog on a plane. Many people are flying with their pets for various reasons, and flying with a dog can be a useful way to enjoy a vacation with your canine companion or bring them with you if you're moving somewhere far away.
However, flying with dogs can be quite a daunting process. It's not always simple, as airlines can have different rules, and if it's your first time travelling with a dog by air, you might not know what to do or where to start. In this guide, we'll cover all you need to know about travelling with dogs by plane.
Before You Travel with Dogs, Think About the Pros and Cons
Before we take a look at exactly how to travel with a dog, it's important to first weigh up the pros and cons of the idea. Owners are responsible for their dogs, so they need to think carefully about what is best for their canine companions, and flights may not always be the smartest way to travel.
Travelling with a dog on a plane can be stressful for your dog, and dogs with travel sickness may get ill during the flight, too. Not only that, but flying with a dog will cost more money and cause you more stress, as well, especially if you have flight delays or even a cancellation. So, is it really the right thing for you to do?
Well, veterinarians generally agree that flying with dogs should only be considered when it's necessary. For example, if you're moving abroad and want to bring your dog with you, a flight may be the only option. Or, if you're going away for a long time and have nobody to look after your dog, you may want to bring it with you.
If you're only going on a short holiday, it may be better to leave your dog at home. Ask friends or family to look after it for you in order to prevent any unnecessary stress to your animal, or find a trusted pet sitter instead.
Can I Travel on a Plane with My Dog?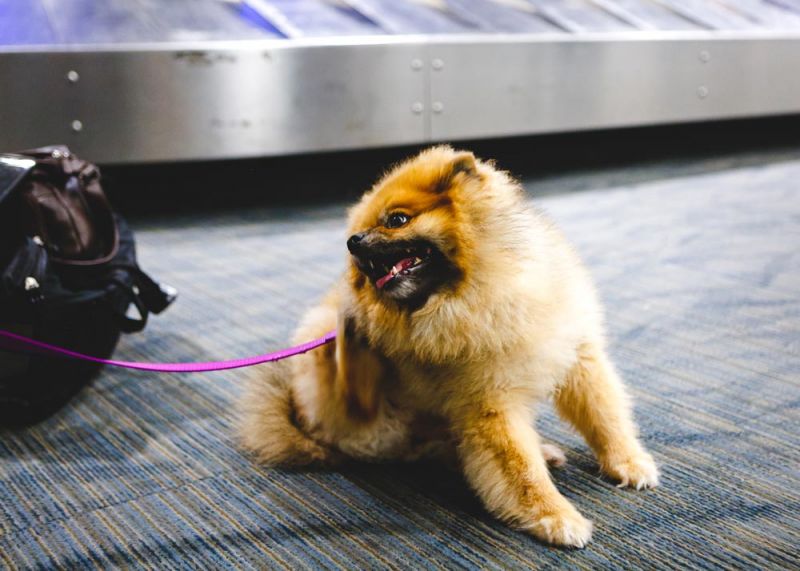 If you've decided that you'd like to travel with your dog by plane, you may be wondering "Can my dog travel on the plane with me?" Well, in general, yes, it is possible to fly with dogs and many people do it each day. However, there are some specific rules you need to be aware of as part of your passenger rights when travelling with dogs.
In general, different airlines will have different rules about flying with dogs. Not only that, but different destinations can also have rules regarding the entry of animals like dogs, too. So, you'll need to do your research in terms of where you want to go and which airline you want to use.
Do Dogs Fly in the Cabin or Cargo Hold?
Another question that people have when it comes to "How to travel with a dog on a plane" is "Where will my dog go?" Well, in some cases, your dog may be able to travel with you in the cabin itself, but in other cases, your dog will have to be taken away and kept in the cargo hold for the duration of the flight.
How is this determined? It depends on two main factors: the rules of the airline and the size of your dog. Some airlines allow dogs in the cabin, as long as they're quite small. So you could call them and ask "Can you travel with a small dog on a plane?" to see what they say. Other airlines are stricter and demand that all dogs go into the cargo hold.
This is part of the reason why vets say that you should only fly with dogs if absolutely necessary. Airlines do their best to keep dogs comfortable and safe in the hold, but there are risks. Dogs may feel scared down there due to the loud noises and movements, or they may even get injured or sick during the flight.
Choosing the Best Airline to Travel with a Dog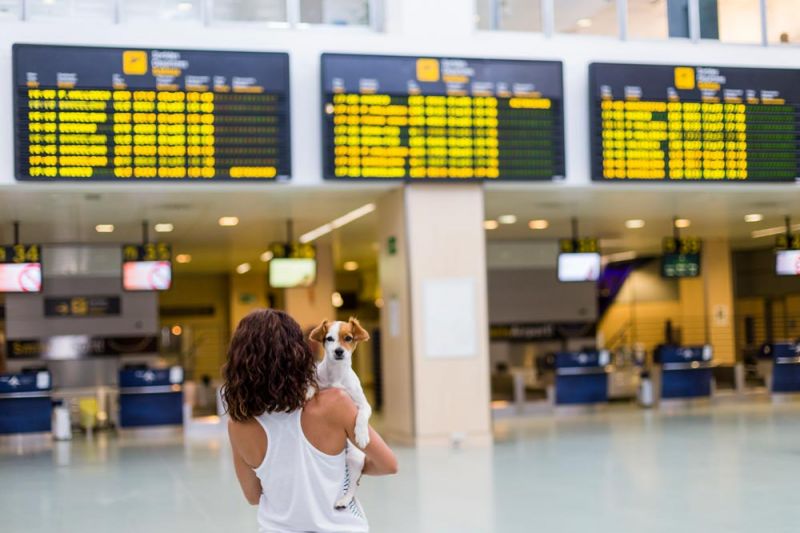 As we can see, rules and regulations regarding flying with dogs vary from airline to airline. That's why it's key to make sure you choose the best possible airline for you and your pet. You'll need to think about a range of factors, including whether the airline allows dogs, if they let dogs in the cabin, and how much it costs, too.
Costs for flying with dogs can vary wildly from one company to the next. You'll need to find one that can fit your budget and keep your pet safe. There are guides online that can help you find the best airlines for pets, and it's good to read user reviews to find out what other pet owners have to say.
Tips and Preparation Before Flying with Dogs
If you're wondering "How can I travel with my dog on a plane?" here are some tips to help you prepare:
Do your research to learn more about all of the relevant rules
Invest in a good quality carrier to keep your pet safe
Review the costs and make sure you can afford it
Contact the airline if you're unsure about anything
Get a health check at the vet before you go
Prepare your dog before the flight by getting them used to their carrier
FAQs
Claim with AirAdvisor and get up to €600 ($700) compensation. Find out how much you're owed today.Check Your Flight
Can I Fly with a Dog?
It depends on the airline and destination.
Is it Safe to Travel with a Dog in the Cargo Hold?
Airlines try to make it safe, but there are still risks of dogs getting hurt or stressed in the hold.
Can I Take My Dog as Carry-on?
It depends on the size of your dog and the rules of the airline.
Should I Fly with My Dog?
Vets tend to agree that you should only fly with a dog when necessary, as it can be quite a stressful experience for dogs to fly.
Do I Need a Health Certificate for My Dog Before a Flight?
Usually, yes, most airlines and destinations will want to see a valid, recent health certificate before they let your dog board.
No feedback