Flying With Kids: Planning Ahead for a Stress-Free Trip with Children
Flying with children isn't always the most relaxing way to spend your vacation, but maybe it can be. Armed with the knowledge of what to expect and some useful tips on how to lessen the stress (plus a little planning), families can make flying with kids seem effortless.
We'll take you through what you should do before you depart in terms of packing and planning. Plus, the special requirements and information you need when flying with a baby or infant, how to get through the TSA seamlessly, the best and worst airlines for flying with kids, practical tips, and much more. Here's a comprehensive guide for flying with children to ensure the best experience possible:
Planning Ahead When Flying with Kids
By putting just a little extra thought into booking your flights and packing, you can make flying with children as painless as possible.
Choose Your Flight Wisely
Timing is everything when you're flying with children. The red-eye might sound like a perfect solution, as your younger children will likely be asleep at that time anyway. But that's not usually the case, and a red-eye flight can disrupt everyone's sleeping patterns for days.
Instead, try to have your flight coincide with your infant or child's regular nap time. Hopefully, they'll sleep for most of the flight. Remember that flights can get delayed or canceled, which may make all your planning irrelevant, and if you're worried about this, try to book the first flight of the day, as those are less likely to be delayed. And if your flight is delayed by 3 hours or more, we can help you claim flight delay compensation to lessen the blow.
Also, minimize layovers if possible and book direct flights. It means a lower chance of any kind of flight disruption.
Have you encountered a flight disruption that impacted your journey? Check today to see if you're eligible for compensation.Check Your Flight

Packing Your Carry-On for the Best In-Flight Experience
The key to packing the perfect carry-on when flying with kids involves a few easy tips:
Pack extra clothes for everyone - Not only are your kids likely to spill on themselves, but they can also spill on you.
Entertainment options - One of the best ways to have a peaceful flight with kids is to ensure they have ample entertainment choices. Make sure everything is fully charged, and bring power cords. Puzzles, books, and coloring supplies are all great choices, depending on preferences.
Baby and infant supplies - Don't forget to pack your diapers, wipes, changing pad, and anything else your infant (or you) might need for the duration of the flight.
Snacks - in addition to entertainment, snacks are one of the best ways to distract children when flying. Pack a few of their favorites, ideally pre-portioned out in sealable plastic bags.
As a general rule, don't put anything in your checked luggage that you can't live without. Luggage gets lost or delayed all the time. Keep the toys or blankets the kids can't sleep without, medication, ID documents, and anything else important in your carry-on or personal item. The good news is that if your child has their own seat, they will at least get a personal item to help carry all the stuff!
Book a Lounge
In cases of a lengthy layover or getting to the airport early when flying with children, booking lounge access ahead of time can really make things easier.
Airport lounges offer comfortable seating, kid-friendly meals and snacks, entertainment, nicer restrooms, and many other services. It's generally much more enjoyable to spend this time in a lounge than at the gate itself. If you have the budget for it, you won't regret booking a lounge.
Book Your Seats in Advance
Some of the major US airlines guarantee a child under 13 will be automatically seated next to one accompanying adult, but that definitely doesn't mean the whole family will be seated together. Currently, the airlines that offer this include Alaska Airlines, American Airlines, and Frontier Airlines.
But, to keep everyone together, it's best to pay to book your seats in advance (if possible), regardless of what airline you're flying. It's good to know your airline's seating policy in advance as well. For example, Southwest Airlines does not assign seats - ever. It's a free-for-all when you board. In certain instances, you can use the Family Boarding, which occurs between groups A and B. Otherwise, get into the earliest booking group you can.
A few other things to keep in mind when choosing your seats:
Proximity to the restroom - For easier diaper changes, quick trips with kids new to potty training, and generally keeping an eye on availability, you may want to select seats close to the restrooms.
Avoid the exit rows - Unless your kids are 15 or older, they can't sit in the exit row. Unfortunately, you won't be able to take advantage of the extra legroom if you are flying with young kids.
Window seats - Try to book at least one window seat. The view will provide a welcome distraction. Additionally, aisle seats can be dangerous for little hands and feet that protrude into the aisle as the drink cart or a fast-moving flight attendant goes by.
Bulkhead rows - If you're pining for the legroom of an exit row but don't meet the criteria, try to select one of the bulkhead rows. You'll have extra room with no one in front of you, which means no seatbacks to kick or play with.
Lap babies - Anyone flying with a baby should note that airlines only allow one lap baby per row since there is only one extra oxygen mask in each row. Basically, 2 adults and 2 lap babies = sitting in 2 different rows.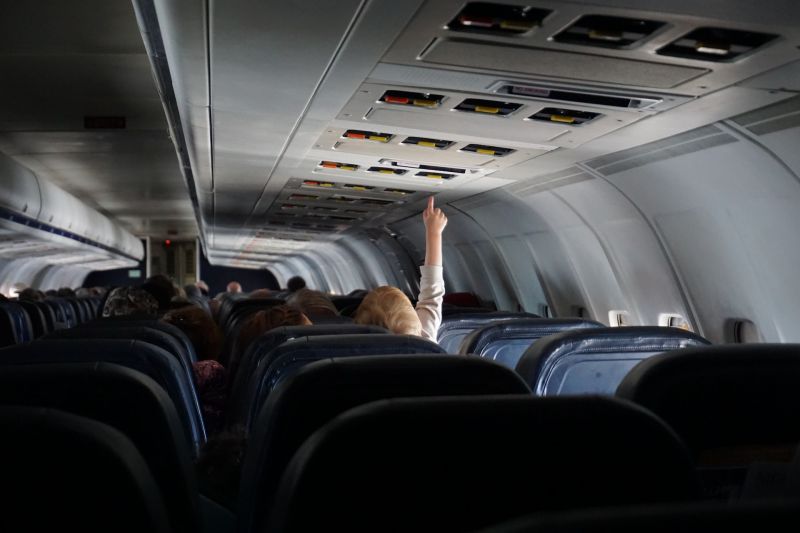 Flying with a Baby
Flying with an infant or baby can present its own set of challenges. Domestically, most airlines allow children under the age of 2 to travel as a lap child, meaning you don't need to purchase an extra ticket for them. But that doesn't necessarily mean you shouldn't.
Like the lounge access, if your budget allows it, consider purchasing a seat for your infant or baby. Instead of being in your lap the entire time, they can alternate between that and their own seat with a car seat/booster seat to keep them safe.
More is more when flying with an infant. Bring more diapers, extra formula, extra wipes, etc. Basically, if you have the room, bring more than you think you'll need. If there's an unexpected flight cancelation or delay, you'll definitely be glad you did.
Flight cancelations are never fun, especially when flying with a baby. If your flight gets canceled, you might be entitled to compensation. We can help!Check Your Flight
It's also a good idea to plan your baby's feeding times to coincide with takeoff or landing. At these times, the infant is most likely to experience discomfort due to the pressure changes. Eating or drinking (due to the swallowing aspect) can ease some of this discomfort. For questions about using a breast pump onboard, check out our post on pumping on a plane.
Aside from the essentials like breast milk, formula, and other food products, don't forget to pack toys, books, and other distractions. A combination of old favorites with a few new items is usually best.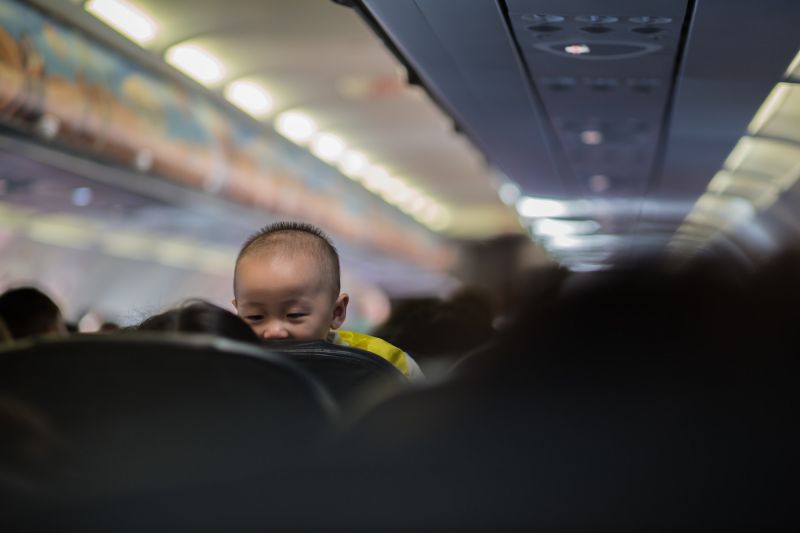 Do Infants Need Identification to Fly?
According to the FAA, it's the airline that dictates the identification requirements for minors on domestic flights. That said, when flying internationally, minors are subject to the same ID requirements as their parents or accompanying adults.
Internationally, if the infant (or any minor, for that matter) is not flying with both parents, a signed consent form from the other parent may be required. Adults may also be required to provide proof of age, so call ahead to check with the airline or bring the child's birth certificate to be on the safe side. Do infants need ID to fly? It depends on where you're going and what airline you're flying.
Navigating the TSA
There are 2 facets to consider when we talk about navigating the TSA at the airport: the screening of the child and the screening of bags containing baby or infant-specific items.
Screening of Children
Any kids who are 13 or over are subject to the exact same screening practices by the TSA as adults. On the other hand, for those kids 12 and under, the screening is modified to make the child more comfortable. TSA agents will consult with parents on the best approach to alleviate any fears.
If your child is under 12, they can go through screening with light jackets, headwear, and shoes on. The TSA puts procedures in place to decrease the chances of your child being the subject of a pat-down and will never separate children from their parents. Infants can be carried with a parent through the regular detectors.
Screening of Items
Airports worldwide are known for the 3.4oz/100mL rule prohibiting any liquids in larger quantities than these amounts. But we know that when flying with an infant or baby, especially for formula, breast milk, and baby food, you'll need more than those meager amounts.
Luckily, the TSA makes an exception to the rule for items like toddler drinks (including purée pouches), breast milk, formula, and jars of baby food. You just need to inform the TSA that you are carrying these items in reasonable quantities and keep them separate from your other belongings. Remove them ahead of screening as well.
The TSA may test these liquids, and if possible, they recommend that both breast milk and formula be placed in transparent containers.
As for non-liquid items, they will all need to pass through the X-ray machine or be visually inspected. This includes breast pumps, car seats, strollers, and other kid-specific gear.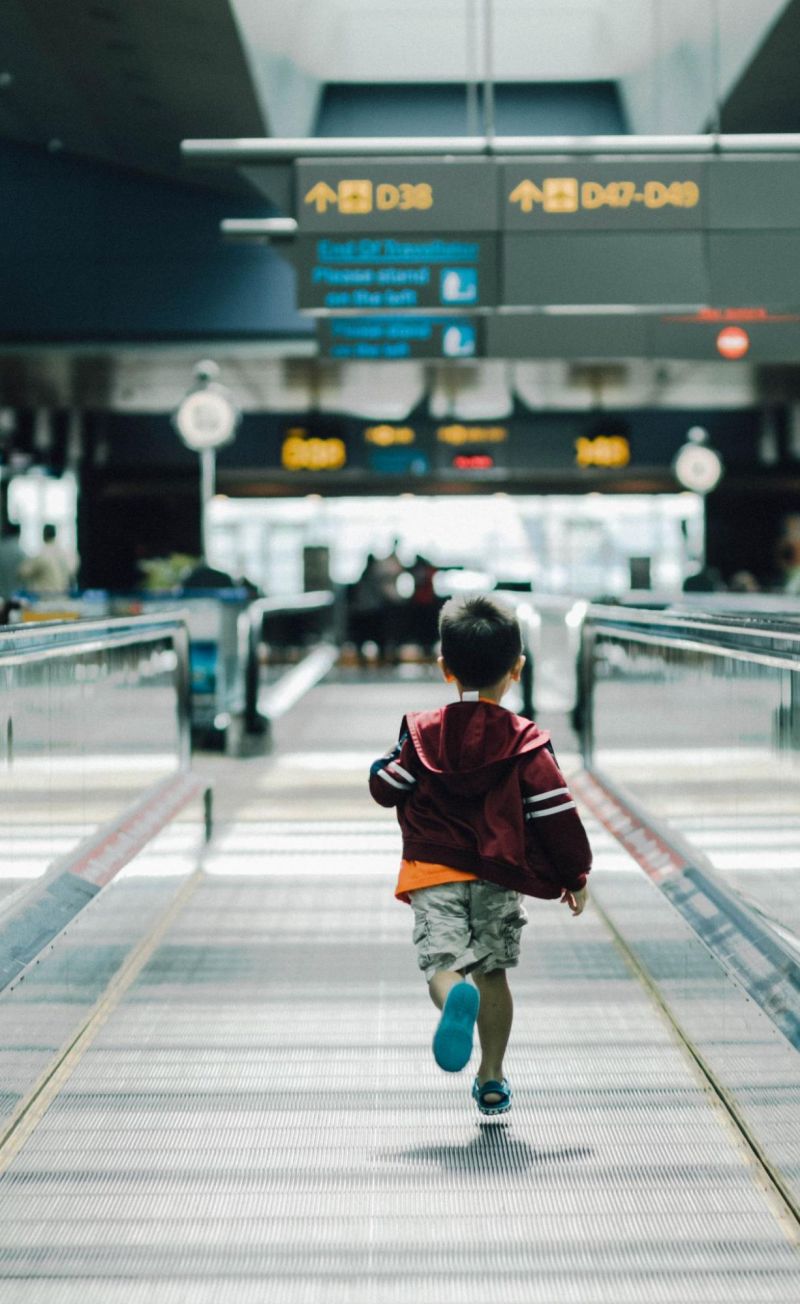 Tips for Flying with Kids
As parents, your goal is likely to make flying with kids as easy as possible. Here are some tips to increase the likelihood of a positive experience:
Tire them out - There's nowhere to go on a plane to burn off energy. Check ahead to see if the airport has a play area where kids can play before your flight.
Opt for easy-to-grab items - Packing cubes, pre-packaged snacks, and anything that's a compact and self-contained activity are great items for any flight with kids.
Tie things to you or your baby - Planes are cramped, so if you drop a pacifier, electronic device, sippy cup, snack, or anything else, it might be hard to retrieve it. Whenever possible, tether items to yourself or the infant to avoid losing something important under your seat.
Dress in layers - Temperatures can fluctuate from the airport to the plane, so if you dress the kids in layers, it's easy to take things off if it's too warm rather than changing completely.
TSA PreCheck/Global Entry - Security is one of the main bottlenecks for parents. There's a lot to worry about, and kids can become a challenge when they're asked to wait in long lines. Consider enrolling in the TSA PreCheck, which is also applicable to accompanying children 17 and under and generally guarantees a security wait time of 10 minutes or less.
Set expectations - If you talk to your children about what they can expect during the day of the flight, the less anxiety they're likely to have. Explain what it's like to ride on the plane, what the security process is all about, and even how to board the plane. For extra emphasis, the TSA publishes a video on getting to know the airport.
The Top Kid-Friendly Airlines in the US
According to our extensive research into the best airlines in the US, some of the top airlines in the family-friendly category are American Airlines, Alaska Airlines, Southwest, and Delta.
American Airlines
If you have the choice, go with American Airlines. Flying with children is easier with this huge airline due to its family-friendly seating policy, in-flight entertainment options, and kid-friendly meals. It tops our list of the best family-friendly airlines in the US.
Alaska Airlines
Alaska Airlines is another top choice when flying with kids due to its free family seating policy, in-flight entertainment (although you need to bring your own device), generous pre-boarding, and enticing Kid's Choice Picnic Pack for snack or meal time. They also generally reserve a few rows for family seating, which increases the chances of everyone sitting together.
Southwest Airlines
When flying with children, Southwest ranks high for its family-friendly pre-boarding, which should keep the whole family together if you're flying with children aged 6 and under. You can purchase kid-approved meals and snacks, and there's plenty of entertainment as long as you bring your own devices.
Delta Airlines
Delta Airlines was our overall winner for the best airlines in the US, and part of the reason for that is because they score well for flying with kids. Appealing kids' meals, tons of seatback entertainment, and even bassinets that are available on a first-come, first-served basis make this airline family-friendly.
Delta was only the most reliable airline overall in our 2023 US airline ranking, so you'll have fewer chances of delays and cancelations when you choose Delta. Flying with kids can be much better when you minimize your chances of a flight disruption.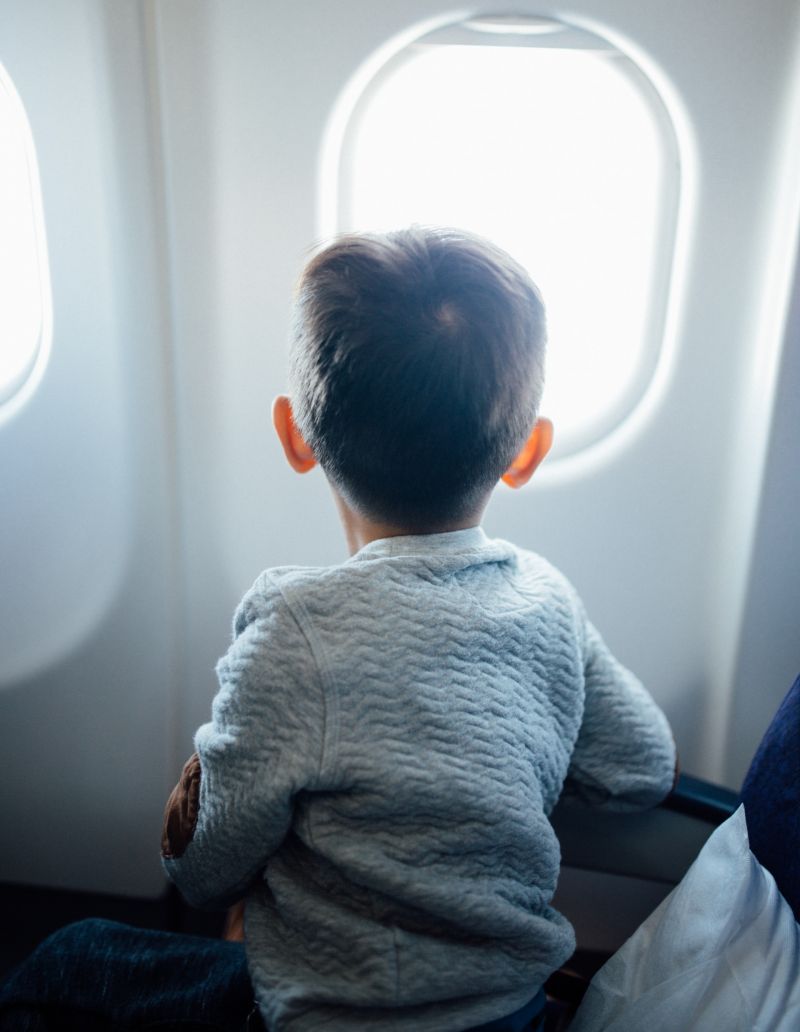 US Airlines to Avoid when Flying with Kids
Not all airlines are created equal for flying with children, and since some are better than others, some should be avoided as they don't necessarily accommodate kids very well:
Spirit Airlines
This no-frills, low-cost carrier isn't a luxury experience for anyone, but the price is often right. Don't expect any in-flight entertainment, family seating policies, or extras when you choose Spirit Airlines. Their baggage policies are far from generous as well, which can be tricky if you're packing for the whole family.
Frontier Airlines
Like Spirit, Frontier isn't known for any extra perks for family travel. No in-flight entertainment means the activities are all up to you to provide, no kid's meals, and no special seating provisions for families. At least the flights are usually cheap.
Allegiant Air
Also, with no family seating policy or in-flight entertainment, Allegiant Air is generally best left for adult-only trips. They do offer family boarding, though, which can help get everyone on board and settled before takeoff.
Allegiant was also among the least reliable airlines in the US according to our research. Decrease the risk of flight delays or cancelations by choosing another carrier.
Has your flight been delayed by 3 hours or more while flying with kids? If so, you may be able to claim compensation.Get your claim started today
A Final Note
Flying with kids hopefully means you're embarking on an exciting family trip and building lasting memories. What you don't want to remember is how tricky it was to fly with the whole family. Using the tips we've mentioned, planning things like your flight time, seats, and lounge access, as well as choosing your airline wisely, can all help to increase the chances of a stress-free flight. And that can only start your trip off on the right foot!
No feedback