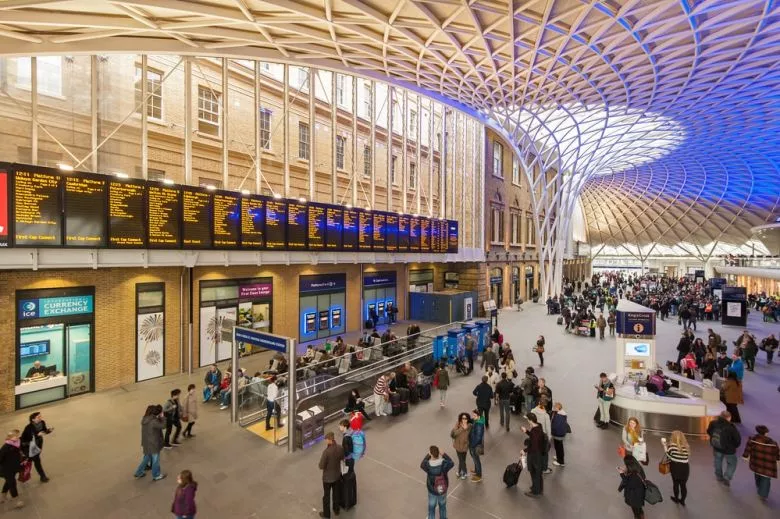 How early should I get to the airport in 2022: Domestic and International Flights
Every traveler's nightmare is to arrive late at the airport and miss the flight. Imagine you've finally planned your dream holidays or a business trip, and suddenly you realise you don't know how early you should get to the airport to catch that flight!
Besides external factors, such as a tailback on the way to the airport, it is important to keep in mind that thousands of people arrive and depart from the airports every day. It's better to plan way in advance and check at exactly what time you need to arrive at the airport so you're not late for your flight.
Missing your flight is an awful experience to go through since it can easily ruin your entire schedule and your flight itinerary. To help you avoid it, we're going to give you some detailed explanations about how to determine the best arrival time at the airport as well as how long before the flight you should be at the airport.
Disrupted flight? You might have a right to compensation - up to €600 (£520)Check Your Flight
How early should I get to the airport for domestic and international flights?
Estimating the perfect time to leave for the airport can be quite challenging. It's hard to tell how long the check-in queue will be or how long it will take you to go through airport security.
As a general rule, you should leave for the airport at least fourhours before the flight, depending on the distance between your home and the airport.
Arrival times vary depending on what type of flight you have. This is what we're going to explain below.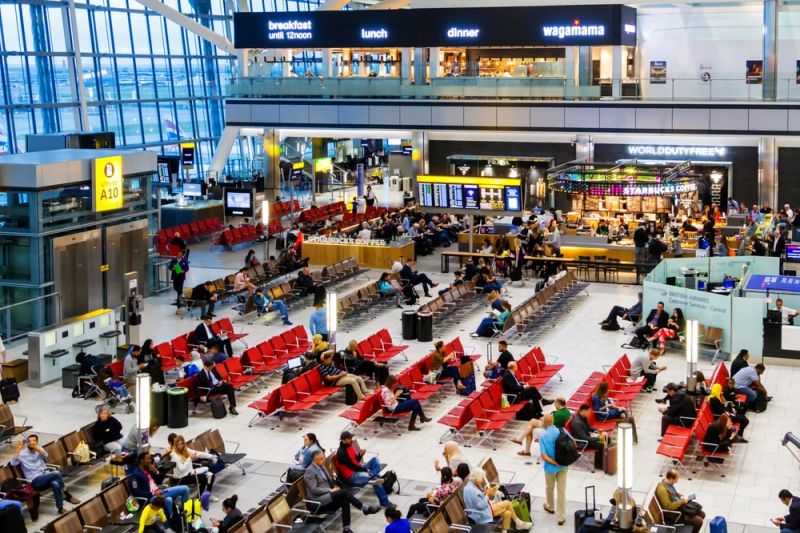 How early should I get to the airport for domestic flights within Europe?
For domestic (those flying to UK or Ireland) or European flights, you are generally expected to get to the airport at least 90 minutes prior to departure. To be on the safe side, the best option would be arriving two hours before your flight.
The queues are often shorter, and you can check-in online directly on your mobile phone so you can arrive at the airport a little later than otherwise would be required.
The baggage screening and bag drop procedures take approximately 20 to 30 minutes, after which you will need to go through the security checkpoint. Even though it is not as stringent for domestic or European flights, it still requires at least 30 minutes.
But, please, do not behave suspiciously as Mr. Bean did! If airport cops will mistake you for the criminal, you will miss your flight with no doubt.
Find out if you are owed compensation for a disrupted flightCheck Your Flight
When should I arrive at the airport for an international flight?
For long-haul international flights, it would be better to arrive at the airport at least 4 hours prior to departure. The check-in queues and getting a boarding pass usually take much longer than for domestic and European flights. The destination also plays an important role.
In the case you're flying to such destinations as the United States or Israel you are going to have to spend more time at the airport because of the heightened security checks.
Don't risk missing your flight and allow more time than you usually would for checking a bag, security line and screening as well as any other contingencies.
To add on to this, the airline might unexpectedly cancel you flight. Don't panic. In many cases, you have the right for compensation of up to €600 (£520). Check your eligibility with our free flight cancellation calculator.
Check-in, b
oarding and departure times: double-check your flight information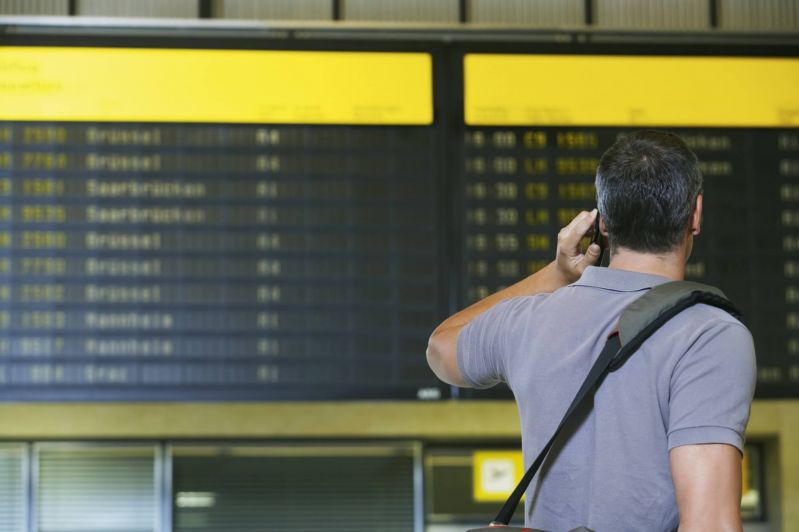 Many passengers wonder: "How do I know when my flight is due?", "How early should I arrive at the airport prior to departure?". It is best to check the exact departure time several times to plan for any changes or delays before your flight.
Also remember to differentiate between check-in time, boarding time and departure time.
The departure time is the time when a plane leaves the gate, while the check-in time is the time when the airline's doors open to greet passengers and check their baggage.
If you're checking-in online, you will have more time at the airport for shopping and relaxing. The boarding time refers to the time when passengers board the plane.
In general, boarding closes 20 minutes prior to departure. Nowadays, there are many possibilities to know the exact times of check-in, boarding, and departure:
Online check-in when to arrive at the airport
Almost all airlines offer to check-in online. When you complete this procedure on your phone or any other device, you can also see the suggested time to arrive at the airport.
Normally, you will need to arrive at the airport at least 90 minutes prior to your scheduled departure time if you have baggage to check-in for an international flight.
If you are not checking bags or flying domestically, you must arrive at the airport at least 60 minutes prior to scheduled departure. It is always better to have 30 minutes to spare since airlines are now likely to have additional procedures related to COVID-19.
Verify departure time online
You can easily check the status of your flight online at any time. To do this, go to your airline's website or app and click on "Flight Status." You will know exactly when your plane is schedued to take off.
You can also check if there are any delays or cancellations. If this happens, you can get a refund with the help of AirAdvisor in cases where the flight leaves or arrives within the European Union.
If your flight was delayed, canceled or overbooked within the last 6 years, you could be eligible for up to €600 (£520) in compensationCheck Your Flight
Check your ticket
If you don't trust the accuracy of the information on the internet, you can check your ticket directly. Whichever airline you fly with or the type of flight you are taking, the exact departure time will be indicated on the ticket.
Call the airport
If you are unsure of when you should arrive at the airport, you can always call the airport for more information. Over the phone, you'll be asked for additional information like your name, airline, or flight number, so you should have it on hand to receive the information you need promptly.
Request to be informed by email
Another way to check schedules and your flight status is to be notified by email. If you gave your email address to the airline at the moment of booking, they will send you updates about your flight any information regarding deprture times.
In addition, when you buy your ticket online, you will receive a confirmation email with the scheduled departure time and check-in time.
Find out which US airports encountered more than 50% delayed arrivals for over 60 minutes and be ready to make better-informed decisions about 2023 summer flight plans.
Plan the trip to the airport in advance
Arrange your travel to the airport ahead of time. Depending on the means of transport you use to get to the airport, you should anticipate any strikes, traffic jam or road works that may affect your journey.
If you are driving to the airport, you can rely on Google Maps for monitoring traffic conditions. If you're using public transport, it's best to catch your bus, train, or metro earlier than the one that gets you right on time.
Did you know that Google Maps can calculate the exact time of departure and arrival?
For very precise and real-time updates, use Google Maps on your mobile phone. Configure the "Arrive by" time setting option to plan your route to the airport.
For example, if you are leaving London Heathrow Airport LHR for the holidays to some international airport, such as Madrid Airport MAD, at 10:35 am, you should arrive at Heathrow Airport around 7:30am.
Google will provide you with live traffic updates, so you can optimize your route and set an alarm for when you need to head out. This is very convenient and will help you arrive at the airport on time.
How did coronavirus affect check-in and security procedures at the airports?
COVID-19 has slowed down so many activities, and tourism if one of the most affected industries. Under pre-pandemic circumstances, the check-in and boarding process was fairly straightforward, but coronavirus has significantly slowed down and complicated these procedures.
The UK government shared a step-by-step guide on how to travel safely in airports and on aircraft during the coronavirus outbreak. As for some of the basic precautions, instead of going straight to the Departures Hall, you first have to go through a health screening process: check your temperature and sanitize your hands.
Additionally, many countries require foreigners to comply with specific COVID-19 rules before arriving in the country such as taking a PCR test or demonstrating a vaccine certificate that will be checked upon arrival. Test requirements vary from country to country so it is strongly advised to check them prior to travelling to your destination.
These new measures have extended the waiting time at the airport and, due to security reasons, you should be at the airport at least 30 minutes to an hour earlier than usual.
Your flight might have been cancelled due to Covid-19 but you're not sure what to do? Check the status of UK cancelled flights and get a refund with flight cancellation checker.
10 things to do at the airport
Arriving at the airport ahead of time has its own advantages, but arriving too early always means that you will be waiting a while in the departure hall. However it's always better to be early than to miss your flight.
It's true that nobody really enjoys wasting time in the terminal but it can be a great opportunity to relax and entertain yourself. We've put together a list of 10 things to do at the airport before you take to the skies: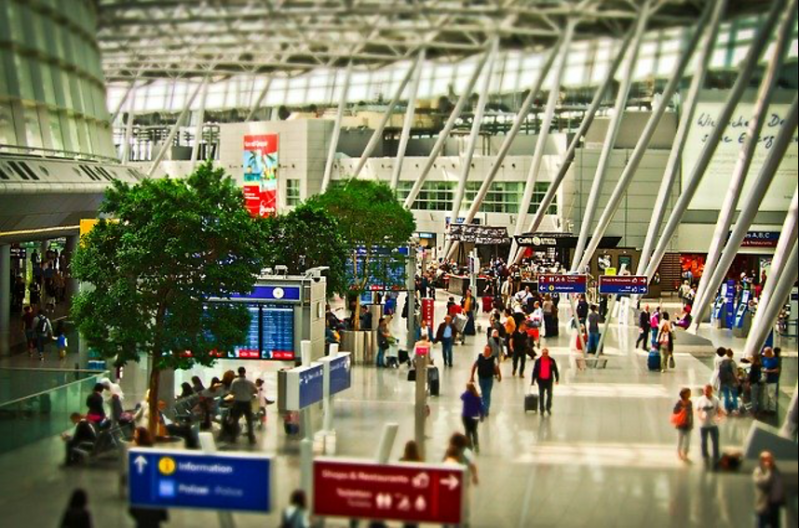 Buy yourself an accessory in some luxury boutique because why not treat yourself once in while?

Take advantage of the duty-free shopping and stock up on snacks for the plane.

Update your social media with a photo of the pre-departure cup of coffee - it might be a great way to let people know what you're up to and maybe even catch up with some old friends.

Put together your favorite songs for an epic holiday playlist. You'll appreciate taking the time to do this later on!

Buy yourself a quick massage or beauty treatment to relax before the flight.

Start the holiday right at the airport: treat yourself to a delicious meal with a glass of prosecco in one of the lounges.

If you're a sensitive flyer, buy yourself some medicine and ear-plugs at the pharmacy - every airport usually has one.

Take a power-nap after a long check-in queue and security screening procedures.

Learn some slang words of your destination and the locals will love you.

Call your loved ones and tell them you're already enjoying holidays for them.
Flight delayed over 3 hours or canceled? See if AirAdvisor can get you compensated.Check Your Passenger Rights
You are ready to take off!
Whether you are flying within the country or abroad, it is better to arrive at the airport early than to miss your flight. Keep in mind that it may take some time before you are in the Departures Hall and ready to relax. So always try to leave the house four hoursprior to departure.
Travel Magazine 18.07.2022
Thanks for sharing that information with us. This is so valuable information for the best travel applications.
viking 13.01.2022
useful info need to know before boarding Viking Slough
William McCarthy 15.10.2021
Very helpful and definitely no red tape.
Want to receive periodical useful travel tips?
We don't spam.