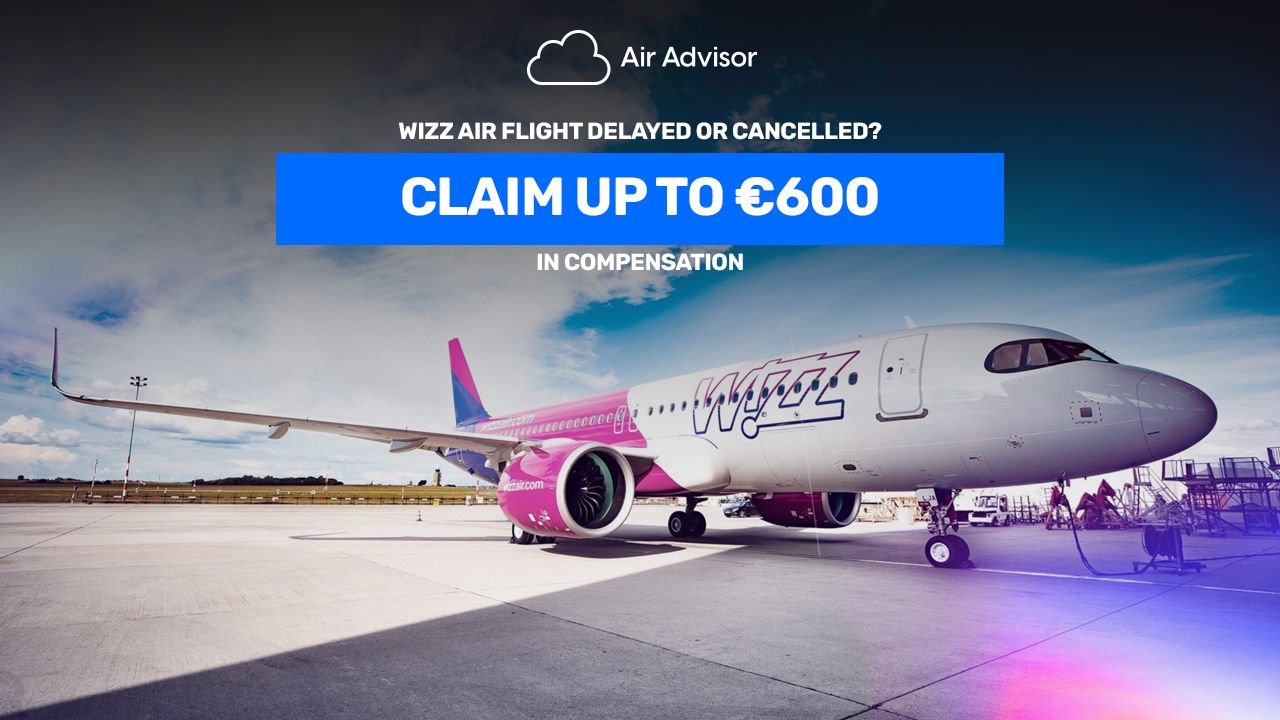 Wizz Air Compensation Essentials
Encountering a delay of 3 hours or more on a Wizz Air flight may entitle each passenger to claim up to €600 (£520), as long as the flight isn't delayed by extraordinary circumstances.
Compensation maximums depend on the total distance travelled and vary between 1,500km (€250) and 3,500 km+ (€600).
If you're denied boarding because of overbooking or have missed a connection, compensation is possible as well.
For Wizz Air flight cancellations, passengers are entitled to a complete fare refund.
Passengers can make a claim for disrupted flights as long as it's within 6 years of the departure day.
The best way to check eligibility is to use the AirAdvisor flight checker.
With AirAdvisor, the likelihood of a successful claim increases exponentially, and there is no fee if you lose.
Wizz Air flights that are disrupted because of extraordinary circumstances are exempt from compensation - as are flights delayed less than 3 hours.
Wizz Air Flight Compensation Claims
According to the air passenger rights stated in the EU 261 law, you can claim the following types of compensation:
Dealing with Wizz Air disrupted flights isn't pleasant. In fact, a cancellation or delay with this airline can cause you and your family a lot of grief, adding extra costs to your trip and ruining the start or end of your vacation. Fortunately, you have rights as a passenger of this airline, and you are entitled to make a claim for a delayed Wizz Air flight or obtain a refund for a cancelled Wizz Air flight.
How to get a refund from Wizz Air? Well, it's actually quite simple, and AirAdvisor can help you get the compensation you're entitled to. You can use our Compensation Calculator to get started and determine how much you're owed. It only takes a few minutes to start your claim, and AirAdvisor's expert team can help you take it to the next step. We can also help you to fill in a Wizz Air compensation claim form and file it.
Wizz Air Compensation for Flight Delay, Cancellation, or Denied Boarding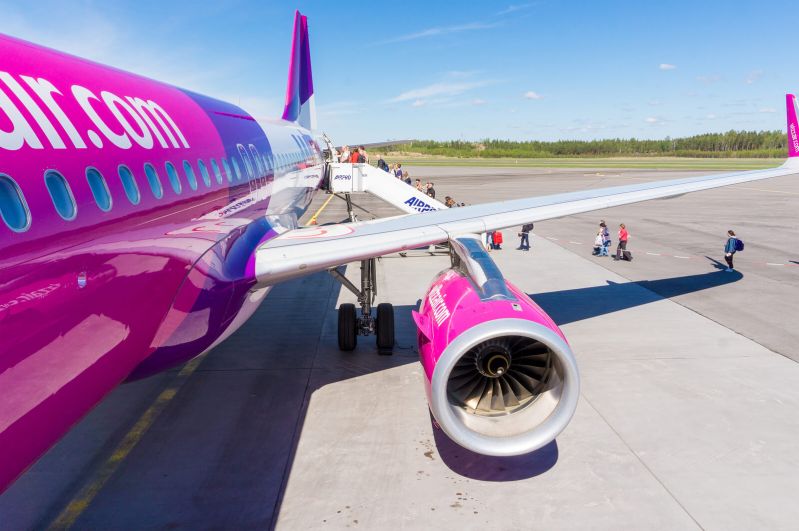 Can I Make a Wizz Air Compensation Claim for a Delayed or Cancelled Flight?
Absolutely. If you're seeking Wizz Air claim compensation, the first thing to know is that you should be entitled to it. Given that this low-cost airline is based in Hungary, it's subject to EU rules, and the European Union has taken steps to protect the rights of air passengers in case of flight delays.
Disrupted flight? You might have a right to compensation - up to €600 (£520).Check Your Flight
What Are My Passenger Rights in Case My Flight Was Cancelled or Delayed?
If Wizzair cancels the flight, here are your options:
The airline will try to re-book you on an alternative flight with the same or similar route, as soon as possible.
If it's not possible to get you on another flight, you can receive a full refund of the ticket cost of the flight that was cancelled, in line with Wizz Air refund policy.
The full value of your flight can also be refunded in the form of Wizz credit

, with a 20% Wizz Air missed flight fee bonus added to your account. You can use this credit and your Wizz free cancellation bonus towards other flights in the future.

However, we strongly recommend against it, as it has time and other limitations, which can net you zero. So never accept any vouchers from the airline.
The airline will also permit you to make two calls, free of charge, to let people know about your situation and make alternative arrangements.
If your alternative flight is the next day after your original scheduled departure, you can also make a Wizz Air claim for the cost of your hotel for the night. In fact, usually, the airline will make the arrangements for you. If not, you can make a Wizzair refund claim to get the costs back of your accommodation, meal, and transport, too.
In addition to the list of above rights, EU law states that you are also entitled to the following:
Up to €600 (£520) in compensation, dependent on the length of your journey (travel distance)
The right to claim on flights up to six years after they were scheduled
The right to claim on any flight with a minimum of three hours of delay, total cancellation, or overbooking
If your flight was delayed, canceled or overbooked within the last 3 years, you could be eligible for up to €600 (£520) in compensation.Check Your Flight
What Should I Do in Case of Cancellations or a Wizz Air Delayed Flight?
If you find yourself in any of the unfortunate situations above, you should take the following steps to ensure that Wizz Air will actually pay compensation. Here are the steps you need to take:
Speak with airline representatives to find out more about the situation and confirm the reason behind the cancellation, delay, or Wizz Air overbooked flights.
Gather as much evidence as you can about your booked flight to support you when you make a Wizz Air flight delay compensation claim.
While you're waiting, ask the airline to provide you with basic essentials, like food and water.
Use our simple Compensation Calculator to check your eligibility for a Wizz Air refund 24 hours and find out more about how to get a refund from Wizz Air.
Wizz Air Flight Cancellations: When Are They Liable?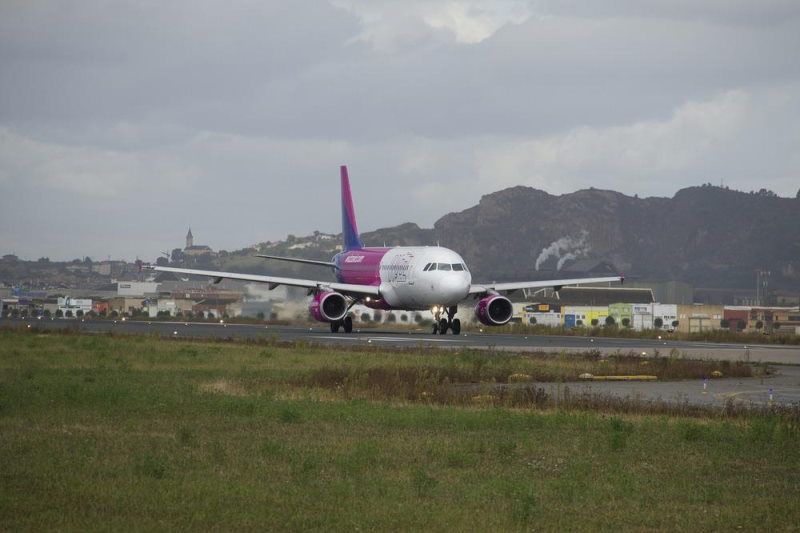 In most cases, this carrier will need to pay passengers for flights that have been cancelled. However, there are certain circumstances in which the airline could try to evade liability.
For instance, if there is a very bad storm or some sort of incident at the airport, this creates a situation of "extraordinary circumstances" in which you won't be able to claim delay or cancellation compensation.
Even in these cases, however, the airline should still work to get you on another flight as soon as possible and provide various other benefits and assistance to help you. And in many cases, it is not possible for the carrier to avoid liability.
According to EU Regulation 261, you will be entitled to a refund or an alternative flight, along with Wizz Air delay compensation of up to €600 (£520) per person in most situations.
Flight delayed over 3 hours or canceled? See if AirAdvisor can get you compensation.Check Your Flight
Wizz Air Flight Delay Compensation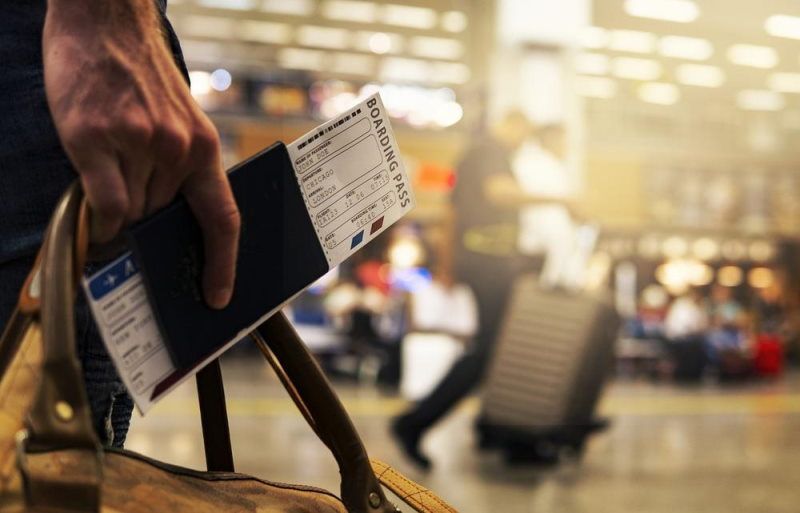 Airlines are always striving to make their flights on time and keep up with their schedules, but delays happen all the time. This is where EU Regulation 261 comes into play. Thanks to this, if your flight has been delayed by three hours or more (arrival time), you can receive compensation of up to €600 (£520).
The only exceptions from the Wizz Air flight cancellation policy are cases of "extraordinary circumstances". These are situations outside the airline's control, like an air traffic control strike.
Compensation for Wizz Air Flights: How Much Can You Get?
To determine how much compensation you can get for Wizz Air flight delays or cancellations, all you need to do is to check the rules of EU 261. According to your air passenger rights stated in the law, you could receive:
All flights under 1,500km - Up to €250 per person
Flights ranging from 1,500 to 3,500km - Up to €400 per person
Flights longer than 3,500km - Up to €600 per person
Our Compensation Calculator is an easy-to-use tool to help you see exactly what you can get when claiming compensation.
Claim with AirAdvisor and get up to €600 (£520) compensation. Find out how much you're owed today.Check Your Flight
AirAdvisor Can Help You Claim Wizz Air Compensation
No matter the type of flight disruption you suffered, AirAdvisor can help you claim the Wizz Air flight delay compensation you deserve.
Our team of legal experts has won over 180,000 flight compensation cases, including Wizz Air flight delay or cancellation cases. If you want your air passenger rights defended by some of the best lawyers in the business, contact us immediately. You should begin your Wizz flight compensation process as soon as possible.
Just click the Check Compensation button and enter your flight details (flight date, flight number, and other relevant information). Our compensation calculator will show exactly how much you should get before passing the case to our team.
From that point on all you have to do is wait. If we are successful, we will send the compensation to you right away via bank transfer, after retaining our fee.
Common Questions: Wizz Air Compensation Claims and Refunds
What is the Time Limit for Wizz Air Compensation Claims?
You can make a Wizz Air delay compensation claim any time in the five years after the flight was scheduled.
How to Claim Compensation for Wizz Air Delays and Cancellations?
To start, use our Compensation Calculator to see how much money you could get in the form of delayed flight compensation and if you are eligible you can submit your claim. We work based on No-Win, No-Fee, so there is no risk for you to submit your claim with us. Our clients rank AirAdvisor service at 4.56 out of 5.
Can I get a refund from Wizz Air?
The process of obtaining Wizz air cancellation refund or compensation can be complex and demanding. And the truth is that the amounts in question hardly justify hiring a lawyer. This is where AirAdvisor comes in, as a company that has extensive experience in aviation law and daily interactions with the airline.
Why should I entrust my claim to AirAdvisor?
6+ years of experience
More than 180,000 customers from 58 countries already trust us
4.56 Rating based on 7,000+ customer reviews
12 languages
International team of lawyers and travel lovers
In order to find out if Wizz Air owes you compensation, use our compensation verification tool.
What happens if I miss a Wizz Air flight?
If you miss a flight due to delays, cancellations, or overbooking, you may be able to make a compensation claim. You can also potentially get a full Wizz Air flight refund, or get rebooked on another flight the same day. Keep in mind that accepting an airline's voucher is the worst and riskiest option for you (we do not recommend it).
EU 261 compensation claim wizz air: how to do it?
We suggest you read our EU 261 Compensation explainer to learn about your passenger rights.
Use our flight delay checker to check if your flight is eligible for compensation and its amount.
Read how to write a flight delay complaint letter and feel free to use the template provided.
if the airline rejects or ignores your claim, which is very likely our team will be happy to help you.
Why is Wizz Air always late?
Not all Wizz Air flights are late. This airline has an on-time-performance rating of 83.5%, so 16.5% of its flights are late.
How to find out if there are any Wizz Air cancelled flights today?
You can read our recommendations on how to use flight delay checkers to find out about the latest flights and cancellation news.
About Wizz Air
Founded in 2003 in Hungary and is now in Top 3 largest low cost airlines in Europe
Serves 44 countries, mostly in Europe, but also in Africa and the Middle East
Has 3 subsidiaries: Wizz Air UK, Wizz Air Malta and Wizz Air Abu Dhabi
On-time performance of approximately 83.5%, which is better than the global average but lower than most big European airlines (based on OAG data and other internal data sources)
Cancellation rate of 0.7%, compared to the average of around 2% (based on OAG data and other internal data sources)
Wizz Discount Club is a discount program for frequent flyers, offering price cuts on ticket fares and baggage fees
Frequent flyers can also join the Privilege Pass, an annual membership program offering priority boarding, free baggage, and seat selection