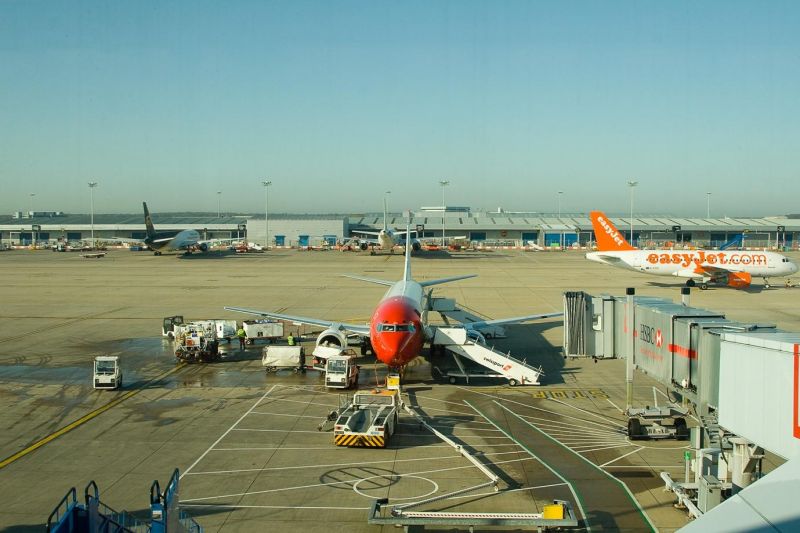 London Stansted Airport, alternatively known as Stansted, serves as a prime entry point for travellers heading to the United Kingdom. Nestled in the southeastern region of England, it handles over 24 million passengers each year and provides direct connections to a wide range of European locations. If you're planning a trip via Stansted, understanding your passenger rights is key, as unforeseen flight disruptions and cancellations can occur at any time.
Here at AirAdvisor, we offer assistance in dealing with flight-related problems, such as cancellations and delays and their corresponding compensation claims by offering professional advice and support throughout the entire process. In this article, we discuss the passenger rights you may be entitled to, delve into flight cancellation compensation and refunds, provide guidance on what to do when faced with denied boarding and respond to some common queries.
Find out if you are owed compensation for a disrupted flight.Check Your Flight
How to Claim London Stansted Airport Flight Delay and Cancellation Compensation
Flight disruptions are always an unwelcome occurrence and invariably appear to happen at the most inconvenient times, whether you're en route to a crucial business conference or a long-anticipated vacation. As with any global airport, when you're journeying through London Stansted Airport, you might encounter some flight hold-ups. Thankfully though, you have rights in such instances that can cover you for compensation, which we discuss below:
Passenger Rights in Case of STN Flight Delay
London Stansted Airport, like all airports operating within the United Kingdom, adheres to the UK's version of EU261, which is a regulation maintained post-Brexit that enshrines your passenger rights. Under this regulation UK261, you're often eligible to claim compensation when your travel plans are disrupted by a flight delay, although eligibility is contingent on several factors. For instance, you may be eligible if your flight is delayed by 3 or more hours and the delay was a direct outcome of issues within the airline's control.
As alluded to above, you can typically seek compensation for delayed flights if the delay resulted from the airline's activities. However, there are several scenarios where the airline is unable to prevent disruptions to their flight schedules, for instance, medical emergencies. In these situations, you might not be entitled to claim financial compensation.
How Much Can You Claim for STN Delay
The amount of compensation you can claim for a delay at Stansted Airport depends on various elements. A significant aspect that influences your compensation amount is the total distance of your planned flight. For instance, if you're embarking on an extensive journey and your flight is postponed by more than 3 hours, you may qualify for the maximum compensation amount. Here, you can see the compensation sums associated with different flight distances:
Flights not exceeding 932 miles (approximately 1,500 kilometres): Up to £250
Flights ranging between 932 miles and 2,175 miles (approximately 1,500 to 3,500 kilometres): Up to £350
Flights exceeding 2,175 miles (approximately 3,500 kilometres): Up to £520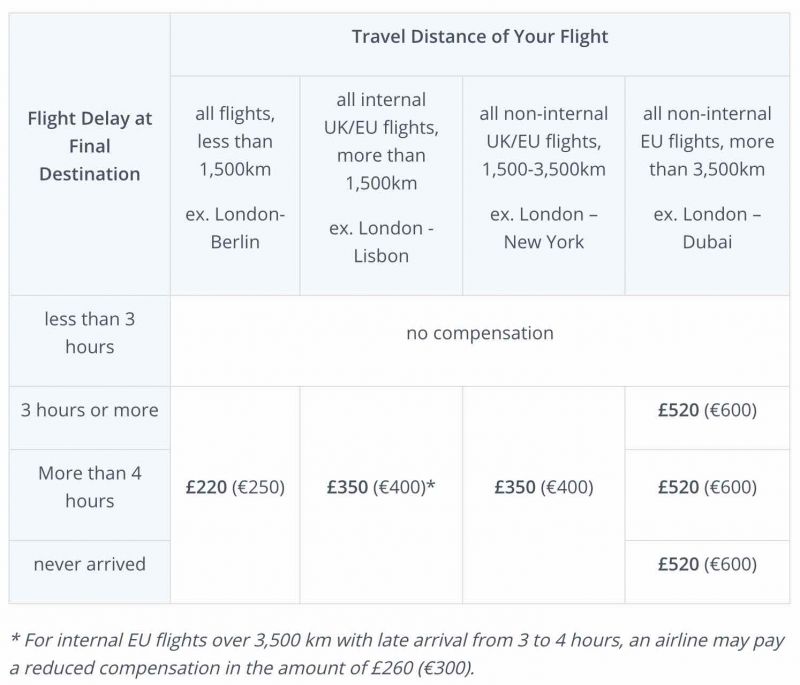 London Stansted Airport Cancelled Flight Compensation & Refund
Should you encounter the unfortunate event where your journey via Stansted Airport is entirely disrupted because of a flight cancellation, don't despair. The UK261 regulation is designed to protect you in such scenarios, covering not only flight delays but cancellations as well. So, if you're left in limbo at London Stansted Airport because of a flight being cancelled, rest assured knowing that you could potentially claim compensation for the inconvenience.
Cancelled Flight Law in Europe
As per the guidelines of UK261, you're usually eligible to claim compensation for a flight cancellation at London Stansted Airport. There are a few types of compensation that you might be entitled to, such as a complete refund of the ticket price or a replacement ticket to your intended destination. Financial compensation may also be claimed, but this is contingent on whether the cancellation was because of the airline's misdoings, for example, scheduling errors or mechanical issues.
As many travellers can attest, a cancelled flight can lead to a substantial disruption and result in more than just financial distress. You might find yourself stranded at an airport for numerous hours until a substitute flight can be arranged. During this waiting period, it's only fair to expect the provision of basic necessities such as food, water, and rest. In the event of a flight cancellation, the airline is usually obliged to provide these basic services. However, remember that if the cancellation wasn't the airline's fault, they may not be obligated to fulfil your compensation claim.
Claim with AirAdvisor and get up to £520 compensation. Find out how much you're owed today.Check Your Flight
London STN Cancelled Flight Compensation You Can Claim
The monetary compensation you may be eligible for from a cancelled flight departing from London Stansted Airport mirrors the compensation structure for delayed flights. Essentially, the greater the distance of your intended flight, the higher the compensation you may claim. The bullet points below detail the compensation value for the corresponding flight distance:
Flights not exceeding 932 miles (approximately 1,500 kilometres): Up to £220
Flights between 932 miles and 2,175 miles (approximately 1,500 to 3,500 kilometres): Up to £350
Flights exceeding 2,175 miles (approximately 3,500 kilometres): Up to £525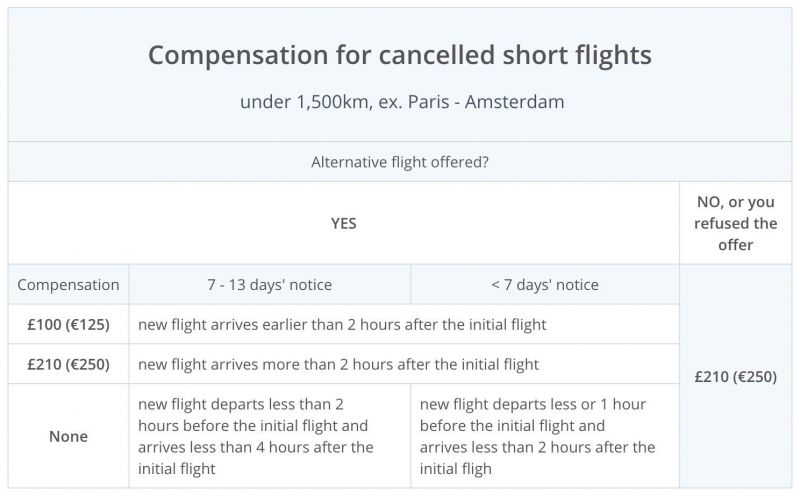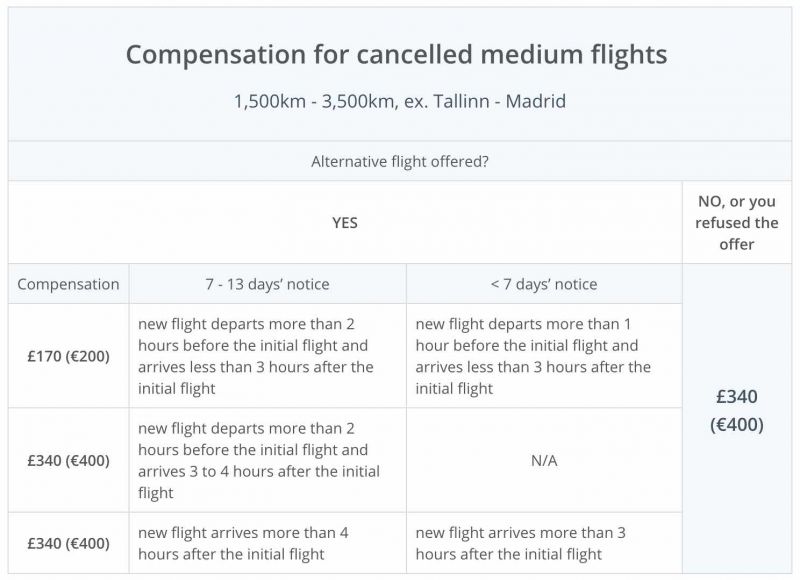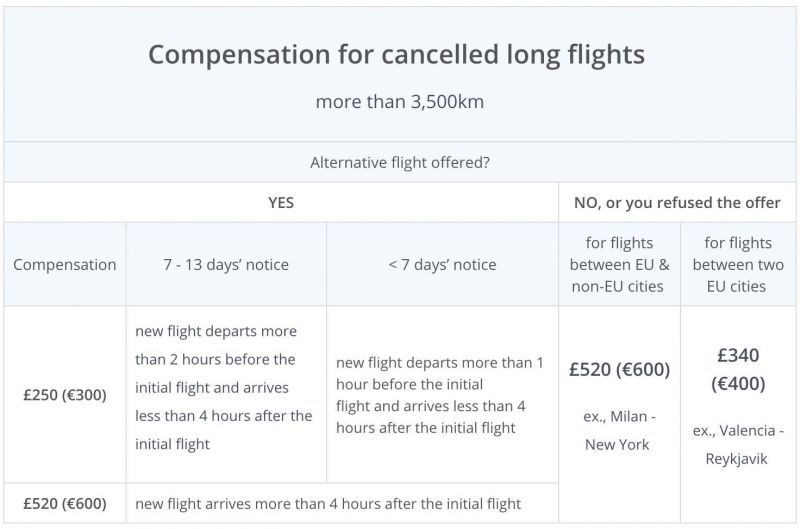 Denied Boarding at Stansted
Being denied boarding at Stansted Airport can be a frustrating experience. However, your rights are protected under the UK261 regulations, which cover scenarios where boarding is denied due to overbooking, or for other reasons within the airline's control.
Under UK261, if you're denied boarding against your will, you're entitled to certain rights:
Right to reimbursement or rerouting: You can choose between a full refund of your ticket cost and a rerouting to your final destination at the earliest opportunity. If you choose a refund, the airline should also offer a free return flight to your original point of departure, if needed.
Right to care: The airline should provide you with meals and refreshments in reasonable relation to the waiting time, access to communication facilities, hotel accommodation and transport between the airport and the hotel, if a stay of one or more nights becomes necessary.
Right to compensation: If you're denied boarding due to overbooking, you may be entitled to financial compensation. This is dependent on the distance of your flight and the delay in reaching your final destination. The compensation structure is as follows:

Flights not exceeding 932 miles (approximately 1,500 kilometres): Up to £250
Flights between 932 miles and 2,175 miles (approximately 1,500 to 3,500 kilometres): Up to £350
Flights exceeding 2,175 miles (approximately 3,500 kilometres): Up to £520
Remember, these rights apply only when you have a confirmed reservation, you've checked in on time, and the denial of boarding is not due to reasons such as health, safety, or inadequate travel documentation.
Claim London Stansted Airport Compensation With AirAdvisor
At AirAdvisor, we're dedicated to easing the hassle of flight disruptions at London Stansted Airport. Our skilled team works diligently to secure any compensation you're owed. To submit a claim with AirAdvisor, use our simple online form to provide us with your flight and personal details, and we'll handle the rest.
Our fees? Only applied when we successfully get your compensation! We subtract our charges from the obtained amount, ensuring a risk-free process for you. We believe in success-based fees, making our services as fair as possible.
Figuring out how much you are owed for a disrupted flight can be complicated. We're here to help. Let us assess your compensation for you.Check Your Flight
Stansted Airport STN Questions and Answers
Here, you can find some frequently asked questions about flight disruptions at London Stansted Airport:
Why do flights get delayed at Stansted Airport?
Just like any other global hub, London Stansted Airport isn't immune to the usual causes of flight delays. The typical culprits can range from adverse weather, and late arrivals of connecting flights, to mechanical problems. Considering the sheer complexity of aviation logistics, with around 100,000 to 200,000 flights operating worldwide daily, congestion in air routes and airport terminals can often lead to delays. Additional factors like security concerns, crew availability, and assorted operational inefficiencies also play a part in flight disruptions.
How do I claim compensation if my flight from STN was delayed or cancelled?
Should you wish to claim compensation for a delayed or cancelled flight at London Stansted Airport, you're free to kick-start the process by liaising directly with the airline. However, if you favour a more stress-free and hands-off approach, our team at AirAdvisor is here to help. We can simplify the claim process and handle all the complex legal work on your behalf.
What to do if I am denied boarding at London Stansted Airport?
In the event that you're denied boarding at Stansted, the initial step is to request a written explanation from the airline. If the denial is due to overbooking, you can either utilise our services at AirAdvisor or deal directly with the airline to pursue compensation. Ensure you retain all relevant documents, like your flight details and the written justification for the boarding denial, as these can expedite the claim process.