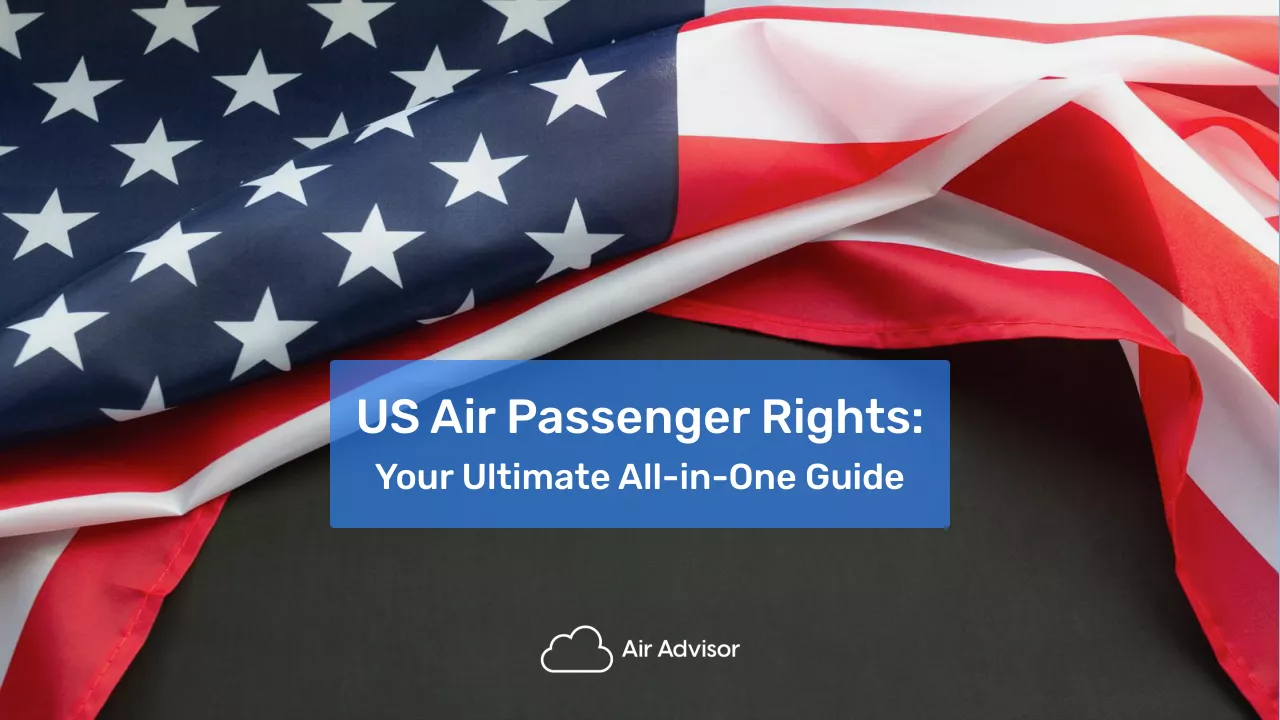 US Air Passenger Rights
With the surge in flight delays in early 2023, the highest number recorded since 20141, understanding your air passenger rights has become more critical than ever.
In this article, we provide a thorough guide to US air passenger rights, including upcoming regulatory changes, so you can understand precisely what you're entitled to when travelling by air.
AirAdvisor is a team of legal experts who've handled 200,000+ flight claims internationally over the last 6 years. You can rely on our expertise to advocate for consumer passengers' rights when dealing with airlines.
Check Compensation
---
What Are the Rights of an Air Passenger in the US?
When travelling in the US on a US-based airline, the Department of Transportation (DOT)2 administers the laws regarding passenger rights, as passed by Congress3. These rights are important when it comes to various disruptions that often accompany air travel.
It's important to note that a flight disruption caused4 by weather or air traffic control is not compensated for in any country.
Below, we outline the key areas where your US air passenger rights are protected:
Compensation and Reimbursement
Compensation for Involuntary Bumping: You're entitled to compensation if you're involuntarily bumped off your flight, the amount of which is determined by the length of the delay in reaching your final destination.
Compensation for Flight Delays or Cancellations:

Domestic Flight Delays: If your domestic flight is significantly delayed, US airlines don't have a federal requirement to provide compensation. However, each airline has its specific policies regarding delays; passengers are advised to review their chosen airline's policy or customer commitment document.
Domestic Flight Cancelations: For canceled flights within the US, there's no federal mandate that airlines compensate passengers. Again, individual airline policies can vary widely, so understanding the airline's specific terms and conditions is crucial.
International Flight Delays (non-EU/UK related): For international flights covered by the Montreal Convention, airlines are required to provide compensation for damages caused by delays, unless they took all reasonable measures to avoid the damages or it was impossible to do so. The compensation is typically related to the length of the delay and the inconvenience caused to the passenger.
International Flight Cancelations (non-EU/UK related): If your international flight under the Montreal Convention is canceled, the airline is obliged to offer re-routing or a refund, in addition to potential compensation based on the same provisions as flight delays.
Note on EU/UK Flights: Flights departing from the EU/UK, or flights to these regions on EU/UK carriers, are governed by respective EU/UK regulations under which flight delay compensation and flight cancelation compensation can reach up to €600/£520 per passenger.
| | | | |
| --- | --- | --- | --- |
| Itinerary | EU Airline | UK Airline | Non-EU/ Non-UK Airline |
| Departure from the UK / EU with Arrival in the UK / EU | ✔️ Covered | ✔️ Covered | ✔️ Covered |
| Departure from the UK / EU with Arrival outside the UK / EU | ✔️ Covered | ✔️ Covered | ✔️ Covered |
| Departure from OUTSIDE the UK / EU with Arrival in the UK / EU | ✔️ Covered | ✔️ Covered | ❌ Not Covered |
| Departure from OUTSIDE the UK / EU with Arrival OUTSIDE the UK / EU | ❌ Not Covered | ❌ Not Covered | ❌ Not Covered |
Note on Canadian Flights: Similarly, for details on flights departing from Canada, refer to our detailed article on Flight Delay Compensation Canada which outlines how you can claim up to CAD$880 for a disrupted flight resulting in a 3 or more-hour delay.
Compensation for Tarmac Delay: For domestic flights, airlines must allow passengers to disembark if the tarmac delay exceeds 3 hours. For international flights, the limit is 4 hours. Failure to do so may result in fines from the DOT of up to $27,500 per passenger5. To avoid paying these fines, airlines typically offer smaller compensations to passengers.

It's important to note that while airlines have obligations to provide amenities or the option to disembark, US regulations don't mandate specific compensation amounts for tarmac delays. Compensation, if any, would depend on the airline's individual policy.
Baggage Issues:
Note: US domestic flights, airlines cover baggage issues up to $3,800. For international flights involving the US, the Montreal Convention limits compensation to roughly $1,700 (1,288 Special Drawing Rights) per passenger. Learn more on US baggage compensation.
Complaint and Redressal
As a passenger, travelling within the US or on a US-based airline, you have the right to file a complaint directly with the airline or the Department of Transportation (DOT). Moreover, you have the right to seek legal remedies if your rights are violated.
Below, you can explore the complaints process with three well-known US-based airlines:
American Airlines
American Airlines is a key player in the airline world with a vast route network. However, passengers sometimes experience issues, from delays to onboard service concerns. US air passenger rights ensure compensation for significant disruptions, baggage issues, extended tarmac delays, and involuntary bumping.
However, they don't cover minor inconveniences, uncontrollable events like weather, or individual staff grievances unless they breach defined rights. After lodging an American Airlines complaint, responses can take between 3 weeks to 2 months.
AirAdvisor can offer assistance with compensation claims for disrupted EU/UK American Airlines flights and will soon support baggage compensation claims.
Struggling with an American Airlines Complaint or Compensation Claim?Check American Airlines Compensation
Delta Airlines
Delta Airlines stands as a prominent figure in the aviation industry, boasting a comprehensive flight network. However, passengers still encounter challenges, ranging from flight delays to baggage concerns. Under US air passenger rights, travelers can claim Delta Airlines compensation for notable disruptions, issues with baggage, prolonged tarmac waits, and instances of involuntary bumping.
These rights don't extend to minor inconveniences, unforeseen events such as weather disturbances, or specific complaints about staff behavior, unless they violate established passenger rights. When raising a concern with Delta Airlines, expect a response time ranging from 30 to 60 days.
For disrupted EU/UK Delta Airlines flights, AirAdvisor provides support in securing compensation and will soon be facilitating claims for baggage issues.
Getting Nowhere With a Delta Airlines Complaint or Compensation Claim?Check Delta Airlines Compensation
United Airlines
With its extensive global presence, United Airlines is a significant player in the skies. Still, like any major carrier, passengers can face hiccups, from unexpected flight interruptions to overbooking. Under the US air passenger rights, those traveling with United Airlines have entitlements for compensation due to significant delays, baggage concerns, extended periods on the tarmac, or being bumped off flights involuntarily.
However, this protective umbrella doesn't cover trivial inconveniences, unpredictable situations like sudden bad weather, or isolated issues related to crew interactions, unless they contravene preset passenger rights. When addressing a complaint with United Airlines, you can anticipate a response in around 30 days.
For travelers who've had disruptions on EU/UK United Airlines routes, AirAdvisor is at the ready to assist in claiming rightful compensations, with the added promise of soon expanding its services to cover baggage-related claims.
Stuck on a United Airlines Compensation Claim or Complaint?Check United Airlines Compensation
The 24-hour refund rule
This provision, mandated by the DOT, allows you the option to hold or cancel your flight reservation, penalty-free, within 24 hours of booking, provided you made the booking at least 7 days prior to departure. This applies to even the most basic level of economy tickets, including those deemed non-refundable.
Airline Chargeback
Should you struggle to exercise these changes, you can use the chargeback process. This process involves contacting your credit card company or bank to cancel the transaction, ‌facilitating the option to make a new booking. It's essential to note that this process is governed by a specific time limitation of 60 days, so prompt action is highly recommended.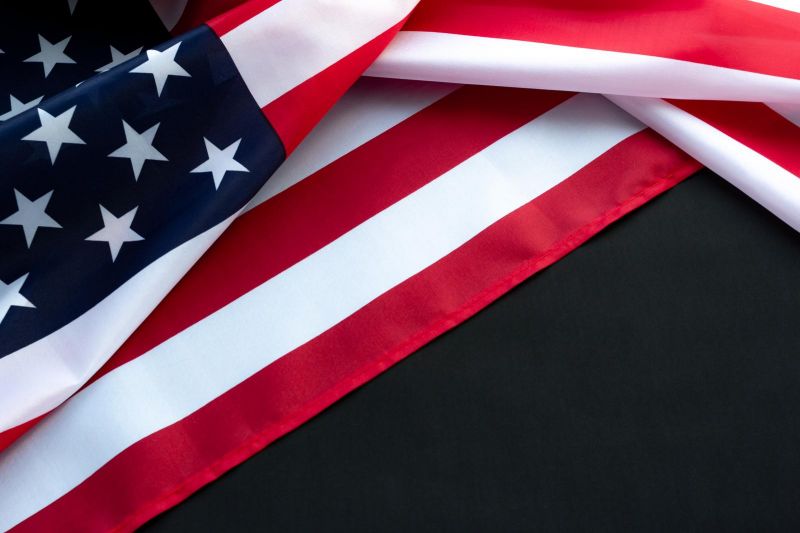 What are My Rights in Case of a Flight Disruption?
In this section, we illustrate the various commitments made by US-based airlines in cases of controllable cancellations and delays, in addition to passenger rights mandated by EC261, UK261, and the Montreal Convention compensation
Commitments for Avoidable Cancellations
Here, we outline the provisions and compensations you can anticipate if a US-based airline cancels your flight scheduled to depart from US territory when the disruption could have been avoided: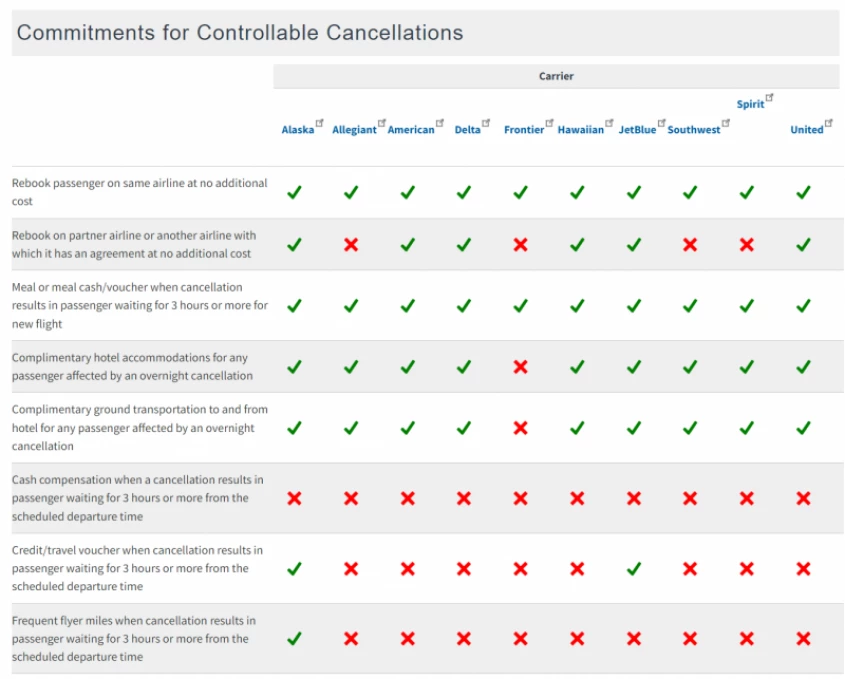 Commitments for Avoidable Delays
Below, we detail the measures and compensations you can expect if a US-based airline delays your flight set to leave from US soil, assuming the delay was preventable: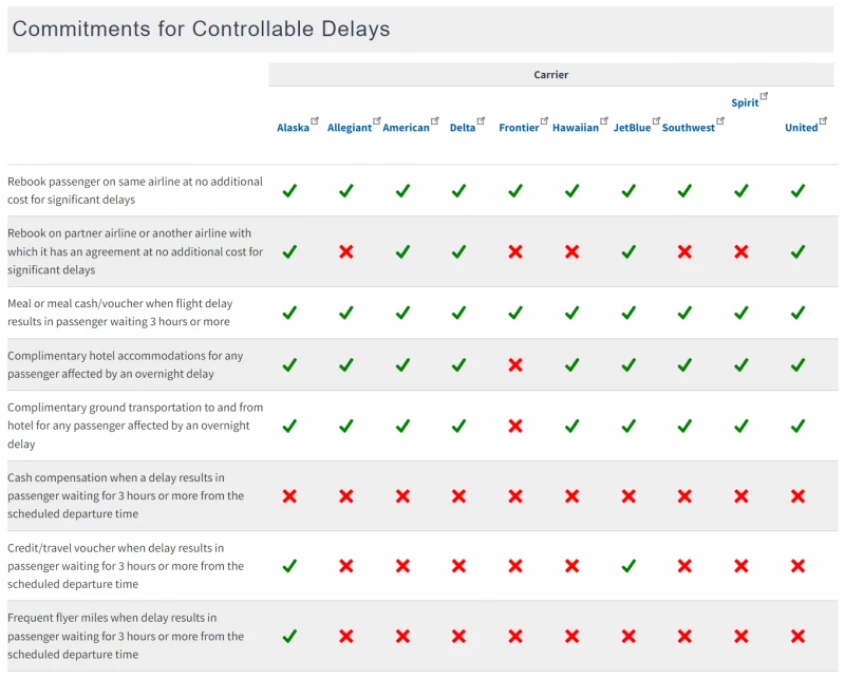 Can I get compensation for a delayed flight?
Currently, no federal laws mandate US airlines to compensate passengers for flight delays, leaving compensation terms to individual airline policies. However, if the flight originates from the EU or UK or is a US-bound flight operated by an EU/UK carrier, passengers could be entitled to up to $670 in compensation for delays exceeding 3 hours upon arrival.
Additionally, the Montreal Convention comes into play for international flight delays, allowing passengers to seek reimbursement for direct incidental costs or damages. It's crucial to review the airline's specific policy regarding delays, or utilize the AirAdvisor free eligibility checker to determine potential compensation rights.
Can I get compensation or refund for a cancelled flight?
Here are the stipulations you should be aware of with regard to compensation or refunds for cancelled US flights:
Canceled Flight: You have the right to a refund if the airline cancels your flight, no matter the reason, provided that you opt to not travel by declining an alternative booking. This applies to all fare tickets, including those deemed non-refundable.

DOT mandated that the airline is required to pay the refund in cash if a passenger requests so. We strongly advise against accepting vouchers, which typically expire unused.
Canceled International Flights: Under the Montreal Convention, passengers can claim reimbursement for reasonable out-of-pocket costs they've incurred, like food, taxis, or missed hotel stays.

To do this, you'll need to provide receipts and explain why these expenses were essential due to the flight issue. However, this right doesn't extend to domestic flights, and airlines might initially resist these claims.
Schedule Change/Significant Delay: You can claim a refund if the airline introduces a substantial schedule alteration or significantly delays a flight, to the point you decide against travelling.
Note: DOT hasn't explicitly outlined what falls under the category of a "significant delay." Your entitlement to a refund in such situations depends on numerous factors encompassing the extent of the delay, the duration of the flight, and the individual circumstances at hand.
Can I get compensation for a missed connecting flight?
At present, US laws do not mandate airlines to compensate for missed connections. Compensation rules vary between airlines; we advise that you check the individual airline's policy to ascertain potential remedies and compensations in such cases unless you travelled to the EU or UK in which case you can refer to the relevant information above.
Can I get compensation in case of a bumped flight?
In the event that you're bumped involuntarily from a flight in the US on a US-based carrier, the airline is obligated to pay you the following:
200% of your one-way fare to your final destination for that day, capped at $775 if you took an alternative flight and reached your final destination between 1 and 2 hours later than your original arrival time (or between 1 and 4 hours for international flights);
400% of your one-way fare, with a maximum limit of $1,550 if the airline fails to organize substitute transportation, or you arrive at your final destination by more than 2 hours late (or more than 4 hours late for international flights).
No compensation is payable, if you used the substitute transportation arranged by the airline and arrived within 1 hour of your original arrival time at your final destination.
New Airline Passengers' Bill of Rights (Proposed Changes)
In an effort to further protect air passengers in the US, a new bill has been drafted and is expected to be introduced in the Senate soon. Here is a summary of the significant changes that are being proposed:
For Delays Between 1 and 4 Hours, the Airline Will be Mandated to:

Automatically refund the full ticket amount to the passenger.
Arrange alternative transportation, either on another flight operated by them or a different air carrier, to ensure the passenger reaches their destination within 4 hours of the originally scheduled arrival time, without imposing any additional costs on the passenger.
For Delays exceeding 4 Hours, the Airline Will be Mandated to:

Automatically refund the full ticket amount to the passenger.
Provide the option of alternative transportation at the earliest opportunity, if the passenger chooses, without any extra charges.
Offer a cash compensation of $1,350 to the passenger.
Cover the cost of a meal for the passenger.
For Overnight Delays, the Airline Will be Mandated to:

Compensate for the cost of hotel lodging, alongside fulfilling the criteria mentioned in the points above.
These proposed amendments aim to enhance your air passenger rights when traveling in the US on a US-based airline, promising better treatment and compensation during flight delays and cancellations.
Once enacted, they'll ensure a more structured and automatic response from airlines to minimize the inconvenience you experience in the case of a flight disruption.
Common Questions and Answers on US Air Passenger Rights
If you still have questions surrounding US airline passenger rights, you may find some of them answered in this final section below:
Can I claim compensation under US law in case of a 3-hour flight delay?
The US doesn't currently have federal regulations6 that require airlines to compensate passengers for delayed flights, regardless of the length of the delay. This is unlike the EU/UK regulations which compensate passengers for delays of 3 or more hours.
Does EU261 apply to the US?
EU261, the European regulation concerning air passenger rights7, covers you if you're flying back from the EU/UK on a US airline, or flying on an EU/UK-based carrier to/from the US. In such cases, you may be eligible for up to $670 in compensation for flight disruption.
Are passengers entitled to compensation in the US?
While there's no federally mandated compensation for delayed flights within the US, passengers could be eligible for compensation in cases of involuntary bumping or flight cancellations, dependent on the individual airline's policies.
Regarding your bags, if they're permanently lost on domestic flights, airlines can be held liable for up to $3,800. For international jaunts involving the US, the Montreal Convention caps this compensation at approximately $1,700 per passenger.
If your travel involves the EU/UK or Canada, the compensation dynamics shift. EU/UK regulations can entitle you to up to €600/£520 per passenger for disruptions, while Canadian regulations might allow claims up to CAD$880 for significant flight delays8.
It's imperative to familiarize yourself with the specifics based on your flight route and the airline's stipulations. If you ever find yourself in a bind, remember that AirAdvisor is on standby to aid with compensation claims.
What do I do if my flight gets delayed or cancelled?
Should you face a flight delay or cancellation, it's essential to determine your eligibility for compensation, reimbursement, or a refund. Here's a guide to aid your process:
Immediately note down the reason for the disruption; compensation might not apply for reasons like weather or air traffic control.
Always retain receipts for any incidental expenses you incur due to the disruption.
Avoid accepting vouchers, unless they're directly for food or taxis.
Keep a record of your boarding passes. Taking a photo can be handy for future reference.
Remember, you can claim a refund even on nonrefundable tickets, primarily to recoup airport taxes and fees.
You can easily check your compensation eligibility on the AirAdvisor site for free. If you qualify, you can then seamlessly lodge a claim through us. Our expert team handles the details, and we only charge for successful claims (and take the fee from your compensation payout) meaning no upfront costs for you.
Can you cancel airline tickets within 24 hours of booking?
Yes, the DOT mandates that passengers can hold or cancel flight reservations, penalty-free, within 24 hours of booking if the reservation was made at least 7 days before departure, even for "non-refundable" tickets.
What is Airline Chargeback?
Airline chargeback is a process where you contact your credit card company or bank to cancel a transaction, allowing you to rebook if needed. This must be done within a 60-day window from the transaction date.
---
Sources:
1On-Time Performance - Reporting Operating Carrier Flight Delays at a Glance
3Congress.gov | Library of Congress
4Airline On-Time Statistics and Delay Causes
5Tarmac Delays and Airline Passenger Rights
6The Code of Federal Regulations (CFR)
8Flight Delays and Cancellations: A Guide
9Travelers | Federal Aviation Administration