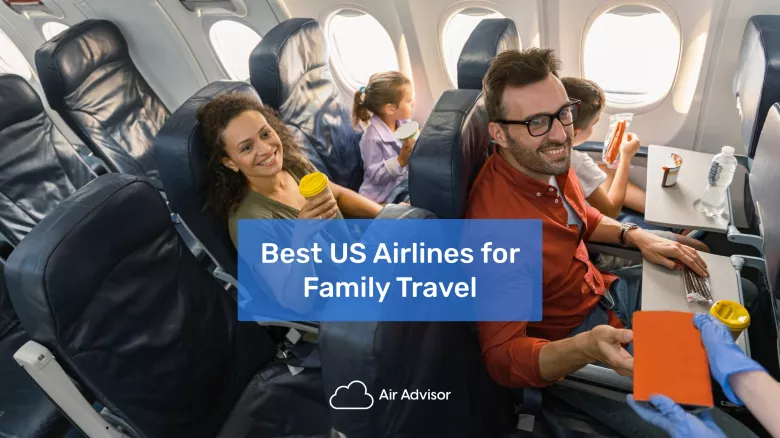 Best US Airline for Family Travel - Top 5 Kid-Friendly Carriers 2023
Anyone who's traveled with kids before knows that it can be daunting. Kids add additional complexity to situations that can be challenging anyway. When you're planning a flight, if there are airlines that support family-friendly travel, why not take advantage?
Whether you're traveling to visit relatives or friends or taking a family vacation, several factors contribute to having a positive overall experience. We set out to determine the best airlines for families as part of a larger study on the overall top 10 airlines in the US. Here's what we reviewed:
Family seating policies
Availability of kid-friendly meals
Free stroller check-in
Entertainment systems
Family-friendly options like pre-boarding, use of car seats, and lap seat policies, among others.
To delve deeper, we also took into account whether or not airlines allow pre-boarding for families, the age ranges for children to fly on a parent's lap, and both car seat and luggage flexibility. In all, we have a comprehensive guide to the top USA airlines for family travel in 2023 and beyond.
Here are the country's top airlines for families:
American Airlines
From our extensive research, American Airlines emerged as the overall leader for family-friendly flights. It has all the things parents typically value when traveling with kids. As the largest airline in the USA based on scheduled passengers, it's good to know that flying American with kids is relatively easy.
They offer kid-centric meals upon request, which should appeal to children between the ages of 2 and 5. Baby food is also available, though both types of meals should be requested at least 24 hours before your flight. The in-flight entertainment system is top-notch, with many options that will appeal to children, and families with kids under 2 years old can request pre-boarding once at the gate.
When you fly domestically, American Airlines allows children under 2 to fly free seated on your lap. International flights incur a small charge of 10% of the adult fare for lap seats, which is standard in the industry. Parents can also check in their stroller and car seat free of charge. Another perk of American is that they offer bassinets on select flights, although they are not reservable ahead of time.
Since it's a terrible thought to be separated from your kids while flying, American Airlines makes sure that your kids won't be alone, even if you don't pay to select seats. The system will automatically allocate seats together the day before departure, and if the whole family can't sit together, they guarantee each kid will be seated next to at least one adult. Just ensure you're all on the same reservation!
Have you or members of your family ever been denied boarding due to an overbooked flight? Take some of the stress out of the experience and contact us today to start your claim.Check Your Flight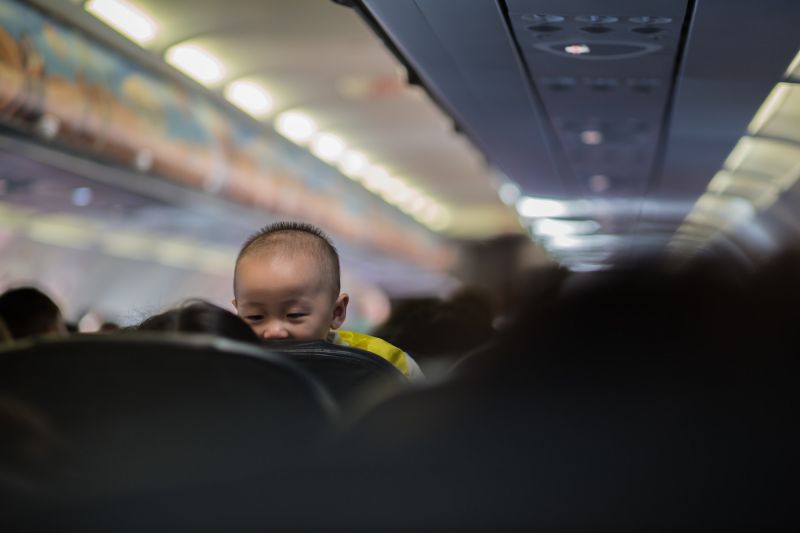 Alaska Airlines
Alaska Airlines also ticks all the boxes to earn a top spot on our list of the best airlines for kids. All the food options are available at a cost and can be pre-ordered to guarantee availability. Kids will be delighted with the Kid's Choice Picnic Pack, which contains favorites like turkey, white cheddar puffs, applesauce, and a granola bar. Plus, the gummi bears are sure to be a hit.
Children under 13 are guaranteed to be seated with one adult, and it's no problem to check in your stroller. Families with kids under the age of 2 can take advantage of pre-boarding, and you can all board together using the highest boarding group, even if everyone isn't seated in the same section.
Alaska Airlines offers a decent in-flight entertainment system, but the one catch is that you need to bring your own device. Their streaming service has over 800 options for TV shows and movies to keep both kids and parents occupied on a flight.
You can use an approved car seat onboard for safety, subject to a few restrictions based on where you're sitting. For example, aisle seats, exit rows, and any rows ahead or behind exit rows don't permit car seats or booster seats.
Southwest Airlines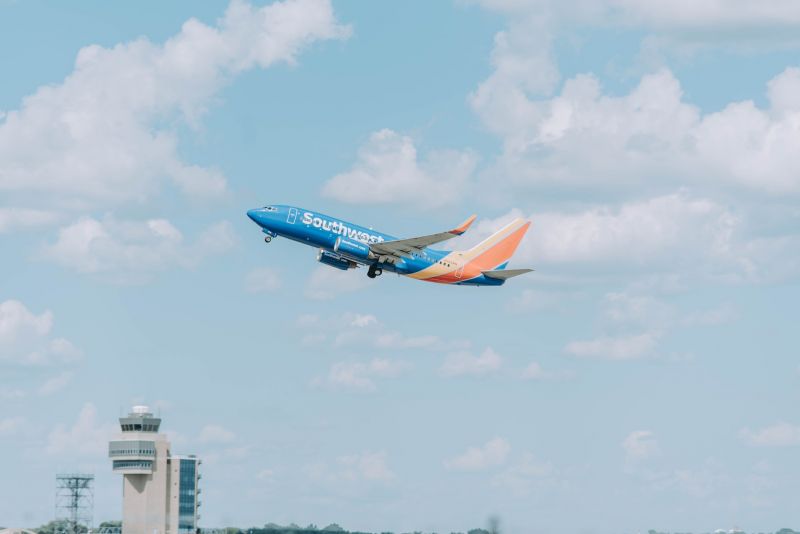 As a low-cost carrier, Southwest Airlines is another great option for family travel. Along with extensive domestic route options, Southwest offers service to the Caribbean, Mexico, and Canada for reasonable prices. You get what you need with Southwest, like in-flight entertainment, free stroller and car seat check-in, lap seats for children under 2, and a generous pre-boarding option for families.
In truth, you'll need the pre-boarding option, as Southwest does not allow passengers to book any seats in advance. This free-for-all seating policy can be tricky if you travel with kids aged 7 and above. The Southwest family boarding policy allows 2 adults to board ahead of most passengers if you are traveling with children 6 years old or younger. But all is not lost. If you have a little extra room in your budget, you can upgrade your boarding to positions in the first boarding group, depending on availability.
Southwest has kid-friendly snacks available on flights over 175 miles, which include options kids will enjoy. Longer flights, like those from Hawaii to the mainland, offer even more snack selection. Passengers are also encouraged to use child restraints when their child has their own ticket.
Like Alaska Airlines, Southwest's entertainment system requires your own device, so make sure each child has one at their disposal. Otherwise, it's going to be a long flight!
Find out if you are owed compensation for a disrupted flight.Check Your Flight
JetBlue
JetBlue, with its roomy seats and high position on our list of the most comfortable airlines in America, is another worthwhile (and low-cost) option for family travel. Like Southwest, they focus predominantly on domestic trips but also have routes to Latin America, the Caribbean, and Europe.
The airline will do its best to seat families together as long as they are all on the same booking. The system will now automatically seat children 13 and under with an accompanying adult as soon as you book, provided there is availability.
JetBlue has in-flight entertainment that kids will enjoy, with plenty of cartoons and even live TV on all flights. You won't have to pay extra to check in a stroller or car seat, and you can use a booster seat or car seat if your child has their own seat. Planning to use a child restraint during your flight? Make sure you select a window seat, as these can't be used between two occupied seats.
Lap infants are accepted for children up to the age of 2, and this same age limit applies to pre-boarding for families. The airline offers free snacks and drinks service, including juices, water, granola bars, and animal crackers, although the choice of snacks does vary by flight.
Delta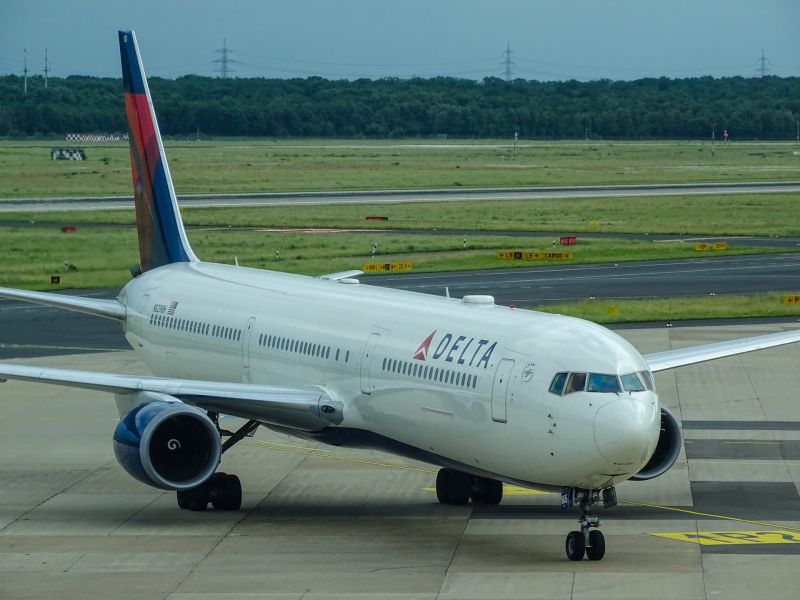 With its impressive status as the most comfortable and most reliable airline in the US, Delta is another good choice for traveling families. Delta provides a comprehensive entertainment system to keep the kids occupied, offers a lap seat policy for kids 2 and under, with some discounts for kids who need their own seats depending on the destination, and snacks and meals that kids are bound to enjoy.
As for pre-boarding, Delta gives anyone who needs extra time to board early access to the flight. Additionally, families traveling with a stroller or car seat (or both) are also given advanced boarding. Either way, as a family, it's likely you'll get on the plane ahead of the masses. Additionally, any infant seats or bassinets you need are not part of the standard baggage allowance on board. The same goes for a breast pump or an associated cooler bag. Also, you can leave the bassinet at home as Delta offers SkyCots on a first-come, first-served basis.
Car seats are welcome on board with a few limitations but are not required as long as your child can sit upright by themselves. Delta takes family seating seriously and honors requests to seat everyone together whenever possible. Contact them ASAP if you don't have seats assigned together.
Delta recently revamped its kid-friendly meal options to include lots of colors, textures, and overall variety. Breakfast is typically French toast (syrup included), scrambled eggs, a small blueberry muffin, and fruit. Lunch and dinner, on the other hand, favor cheese tortellini, carrots with ranch for dipping, fruit, and graham cookies. Just add these meals as part of the special meal selection when you book your flight.
Have you encountered problems with flight reliability? At AirAdvisor, we're here to help you claim compensation when your eligible flight is delayed by 3 hours or more.Get all the info today!
USA vs. the World: How do US-based Airlines Stack Up?
It's a shame that not all airlines are created equal when it comes to family-focused travel. US-based airlines can actually learn a lot from others. Here are a few of the best airlines in the world for traveling with kids and their extras:
Emirates - This UAE-based airline really caters to kids on board. In addition to the usual perks, kids get toys, over 100 channels, and other goodies to spark their imagination.
Air Canada - Recognized by Skytrax as the world's most friendly airline in 2023, Air Canada focuses on traveling with kids rather than just making them an afterthought. They are continually developing new kid-specific programs, and they have dedicated family check-in facilities and activity packs just for the little ones.
Singapore Airlines - With free advanced seat selection for families, a toy or activity pack, and a whole channel geared towards children's programming, travelers can do a lot worse than Singapore Airlines.
Summary
| | | | | | | | | |
| --- | --- | --- | --- | --- | --- | --- | --- | --- |
| Airline | Family Seating | Kid-Friendly Meals | Free Stroller / Car Seat | Entertainment | Pre-Boarding | Bassinet | Child Restraints on Board | Lap Seat Policy |
| American Airlines | Yes | Yes | Yes | Yes | Yes | Yes | Yes | Yes |
| Alaska Airlines | Yes | Yes | Yes | Yes | Yes | No | Yes | Yes |
| Southwest Airlines | Yes | Yes | Yes | Yes | Yes | No | Yes | Yes |
| JetBlue Airways | Yes | Yes | Yes | Yes | Yes | No | Yes | Yes |
| Delta | Yes | Yes | Yes | Yes | Yes | Yes | Yes | Yes |
Our Criteria and Methodology
To determine the best airlines for kids, we asked the following questions of the 10 airlines we reviewed:
Family seating policy - Does the airline guarantee that children will be seated next to at least one accompanying adult on the flight, even if you don't pay to select seats?
Free stroller check-in - Does it cost money to check your stroller? What about a car or booster seat?
Child meals - Is it possible to request a kid-friendly meal or snack?
Entertainment system - Is entertainment available on the seatbacks or as part of a free streaming service?
Pre-boarding - Will the airline permit families to pre-board? If so, under what circumstances?
Bassinets - Can families use a bassinet while on board to avoid bringing their own?
Lap seats - Are children permitted to sit on a parent's lap at no additional cost? What are the age ranges?
Safety - Does the airline allow the use of car seats or other child safety restraints on their flights?
Conclusion
When looking for the best airlines for kids in the USA, any one of these 5 has some great things to offer. If you want to tick all the boxes, American Airlines is the top choice, but others, like Southwest and JetBlue, can offer excellent value.
The best advice is to pre-book as much as possible to keep your journey kid-friendly, such as your seats, meals, and lap seat tickets. Then, you can have a stress-free experience on the day of travel. And if you run into any stress related to canceled flights or delayed flights, remember that AirAdvisor can help ease the burden.
FAQ
What are the best airlines for families in the US?
According to our research, the best airlines for families are American Airlines and Alaska Airlines. These two offer family seating, in-flight entertainment, child-centric meals or snacks, pre-boarding, and free stroller or car seat check-in. It's a breeze when you travel on either of these airlines with the kids.
What are the best discount airlines for families in the US?
Southwest Airlines and JetBlue Airways are the most family-friendly low-cost airlines in the US. They both offer most of the perks of international giants like American Airlines and Delta while still trying to keep costs low. Honorable mention goes to Frontier Airlines. As the cheapest airline in the US for 2023, budget-conscious families will get plenty of value here. Frontier also offers other advantages, like promotions where kids fly free and family pooling of points.
No feedback