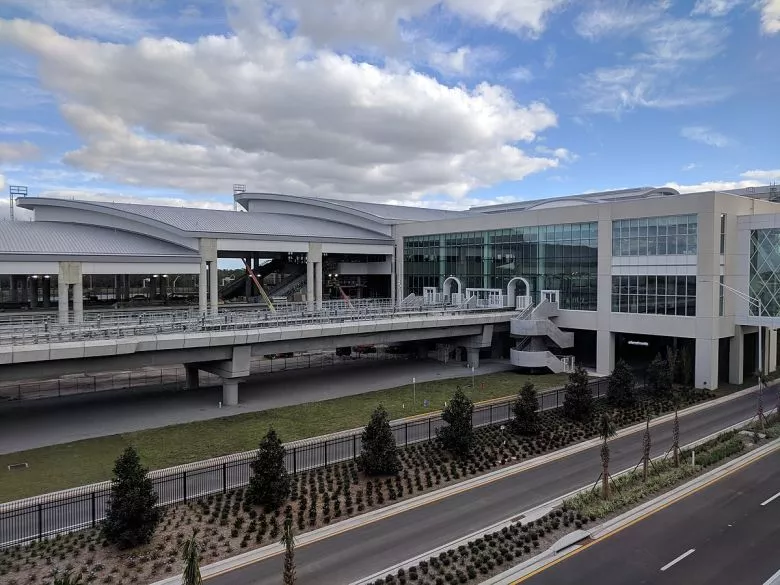 Top 10 Largest Airports in the United States
24.03.2023
As you prepare for your next trip, you may be trying to sort out which airports that you want to fly through and which you'd like to avoid. Most people try to avoid the busiest airports – but what about the biggest?
What are the largest airports in the US? Sometimes the biggest airports in the US are also the largest in terms of size – but not always.
In this article, we're going to explore a list of the largest airports in the US.
1. Denver International Airport, Colorado (DEN)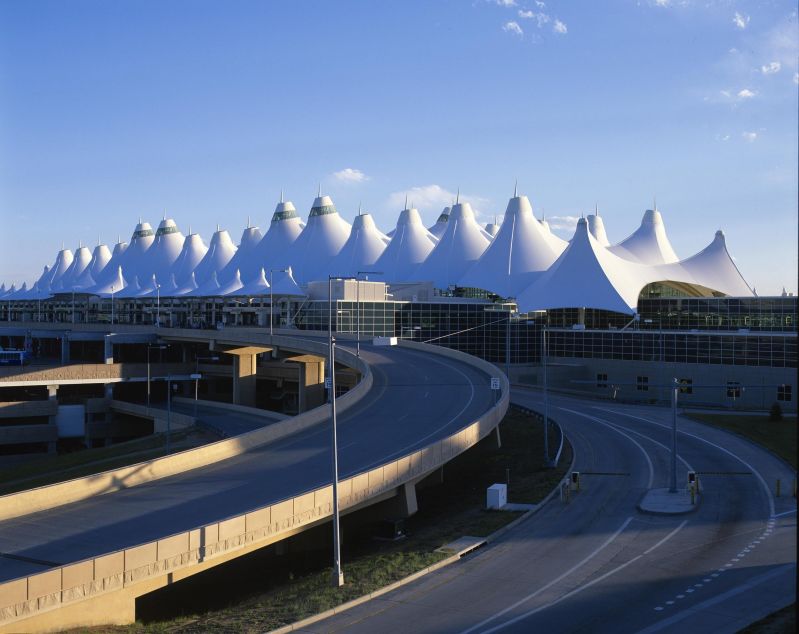 When you ask "what are the largest airports in the US", you may expect Denver to be on that list – but not as the largest of all! It's true – Denver may only be 5th in terms of how many people come in and out of it on a daily basis, but it's the biggest in terms of sheer size.
DEN covers approximately 135.69 square kilometers (about 52 and a half miles) of area. It boasts 6 different runways, which are each spaced around 4,200 feet from one another for safety purposes. The airport's largest runway is also the largest in the United States, with a length of 16,000 feet!
Denver International Airport is considered to be one of the best airports in the country in terms of travel, which is a big deal considering it was completed in 1995 and is one of the newest airports on this list. They started modernizing the two terminal, 89 gate airport in 2018.
2. Dallas/Fort Worth International Airport, Texas (DFW)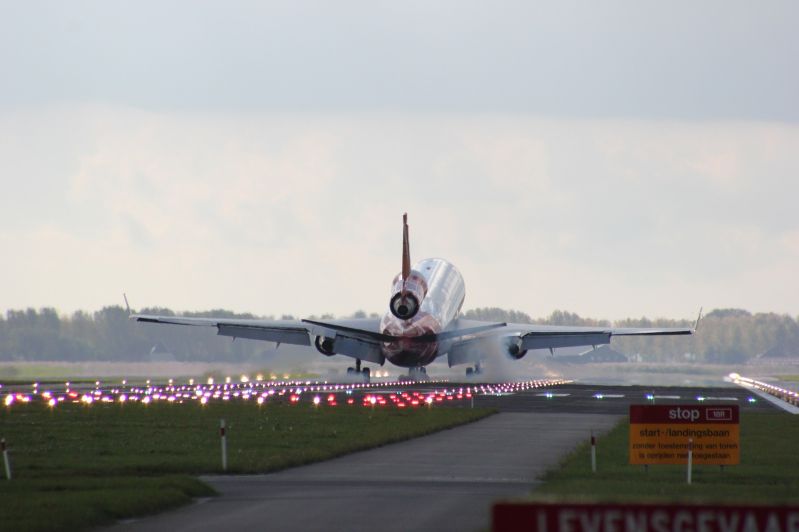 Dallas/Fort Worth is number 2 on this list, covering around 70 square kilometers (27 square miles) of land. This airport boasts 5 terminals and 191 gates in an area which is about half the size of Denver – and people who have visited DFW know the experience!
All of the terminals are linked together using their Skylink people mover system, which was part of their modernization project. In 2017, the airport served almost 70 million people, which makes it the 12th busiest airport in the entire world.
3. Orlando International Airport, Florida (MCO)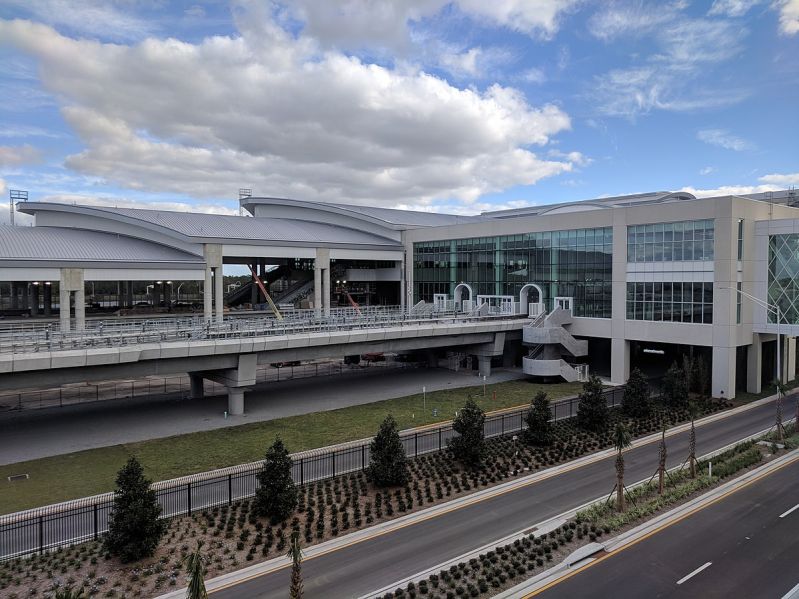 Orlando International Airport is a really busy place, considering it is only a half an hour from Walt Disney World and many of the other attractions in this tourist-rich area.
Covering approximately 54 square kilometers (21 square feet of space), MCO was originally McCoy US Air Force Base in 1942, and then converted for civil use in 1976.
The airport has two terminals on site, with 129 gates spread out over 4 concourses. Around 50 million people come through MCO on a yearly basis, and they airport plans on adding another terminal in the near future to accommodate their always-increasing traffic.
4. Washington (Dulles) International Airport, Washington, D.C. (IAD)

It's not a surprise that Dulles, with its location on the Northern Virginia side of Washington DC, is one of the biggest airports in the US. With its 53 square kilometers (20 square feet), this airport sees around 22 million people on a yearly basis.
The airport is located 25 miles west of DC, and it only takes about 45 minutes to get into the city. There are 3 terminals, with 113 gates. It is considered to be one of the easiest airports to get around, because much of the foot traffic is within its main terminal.
5. George Bush Intercontinental Airport, Houston, TX (IAH)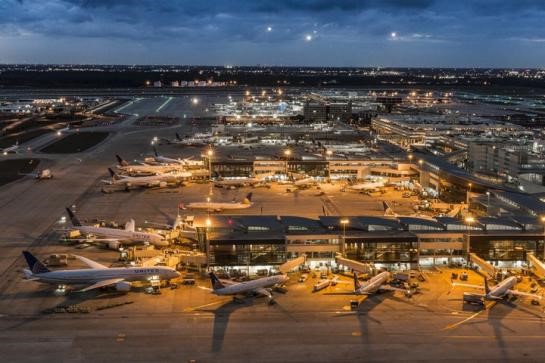 George Bush Intercontinental Airport is Houston's main airport, owned by the city of Houston and known for being the second largest hub for United Airlines. Almost half a million aircraft movements come in and out of IAH every year, carrying over 40 million people. The airport boasts 15 square miles of area (around 40 square kilometers).
IAH, due to its popularity and location, is one of the first airports to utilize United Airline's contactless customer service system, allowing people to connect with agents without standing in line. They can use their mobile devices to video chat with a customer service representative.
6. Salt Lake City International Airport, Utah (SLC)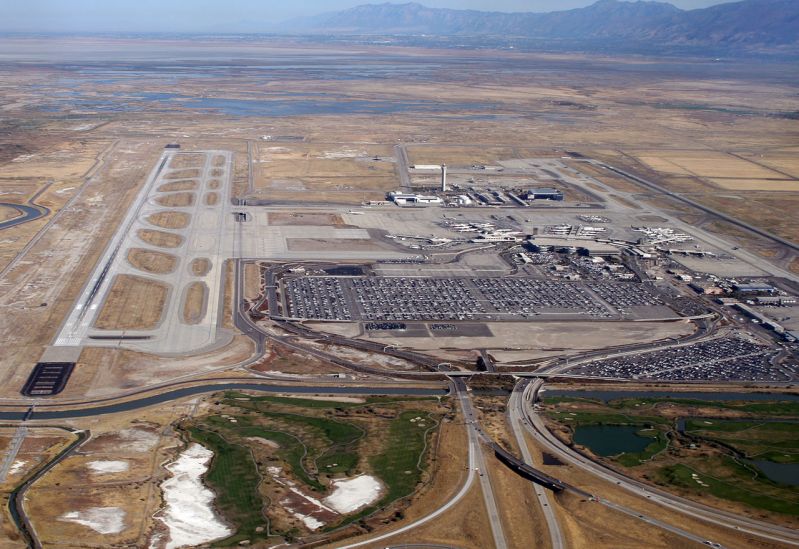 If your flight was delayed, canceled or overbooked within the last 3 years, you could be eligible for up to $700 in compensationCheck Your Flight
Found just outside of Salt Lake City, SLC airport covers around 12 square miles (31 square kilometers) of area. This lovely airport has connections with the Utah Transit Authority's TRAX system, so residents can park outside of the airport and travel in, without paying the high prices you may for parking at the airport itself.
SLC is probably one of the least busy airports on our top 10 list, with only around 24 million people coming through on an annual basis. Built in 1960, the airport has recently been undergoing a number of renovations in order to ensure that they can continue to handle the steadily growing traffic that comes through.
7. O'Hare International Airport, Chicago (ORD)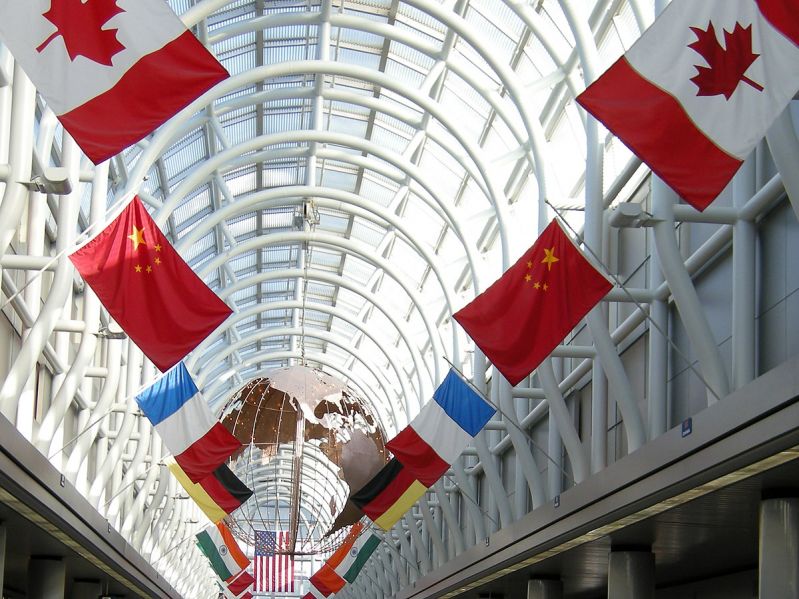 O'Hare International Airport, with its fairly central location in the Midwest, is a popular airport that sees over 80 million passengers a year. O'Hare is basically the same size as SLC, which only has around a quarter of the foot traffic, so you can imagine just how crazy it gets sometimes.
ORD has 7 runways, with an 8th finishing construction soon. There are currently 191 different gates, found in four different terminals. They are working with architects in order to try and determine exactly how to help traffic flow to go better in the future.
8. San Francisco International Airport, California (SFO)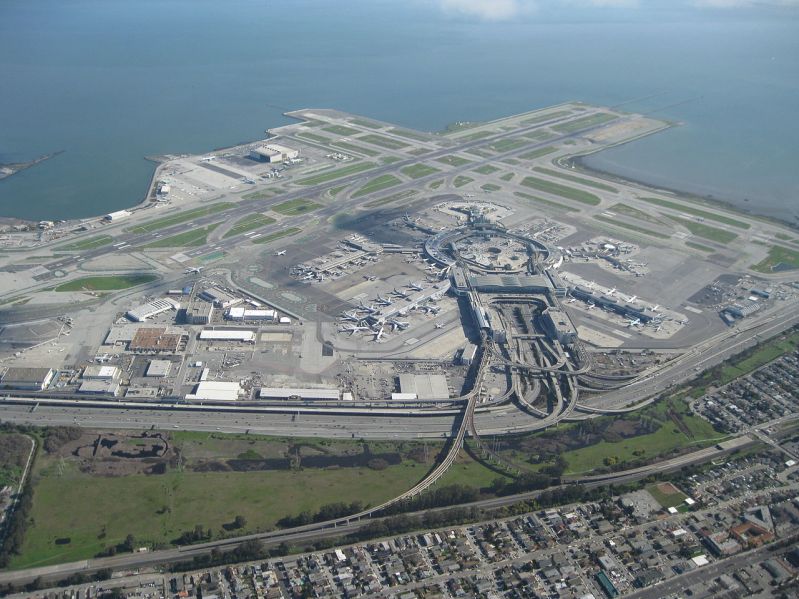 San Francisco International is one of four airports that serve the Bay Area, and it is the only one on this list of the largest airports in the US. This airport sits on about 8.5 square miles (21.07 km) of land, and is located around 13 miles south of the downtown area.
Because of its heavy foot traffic (around 55 million passengers yearly), this four terminal, 115 gate airport is known for being loud and difficult to get around. To help reduce the amount of noise in the airport, they started a quiet airport initiative, where they are using the PA system less (and written/digital options more) in order to communicate with passengers.
9. John F Kennedy Airport, New York City (JFK)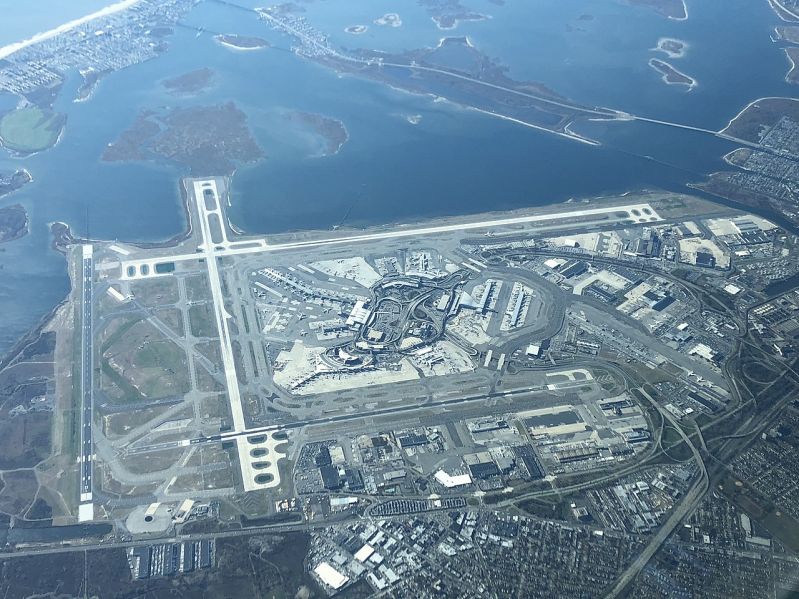 Yet another expected option among the largest airports in the US is John F Kennedy Airport in New York City, typically referred to by its call letters, "JFK." This airport has 8 terminals and handles around 60 million passengers on a yearly basis, all on 8 square miles of space.
Governor Cuomo is currently working with the city to expand the airport, provide more ground transportation, and upgrade the runways. The expectation is that this 5-year project will result in the Queens-based airport gaining 2 additional terminals, which will help with foot traffic and increase the capacity.
10. Detroit Metropolitan Airport, Michigan (DTW)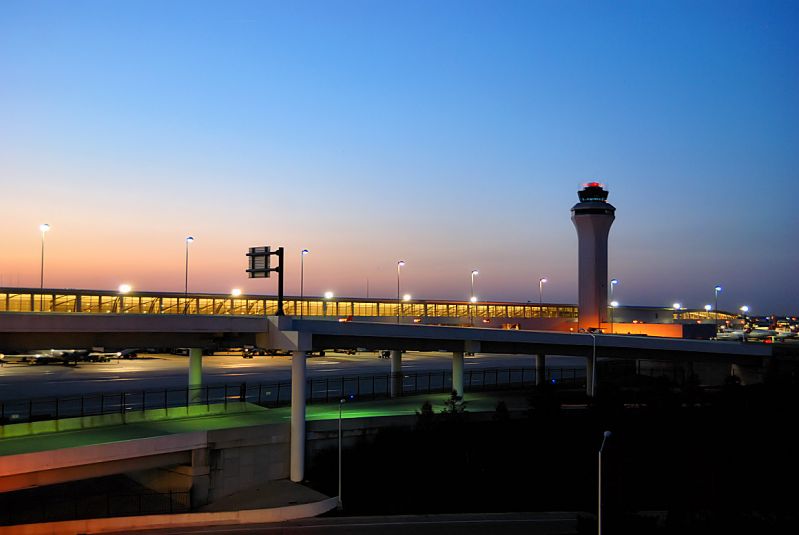 One of the biggest surprises on this list is the 3 square mile Detroit Metropolitan Airport, located just outside of the city in Wayne County. This airport is incredibly busy for its size, with 34 million passengers coming through on a yearly basis.
This airport stuffs 103 gates in its small area, with 4 concourses (the newest opening in 2008). As the airport becomes a more popular go-between and destination, it's likely that they will expand to make the space even larger.
Disrupted flight? You might have a right to compensation - up to $700Check Your Flight
Big Airports Get the Job Done
Which of the biggest airports in the US surprise you? Which airports aren't on this list that you may have expected to be? And which of the airports mentioned on this list of largest airports in the US have you been to? Our team at Air Advisor would love to hear your experiences.
Did you know that even US citizens can get EU261 compensation for long delays or flight cancellations? Fill in your flight details on our website and we will let you know the exact amount of compensation you are entitled to.
Mike 21.09.2022
Little Fact check as it's my favourite airport… firstly a typo, MCO is far bigger than "21 sq feet. also the picture for MCO is the new terminal C which they "plan on adding in the future". It opened this week and will increase passenger capacity by 15m pax/year. Such a beautiful new terminal, fly JetBlue to mco and check it out!
Scott 19.06.2022
DEN is about to be a lot larger because they are getting another terminal. ATL is the busiest and have the most connections than any other airport and JFK has the most international flights than any other airport
Eric 02.06.2022
Gergana Protasova, hahahaha!!!! First off, this was about the SIZE of the airport. Like, how many sq. miles, or acres, ect. Secondly, New Jersey is the most densely populated state. California is ranked at #11. I think you missed the whole point of what you were reading. Good laugh though
Jaadran 10.04.2022
Why their not the hartfeld-jackson airport in Atlanta because that the busiest airports in the world
Solomon 25.01.2022
Quite informative & interesting to learn this
Crystal Conner 25.06.2021
I can't believe Detroit is tenth DFW is second it's fricken huge my hr layover takes all that time just to make it to my connection gate
Dejan 22.01.2021
Haha, man that's odd, biggest cities like NY or LA don't also have the largest airports. Instead, Salt Lake City is there, Texas has 2…
Gergana Protasova 22.01.2021
Where is the LA airport in this top? How come the capital of the richest and most densely populated state is not in top 10??
Josef 22.01.2021
Well, I thought JFK was the first, but seems like I was a little wrong as it barely missed the top 10 
Tom Richardson 20.01.2021
Hey. Do you help refund tickets?