Worst 6 Airports in the U.S. Based on Chronically Delayed Flights - 2023 AirAdvisor Score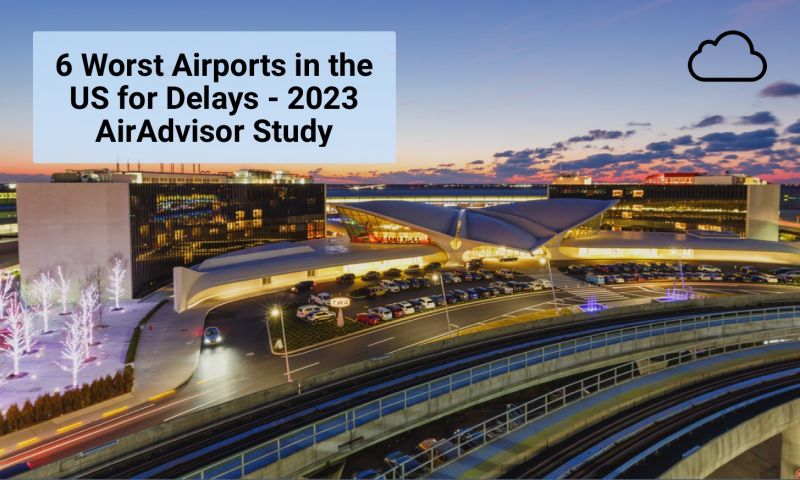 Have you ever wondered which airports are the worst offenders when it comes to delays? We have, and the results may surprise you. It would be nice to know how to mitigate the risk of encountering significant delays, so we conducted a study to get to the bottom of the worst airports in the United States of America for chronically delayed flights. We also looked at which specific routes and times are affected most. Should these flights and routes be avoided? Yes. Should you avoid flights at a certain time of day? Yes.
We analyzed data from 40,274 flights published by the Bureau of Transportation, focusing on the summer of 2022 to get to the bottom 6 of the worst airports in the US. These were flights with more than 50% delayed arrivals for over 60 minutes to help travelers make better-informed decisions about their 2023 summer flight plans. Since 2022 was the year that air travel got back to a more normal level after the pandemic, and summer is the most popular travel period, this data gives us the best indication of what to expect in 2023 and beyond.
Booking summer 2023 travel should begin anywhere from 3 weeks to 100 days from your departure date, so now's the time to figure out which airports, routes, and times to avoid. That way, you can have a seamless experience on your much-needed vacation. We've done all the heavy lifting for you, so here's everything you need to know about the airports with the most chronically delayed flights in the U.S.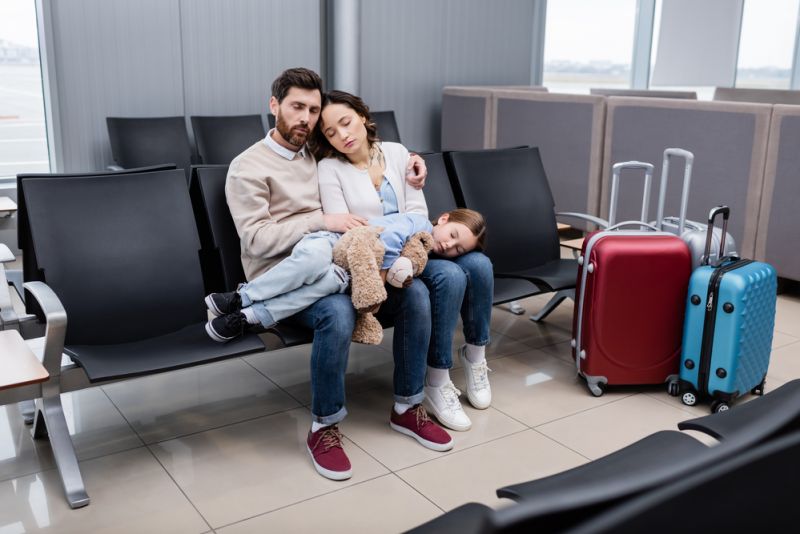 Get to Know the Terms
Before we dive headfirst into the statistics, let's explore some of the terminology.
Chronically Delayed Flight (CDF) - a flight operated a minimum of 10 times per month that arrives more than 30 minutes late over 50% of the time. This includes cancelled flights. The CDF score is taken as a percentage of the total flights vs. the total number of delayed flights, as suggested & analyzed by AirAdvisor.
OTA15 - the percentage of flights that arrive on time or are less than 15 minutes late.
LDA60 - long delayed arrival by 60+ minutes, using the average number of minutes late (suggested & analyzed by AirAdvisor).
LDA90 - long delayed arrival by 90+ minutes, using the average number of minutes late (suggested & analyzed by AirAdvisor).
When booking a flight, LDA60 or LDA90 is a much better indication of your chances of arriving late compared to OTA15. You know more about what you're getting into and how long a delay is expected to be. This can impact connecting flights and any other activities you may have planned at your destination.
If your flight was delayed, canceled or overbooked within the last 3 years, you could be eligible for up to $650 in compensation.Check Your Flight
Our Criteria
Our analysis of the raw data is based on flights in June, July, and August of 2022, and we evaluate the following:
The overall number of routes that were delayed.
The percentage of flights not arriving on time.
This is based on the total number of flights the airport or route had in the summer of 2022 compared to the number of those flights that did not arrive on time.
The average number of minutes the flights were late.
We used all this info to compile a worst-of-the-worst list, and here it is:
Airport

№ of
routes
delayed

№ of flight
operations
reported*

№ of flight
operations
NOT arriving
on time**

% of flight
operations
NOT arriving
on time**
(CDF)

Average №
of minutes
late*
(LDA60/90)

New York (JFK)

146

4062

2501

61.58

104.33

New York (LGA)

135

3619

2043

58.14

102

Newark (EWR)

205

5174

3057

59.6

97.28

Orlando (MCO)

179

4647

2754

59.43

92.75

Denver (DEN)

143

3913

2227

56.95

88.4

Chicago (MDW)

136

3703

2226

60.18

74.75
Source: AirAdvisor based on data from the Bureau of Transportation Statistics of U.S. DOT.
Note that to be included in our data, the airport or route needed to have a minimum of 10 flights per month (*). The number of flight operations not arriving on time includes both canceled and diverted flights (**), and to be included in the average number of minutes late, flights had to be late by more than 30 minutes (***).
How you use this information depends on whether you care about the chances of incurring a delay the most, which would be the percentage, or if you want you prefer to minimize the delay time, which is the average number of minutes late.
To summarize our findings, New York's JFK Airport had the highest CDF score of 61.58%, and it also has the longest LDA90 at 104 minutes. On the upside, Denver International Airport was the best of a bad bunch, with the lowest CDF percentage. For the shortest delay of the 6 worst airports in the United States, Chicago Midway was the winner, if you can call it that, with an LDA60 of nearly 75 minutes.
Bottom 6 Worst Airports in the U.S.
Depending on how you judge it, the ranking of the airport changes, but the overall worst offender for both chronically delayed flights and LDA90 is JFK Airport in New York. Let's get to know these excessive delay airports: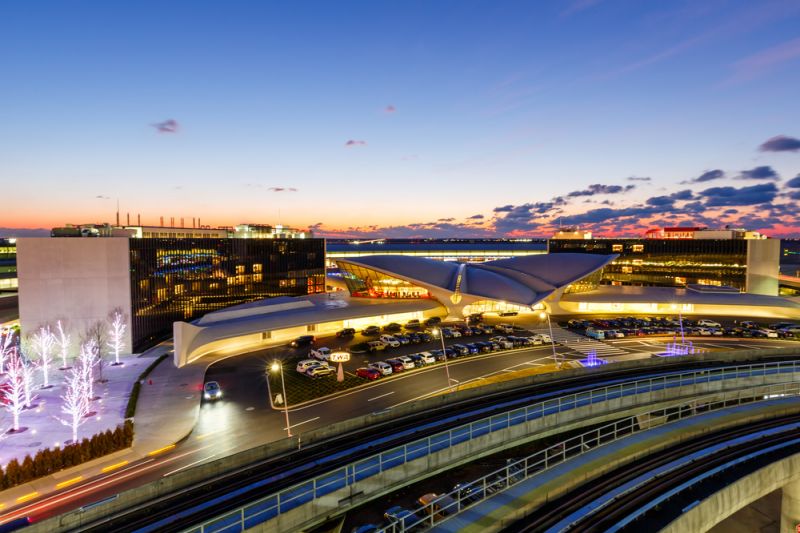 1. John F. Kennedy International Airport (JFK)
Located in NYC, JFK is the busiest airport in the city and has 5 passenger terminals. In all, over 70 airlines have routes in and out of JFK, and it's a base for heavy hitters like Delta, American Airlines, and JetBlue.
JFK Airport has 4 runways and covers 5,200 acres in Queens, and all this space is definitely required to shuttle the over 55 million annual passengers it welcomed in 2022 alone.
Why would JFK have a CDF score of almost 62%? It's likely due to a few factors:
Its terminals are isolated from one another, making it difficult to get to connecting flights on time. That time waiting for passengers delays planes all the time.
JFK could benefit from an interior upgrade. More modern facilities, including things like additional moving walkways, would decrease the time it takes passengers to get to their gates. Modernity could also speed up everything from the check-in process to dining to security.
Staffing issues. Due to JFK's high overall volume and difficulty finding staff, including flight attendants, baggage handlers, and security officers, there are often long lines to check in or get through security, which definitely delays passengers and, therefore, the flights.
Since JFK Airport tops our list of the worst airports in the U.S. for chronically delayed flights and LDA90, consider avoiding it and using neighboring airports like LaGuardia or Newark. Even though they also make our list, they're at least a little better.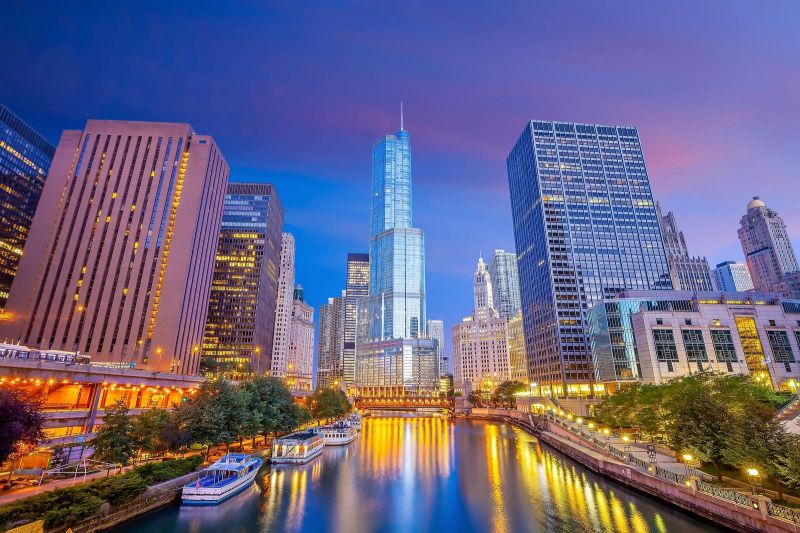 2. Chicago Midway International Airport (MDW)
Billed as a smaller alternative to Chicago's O'Hare International Airport, Midway still managed to accommodate nearly 20 million passengers in 2022. Delta and Southwest Airlines use this airport frequently, and one of the main features of this airport is its proximity to The Loop in central Chicago, making it quite easy to get to (in theory and without traffic).
When we mentioned Midway was small, we meant it. It occupies slightly over 775 acres and has only one terminal with 3 interlinked concourses. When compared to JFK, you'd think this airport would be a breeze. But clearly, it's affected by chronically delayed flights, with a CDF score of 60.18%. Why is that?
Midway's small size is actually detrimental to your flight leaving on time. Long security lineups, difficulties with parking, and the overall crowds mean delays in getting passengers to their flights.
The wind. Chicago's nickname of the Windy City may sound fun, but those high winds can affect your flight.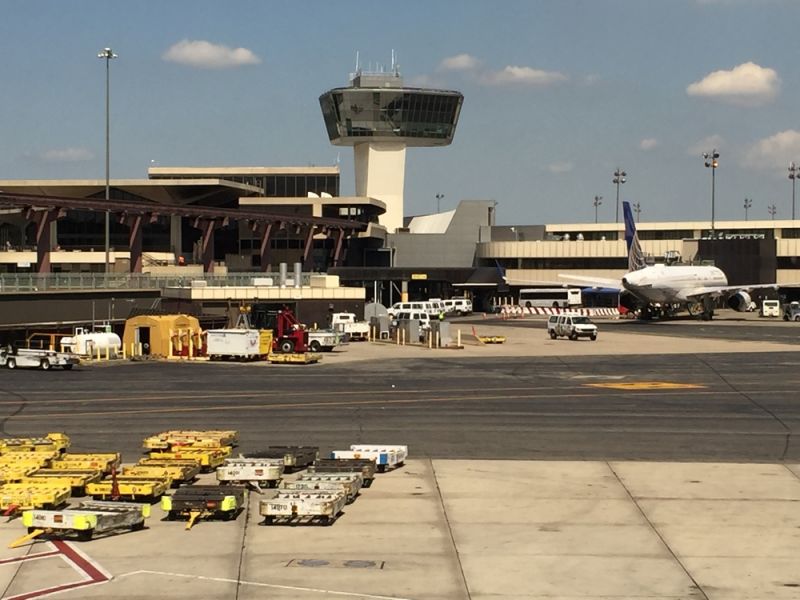 3. Newark Liberty International Airport (EWR)
As the biggest airport in New Jersey, hearing that Newark Liberty Airport often sees over 40 million passengers annually shouldn't be a shock. The shock is that chronically delayed flights are a real issue here. The airport's CDF score is 59.6%.
EWR fits nicely in terms of size between JFK and Midway and covers a little over 2,000 acres. Three miles south of downtown Newark, the airport is easy to get to by car or public transportation. Over 25 airlines call EWR home, and national carriers like SAS Scandinavian Airlines, British Airways, and Air Canada all offer routes to and from Newark.
Here are a few reasons why Newark Internal Airport is constantly affected by CDF:
Airport construction. It's good that the airport is modernizing, but while it does this, the construction disruption is inconveniencing passengers and delaying flights.
Staffing. The airlines that fly in and out of Newark are experiencing a severe shortage of flight attendants and pilots. This results in canceled flights and increases the occurrence of LDA60/90 while they wait for on-call staff to show up.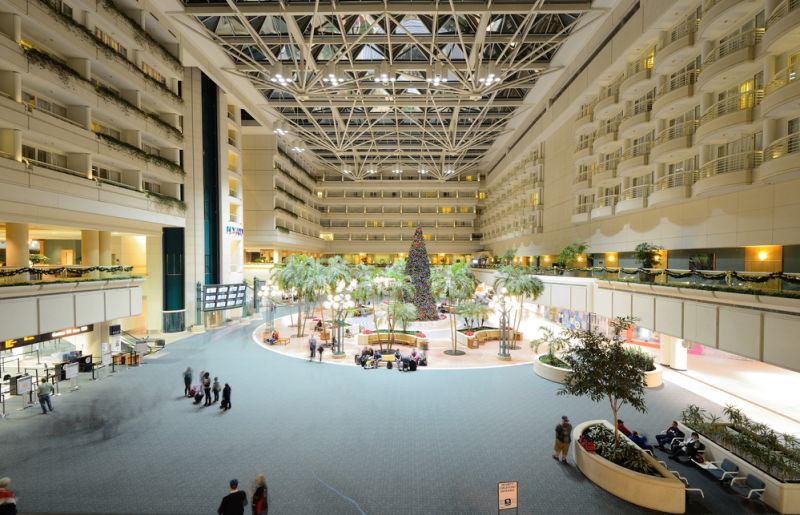 4. Orlando International Airport (MCO)
Six miles southeast of downtown Orlando and just 20 miles from the epicenter of the entertainment mecca known as Disney World, Orlando International Airport broke its own record in 2022, receiving over 50 million passengers.
United Airlines has a maintenance base here, and the airport itself spans a staggering 12,600 acres. Its two terminals, A and B, aren't too far apart, so why is CDF at 59.43%?
Volume. As people emerged from the lockdowns of the pandemic, the urge to travel was overwhelming. Travelers put more of a focus on checking off bucket list destinations, and for many families, Disney World is close to the top.
Staffing. In addition to increasing passenger numbers, MCO is affected by staffing like most airports post-Covid.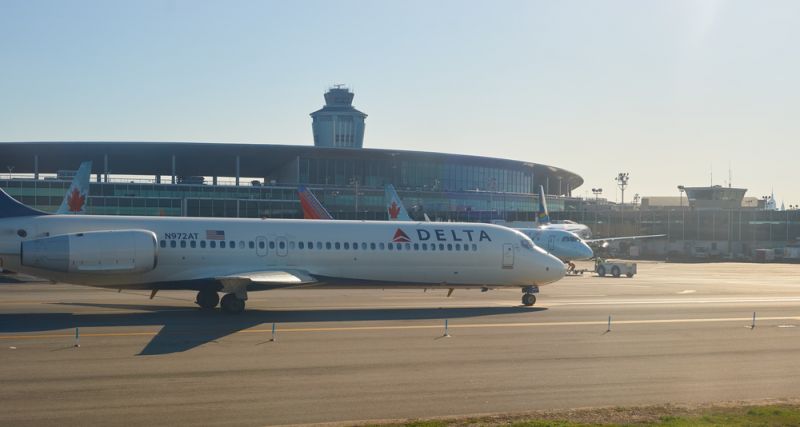 5. LaGuardia Airport (LGA)
The smallest airport on our list, LaGuardia is located in Queens, New York, and is named after a former NYC mayor. Its total land size is a mere 680 acres which houses 3 terminals and 72 gates. In 2022, LaGuardia had 17 million passengers in total, and the main airlines serving the airport are Delta and American Airlines.
The airport has undergone significant improvements since 2017, which is great, but operating an airport in the height of construction isn't ideal. The top reasons for the CDF score of 58.14% at LaGuardia include:
The aforementioned construction. Ongoing since 2017 and with a cost of over 8 billion dollars, this expansion has been disruptive to both airlines and passengers.
Crowded airspace. As one of the 3 main airports serving New York, LaGuardia has to compete with giants like JFK and Newark for air space, which means there are often interruptions due to air control issues.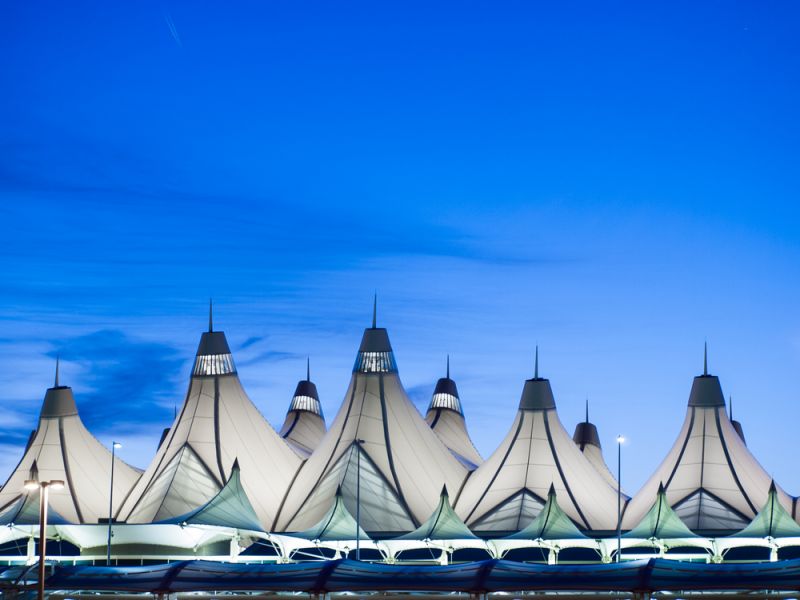 6. Denver International Airport (DEN)
Based on size, Denver International Airport is the largest airport in the United States, totaling over 54 square miles. The 69 million passengers that passed through the airport in 2022 earned DEN the title of the world's third-busiest airport.
Frontier, United, and Southwest all have significant hubs at Denver Airport, and to accommodate its size, the airport is a bit far from the action - it's 25 miles northeast of Downtown Denver. Now, let's explore the reasons DEN Airport appears on our chronically delayed flights list at 56.95%:
Size. The nearly 70 million passengers that pass through the airport annually all share one, albeit large, terminal. This can be crowded, chaotic, and difficult to navigate. Things are spread out, and when passengers can't get to their gates on time, flights get delayed.
Weather. Unfortunately, this area is prone to low-lying cloud and thick fog, making it difficult to operate flights safely. This will either result in cancelations or serious delays.
Find out if you are owed compensation for a disrupted flight.Check Your Flight
Routes with the Most Delays
Now that we know which airports had the most CDF issues in 2022, let's review the specific routes that are most affected by chronically delayed flights for the same period.
To get this information, we took the flight delay information for every route that had a 30-minute delay or more in June, July, and August of 2022. The route had to have a minimum of 10 flights per month, and the number of flights not arriving on time includes both diverted and canceled flights. This is the same criteria as for our analysis of the worst airports in the US for chronically delayed flights.
ORIGIN -
DESTINATION
AIRPORTS

№ OF FLIGHT
OPERATIONS
REPORTED*

№ OF FLIGHT
OPERATIONS
NOT ARRIVING
ON TIME**

% OF FLIGHT
OPERATIONS
NOT ARRIVING
ON TIME**
(CDF)

AVERAGE №
OF MINUTES
LATE***
(LDA60/90)

New York (JFK)
to Atlanta (ATL)

175

115

65.71

128.82

Fort Lauderdale (FLL)
to Newark (EWR)

127

82

64.57

125.37

Charleston (CHS)
to New York (LGA)

131

92

70.23

109.17

Orlando (MCO)
to New York (LGA)

256

164

64.06

106.04

New York (JFK)
to Puerto Rico (SJU)

191

134

70.16

90.17

Chicago (MDW)
to Albany (ALB)

76

59

77.63

78.94

Long Beach (LGB)
to Phoenix (PHX)

53

38

71.70

64.7

Chicago (MDW)
to Tampa (TPA)

79

61

77.21

62.31
Source: AirAdvisor based on data from the Bureau of Transportation Statistics of U.S. DOT.
When we look at the route with the longest LDA90, the winner is JFK to Hartsfield–Jackson Atlanta International Airport. Atlanta International is the busiest airport in the US, with over 90 million passengers served in 2022. Next, Fort Lauderdale-Hollywood International Airport to Newark also regularly experiences LDA90 interruptions exceeding 2 hours. And the worst airline for delays on this route was United.
On the other hand, for the highest CDF, that title goes to the route from Chicago Midway to Albany International Airport, followed by another route from Midway going to Tampa International Airport. In both these cases, the worst airline for delays was Southwest. In fact, it was the only airline responsible for these route delays. With a CDF of over 77% for both these routes, there's a really high chance you're going to encounter a delay.
These routes are still likely to be affected by delays in the summer of 2023 due to their size and popularity, but these delays may not be as common or severe. In 2022, the airline industry was waking up from a long nap, and after so many difficulties, airlines have had time to adjust. They are more selective with their routes to maximize their resources and have increased staffing, and even the airports will have completed construction and addressed their own staffing issues.
When you think about it, it makes sense that these routes often include the worst U.S. airports for chronically delayed flights because the issue has to start somewhere. Also notable: any route or airport in and around New York is especially susceptible to disruptions.
Basically, choosing any of these routes will result in a delay more often than being on time, and those delays will be long, reaching LDA90 in most cases. If you can avoid them, do.
Disrupted flight? You might have a right to compensation - up to $650.Check Your Flight
How to Book a Flight That (Probably) Won't Get Disrupted
It may seem like a lost cause if your itinerary includes any of the worst airports in the U.S. for chronic delays or any of the highly disrupted routes. But that's not necessarily the case. There are a few things you can do to minimize your chance of cancelation or delay:
Pick the most reliable airline you can. Some airlines are worse than others. Hawaiian Airlines, Delta, Alaska Airlines, and United have the highest OTA15, according to the Bureau of Transportation Statistics. On the flip side, discount carriers JetBlue and Allegiant were the most delayed airlines in 2022.
The earlier, the better. Try to book the earliest flight of the day. The later you fly, the chances increase that your plane will have encountered a delay during its previous flights. If you leave first thing, you eliminate this delay factor.
Fly direct. The more legs you have in your journey, the higher the chances of disruption.
Choose airlines with multiple daily flights. If your flight gets canceled, using an airline with multiple additional flights on the same route throughout the day can help to get you to your destination. You'll be late, but at least you won't miss an entire day of your trip.
Tips to Avoid Canceled Flights
Fly with reliable airlines

Fly early

Fly direct

Fly airlines with multiple daily identical routes
Figuring out how much you are owed for a disrupted flight can be complicated. We're here to help. Let us assess your compensation for you.Check Your Flight
How AirAdvisor Can Help if Your Flight is Delayed
First and foremost, it's important to know your rights, and we can help you with that. As a US air passenger, your rights are limited to a refund in the case of cancelations and compensation for denied boarding and tarmac delays.
If you are traveling to the EU or UK, you may be entitled to better protections as per EU or UK law if you opt to fly using an EU/UK carrier. Otherwise, if you fly with a US-based carrier, you will only have the right to compensation up to US $670 if the flight delay happens when flying back from the EU/UK.
At AirAdvisor, we know the ins and outs of both your rights and how to get maximum compensation. Contact us to start your claim if the worst happens and your flight is canceled or delayed.
Conclusion
All these numbers may be a lot to take in at first, but our team has worked hard and dedicated 2 days to produce this data-driven feedback, which we hope will be helpful for travelers.
New York airports are some of the worst CDF offenders, but that doesn't leave you with many options if you live in the city or are traveling there. Of the airports that serve the city, New Jersey's Newark is the best of a bad bunch, with the lowest LDA60.
Generally speaking, the busier the airport, the more likely you are to encounter disruptions, so consider an alternative to any of the worst airports in the United States for chronically delayed flights. These could be smaller airports or ones outside the city. In the case of Denver, Rocky Mountain Metropolitan Airport has fewer disruptions than Denver International. Since there's always an exception, in this case, it's Chicago. Chicago O'Hare might be a better option than Midway, even though it's bigger.
In addition, avoiding routes and airports that trigger LDA 60 or 90 is ideal, and of course, the lower the percentage of CDF, the better.
One last important component of mitigating flight delays on routes or using any of the 6 worst airports in the U.S. for delays is to choose your flight time wisely. When we really got into the details, we found that 1204 out of a total of 1562 chronically delayed routes reported had departures after 5 pm. These flights after 5 pm had a 59% chance of a flight delay with an average delay of 91 minutes (LDA90).
Claim with AirAdvisor and get up to $650 compensation. Find out how much you're owed today.Check Your Flight
As you start making your 2023 summer travel plans, do your best to consider all these factors. Some airports are constantly improving infrastructure, while others are stuck with what they already have. Both airlines and airports have had time to address some of the major concerns related to staffing and the increased demand for flights, so it's our hope that 2023 will be a better travel summer than 2022. If only airports and airlines would consider adding a CDF score and an LDA60/90 warning, things would be a lot easier. Then you'd know exactly what to expect when you're planning your trip. Happy booking!