Heathrow flights are cancelled and delayed on a daily basis for various reasons. As this is one of the world's busiest airports, it's only natural for Heathrow delays and flight cancellations to occur.
Tip: With one of the highest shopping scores, London Heathrow Airport secures an impressive 15th place in AirAdvisor's list of the world's best airports.
But what can you do when you're dealing with cancellations or delays at Heathrow? Well, thanks to EU law, it's possible for you to claim a whopping £520 (€600) in travel compensation if you are made to wait. Read on to find out more.
If your flight was delayed, canceled or overbooked within the last 3 years, you could be eligible for up to £520 (€600) in compensation.Check Your Flight
Heathrow Flight Delays
It's not uncommon to see Heathrow Airport delays. Issues like bad weather, scheduling problems, staff issues, and so on can all lead to check-in delays and cancelled flights in the worst cases.
It can be very frustrating to experience check-in delays or cancellations. However, thanks to a special law called EU 261 Regulation, passengers at Heathrow have the following rights:
Claim up to £520 (€600) per person after cancelled flights from Heathrow.
Make your claim any time in the 3 years after your Heathrow flight cancellation.
Claim compensation for delays, overbooking, missed connections, or for cancelled flights.
How to Claim Compensation After Cancelled Heathrow Flights
If your Heathrow flight is cancelled, you'll need to get in touch with your airline and fill out claims forms to get the compensation you're owed. This can be a long and challenging process, and airlines may try to evade or ignore you.
That's where we come in. AirAdvisor can guide you through the entire process of making your claim. We'll help you get the compensation you're owed, and thanks to our no-win, no-fee system, you won't have to pay a penny until we're successful.
Check out our free flight delay compensation calculator to find out how much you could be owed.
When Can I Claim Compensation?
Part of EU law called EU 261 protects passengers in all of the following situations:
Steps to Follow when encountered Cancellation or Delay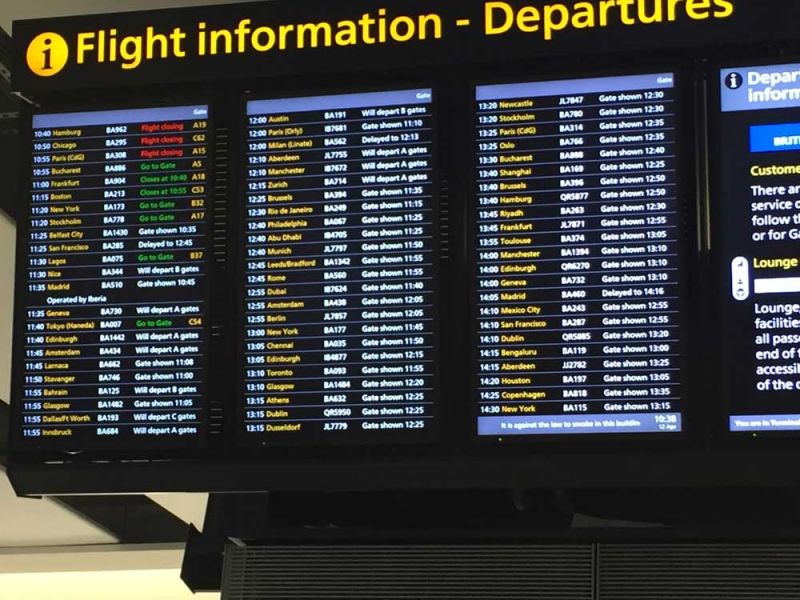 Dealing with Heathrow Terminal 5 delays? If so, here's what you should do about it:
Find and speak to an airline representative to learn more about the situation and ask any questions you might have.
Gather as much evidence as you can to help out when you make your claim later on for compensation.
Claim necessary essentials while you wait, like food, drink, and even accommodation if you're waiting overnight.
Use our online compensation calculator to find out exactly how much compensation you could get, based on the length of your flight.
Claim with AirAdvisor and get up to £520 (€600) compensation. Find out how much you're owed today.Check Your Flight
FAQs
Why Do Flights Get Delayed at Heathrow?
There are many reasons why flights are delayed at Heathrow, from technical problems to late passengers, staff issues, weather problems, and more.
Can I Get a Heathrow Express Refund?
It may be possible to claim a refund for your Heathrow Express ticket in some cases, like if the ticket was not used.
How Many Terminals Does Heathrow Have?
Heathrow Airport has five terminals in total.
Is Heathrow the Biggest Airport in the World?
No, but it is the biggest in the UK and it's one of the busiest in the world, with tens of millions of passengers passing through each year.
How Do I Claim Compensation if My Heathrow Flight Was Delayed?
AirAdvisor can help you make your claim. We'll negotiate with the airline on your behalf and help you get a swift payment. Best of all, we won't take any payment from you until we are successful, so you can work with us completely risk-free.