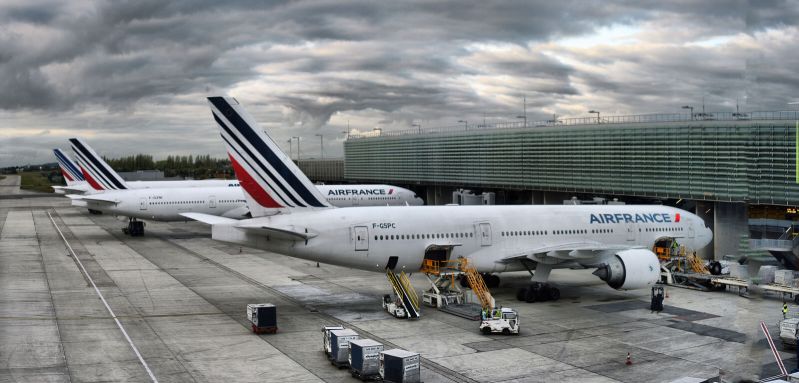 Compensation for delayed, canceled flight or denied boarding: Air France
Air France, being a French company operating flights both in Europe and in European countries, is subject to Regulation 261/2004 adopted by the European Parliament and the Council of the European Union in February 2004. This regulation refers to infringements committed by the company and requires it to provide passengers with conditions and compensation in case of:
Delayed flight
Canceled flight
Refuse to board due to overbooking
If the plane has been delayed for more than 3 hours, you are entitled to delayed flight compensation.
| | | |
| --- | --- | --- |
| Compensation for a delayed flight with Air France | Flight distance | Delay time |
| 250EUR | <1500 km | More than 3 hours |
| 400EUR | Between 1500 and 3500 km | More than 3 hours |
| 400EUR | Over 3500 km within the EU | More than 3 hours |
| 300EUR | Over 3500 km, outside the EU | 3-4 hours |
| 600EUR | Over 3500 km, outside the EU | More than 4 hours |
If your flight with Air France has been canceled, you will receive canceled flight compensation as follows:
250 Euro for a distance under 1500 km
400 Euros for a distance in the range 1500 - 3500 km
600 Euro for the 3500 km distance outside EU borders
In addition to compensation for delayed flights, canceled flights or refused boarding, you will receive from the Air France airline the following services:
free meals and soft drinks and two phone calls, telex or fax or e-mail;
free accommodation and transport to the hotel and transport between the airport and the accommodation - when the airline reasonably expects the actual departure time to be later than the scheduled departure date;
reimbursement of the full cost of the ticket or return flight to the first point of departure as soon as possible - if the delay, cancellation is at least 5 hours;
redirecting under comparable transport conditions;
covering the cost of transferring the passenger from that alternate airport either to the one for which the reservation was made or to another close destination agreed with the passenger.
However, a passenger can not claim compensation from Air France in the following circumstances:
The passenger is informed of the cancelled flight at least 2 weeks before the scheduled time of departure;
The passenger is informed of the cancelled flight between 2 weeks and 7 days before the scheduled time of departure and is offered redirection, allowing him to leave no more than 2 hours before the scheduled departure time and arriving at the final destination less than 4 hours after the scheduled time of arrival;
The passenger is informed of the cancelled flight less than 7 days before the scheduled departure time and is offered redirection, allowing him to leave no more than one hour before the scheduled departure time and arriving at the final destination at less than 2 hours from the scheduled time of arrival.
If you encounter difficulties with the procedure to be followed in order to file a complaint in the event of a delayed flight, a canceled flight or you need any information regarding compensation, documents or refund terms, AirAdvisor specialists are always ready to come help.
Lost or delayed luggage?
Depending on your arrival at the airport, you have 2 options to declare missing baggage: online, within 48 hours of arrival or at AIR FRANCE KLM Baggage service before departing from the airport. If you want compensation for your luggage problems, it's good to react as soon as possible.
Online
If you decide to declare the lack of luggage online, this is done by filling out a form you can find on the site or through the Air France application within 48 hours of your arrival. In order to be able to complete and receive an answer, you must have your luggage receipt or otherwise called luggage receipt issued at the luggage handler. Please note that some airports do not accept the missing online baggage declaration.
At the airport
If you are still at the airport of arrival, the best option is to apply with AIR FRANCE KLM Service for luggage.
Before leaving the airport, you need to complete a document called the Property Irregularity Report (PIR). At the end of the declaration process, you will receive a number for your file, which is kept to track the progress of your luggage search. The status of the file is tracked online using this number.
Air France has 21 days to send you a final reply.
If your baggage is not found within 21 days, then you have the right to receive compensation for lost baggage from Air France. According to the Montreal Convention, the maximum amount that can be received by the passenger is € 1,295.
Damaged Luggage
Damage to luggage may be a natural consequence of a flight, particularly if the luggage has not been properly packed. However, if your baggage has been damaged by the company, then you have the right to lodge a complaint and claim compensation for damaged luggage.
If you're at the airport, do it right there, and if you've already left the airport, you have to fill out an online form.
To warn of damaged baggage the passenger is offered 7 days from the flight. If you do not claim the compensation within this deadline, the application will not be considered valid by the company.
For your application you need the following documents:
Ticket
Baggage receipt
Official compliance with the failure to repair the luggage
Things to do in all cases
Act immediately! If you're still at the airport, go to an Air France representative. Request the Property Irregularity Report. This is a statement form to be sent within five days, after which it is possible for the crew to check where your luggage is and where they lost it.
Go to the "Baggage Claim" or "Lost Baggage" office in the transit area, where you will receive help completing a Report on Property Irregularities (PIR). If no report is made at the destination airport, no one will accept the responsibility. If the luggage is not within 21 days of reporting to the destination airport, Air France will be liable for the loss.
The company can not be held responsible for a wrong bag identified by another passenger - all costs are the responsibility of the passenger involved.
Time limits for receiving lost or damaged luggage compensation
The Montreal Convention sets deadlines for any baggage claims:
Damaged luggage compensation - seven days after receipt of damaged luggage
Delayed baggage compensation - twenty-one days after the date of delivery
Lost luggage compensation - There is no time limit, but it is advisable to make the complaint as soon as possible once the luggage is missing for twenty-one days or if the airline acknowledges that it has lost them.
General information about Air France
Air France is one of the oldest and largest airlines in the world. Founded in 1933 in Paris, the company was at the time a merger of five French companies that have decided to join under one name Air Union, Air Orient, AÉRENE ASSOCIATION OF GOVERNMENT TRANSPORT (SGTA), CIDNA and Aéropostale. Since 1933 the company has managed to hire the first woman on board to become a company accessible from a luxury company.
Currently, Air France has more than 1500 daily flights in more than 115 countries, accounting for 5 continents in total: 34 seats in Europe, 15 in France, 11 in Asia, 16 in Africa and the Indian Ocean, 22 in the Americas and 5 in the Caribbean.
How do I check-in?
The registration involves choosing a place on board of the Air France aircraft, getting a boarding pass, which is then used at checkpoints. You have several check-in options with Air France:
Online on the Air France website. This method can be used 30 hours before the flight time. If you fly from the US, check-in online is done 24 hours before the flight.
Using the Air France application. Download the Air France app through which you can buy, book, cancel, check-in and benefit other services. This is available for both Android and iOS.
At the airport. With 24-hour Air France terminals, you can check all the details of your flight, ticket, and print the ticket you use at checkpoints.
You can also print and have a luggage ticket online through these options. All of these check-in options are free of charge.
Can I cancel the ticket?
You can cancel your online registration by the time limit for registering your flight. This means you can cancel your registration 30 hours before the flight. The procedure is simple, you only need your ticket number, flight number and your name.
Luggage policy
Depending on the class you fly, your luggage will be different. Air France allows passengers to have the following types of luggage:
○ Hand baggage. Hand baggage is accessible to passengers regardless of whether they fly using the Economy or Premium class. Its dimensions must not exceed the following figures: 55 x 35 x 25 cm. If you fly to economy class, the luggage weight must not exceed 12 kg, and in the Premium class 18 kg. In addition to basic baggage, you can also get an accessory from the following: a bag, handbag, laptop case, camera or any other item that is in the size of 40 x 30 x 15 cm and can be seated under the passenger seat.
○ Luggage The hold baggage (luggage) must not be larger than 158 cm in height. Its weight depends on the class you fly on. If you fly using the Economy class, your luggage can be up to 23kg, and in the Premium class up to 32kg. If your baggage exceeds this weight, Air France charges a fee, the size of which depends on your type of flight: internally, externally, with the US, etc.
○ Sports equipment. Air France allows you to carry sports gear that meets the following requirements: do not exceed 300 cm and weight 23 kg if you fly using the Economy class and 32 kg if you fly using the Business class or Premiere Cabin.
○ Special equipment. Musical, hunting or other equipment can be transported by Air France if it complies with the conditions imposed by the company.
Luggage depending on the class of your flight
If you fly to different classes, you can load a different amount of luggage aboard the plane. Thus, the following rules apply:
If you fly using the Economy class, you can take an additional hold of up to 23 kg. It will be paid separately from the ticket price.
In Economy class, you are allowed to have a piece of hold baggage.
In the Premium Economy Class, you can hold 2 pieces of luggage weighing no more than 23 kg.
In the Business class, you can have 2 pieces of luggage weighing up to 32 kg.
In the Premiere Cabin class, you can have up to 3 pieces of luggage weighing 32 kg each.
Promotions and cheap tickets
Air France motivates passengers by offering cheap tickets or special promotions on a regular basis. This way, you can purchase a 2 or even 3 times cheaper ticket to your destination. Air France offers promotions depending on your area or the airport you want to fly.
Some promotions offered by Air France are valid only if you meet certain conditions, usually conditions related to the date you choose the ticket or the date you fly.
You can find out about subscriptions to the company newsletter as soon as possible. Thus, you will always be informed about the promotions that are active and you can take advantage of.
Loyalty program
Air France offers passengers the opportunity to benefit from the Blue Miles loyalty program. With this program, you earn miles for each flight, which you can then use for a ticket purchase, a car rental, online shopping or other services. In other words, miles become your new currency within the company and its partners.
There are a few options to earn miles and benefit, depending on the program you choose:
Explorer. When you are at this level you earn 4 miles per euro spent on Air France or its partners. You keep 10 Euros on your luggage if it exceeds your limits or, if you want, you take one extra. You get 10% discount on My Seat offer and more.
Silver. As part of the Silver program, you enjoy other Air France passengers' options and facilities. You earn 6 miles per spent euro. You have priority at check-in, but also at checkpoints, boarding. You choose your seat on the plane with a 25% discount on the price. You take extra cabin baggage without paying for all flights of Sky Flights, part of which is Air France.
Gold. The Gold Package allows you to get even more deals and discounts. For each euro spent you get 7 miles, you have the chance to take a guest with you on board for free and you have Sky priority at the airport. At My Seat you choose your favorite place at just half the price, that is, a 50% discount. You can take free baggage to all flights of the Sky Flights group, part of which is Air France.
Platinum. With Platinium, you get 8 miles for every spent euro, free access to a person with you in flight, Sky priority, MY free seat service and free baggage with Sky Flights.
For more details go to the website of the company.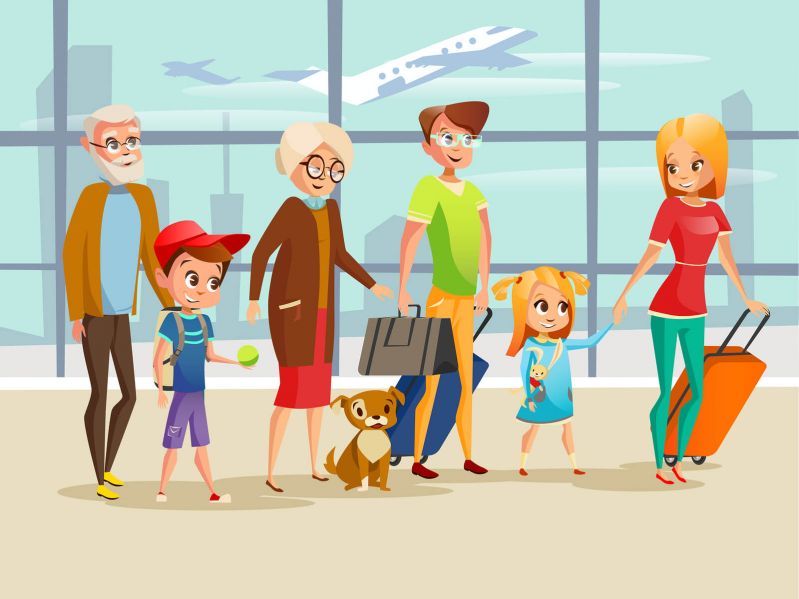 Car hire
Air France not only helps you reach your destination but also makes you feel at home at your landing. Air France has been working with the Hertz company for nearly 30 years, which allows renting cars and leaving the airport on the board of a Hertz car. As an Air France passenger, you benefit from the following benefits:
Best offers, guaranteed
15% discount on car rental with Hertz
Up to 10% discount for car rental with Thrifty
1 € spent with Hertz = 5 Mile Flying Blue
1 € spent with Thrifty = 4 Mile Flying Blue
Earn 100 Mile Flying Blue if you book your car on the company's website
The Hertz counter at the airport is open until the arrival of the last Air France customer
Hotel reservation
Air France collaborates with the booking.com network to give you the benefits of a pleasant stay. From extra-luxury hotel rooms to hostels, Booking.com proposes millions of accommodation units! With the reservation of a hotel room, apartment or any other unit, you benefit from the following:
1 € spent = 1 Mile Flying Blue *
Over 135,000 destinations around the world
Customer service available 24 hours a day, 7 days out of 7, in 40 languages
Activities
It's much easier now to organize your vacation or stay with Air France. Ceetitz's partner offers services to help you choose and book all your tourist activities. You get the following benefits:
Best Price Guaranteed,
free of charge,
priority tickets,
Discounts up to 50%
a wide range of activities.
My Seat
If you want to choose the place to be seated during the flight, you can do it through the service called My seat. This is done when you purchase your ticket or after that time.
You can choose your place by several methods:
online
application
travel agency
the ticket sales office
on the phone, by talking to the company's representatives
This service is not free of charge for passengers not in the following categories:
Flying Blue Service Gold, Silver, Platinium
passengers with reduced mobility
children traveling alone
Economy class passengers with non-refundable tickets
The price of this service is 10 Euro for short or medium flights and 25 Euro for long distance flights.
Airline ranking and reviews from passengers
| | | | |
| --- | --- | --- | --- |
| Airline | Food | Entertainment | Value received for paid money |
| 5/10 | 3/5 | 3/5 | 3/5 |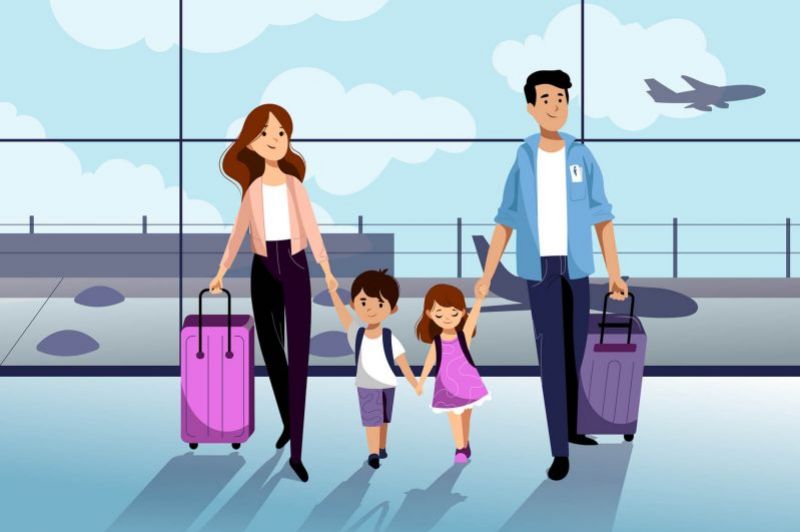 Traveling with kids?
Air France wants to provide comfort to the entire family during the flight, so it offers many facilities for children.
At the airport
Assistance and luggage delivery
Choose to carry your luggage at the airport to make it easier for children to cooperate at the airport. Air France offers pick up and delivery services to and from home for maximum comfort. Upon arrival at your destination, the luggage can be delivered immediately to the address you mention.
On board
Air France offers the opportunity to carry baby strollers for long-haul flights in the Business, Premium Economy and Economy cabins, subject to availability. Trolleys are provided by the company and are designed for infants with a weight of less than 10 kg and a height of less than 70 cm.
In order to check the availability and send the request for a stroller, you must contact the company as soon as possible after booking the flight and at least 48 hours before departure.
Also, if you want to reserve a place for your child over 2 years old, you must call the company in advance.
Menu
As part of Air France's child service, over 2 hours 30 minutes, the 2-8 year old child will be served with a meal tailored to his tastes and needs: fun, colorful, healthy and cut in small pieces.
For children aged 9-11, you can order a baby meal up to 24 hours before departure. If not, they will be served an adult meal.
If you are traveling with a child aged 0-23 months, it is advisable to have enough feeding and food bottles on board for the entire trip. You can also order a table consisting of sweet and savory organic dishes and baby biscuits up to 48 hours before the flight.
People with reduced mobility
Air France provides high-quality assistance to all disabled passengers at its airports and on board its aircrafts.
If you want to book a ticket, this is usually the case, the disability must be communicated to operators or online when purchasing the ticket. The disability must be communicated at least 48 hours before the flight in order to be able to prepare the necessary.
The most important issues that need to be announced are the need for a companion or wheelchair.
Assistance provided by the company can be received by the following groups of people:
passengers with limited mobility
passengers with visual impairment
passengers with mental deficiencies
Passengers with respiratory distress.
Depending on the type of disability, the company offers specific services to ease the usual procedures at the airport and on the plane.
Onboard
To make it easier for passengers with disabilities or reduced mobility, most of Air France's airplane seats are equipped with folding armrests. In addition to the seats directly adjacent to emergency exits, you can select the seat preference.
You can choose to carry luggage at the airport: the company offers pick-up and delivery services to and from your home.
In the latest Air France aircrafts, seat numbers are indicated in the Braille alphabet.
All long-haul Air France aircrafts, as well as some of the medium-haul aircraft, are equipped with toilets with easy access for passengers with reduced mobility. For aircraft not equipped with such toilets, placing a curtain in front of the restrooms on the back of the aircraft creates a private area.
For most flights over 2 hours and 20 minutes, you can order a special meal tailored to diet constraints (no salt, no sugar, etc.). The procedure is simple, it is necessary to send the request for the diet during the reservation and at least 48 hours before departure.
Onboard electronic devices
Air France allows the use of electronic devices during flight. These must be set to airplane mode. Here's what devices you can use:
• tablet
• Smartphone
• iPod
• E-Reader
• MP3 player
• Portable DVD player
Other larger portable electronic devices, such as laptops, can be used after the cruising altitude has been reached and the seat belt indicator has gone out.
With Air France, you can use the Wi-Fi network provided by the company to stay connected with relatives, friends or watch movies, shopping. All you have to do is activate Airplane mode, activate Wi-fi and select Air France Connect.
Safety on board
Passenger safety is the element that can not be replaced by either low ticket prices or attractive offers. Although airlines currently work on the cost of tickets to make air travel more accessible, safety is the number one priority. First, because there are norms and standards that require companies to behave thoughtfully towards their customers.
Air France can be considered a safe company, which takes care of the safety and security of its passengers. The Airline Ratings Safety Agency assigns 5.5 points out of 7 at the safety chapter. Air France's results show the company's ongoing effort to provide high-quality, safe and affordable air services.
The language spoken on board
Air France is a French company, so the language spoken on board is French. However, due to the use of English as a majority foreign language, this is also used and spoken by company employees to facilitate understanding and communication. Thus, French and English are languages spoken by crew members while traveling on an Air France aircraft.