Vueling Delayed or Cancelled Flight compensation and refund
You had Vueling flight delay or cancellation and you don't know what to do.
Well, read below information about passenger rights all in one place, prepared by our professional experts.
You may have the right to claim Vueling compensation up to €600 (£540) as per EU law, as explained below.
This article has been reviewed by a licensed lawyer Anton Radchenko for general accuracy. This is for informational purposes only and is not a legal advice.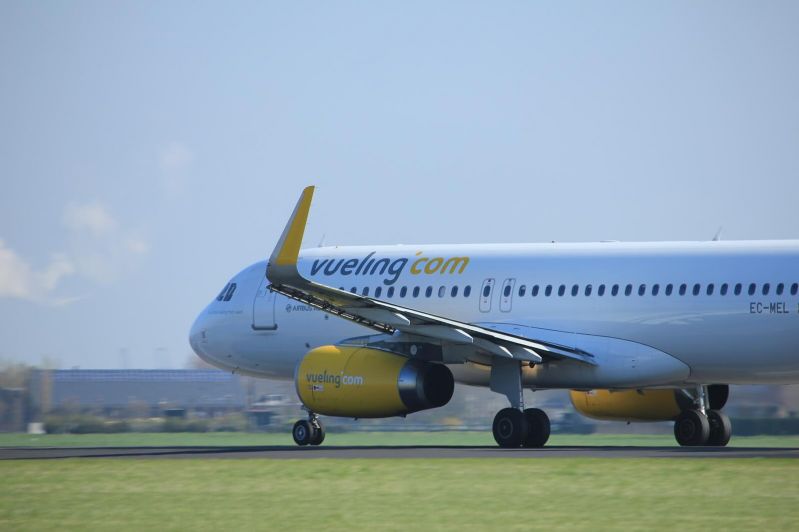 Compensation for delayed, canceled flight or denied boarding: Vueling Airlines
The States members of the European Union which provide air transport services comply with the legislation adopted in Brussels. Since Vueling is a Spanish company offering flights both in Europe and in UE members countries, it is subject to Regulation 261/2004 adopted by the European Parliament and the Council of the European Union in February 2004. This Regulation refers to infringements committed by the company and requires it to provide passengers with conditions and compensation in case of:
Flight Delay
Flight Cancelation
Denied Boarding
If your flight is delayed for more than 3 hours, you are entitled to receive a flight delay compensation.
| | | |
| --- | --- | --- |
| Vueling flight delay compensation | Flight distance | Delay time |
| 250EUR | <1500 km | More than 3 hours |
| 400EUR | Between 1500 and 3500 km | More than 3 hours |
| 400EUR | Over 3500 km within the EU | More than 3 hours |
| 300EUR | Over 3500 km, outside the EU | 3-4 hours |
| 600EUR | Over 3500 km, outside the EU | More than 4 hours |
If your flight with Vueling has been canceled, you will be refunded for flight cancelation as follows:
250 Euro for a distance not exceeding 1500 km
400 Euro for a distance between 1500 and 3500 km
600 Euros for the 3500 km distance outside EU borders
Additionally, to delayed, canceled, or denied boarding compensation, you will benefit from Vueling Air care services, that include:
Free meals and soft drinks and two phone calls, telex or fax or email;
Free accommodation and transportation to the hotel and transport between the airport and the accommodation - when the airline reasonably expects the actual departure time to be later than the scheduled departure date;
Reimbursement of the full cost of the ticket, or a return flight to the first point of departure as soon as possible - if the delay, cancellation is at least 5 hours;
Re-routing under comparable transport conditions to their final destination;
Coverage of the cost of transferring the passenger from that alternative airport either to that for which the booking was made or to another close-by destination, agreed with the passenger.
However, the passenger cannot claim compensation in the following circumstances:
The passenger is informed of the cancellation of the flight at least two weeks before the scheduled time of departure;
The passenger is informed of the cancellation of the flight between 2 weeks and seven days before the scheduled time of departure and is given redirection, allowing him to leave no more than 2 hours before the scheduled time of departure and to reach the final destination less than 4 hours after the scheduled time of arrival;
The passenger is informed of the cancellation of the flight less than seven days before the scheduled time of departure and is given redirection, allowing him to leave no more than one hour before the scheduled departure time and arriving at his final destination less than 2 hours from the scheduled time of arrival.
If you encounter difficulties within the procedure of filing a complaint in case of a delay, cancellation or need of any information regarding compensation, documents or refund policy, AirAdvisor specialists are always ready help you.
Complaints and compensation for lost/delayed baggage
Delayed baggage
If you arrive at the airport, but your baggage is delayed, there are a few steps you have to follow.
Before leaving the baggage collection area, go to the Lost and Found Office. Once you reach the Lost and Found Office, you will be given the so-called Property Irregularity Report (PIR) so that you can report the incident, make a description of the delayed baggage. PIR is a reference number, a unique code that helps to trace your delayed baggage.
To make it easier to find and locate your baggage, you need to make a detailed description of your baggage.
The company provides delayed baggage within 24 hours. If the baggage is more difficult to find, the company ensures that baggage will be delivered within 72 hours.
Once the company locates your baggage, you will be informed by SMS or by phone, and it will be sent to the address you specified on your property irregularity report (PIR).
If your baggage is not found within five days, the company will ask you to specify more details about it, and if the term exceeds 21 days, you are entitled to claim Vueling compensation.
When applying for your baggage, you must have the following documents:
The PIR number you receive when submitting your baggage claim;
Baggage tag from check-in;
Boarding Pass
A copy of an identity document: ID, passport, residence permit, etc.
Damaged baggage
If you notice that your baggage is damaged, you must notify the company or airport representatives. Here's how you do it:
Before leaving the luggage collection area, go to the Lost and Found Office.
Once you are at the Lost and Found Office, you will be given the Property Irregularity Report (PIR). This document has the role of reporting the incident and tracking your baggage.
If your luggage receives minor damage during handling (such as minor scratches or marks), airlines are not required to cover such damage. Vueling covers expenses only for major damage under the Montreal Convention.
The baggage damage form shall be completed within seven days of receipt.
If you want a reward for your damaged luggage, you must have the following documents:
The PIR number you receive when submitting your baggage claim;
Baggage tag from check-in;
Boarding Pass
A copy of an identity document: ID, passport, residence permit, etc.
Things to do in all cases
Act immediately! If you're still at the airport, go to a Vueling representative. Request the Property Irregularity Report - a statement form to be sent within five days, after which it is possible for the crew to check where your luggage is and where it got lost.
Go to the Baggage Claim Office in the transit area, where you will receive help completing a Report on Property Irregularities (PIR). If no report is made at the destination airport, no one will accept the responsibility. If the luggage is not returned within 21 days of reporting to the destination airport, Vueling will be liable for the loss.
The company cannot be held responsible for the wrong bag identified by another passenger - all costs are the responsibility of the passenger involved.
Time limits for receiving baggage compensation
The Montreal Convention sets deadlines for any luggage claims:
Damaged baggage - seven days after receipt of damaged baggage;
Delayed baggage - twenty-one days after the date of delivery;
Lost baggage - there is no time limit, but it is advisable to make the complaint as soon as possible once the luggage is missing for twenty-one days or if the airline acknowledges that they have lost it.
General information about Vueling Airlines
Vueling Airlines is Spain's first airline and is one of the largest low-cost companies in the country. Founded in 2004, the first flight was Barcelona-Ibiza route. Barcelona is also the airline's main base at El Prat airport. The company has several operational bases besides the main one, located in A Coruña, Amsterdam, Alicante, Bilbao, Florence, Ibiza (seasonal), Madrid, Málaga, Palma de Mallorca, Paris-Orlay, Roma-Fiumicino, Sevilla, Valencia. The company registered major success in the first year, carrying over 1.2 million passengers in just a year and a half. In 2009, Vueling Airlines merged with another Spanish airline company - ClickAir, allowing it to become the largest Spanish airline with a fleet of over 65 aircraft flying daily in more than 105 destinations.
Vueling Airlines offers flights to over 100 destinations in Europe, Asia, Africa, Western Mediterranean, and direct flights from Bucharest (Otopeni) to Barcelona, ​​Bilbao, and Madrid.
How do I check in?
Check-in online
You can sign up online by accessing the airline company's website. Thus, through this procedure, you get your Boarding Pass and choose your place on board.
If you did not select a place on board during the booking process, you can check and request a random place between 7 days and 1 hour before departure.
If you book with Optima, Familiar or TimeFlex rates, or if you select a place with the basic rate while making your reservation, check-in is free of charge. You will get your boarding pass by e-mail once the reservation is confirmed.
If you have a flight operated by Iberia or British Airways, you will be able to check-in online 24 hours before departure
Airports allow you to check in online, but some do not provide this service. Check to see if this service is available at your airport.
If you fly from certain airports, you will be able to check in online up to 4 hours before departure.
Check-in at the airport
If you couldn't check-in online because this service is not available at the airport or the special booking features do not allow, you will be able to get your free boarding pass at the airport on the day of the flight. If you fly from Barcelona Airport, you can also get the boarding pass at the airport's check-in kiosks.
You can choose one of three options to present the boarding pass:
Printed in PDF format
On your mobile phone, the voucher that is sent by mail or SMS
On the Vueling app, available on Android and iOS
Baggage policy
Traveling with Vueling has the following types of baggage allowed during your flight.
Hand baggage
Vueling allows your hand baggage to consist of 3 pieces:
Basic hand bagagge weighing up to 10 kg and having the following dimensions of 55x40x20 cm.
Another smaller bag, which corresponds to the following parameters 35x20x20 cm.
An additional bag containing any purchases made at the airport.
Hand baggage is stored under the passenger seat in front of you so they must not exceed the required dimensions to fit.
If your baggage exceeds the required size, it will incur additional fees.
Because there is limited space available in the cabinets, if your bag does not fit in the cabin, it will be transferred to hold baggage (even if it has the necessary hand baggage sizes) at no additional cost to you.
You can carry liquids in hand baggage in containers of less than 100 ml (up to 1 liter). Transported in a transparent plastic bag and only one bag with liquids is allowed per passenger.
Smart luggage is accepted as a checked bag or as hand luggage only if the batteries are removed. The passenger must carry the lithium batteries in the cabin, which must be 100 Wh or less.
If the flight is operated by another airline, the charge applied for the excess weight is the smallest of the two companies.
Cheap promotions and tickets
Vueling is one of the largest and well known low-cost companies, offering cheap tickets automatically. To stimulate Vueling passengers, the airline regularly offers special promotions for tickets to different destinations. In this way, you can purchase a ticket 2-3 times cheaper for your destination.
If you want to find the promotions that best suit your needs and preferences, use the filters on the site.
You can quickly find out about the promotions available by subscribing to the Vueling newsletter. Thus, you will always be informed about the promotions that take place and which you can use to your advantage while they are valid.
Cashback
Vueling offers you the opportunity to save on your flight ticket and hotel accommodation if you book by using the discount code or cashback transactions. Since it operates flights to more than 100 destinations around the world by selecting the search option for the most convenient ticket price, you will quickly find the cheapest tickets. A simple online search will give you a list of opportunities to receive a portion of your cashback amount (for example, Top Cashback, Cashback World, Cashbackholic, Quidco).
Change of Plans?
Change the date of your flight
Vueling Company allows you to make changes to your trip. If you want to do it, remember that you can change your ticket date, destination or name no later than two hours before the flight. If you decide to change the date, time of your flight or your name within 24 hours of making your reservation, then this service is free of charge, and you are not required to pay any fees. Otherwise, the fee for changing travel details costs 50 Euros if you booked the Basic, Optim or Family Fares class for free if booked with TimeFlex Fare.
You have three ways to change your flight details:
On the airline's website using the options for schedules and checking in;
By phone to Customer Service;
At the airport, at the ticket office.
Loyalty program and services
Vueling Company offers the opportunity to enjoy the most during your travel period. That's why if you plan a family or business trip, you can use the Avios service on every Vueling flight or at every hotel reservation, car reservation with Vueling partners. Each time you earn points, you can use them to buy cheap tickets or products you want in online stores, car rental, etc.
If you are often traveling, this option is perfect for you. Becoming a member of the Avios service, and earning as many points as you can, gives you extra bonuses, such as greater luggage permissibility, priority boarding.
Car rent
Vueling also offers car rental services for its passengers. Vueling is working with Car Trawler, which allows you to rent cars and leave the airport by driving a car. As a Vueling passenger, you have the advantage of renting any car, according to your preferences, at any time and any destination.
If you wish to cancel your order, you can do so at least 24 hours before the scheduled time, free of charge.
Hotel reservation
Vueling works with the Booking.com network to give you the benefits of a pleasant stay. From extra-luxury hotel rooms to hostels, Booking.com proposes millions of accommodation units! You will find a hotel room in any city, whether it's a popular destination or not.
Passengers booking via Vueling receive a 50% discount off the reservation.
In this way, you do not have to worry about your safety. Benefit from the best prices and conditions.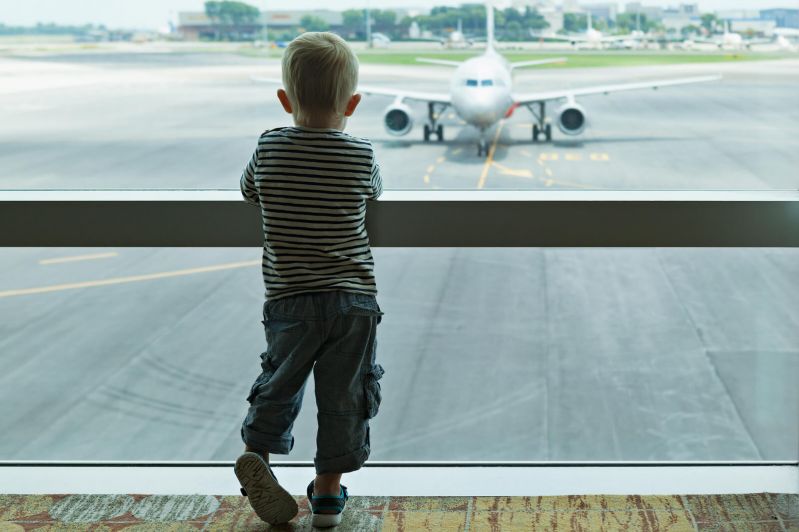 Vueling contact numbers
If you need help from the company's Customer Service you can contact them in your country at the following numbers:
Germany 01806909090
Austria 01230461105
Belgium 028087812
France 0184886948
Netherlands 0208081295
Italy 199206621
Spain 902808005
Portugal 210020080
United Kingdom 02035143971
Russian Federation 74952041611
Switzerland 0900000340
The rest of the world +34931518158
Airline Company ranking and reviews from passengers
| | | | |
| --- | --- | --- | --- |
| Airline | Food | Entertainment | Value received for paid money |
| 3/10 | 2/5 | 1/5 | 2/5 |
People with reduced mobility
Vueling offers high-quality assistance to all disabled passengers at its airports and on board.
If you want to book a ticket, this is usually the case; you need to communicate about the necessity of assistance to operators when purchasing the ticket.
There are a few options that can tell the company's operators about the need for airport and onboard assistance.
Online, on the company's website. While booking or 48 hours before the flight;
By phone at the Company's Customer Service. You can do it up to 48 hours before the flight;
Contact the airport directly for assistance. This service is available up to 24 hours before the flight.
In all the cases listed above, you will receive a confirmation from the company of your request.
The most important issue that needs to be announced is the need for a companion or a wheelchair.
Assistance provided by the company can be received by the following groups of people:
passengers with limited mobility;
passengers with visual impairment;
passengers with mental deficiencies;
Passengers with respiratory distress.
Depending on the type of disability, the company offers specific services to ease the usual procedures at the airport and on board.
What do you have to do on the day of the flight?
Go to the airport meeting point two hours before your scheduled departure. This meeting point and time is established with the company at the time you request assistance.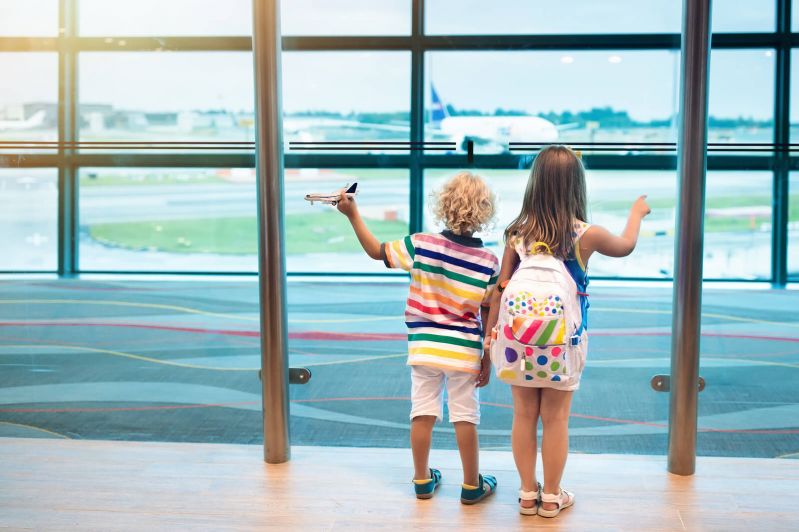 Do you travel with your kids?
If you travel with your children aboard, you have to know that there are some conditions and regulations that make traveling easy and you are bound to respect:
The use of child restraint devices and systems is permitted on board: baby safety belt approved seat for use on an airplane.
Vueling proposes a wide variety of onboard snacks and beverages, also adapted for children.
You can carry baby equipment such as carriage, baby car seat, or lift cushion on board of Vueling.
Unaccompanied minors under the age of 16 will not be accepted on board. They must always be in the company of a passenger over 16. No airline companions or special facilities are available.
Children aged between 2 and 15 need to buy a ticket.
On board electronic devices
Vueling allows the use of electronic devices during flight. These must be set to airplane mode. Here's what devices you can use:
Tablet
Smartphone
iPod
E-Reader
MP3 player
Portable DVD player
Video camera/photo
eBooks
Medical devices
Other larger portable electronic devices, such as laptops, can be used after the cruising altitude has been reached and the seat belt indicator has gone out. All this equipment must be closed during ground running, take-off and landing, for safety reasons or set to airplane mode.
Safety on board
Safety is the most important element of air transport; no one accepts to give up personal safety, despite the low price or other benefits. The low airline budget shortens the road to keep low rates, but it cannot compromise the safety of passengers in the process.
Passenger safety is always very important for all companies, including Vueling. Passengers preoccupied with the safety of a specific airline can use resources such as the Airline Rating agency in the world to see exactly how each carrier complies with safety rules.
Vueling obtained seven stars from Airline Ratings, making it a reliable airline. Vueling wants to ensure passenger safety, and the results are a sign that it operates professionally.
Spoken language on board
On board communication is practiced in 11 languages, depending on the destination. However, English is a universal language for all airlines, including Vueling. If you do not know English or one of those spoken, please ask the attendants who will answer or contact the company's Call Center.
What happened with Vueling Airlines clients