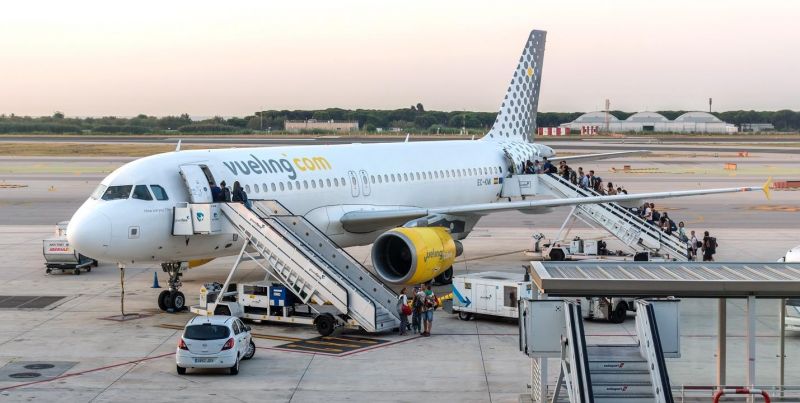 Although one of the most popular low budget airlines in Europe, Vueling encounters the most common problems like any other air passenger carrier. If you find yourself in this unpleasant situation, this article provides you with useful information you will need if you want to make a Vueling complaint.
What Can You Make a Complaint About
Before you send a complaint to Vueling you should know exactly what you can complaint about.
Some of the most common complaints are about disruptions from clients looking for a flight delay compensation or a cancelled flight compensation. If you find yourself in such a situation read our Vueling delayed or cancelled flight compensation guide.
Other popular reasons for Vueling complaints include bad experience with the airline poor customer support team or the in-flight staff, or even lost baggage.
Lastly, you can also submit a complaint for a flight refund.
Claim with AirAdvisor and get up to €600 compensation. Find out how much you're owed today.Check Your Flight
Know Your Passenger Rights
Knowing your rights is crucial for a future success in receiving your compensation!
Considering that Vueling is part of the EU airlines group, the airline is under Regulation EU 261 and UK 261 law in the United Kingdom, in terms of passenger compensation and support when they experience denied boarding, flight cancellation, or significant delays.
How to Make a Complaint to Vueling
Contacting directly the airline can be challenging at times. The majority of the passengers that review and evaluate the airline customer service consider it to be slow and inefficient.
But if you are thinking to proceed within a complain, you should give the airline as much information as possible and include all the relevant details of your flight situation, such us:
Your full contact details – including address, email and phone number
Full details of all passengers – including names and addresses
Your booking reference code and travel dates
The flight number, departure and destination airports
Location where the disruption occurred
Information about the length of delays
The names of any staff you spoke to
You should know it's always best to keep all the documents that were used until the end of your travel, because in this kind of scenario you should be able to provide as much evidence you can and any supporting documents to sustain your claim:
allrelevant receipts from the airport, if you are claiming expenses
tickets, boarding cards and booking confirmation
emails from the airline and phone records
luggage tags and passport stamps
Ways to Make a Complaint to Vueling
The company promises an instant reply and a quick solving of the possible situations the passengers might complain, including compensations and refunds for flight disruptions.
Any passenger can lodge a complaint through Vueling's regular customer care team by phone, chat, or email.
Although each method has benefits, contacting directly the customer service by phone is the quickest option to file a complaint. It's crucial to make sure you choose the suitable course of action.
Vueling Complaints Email
Contacting the Airline via email is the first communication channel we recommend, especially in the case of a complaint, because it can be used as a supporting evidence.
You can contact Vueling here: [email protected]
Vueling Complaints Phone Number
Passengers can find the customer service phone numbers on Vueling official website for different countries and areas, a service available 24/7. Here are the main phone numbers to contact the airline staff:
Main: +34 93 378 78 78

Customer Service: +34 931 518 158
Fax: +34 93 378 78 79
Lost luggage: +34 931 518 172
Vueling Complaints Live Chat
You can also contact Vueling support staff via live chat on the airline's website. If you select this method, make sure to get a copy of the chat to use in case you need to escalate your complaint.
How to Fill Out a Vueling Complaints Form for Cancelled or Delayed Flights
The company website offers has a virtual assistant that can help you with any request for a compensation, refund or any other matters.
But you should be aware that Airlines frequently deny requests for flight delays or cancellations without providing a good justification, taking advantage of the ignorance of their customers regarding their legal rights. This is why we don't advice to proceed alone because you can find yourself in the situation where, although eligible for compensation, your reimbursement can be denied.
AirAdvisor can fight for your passenger rights, as we have successfully processed tens of thousands of claims with the help of our team of legal professionals.
In just few easy steps, you can fill out the compensation claim form on our website.
Disrupted flight? You might have a right to compensation - up to €600.Check Your Flight
Vueling Complaint Response Time
The processing time for a Vueling Airlines refund request is up to 30 working days, but you can expect this to take even longer.
FAQ / Common Questions: Vueling Complaints
How do I make a complaint to Vueling?
You can make a Vueling complaint via phone, email, website chat virtual assistant or through online message form.
How do I contact Vueling directly?
The easiest way is though the phone provided on the Customer Service section. Another way is via Live Chat on Ask Us from Contact section.
Do Vueling ever give refunds?
Under EU 261 Regulation, Vueling is required to refund when the flight disruptions are the fault of the company. Remember that in this situation, AirAdvisor can assist you to go through this process in a more safe and easy way, claiming a refund in your name.
How long do Vueling take to respond to complaints?
Officially within 30 days the company should respond to complains, but usually it takes longer. But you can speed up the process with the help of our team of experts.
Is it worth complaining to Vueling?
Knowing your passenger rights and that you are eligible for a compensation or a refund, yes. Yet, we advise you to ask for legal help first. Our team of experts is here to help you and can assist you in this process.
Does Vueling have a live chat?
Yes, live chat or virtual assistant as it is mentioned on the Company website, at Customer Service section. The service is available 24/7 the same as the phone lines.
Why is Vueling refund taking so long?
According to the EU legislation, the maximum reply period is 30 days. But majority of passengers who complained evaluate the waiting time even longer.
How much does Vueling charge for special assistance?
If you request the airport special assistance service during the booking process is free of charge through the website. In the contact section or in the section for passengers with special needs, you can check in your chair or mobility aid for free.
Can you sue Vueling?
Yes, if the airline refused to reimburse you in the situation you are eligible for compensation, there needs to be a lawsuit against this company. You can sue Vueling in county court using the European Union Small Claims procedure but be aware that any court process takes time.
How reliable is Vueling?
Vueling is considered to be reliable and legit in terms of safety. The most popular European low cost airline operator. Not always reliable in terms of flight disruptions and proficiency of customer service and support.