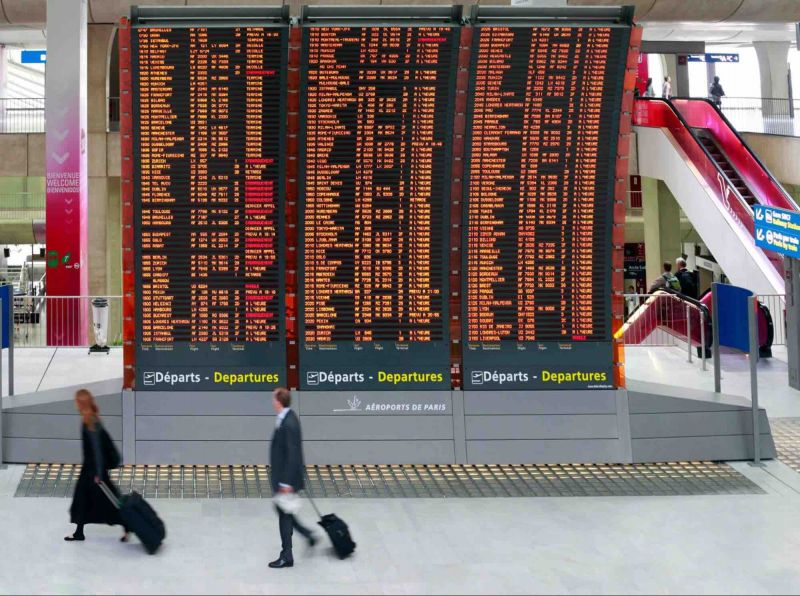 Paris Charles de Gaulle Airport, also known as Paris CDG, is one of the busiest airports in the world. Thus, daily delayed or cancelled flights shouldn't surprise anyone. If you've experienced such a flight disruption, you could be entitled to financial compensation under EU Regulation. Read our guide to find out how to claim compensation if you've experienced a delayed or cancelled flight at Paris Charles de Gaulle Airport.
To increase your chances of success, you can contact our team of legal experts, who've won over 120.000 compensation cases. Just click on the button below and fill out the form. It only takes a couple of minutes to get help from one of the best legal teams in the industry. You don't have to pay anything upfront - we work on a "no win, no pay" basis, meaning that we only get paid if you get paid.
Compensation for Paris Charles de Gaulle Flight Delays
Charles de Gaulle (CDG)is the largest international airport in France, with hundreds of flights taking off and landing daily. Because of this, flight delays occur quite often. Luckily, your air passenger rights allow you to claim flight compensation in such situations. Keep reading to find out everything you need to know about Charles de Gaulle delay compensation.
Passenger Rights in Case of CDG Flight Delay
Since Charles de Gaulle (CGD) is located in an European Union country, France, all air travellers are protected under the EU 261 Regulation. The European law states, amongst other things, that all passengers travelling from an EU airport are entitled to compensation between £220 and £520 (€250 and €600) depending on the flight distance. This only applies to flights that are delayed by more than three hours (arrival time).
Since you are departing from an European airport, this applies to both an EU airline and a non-EU carrier.
Besides this monetary delayed flight compensation, the airline must also provide food and drink after two hours of delay and hotel accommodation for a flight delayed overnight.
If your flight at Charles de Gaulle Airport is delayed by more than five hours you can also request a ticket refund, as per your air passenger rights. If you are waiting for a connecting flight, the airline also has an obligation to provide you with either a return ticket back to the original point of departure or an alternative flight to your final destination.
If you are travelling with an UK airline, your rights are also protected under the UK 261 law. Thus, you have the right to choose under which law to make your claim, although in this case both offer equal monetary compensations.
Figuring out how much you are owed for a disrupted flight can be complicated. We're here to help. Let us assess your compensation for you.Check Your Flight
How Much Can You Claim for CDG Delay
As we mentioned earlier, how much compensation you can claim depends on the flight distance from Charles de Gaulle Airport. The table below explains what compensation claims you can make based on the distance.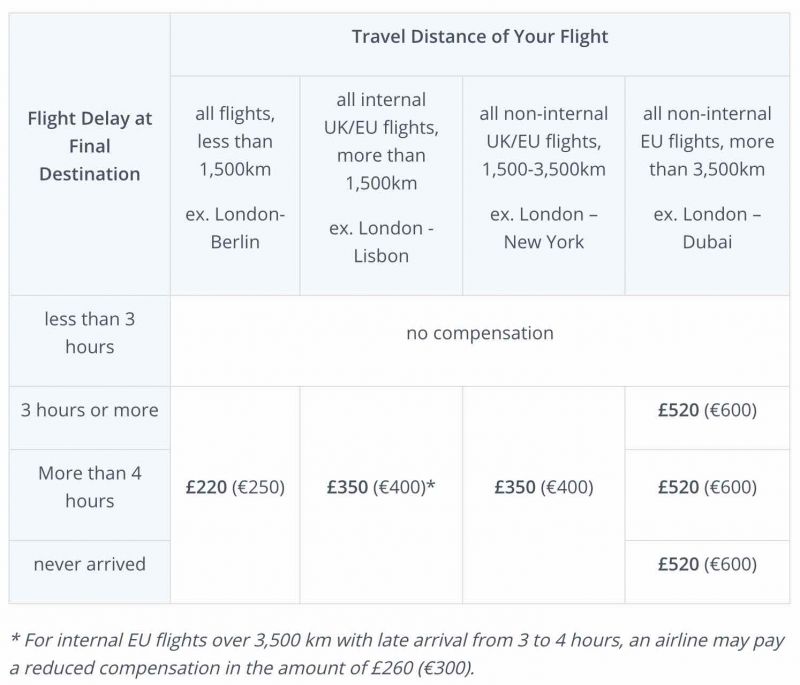 Now that you know your rights in case of delayed flights, it's time to move to cancellations.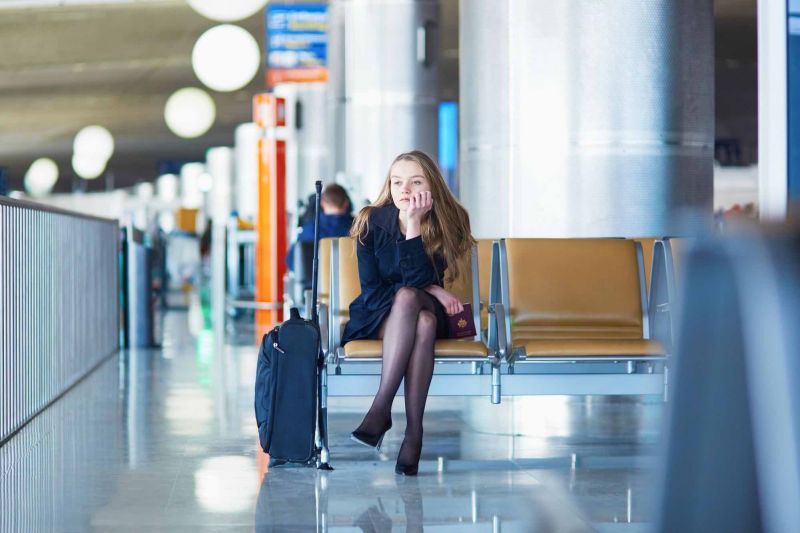 Paris Charles de Gaulle Airport Cancelled Flight Compensation & Refund
Flight cancellations usually occur due to bad weather conditions or other extraordinary circumstances. However, in the case of Charles de Gaulle Airport, due to high passenger traffic, flights might also get cancelled because of the airline's fault.
Cancelled Flight Law in Europe
Flight cancellation is also covered by EU Regulation 261/2004, but only if the following conditions apply:
your flight was cancelled less than 14 days before the scheduled time for departure
the cancellation was the airline's fault
you are the person who booked the flight
the flight leaves from an EU airport, which, in this case, it does
If you meet all of these conditions, you are protected under the EU law and you have the following rights:
Ticket refund or alternative flight - you can choose between a full refund of your ticket or an alternative flight to your destination. The alternative flight could be either at the earliest possible or a later date of your choosing.
Right to compensation - in certain situations which we will cover in the section below
Complementary meals
Free phone calls, emails or faxes
Hotel accommodation in case your alternative flight leave the next day
You are entitled to complementary meals and phone calls only if you have to wait a certain period of time at the airport. For more information, check out our cancelled flights compensation guide.
Disrupted flight? You might have a right to compensation - up to €600.Check Your Flight
Paris CDG Cancelled Flight Compensation You Can Claim
The amount of money you can claim for a Paris Charles de gaulle airport flight that was cancelled depends on a few factors.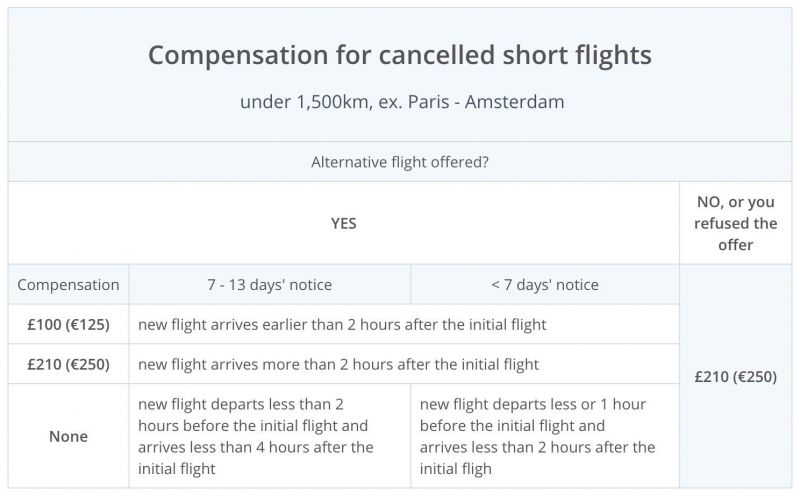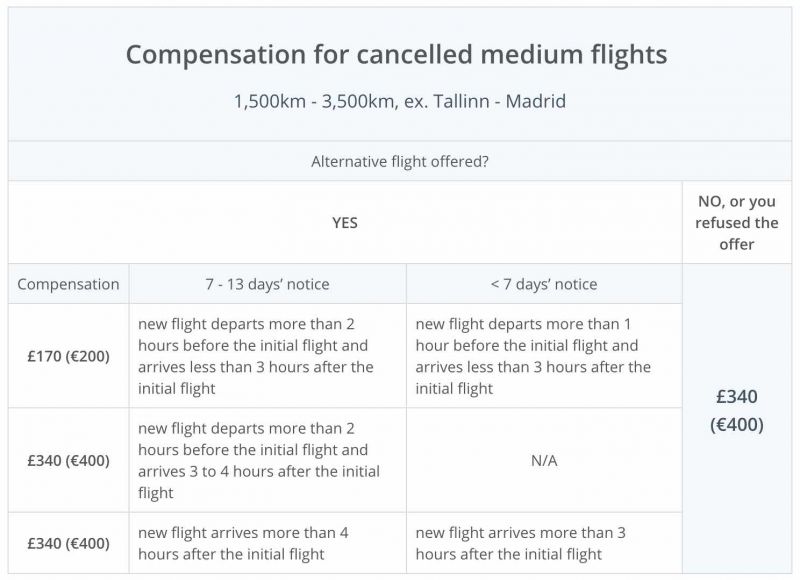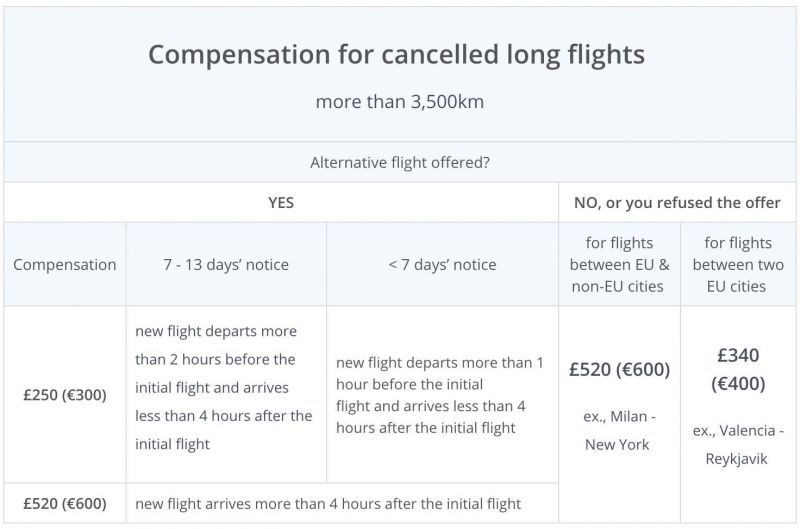 If the airline offers you a travel voucher, do not accept it. By accepting it, you are giving away your right to claim compensation. Plus, most passengers who receive such vouchers from airlines.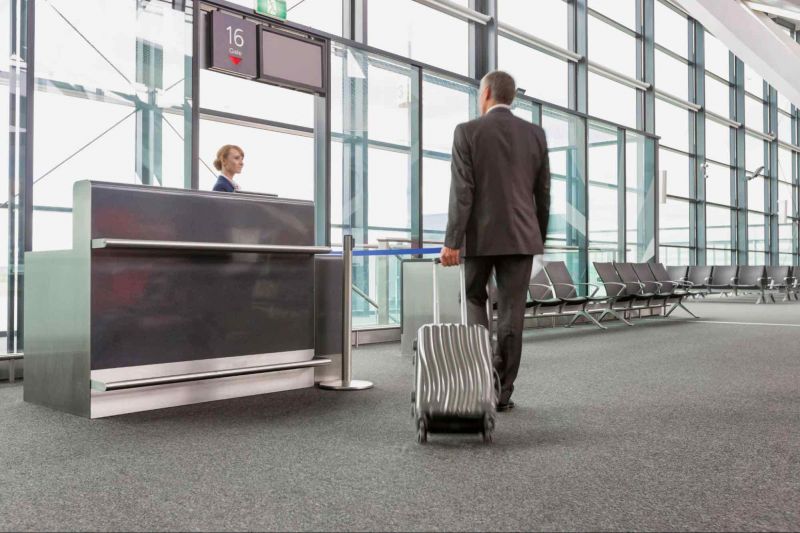 Denied Boarding at Paris Charles de Gaulle CGD Airport
One last inconvenience air travelers can experience at the Charles de Gaulle (CGD) airport in France is denied boarding. This usually happens when an airline has sold more tickets than the actual number of seats on the airplane.
In case you are denied boarding on a flight leaving from Paris Charles de Gaulle you are also entitled to financial compensation. Regulation 261 states that any passenger denied boarding within the EU, France included, is entitled to the following:
ticket refund, rerouting to the point of destination or rerouting to the final destination
free meals, hotel accommodation and phone calls
monetary compensation between £220 (€250) and £520 (€600) depending on distance (see the table from the flight delay section for more information)
Claim with AirAdvisor and get up to €600 compensation. Find out how much you're owed today.Check Your Flight
Claim Charles de Gaulle Flight Compensation With AirAdvisor
If your travel plans were ruined by a disrupted flight at Paris Charles de Gaulle Airport, contact AirAdvisor immediately and let our legal experts handle your case.
Just enter all the flight details, like flight number, a copy of your boarding pass, and other relevant information. We'll analyze your case right away and inform you if and how much compensation you can claim.
We work on a "no win, no pay" basis, meaning that we won't charge you anything upfront or if we lose your case. Try our services now, risk free!
Charles de Gaulle Paris CGD Questions and Answers
Flight cancelled at Charles de Gaulle airport. What should I do?
If your flight from CDG Paris was cancelled without prior notification (at least 14 days before the flight) you have several rights under the EU 261 Regulation. Read the article to find out exactly what they are.
Why do flights get delayed at Charles de Gaulle?
Flights can get delayed for several reasons. Airlines that fly from Charles de Gaulle Airport are usually on a tight schedule so even the smallest problem can lead to flight delays.
How do I claim compensation if my flight on Charles de Gaulle was delayed or cancelled?
To increase your chances of success, submit a claim for Charles de Gaulle Airport delay or cancellation through AirAdvisor. Our team has successfully handled over 120.000 cases involving flight disruptions.
What to do if I am denied boarding at Charles de Gaulle?
If you are denied boarding at Charles de Gaulle CDG Airport in Paris, France, you should submit a claim right away. Read this article to find out exactly how to do it.