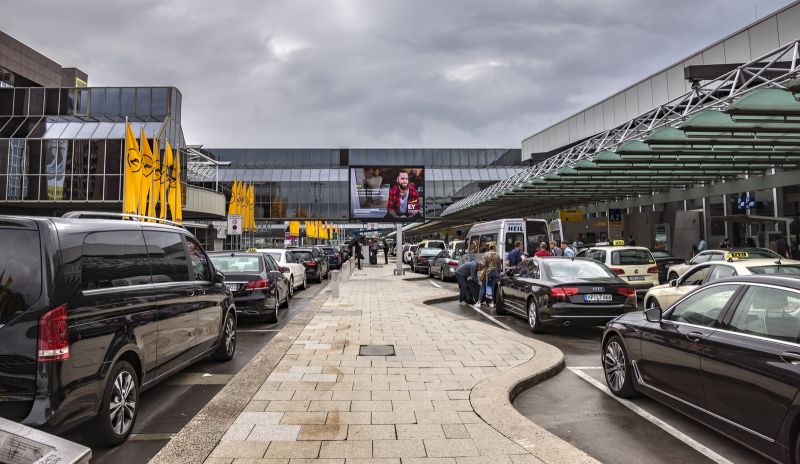 Frankfurt am Main International Airport is one of the largest airports in Europe, covering over 2,000 hectares and comprising four runways. While this airport is known for its high level of efficiency and punctuality, flight delays, flight cancellations and denied boarding are still real possibilities.
The legal process of claiming compensation for these types of disruptions can be complicated. That's where AirAdvisor comes in. We offer the tools and support to guide you through the process with ease. In this article, we review the compensation available for eligible passengers at Frankfurt Airport, how much these compensations can be worth, and provide guidance on how to file a claim.
How to Claim Frankfurt Airport Flight Delay Compensation
As with any major airport, flight delays can occur due to a variety of reasons, such as severe weather, air traffic congestion, technical issues and a range of other unforeseen situations. However, passengers who experience a flight delay at Frankfurt am Main Airport may be eligible for compensation under EU regulations.
Passenger Rights in Case of FRA Flight Delay
If you're departing on a flight from Frankfurt Airport, you're covered under EU Regulation 261/2004, which protects your rights in the event of a delayed flight. Under this regulation, if your flight is delayed by more than three hours because of reasons that do not fall under extraordinary circumstances, for example, severe weather or political instability, you may be eligible for delayed flight compensation.
In addition to financial compensation, you may also be entitled to other benefits such as meals, refreshments, and accommodation, depending on the duration of the delay and the distance of your flight. It's important to keep in mind that there's typically a three-year time limit to claim flight delay compensation.
Disrupted flight? You might have a right to compensation - up to €600.Check Your Flight
How Much Can You Claim for Frankfurt Airport Flight Delay
The compensation you can claim for a delayed flight from Frankfurt Airport ranges from €250 to €600, depending on the length of the delay and the distance of your flight. The table below shows the factors that determine the amount of compensation you may be entitled to if you experience a flight delay at this airport: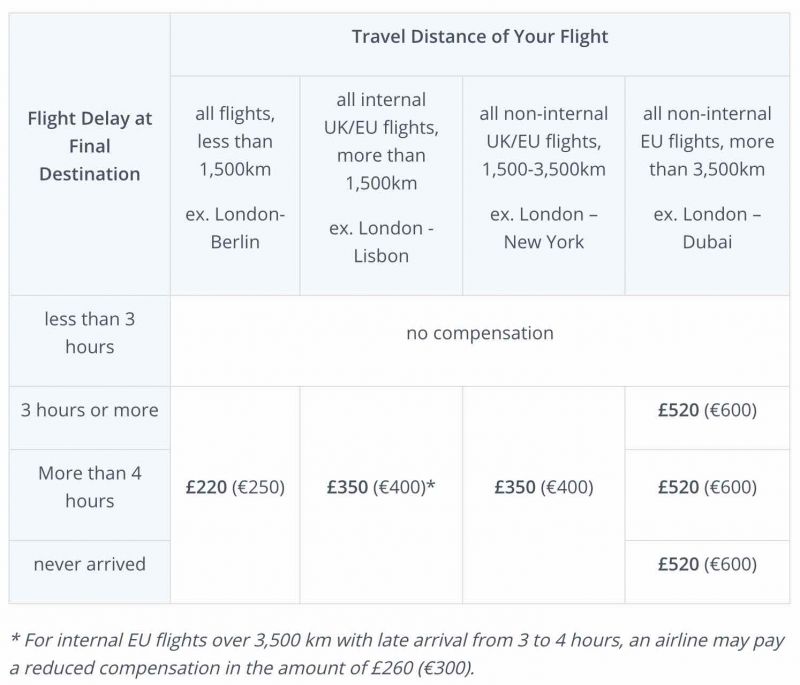 Frankfurt Airport Cancelled Flight Compensation & Refund
Cancelled flights are a regular occurrence at airports, including Frankfurt am Main Airport. Flights can be cancelled as a result of various issues, for example, of technical, climatic or operational nature. If your flight departing from Frankfurt am Main Airport is cancelled, you may be entitled to cancelled flight compensation and a refund, depending on the circumstances of the cancellation.
Figuring out how much you are owed for a disrupted flight can be complicated. We're here to help. Let us assess your compensation for you.Check Your Flight
Cancelled Flight Law in Europe
If your flight departing from Frankfurt Airport is cancelled due to reasons within the airline's control, for example, technical difficulties or crew shortages, you're typically eligible for a choice between a refund or rerouting to your final destination under EU261. However, if the cancellation is due to extraordinary circumstances beyond the airline's control, such as severe weather or political instability, the airline isn't obligated to provide compensation under EU261, but must still offer you the option of a refund or re-routing.
Other criteria to meet to be eligible for financial compensation and other forms of assistance in the case of a flight delay include booking the flight yourself and being informed of the cancellation within two weeks of your scheduled departure date. Other forms of assistance refer to meals, refreshments, and accommodation.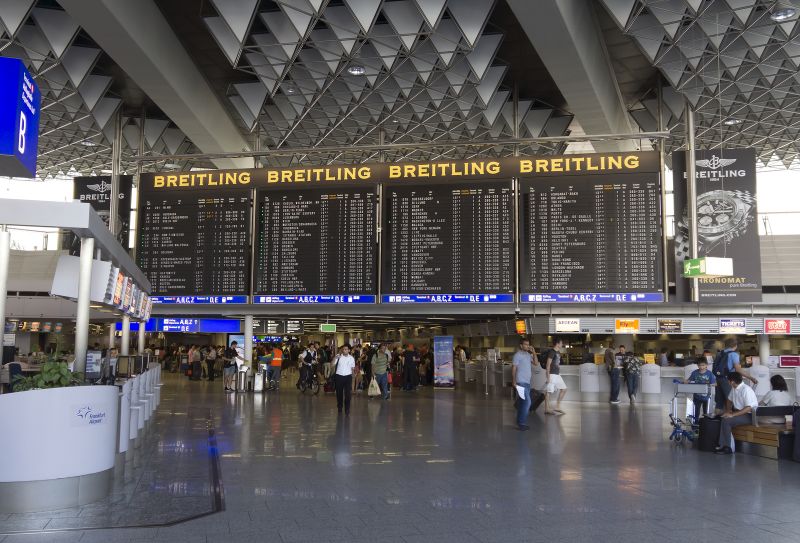 Frankfurt FRA Cancelled Flight Compensation You Can Claim
In the event of a cancelled flight at Frankfurt am Main Airport, the compensation you may be entitled to depends on various factors, including the flight distance and duration of the delay. EU261 stipulates that compensation typically ranges from €250 to €600.
It's worth noting that in some cancelled flight cases, the airline may offer you a travel voucher. It's essential to review the terms and conditions of the voucher carefully before you accept it to ensure that you're not waiving your right to a cash refund or compensation by doing so.
Below, you can explore some information that further explains the Frankfurt airport cancelled flight compensation you can claim: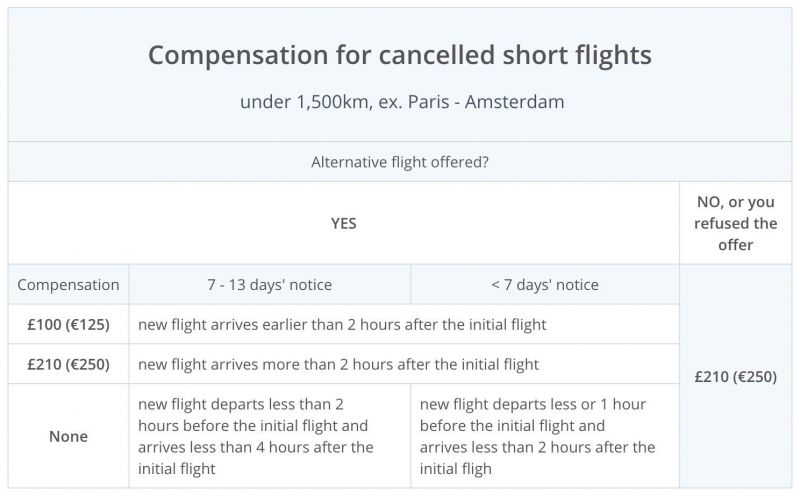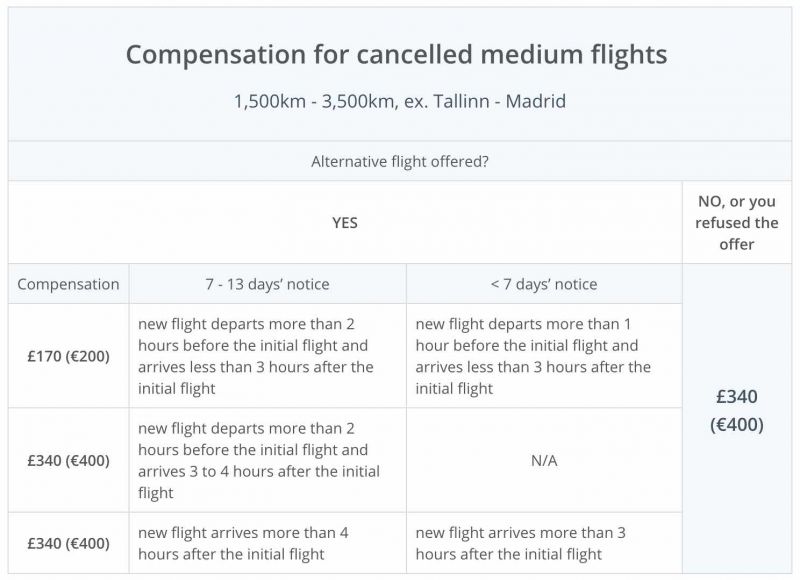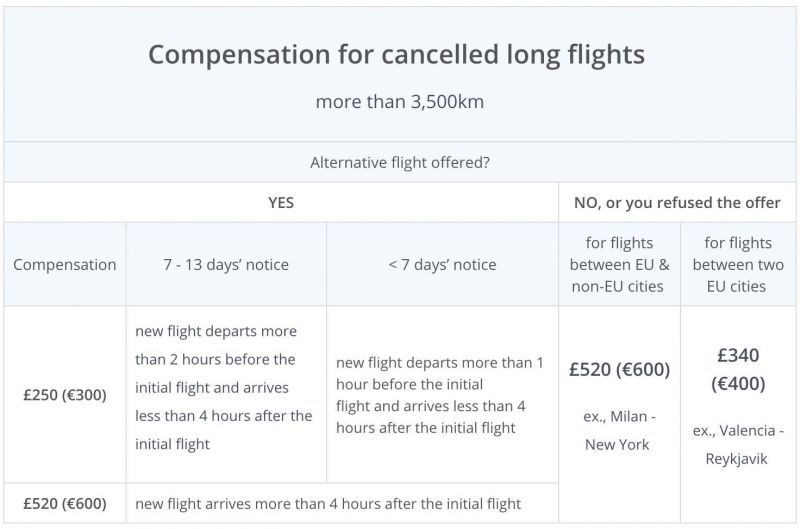 Denied Boarding at Frankfurt (FRA) Airport
Another potential inconvenience you may experience at Frankfurt am Main Airport is being denied boarding. This typically occurs when the airline you're travelling on has sold tickets beyond the number of actual available seats on the aircraft.
In the event that you're denied boarding on a flight departing from Frankfurt Airport, you may be entitled to financial compensation under EU261. This regulation mandates that, if you're denied boarding within the EU, you have the right to receive a refund of your ticket cost or rerouting to your destination and potentially free meals, accommodation and telephone access, too.
The exact amount of compensation you can receive ranges from €250 to €600, depending on your flight distance. It's important to note that the amount of compensation you receive may vary depending on the circumstances surrounding the denied boarding. For example, if the airline offered you an alternative flight and you arrived at your destination with a delay of fewer than three hours, you may only be eligible for partial compensation.
Claim Frankfurt Compensation With AirAdvisor
At AirAdvisor, we recognise that flight disruptions, such as delays, cancellations, and overbooking, can be a source of frustration for travellers departing from Frankfurt Airport. Our aim is to assist you in obtaining the compensation you rightfully deserve. With our hassle-free service, we guide you through the claims process and take care of all legal matters on your behalf. Plus, you only pay a fee for our service if we successfully obtain your compensation. So, there's no need to worry about any financial risk.
To claim compensation for a flight delay or flight cancellation at Frankfurt Airport with AirAdvisor, enter your flight details and any additional information about the disruption on our website. Click submit and we'll begin evaluating your case to determine your eligibility for compensation and handle the legal process on your behalf if you're eligible.
Claim with AirAdvisor and get up to €600 compensation. Find out how much you're owed today.Check Your Flight
Frankfurt FRA Questions and Answers
If you're travelling through Frankfurt am Main Airport and your flight is delayed, cancelled, or you experience other inconveniences, you may have some questions about your rights and options for compensation. The frequently asked questions section below provides answers to some common enquiries related to air travel disruptions at this airport:
Why do flights get delayed at Frankfurt am Main International Airport?
Flight delays can happen often at Frankfurt International Airport and can be caused by a variety of factors. Some of the most typical reasons for delayed flights at this German airport include:
bad weather conditions including severe winds, fog or heavy rain
air traffic congestion
technical issues with the aircraft, for instance, mechanical or electrical problems
late aircraft arrival from previous flights
airport runway or taxiway maintenance
limited staff availability, gate unavailability or problems with baggage handling
suspicious packages or unauthorised access to restricted areas
Despite the inconvenience caused by a delayed flight, it's crucial to remember that safety is always the top priority and that airlines take necessary precautions to ensure safe travel for all passengers. By remaining patient and understanding, you can help ensure that your travel experience remains as smooth and stress-free as possible.
How do I claim compensation if my flight from Frankfurt Airport was delayed or cancelled?
In the event of a delayed or cancelled flight at Frankfurt am Main Airport, you have the option to either reach out to the airline directly or use AirAdvisor's expert team to handle your compensation claim. Be prepared to provide your flight information and any relevant documentation to support your claim. Acting quickly is crucial, as there are often time limits for making a compensation claim.
What to do if I am denied boarding at Frankfurt am Main Airport?
In the event of being denied boarding at Frankfurt Airport, your initial course of action should be to request a written explanation from the airline. Typically, overbooking and not meeting travel document requirements can result in boarding denial.
If the airline's at fault, compensation under EU261 may be available to you. To support your compensation claim, it's important to keep all relevant travel documentation, boarding passes and other proof of disruption.
Your subsequent step can involve contacting the airline's customer service centre or a representative at the airport to explore your options for rescheduling your flight or being issued a refund. If you encounter any issues with this process, AirAdvisor is available to assist and alleviate your concerns.