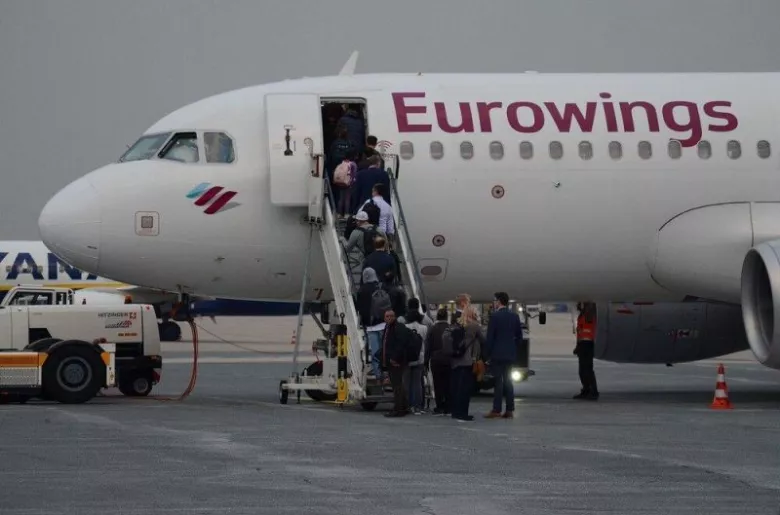 Eurowings claims and refunds: what to expect
02.03.2023
Eurowings is a German airline based in Düsseldorf, in the state of North Rhine-Westphalia in Germany. You probably know it because it is the low-cost carrier of Lufthansa, Germany's largest airline, and because it operates routes to more than 130 domestic and international destinations.
Whether you're a regular traveller or a rare flyer with Eurowings or any other airline, you'll know that one of the worst things that can go wrong is if your flight gets cancelled or delayed. Unfortunately, many passengers have to deal with Eurowings flight cancellations and delays.
If you find yourself facing a delayed flight, what can you do? Well, you can file a Eurowings complaint and speak with the airline about getting a Eurowings flight refund. In addition, you could be eligible for Eurowings delay compensation of up to 600€ (£520) per passenger in your party.
If your flight was delayed, canceled or overbooked within the last 3 years, you could be eligible for up to €600 ($700) in compensationCheck Your Flight
Delays and Cancellations: How To Claim Compensation
Every traveller hopes and wishes that their holidays and business trips will go smoothly, without any problems. However, all sorts of issues can arise before you even get to the airport, especially things like delays and cancellations of flights.
You, too, could find yourself dealing with cancellations or seeking Eurowings flight delay compensation. It can be quite overwhelming at first, especially if you don't know the details of how to claim flight compensation from Eurowings.
AirAdvisor can help to simplify the process. You can use our Compensation Calculator to get started and see how much you can get in Eurowings claim compensation. You can also read on to learn more about Eurowings flight compensation.
What Are My Passenger Rights and What To Do?
Thanks to EU law, your rights as a passenger include:
The possibility to claim up to 600€ (£520) per passenger in flight cancellation compensation Eurowings.
The ability to claim flight compensation Eurowings for up to three years after your flight.
The power to make claims on flights that were cancelled, delayed by 3+ hours, or involved a case of denied boarding due to overbooking.
What to Do if My Flight Is Delayed or if Eurowings Cancels My Flight?
If you are unpleasantly surprised to find that your flight has been cancelled or delayed, we recommend that you always follow the following steps:
Speak with carrier staff and find out why your flight has been affected.
Get some evidence of the situation, like photos of delay boards, emails, tickets, etc.
Use our Compensation Calculator to see how much you could get in Eurowings flight cancellation compensation.
Eurowings Compensation For Delayed Flights
You can fill out a Eurowings compensation claim form and obtain compensation in these scenarios:
Eurowings Flight Delay Compensation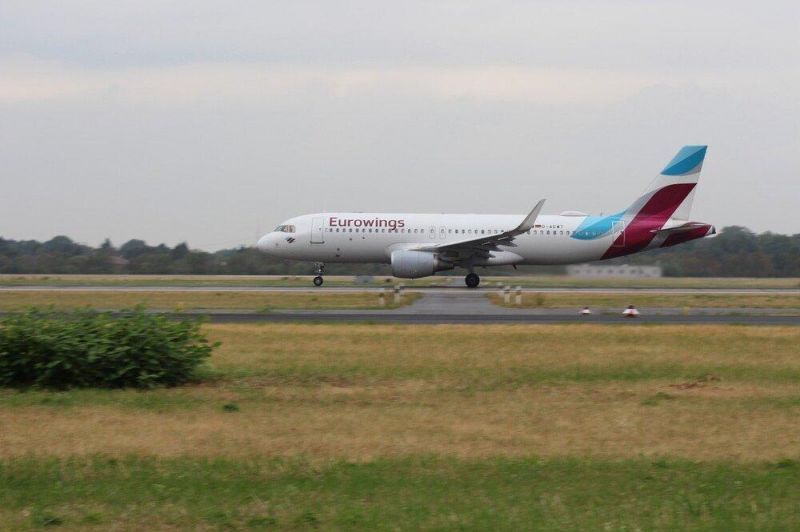 You can make a Eurowings flight delay compensation claim if you are kept waiting for three hours or more, according to EU Regulation 261.
This EU regulation has been introduced to protect passengers in situations of delay and allow them to claim compensation if they are kept waiting at airports for too long.
Exceptions: You might not be able to fill out a Eurowings flight delay compensation form and claim compensation in situations involving extraordinary circumstances.
Eurowings Flight Cancellations: When Are They Liable?
There are many situations in which you can obtain Eurowings flight compensation. If the airline cancels or delays your flight intentionally, without providing sufficient notice, leading to an interruption in your trip, then you should be eligible for compensation, as well as potentially a full Eurowings refund.
However, there are some situations in which the carrier can evade having to pay compensation for a flight delay. In situations that involve "extraordinary circumstances", the carrier can argue that flights were delayed/cancelled beyond its control, so it may not be liable for flight delays compensation.
What counts as extraordinary circumstances? Well, this term can only be used in very special situations in which flights are grounded or called off due to unexpected or unforeseen issues, such as very bad weather conditions or some sort of issue at the airport, like a bomb scare. In other cases, the carrier won't be able to use this excuse and should have to pay out up to 600€ (£520) to passengers affected by delays.
Eurowings Flight Refund Policy
Depending on the situation of your flight, you could be entitled to both ticket refunds and flight compensation, too. The refund is the airline's way of reimbursing you for a service that it failed to provide, while the compensation is paid out due to the inconvenience you suffered, as a result of the delay or cancellation in question.
For example, if you get to the airport and see that your flight has been cancelled due to something like bad weather, you could claim both Eurowings cancelled flights compensation and a Eurowings cancel flight refund.
Eurowings refund and cancellation policies state that you should get paid out in most cases. It's only if there are extraordinary circumstances that the airline may be able to avoid being held liable for the situation.
Types of ticket refunds: After completing your Eurowings refund request, you may be offered a delayed flight refund in a few different ways. You could get a full cash refund to your account, or a refund in the form of credit to use on another flight later on. You could also be offered a voucher, but it's not wise to accept vouchers, as they can expire and have certain restrictions.
Eurowings Flight 261 Compensation Claim: How Much Can You Get?
According to EU 261, you could be entitled to the following:
Our compensation calculator is a simple-to-use tool that can help you find out the precise amount for your claim.
Eurowings flight cancellations and delays: stats
Statistically, Eurowings has been one of the best airlines in terms of flight cancellations and delays, having a higher on-time performance rating than many other European airlines. But this hasn't been the case lately. Eurowings finds itself at the top of the table this summer, with a 12% record of cancellations, almost double as the next airline.
FAQs
Claim with AirAdvisor and get up to €600 compensation. Find out how much you're owed today.Check Your Flight
What is the Time Limit for Compensation Claims?
You'll have three full years from the date of your flight to make a claim, so even if you had a delay a couple of years ago, you can still claim it now.
How to Claim Compensation for Eurowings Flight Delays Cancellations?
Claiming compensation from airlines can be difficult, as the airline may try to evade your questions and avoid paying you. That's where we come in. AirAdvisor can handle negotiations and claims on your behalf and get the compensation you deserve, and we only get paid if you get paid. Use our online compensation calculator to learn more about how much compensation you could claim.
How to claim flight delay compensation Eurowings?
AirAdvisor can help you with that. Start by using our calculator to find out how much you're entitled to.
Why Should I Entrust My Claim to AirAdvisor?
Many years of experience in airlines and legal claims.
Over 75,000 customers already trust AirAdvisor.
rated 4.5 based on 2,000+ reviews.
10 languages.
An international team of lawyers and travel lovers.
Use our compensation verification tool to learn more.
Is Eurowings the worst airline for delays and cancellations?
No, statistically Eurowings has a higher on-time performance rating than many other European airlines.
Can I get a Eurowings delay refund or Eurowings cancellation refund?
Yes, if your flight has been delayed or cancelled unexpectedly at a time or date close to departure, and you haven't been booked on another equivalent flight, you can request a refund and submit Eurowings flight cancellation compensation form.
How does EU261 Eurowings work?
EU261 is an EU regulation that exists to protect passenger rights. Thanks to this, if you're taking a flight around Europe with this carrier and it gets delayed by 3+ hours or cancelled, you're entitled to claim a certain amount of compensation for the inconvenience.
EU 261 Compensation Claim Eurowings Airlines: How to Do it?
No feedback