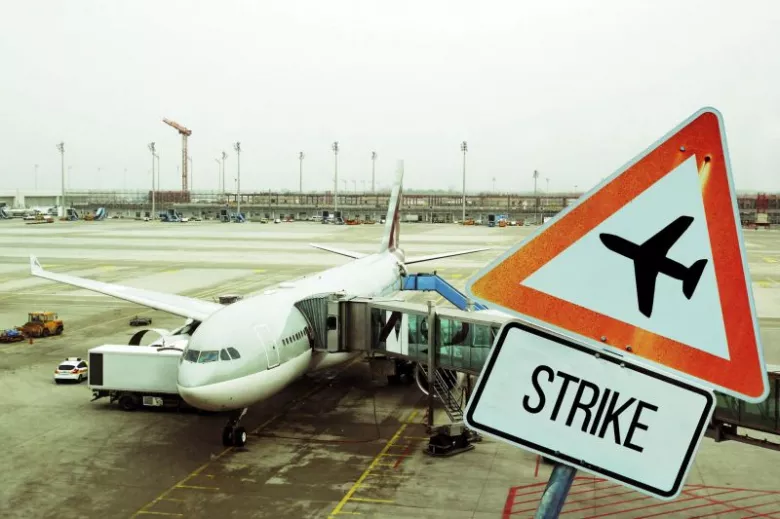 7 major airports' strikes in Germany caused Lufthansa and other carriers to cancel over 2,340 flights
Anton Radchenko, 17.02.2023
On Friday, February 17th, 2023, Lufthansa announced that it would be cancelling more than 1,300 flights scheduled for that day following a call by the Verdi labor union for full-day strikes involving airport workers at seven German airports, including Frankfurt, Munich, and Hamburg. As a result, more than 295,000 passengers across Germany have been affected, with over 2,340 flights cancelled.
Lufthansa, which is one of Europe's biggest airlines, has ceased all flight operations at Frankfurt and Munich for Friday. The airline has also offered alternative connections and rebooking on rail services "where possible". Lufthansa expects regular flight operations to be "largely back to normal" on Saturday, February 18th (this might actually take 1-2 days for flight operations to completelly stabilize).
Quick Question: can I get a compensation or reimbursement of my expenses caused by Lufthansa flight cancellation due to airport strikes?

Quick Answer: No, unfortunatelly you cannot claim compensation, because it is airport strike and Lufthansa or another airline affected is not control of such events.
This disruption follows a company-wide IT outage at Lufthansa on Wednesday, which caused flight cancellations and delays, stranding thousands of passengers in airports.
Tip: such Lufthansa flights' cancellations were indeed caused by issues on the side of airline (IT system) and in such case passengers may bring claims against Lufthansa under EU Regulation EC261 for compensation ranging from 250 to 600 EUR.
Find out if you are owed compensation for a disrupted flightCheck Your Flight
Context: the Verdi union has demanded a raise of 10.5% for its members due to inflation stoked by high energy and food prices, which is eating into wages.
If you are a passenger affected by this Lufthansa strike, here are the top 5 things you can do:
Check your flight status: Lufthansa has provided regular updates on its website regarding cancelled and delayed flights, so it's important to keep checking the status of your flight before heading to the airport. It might make sense to check it before heading to airport, so you do not waste your valuable time.
Contact Lufthansa customer service: If your flight has been cancelled or delayed, you can contact Lufthansa customer service to find out what options are available to you. The airline has been offering alternative connections and rebooking on rail services where possible.
Consider alternative transportation: If you need to travel urgently, consider alternative transportation options, such as trains or buses. Keep in mind that other airlines may also be affected by the strike, so it's important to check the status of your flight before booking.
Be prepared for long lines and wait times: With so many flights cancelled, there will likely be long lines and wait times at airports. Be prepared to spend a lot of time waiting and consider bringing snacks, water, and other essentials to make your wait more comfortable.
Stay informed: Keep up to date with the latest developments on the strike by checking news websites, social media, and the airline's website. This will help you to stay informed and make informed decisions about your travel plans.
Plan for the worst case scenario even if you flight was not affected: as many times such a massive flight disruptions will roll over and affect other flighs scheduled for next day or two. Hence, even though your flight was not affected on the day of such strike, it may get affected due to changes in schedules and resultant delays.
Final take away: if you flight be it with Lufthansa or another carrier was affected due to airline employees' strike, airline may be liable to pay compensation from 250 to 600 EUR. However, if flight disruptions were caused by airport staff, airline is not responsible for it.
Find out if you are owed compensation for a disrupted flightCheck Your Flight
Joselin Harz 18.02.2023
I should have booked travel via Austria instead. This is just a mess now, hope to take off on the next flight. I wish I was able to claim reimbursement
Alex 18.02.2023
This is horrible news, now my travel plans are ruined