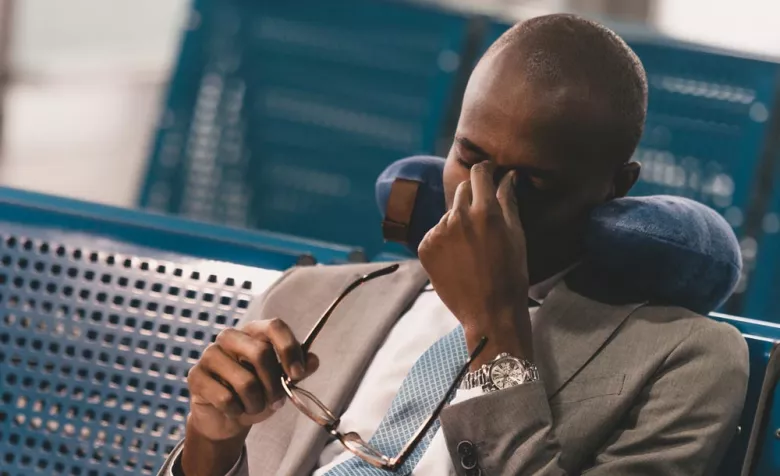 The best travel pillow for long haul flights
12.05.2022
Travelling on a long-haul flight can be a tiring experience. You have to stay in the same seat for a long time, and one of the best ways to make that time go by is to fall asleep.
A good quality airplane pillow can make it much easier to get some rest, but with so many options on the market, how can you find the best travel pillow to meet your needs?
In this guide, we'll help you find the best travel neck pillow for you. We'll look at a list of some of the top-rated travel pillows for airplanes, as well as highlighting key features to focus on when searching for the best travel neck pillows.
The best travel pillow for long haul flights
Travel pillows come in all sorts of different shapes and sizes, but which is the best one to use during a long-haul flight or while waiting at the airport after a flight delay or missed connecting flight? Here are some of our best flight pillow recommendations.
If you're looking for a top quality plane travel pillow, look no further than the Cabeau Evolution S3. This amazing wrap around travel pillow was designed for air travel. It features straps that attach to the airplane seat to ensure that your head won't fall forward.
It's also made from plush, cosy memory foam, ready to adapt to the shape of your head, covered in a quick-dry, breathable fabric that will keep you at just the right temperature, too. So you can really get some serious rest on your next flight with this pillow by your side.
There's even a little side pocket on this pillow where you can keep your phone safe or other important items, and once the flight is done, it can be rolled up and stuffed into a compact carry case.
Next up, we have the TETON Sports Camp Pillow. This is a great choice of travel pillow for people who enjoy the classic comfort of a bed-style pillow.
It's shaped just like a regular pillow but is extra small, ideal for bringing along on flights or for keeping you cosy and comfortable if you're stuck at the airport due to missed connections or flight cancellations.
This pillow is simple and affordable. It has no fancy frills or features, but it's supremely comfortable and versatile, perfect for people who do a lot of travelling and adventuring.
If you've ever wanted to know "What's the best neck pillow for travelling?" the answer might just be the Trtl Pillow Plus. It's the world's first fully adjustable travel pillow, suitable for all head shapes and sizes.
This pillow provides amazing levels of internal support, with a super smart design that keeps your head and neck in the most comfortable position, perfect for drifting off into a peaceful nap.
It's also super compact and lightweight, tipping the scales at less than 9 oz, so it won't have any major effect on your carry-on weight or luggage restrictions.
If you're searching for the best compact travel neck pillow, your search is over. The Go Travel Ultimate Memory Foam Neck Pillow is one of the best value travel pillows of them all.
It's reasonably priced and compares favourably to many pillows with much bigger price tags, offering impressive levels of support and comfort. It especially does well at supporting the head under the chin so that you don't fall forward or wake up with a stiff neck.
This pillow may seem big and bulky when in use, but it folds down into a really compact shape for easy storage in your carry-on bag.
Best travel pillow for long haul flight: Infinity Pillow
And now for something a little different. The Infiniti Pillow is one of the most uniquely shaped travel pillows on the market, wrapping around itself in a swirl of comfort and support.
It allows you to get into a comfortable sleeping position in any circumstance, even in cramped airplane seats or while waiting at the airport after a flight delay.
It's covered in breathable bamboo rayon fabric and is super flexible, ready to be bent, shaped, and twisted into the right position to suit your specific needs. It's wonderfully durable, too, and you'll want to use it again and again, even at home.
Next, we have the J-pillow. This pillow's name comes from its shape, which resembles a letter J when viewed from the side. It has a part that wraps around the neck and a separate lower section for chin support to stop your head falling forwards.
This award-winning pillow was classed as the British Invention of the Year due to its clever design and is famed for offering amazing levels of support and comfort.
The only downside with this pillow is that it doesn't fold away easily or deflate into a smaller package, so it can be a little tricky to pack.
Finally, we have the Travelrest Ultimate Travel Pillow, which is one of the comfiest and cosiest travel pillows to use. It's also one of the most unique, as it has a distinctive shape that can be placed by your side when seated on a plane.
Great for side sleepers, but less effective for those who sleep on their back, this pillow tucks under your shoulder and gives you something soft and cosy to lean on.
When you're not using it, you can deflate it and roll it away into a surprisingly small package.
How to find good neck pillows for travel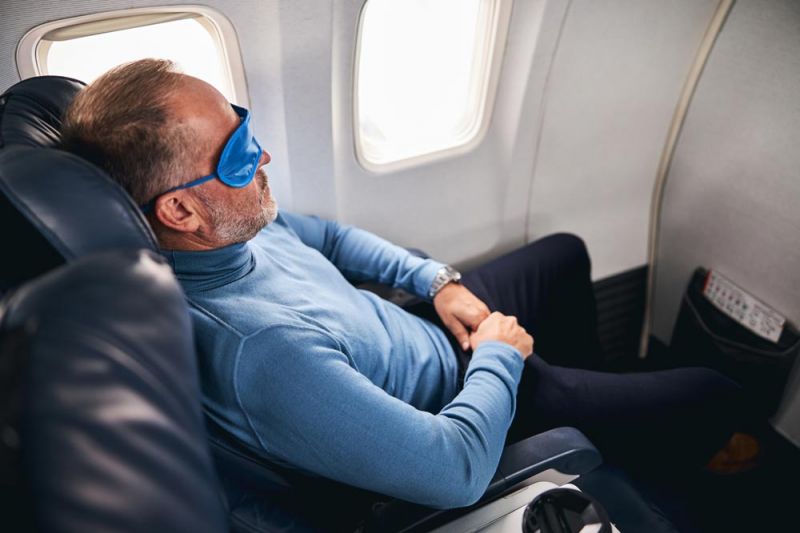 We've looked at some of the top-rated, best-selling travel pillows, but what is the best neck pillow for airplane travel? Well, the truth is that it depends on your own personal preferences.
There isn't just one perfect pillow that suits everyone. That's why it's important to think about certain key factors when looking for the right pillow.
Let's look at things to focus on to help you find your answer to the question "What is the best travel pillow for long flights?".
Size
Travel pillows can come in a wide range of different sizes, from small and compact pillows for kids to much larger pillows that cover the whole head or wrap entirely around your neck.
It's important to find a size that suits your head. However, you also need to think about how you're going to travel with the pillow. If it's too big, it could take up a lot of space in your carry-on bag, so many people opt for compact pillows that fold away easily.
Weight
The weight of your travel pillow is another important factor to think about. Again, this is important because airlines have rules about how heavy your carry-on luggage can be, and it's important to not take a bag that is too heavy, or you may have to pay extra fees.
Most travel pillows are designed to be very lightweight, so they won't take up too much space in your bag or weigh it down. However some are a little heavier and could tip your bag over the weight limit, so this is something to keep in mind, especially if you like to take lots of items in your carry-on bag.
Shape
The most common shape of travel pillow is the classic wrap around neck pillow which has a C-like shape and wraps around the back of the neck. However, you can also get classic rectangular pillows, pillows with arm-holes, and pillows that swirl around themselves in 8-like shapes.
Different shapes have their own pros and cons. Many people love the classic comfort of a C-shaped neck pillow, but you might prefer something different. You may want to test out different shapes of travel pillow to find the one that suits you best.
Materials
It's also worth looking at the materials used to make each pillow. Some of the best travel pillow materials include memory foam and rayon. Memory foam is great for the inside of pillows, as it allows the pillow to shape to your head, while rayon is good for the exterior, as it's very breathable and keeps you cool.
There are other materials that may be used in creating travel pillows, too, and they all have pros and cons. It's important to think about softness, support, comfort, and breathability to find materials that work best in your travel pillow.
George Smith 12.05.2022
Interesting, I like my own pillow, but I don't see it here. Will check one of this next time I travel.