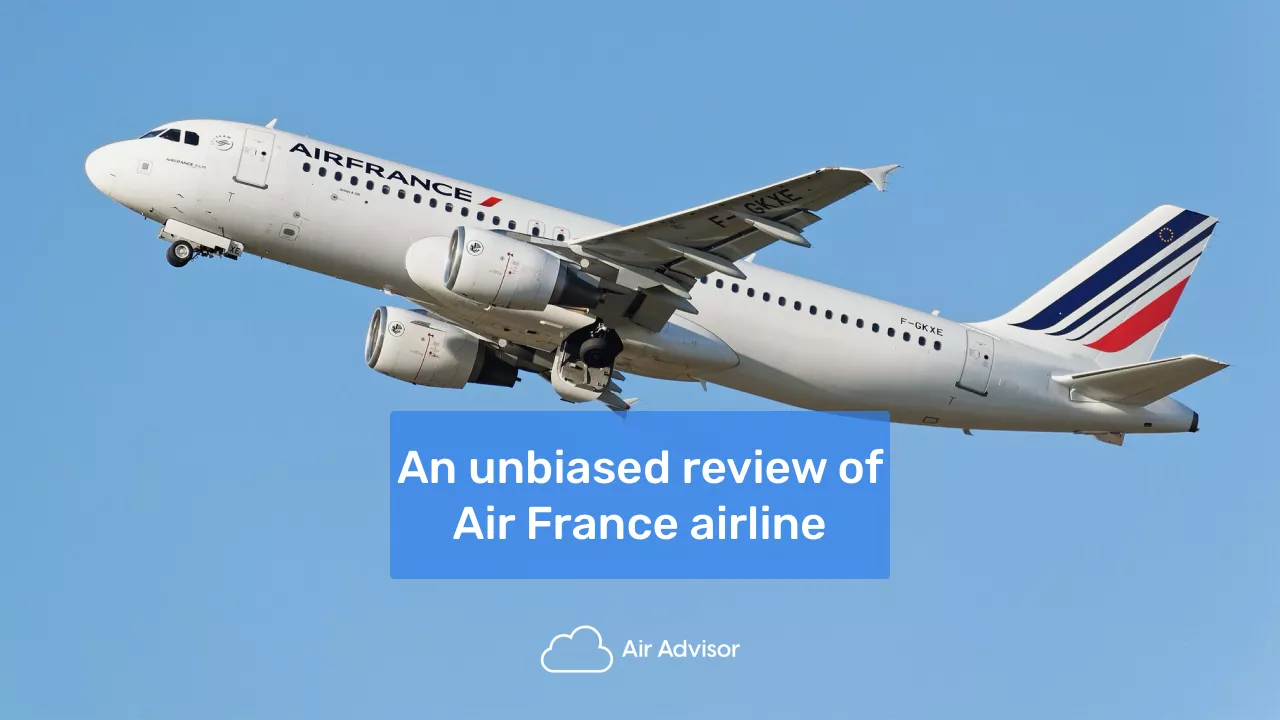 Are you looking for an unforgettable travel experience, but unsure how to navigate the various number of airline options? If so, then this review of Air France is for you. As one of the world's leading airline companies, they offer a lot of great benefits for their customers. But how does the company stack up compared to other air carriers?
To help you make a more informed decision, we analyzed over 41,000 reviews on well-trusted websites like Tripadvisor, AirlineQuality and Trustpilot in order to provide you with an unbiased and thorough review of what it's like to fly with Air France. Our honest overview covers everything from booking flights through Air France, their baggage policies and fees, onboard comfort factors and much more. Read on for all the details you need when deciding how best to get wherever it is that you're going.
Key findings:
Easy and intuitive booking and check-in process
Coverage over 200 destinations worldwide
Impressive arrival punctuality rate of 75%
Offers a variety of choices in flight experiences with over 200 aircrafts
Four price segments to choose from
Modern airplanes with comfortable seats
A professional and helpful crew
Air France Rating by Passenger Reviews
If you're thinking whether Air France is a good airline, have a look at the image below. With over 41,000 passenger reviews analyzed across several review websites, there's a wealth of data to help you decide.
Pros:
Extensive global reach
Excellent customer service and welcoming staff
Delectable cuisine
Loyalty rewards program
Permits small pets in the cabin (maximum weight of 8 kg, carrier included)
Cons:
Not the most affordable airline
Economy seats are not comfortable enough for long-haul journeys
Frequent delays
Numerous passengers express dissatisfaction with customer support
Ticket Purchasing and Check-in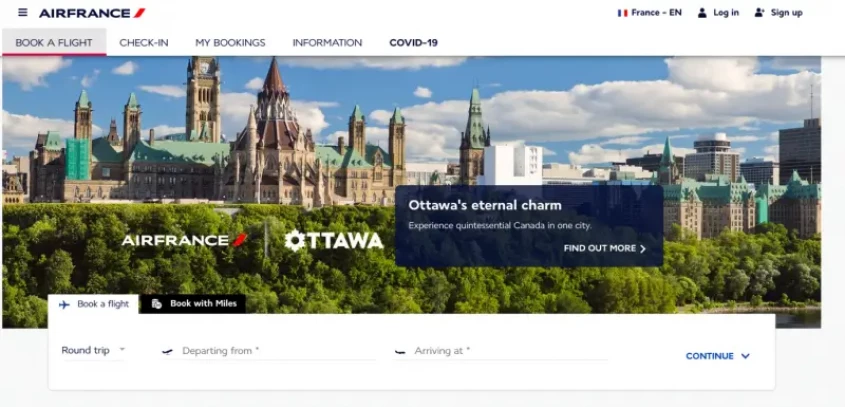 Air France offers an user-friendly booking tool - with just a few clicks, you can enter your departure and arrival locations, date, number of travelers, and even compare prices based on your selected departure date. You'll have the option to choose from three different types of prices: Standard, Standard Plus with front section seating, and Flex (which is twice the cost of the Standard option).
One interesting feature to note is the "Time to Think" option, giving you up to three days to decide on your booking with the fees varying depending on the number of days until your flight and destination.
Once your flight is booked, check-in options are readily available to you - choose between online via the website or mobile app, at the check-in counter at the airport, or through the Air France Interactive kiosk at the airport.
With online check-in available up to 30 hours before your flight's departure (24 hours for flights to and from the USA), you'll have all the time you need to ensure a hassle-free travel experience with Air France.
Official App ratings
Air France full-service app allows you to purchase tickets, check-in for your flight, and keep track of your Flight Blue Account all in one place. And, if there happens to be any changes to your flight schedule, you'll receive notifications through the app. With Air France Play, you can access over 140 French and international newspapers and magazines.



Destinations and coverage
Air France is a global airline that connects people to 223 destinations in 94 countries. Air carrier provides a vast network across Africa, Americas, Asia, Europe, and Oceania, facilitating convenient exploration of various parts of the world. From the dynamic cities of Asia to the captivating landscapes of Europe and the stunning beaches of Oceania, Air France offers various travel options. Whether for business or leisure, the company provides exceptional services and amenities to meet all your needs.
Air France on-time performance
According to recent reports of Eurocontrol, the company had an arrival punctuality rate of 75% in 2022, which is quite impressive. Although the departure punctuality rate was slightly lower at 63%, the airline still managed to maintain an average delay of only 18 minutes for departures. Similarly, the average arrival delay was only 14 minutes.
In 2022, Air France operated an average of 953 daily flights, demonstrating their unwavering commitment to delivering reliable and punctual service to their valued customers.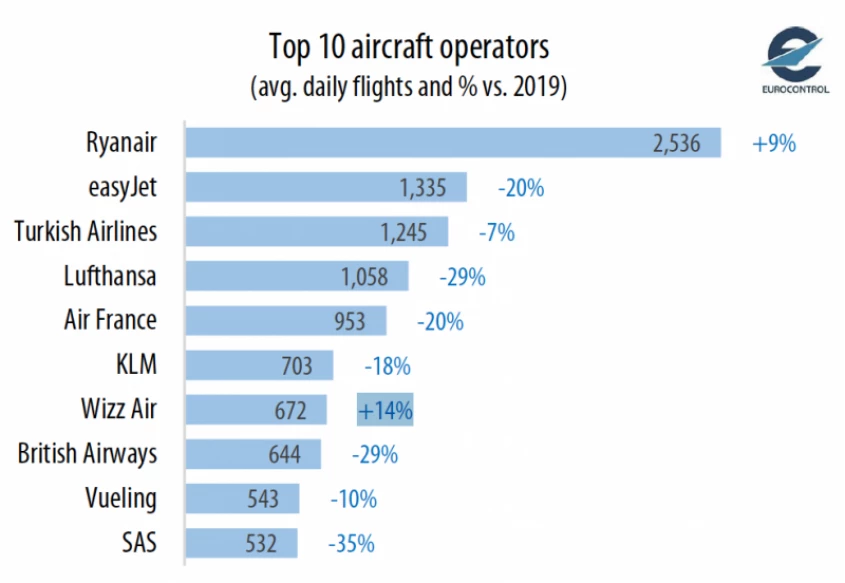 Actual fleet and Eco policy
Air France operates an impressive fleet of 213 aircrafts, mostly composed of Airbus planes. The average age of its fleet is 13.2 years, with the oldest aircraft being 22.3 years old while the newest is only one year old.
In its commitment to sustainability, the airline currently uses 1% of Sustainable Aviation Fuel on flights out of France and aims to increase this number to 10% by 2030, and a remarkable 63% by 2050. Moreover, against the backdrop of environmental concerns, Air France has pledged to eliminate 90% of single-use plastic by the end of 2023.
Airport Experience
The airport experience can vary depending on the type of flight you are taking and where you are flying. For an international flight, it's recommended to arrive at the airport three hours before departure to allow plenty of time for check-in, security, and potential delays. However, if you are flying within France or Europe, two hours before departure is more than sufficient.
Keep in mind that the check-in counter can get busy, and there may be additional security checks required before boarding. Fortunately, SkyPriority is available for SkyTeam members, providing priority for boarding, check-in, and baggage delivery in over 1000 airports worldwide.
If you have access to Air France Lounges, you can enjoy a comfortable and relaxing atmosphere before your flight. If not included in your ticket, you can purchase the Lounge Option for access.
Baggage policy
Air France's baggage policy is accommodating for passengers in all classes:
Economy passengers are allowed one hand baggage and one personal item weighing up to 12 kg.
Premium Economy allows for two hand baggage items and one personal item up to a combined weight of 18 kg.
Business and La Premiere classes offer even more generous policies, with two items of hand baggage and one personal item weighing up to 18 kg and three items of checked baggage weighing up to 32 kg each.
Additional items such as children's strollers and car seats can also be brought on board, as well as special items such as musical instruments and sports equipment up to 300 cm in all dimensions. For more information about baggage policy, check out Air France's website.
We have compared baggage allowances of Air France and three other French airlines, and found a remarkable similarity in their policies. The below table provides an illustrative breakdown of these comparable baggage policies across the carriers:
Hold baggage

Cabin luggage

Extra baggage fees

Air France

- Maximum total dimensions exceeding 158cm

- Economy - 1 item up to 23kg

- Premium Economy - 2 items up to 23kg each

- Business Class - 2 items up to 32 kg each

- La Première - 3 items up to 32 kg each

- Economy - 12 kg
- Premium Economy, Business, La Première - 18 kg

- Maximum weight given including personal items

- 2nd baggage piece for Economy fare passengers - €55-100

- Each additional piece of luggage - €200-285

- Overweight baggage (over 23kg or 32 kg depending on allowance) - €55-100

- Oversized luggage (total dimensions exceeding 158cm) - €20-300

Corsair

- Maximum total dimensions exceeding 158cm

- Economy Class - up to 23 kg

- Business Class - up to 32 kg

- Maximum size - 55 x 40 x 20 cm

- Economy Class - up to 12 kg

- Premium and Business Class - up to 18 kg

- 1 st baggage piece - €50-170

- 2nd - 9th baggage piece (up to 72 hours before departure) - €50-190

- 1st - 9th baggage piece (from 72 hours before departure) - €80-200

Air Caraibes

- Maximum total dimensions exceeding 158cm

- Economy Class - 1 piece x 23 kg

- Premium Economy - 2 pieces x 23 kg each

- Business Class - 2 pieces x 32 kg each

- Transatlantic Flights - 1 carry-on piece up to 12 kg and 55 x 40 x 20 cm (115 cm maximum linear dimensions)

- Regional Flights - 1 carry-on piece up to 5 kg and 55 x 40 x 20 cm

(115 cm maximum linear dimensions)

- 1 extra piece up to 23 kg - €30-100

- 2nd, 3rd extra piece up to 23 kg - €40-100

- Overweight piece (23-32 kg) - €50 for international flights, €20 for regional flights

- Oversized piece (over 158 cm) - €50 for international flights

ASL

- Basic fare - 0 piece of baggage

- Standard and Flex fare - 1 piece up to 23 kg

- Maximum total dimensions exceeding 158cm

- Basic, Standard, Flex fare - 1 piece of baggage of 10 kg (55x35x25 cm), 1 accessory (handbag or computer bag 30x20x20cm) to be placed under the seat in front of you

1 extra piece up to 23 kg - €80-120

excess weight on the main or excess baggage (maximum weight of 32 kg) - €30 for up to 3 kg, €50 for up to 9 kg

Oversized piece (over 158 cm) - €30
Boarding
Air France has a well-organized system that divides boarding into 5 zones, each dependent on your cabin and Flying Blue status. For those high-status clients with SkyPriority, priority boarding is available. Once your zone is called, you will either board the bus or make your way directly from the airport terminal to the plane, depending on the airport.
Be sure to keep an eye on the boarding deadline, as it is set at 15 minutes for flights within France and 20 minutes for other destinations.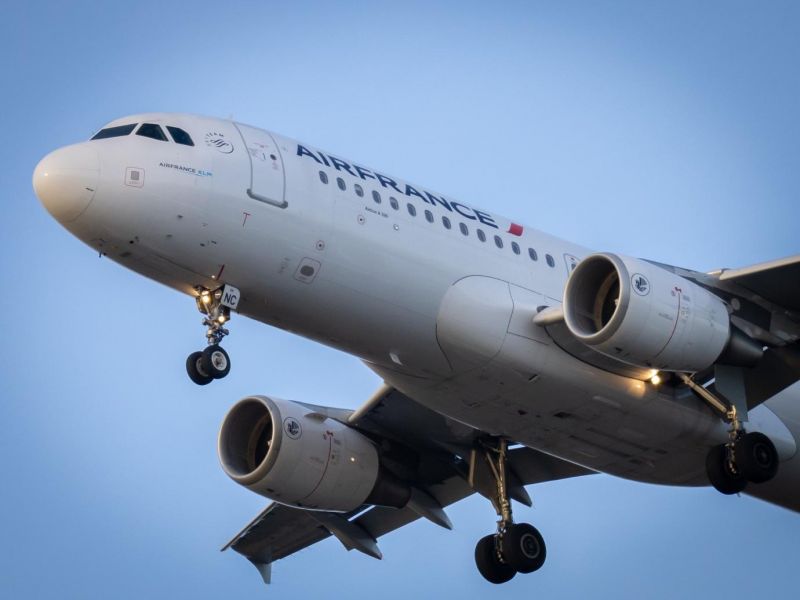 Airplane Interior
Airline has designed an interior that is both simple and modern with ergonomic seating available in all classes, ensuring optimal comfort for passengers during long flights.
Passengers often mark as plus wider passages, sections with 2-3 seats for groups traveling together, and mini-cabins in premium economy for extra privacy. However, some passengers note that legroom in economy may not be enough for those over 180 cm tall and storage pockets on the front seat are not very large.
Each seat is equipped with an individual entertainment system, boasting a wide variety of films, music, and games in multiple languages. Depending on the aircraft and cabin class, additional amenities such as adjustable headrests, extra legroom, lie-flat beds, and USB ports may also be available on many flights.
Disrupted flight with Air France? You might have a right to compensation - up to €600.Check Your Flight
Seat Space
With ergonomic, wide seats in all classes, passengers can settle in for a comfortable journey with Air France. Its airplanes offer generous legroom, with 79 cm in economy and 85 cm in Business Class and La Première. For those who desire even more space, Seat Plus can be purchased, granting up to 10cm of extra legroom within the Economy Class cabin.
While economy class may not be the most conducive to sleeping, many passengers have found that choosing Premium Economy, Business, or La Première can greatly enhance the comfort of long flights. With Air France, travelers can relax and enjoy the journey.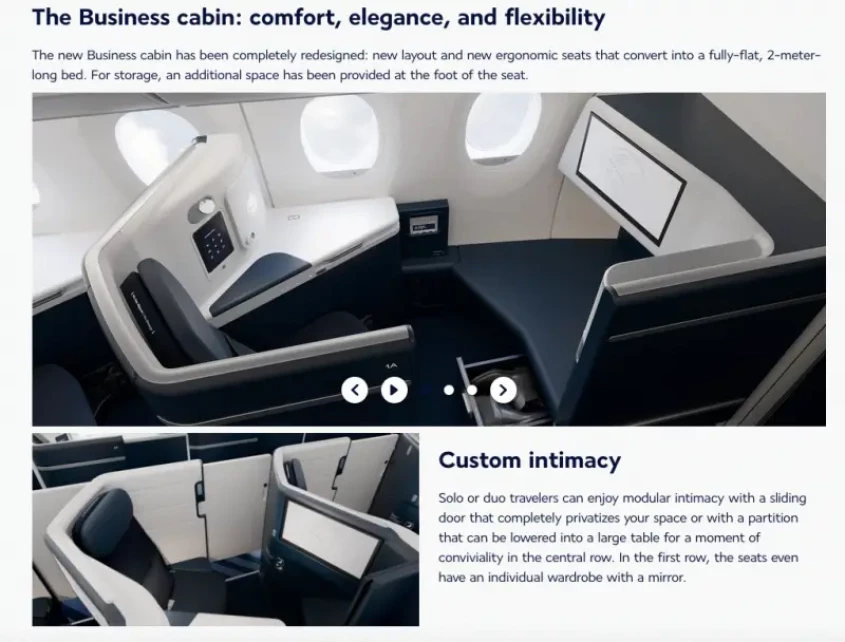 Service
The company aims to provide top-tier onboard service, marked by attention to detail and an unmistakable French touch. And, according to the average Air France flight review, they seem to do so successfully. The cabin crew are known for their professionalism and courtesy, ensuring you have a pleasant and comfortable flight.
From the warm welcome aboard to the personalised care throughout the journey, the flight attendants strive to meet your needs and enhance the overall travel experience. Whether it's responding promptly to requests or assisting with luggage, the commitment to customer service by Air France's crew is commendable.
Food & Drink
Complimentary food and snacks are available for all travel classes, with the selection varying depending on your destination.
If you're traveling with children between 2-6 years old, you can request a special meal tailored to their needs at least 24 hours before your flight.
For infants aged 0-23 months, you can also request a special menu to ensure their dietary requirements are met.
For those with specific dietary needs, for vegans, vegetarians, diabetics, or those with allergies, a special meal can be ordered at least 48 hours before your flight.
If you're looking for something a little more special, you can even purchase a meal from the "A la Carte" menu at least 24 hours before your flight for a truly indulgent experience.
Had an Air France Delayed or Canceled Flight to or from the EU?Check Your Flight
Air France price policy
The airline is currently offering significantly higher prices than low-cost competitors, making it more challenging for budget-conscious travelers to choose their services. However, students and parents traveling with their children may find some relief as Air France does provide special rates for those groups.
Another option for frequent flyers is to enroll in the Flying Blue Loyalty Program, which allows travelers to earn Miles on everything from ticket purchases to day-to-day shopping. These Miles can then be redeemed for rewards such as free tickets and hotel stays.
Flight Disruptions
Just like any air carrier, Air France flights can occasionally face disruptions, which may lead to delays that last 3 hours or more, or even cancellations. These disruptions may result from a range of factors, including operational complexities and unpredictable weather conditions. In such circumstances, you have certain rights. For instance, you may be eligible for late flight compensation or a flight ticket cancellation refund.
Europe passenger rights, under EU261 regulation, for example, stipulate that airlines, like Air France, must offer compensation for significant delays or cancellations. It's always crucial to be aware of your flight cancellation rights, as well as what you're entitled to in the event of e lengthy delay, to ensure you can navigate these situations effectively.
How to Make a Complaint
If you need to make a complaint regarding your experience with Air France, the airline provides a straightforward process on its website. Here are the steps you need to follow:
Visit the Air France website and navigate to the 'Help and Contacts' section in the footer of their home page.
Select the 'Claims' option.
You will be directed to a page where you can submit your complaint. This can include issues about flight delays, cancellations, lost luggage, or any other service-related problems.
Fill in the necessary details about your flight and the nature of your complaint.
Once submitted, you'll receive a confirmation email, and the Air France complaints department will review your case.
Should this all seem too much of a hassle, we're here to help with a simple and efficient way to claim compensation for flight disruptions. By submitting your flight details on the AirAdvisor website, our system verifies if you're eligible for compensation under EU Regulation 261/2004.
If eligible, our team of experts handles all negotiations and legal processes with the company on your behalf. And the best part is that they operate on a 'no win, no fee' model, which means you only pay a fee if they successfully secure your compensation.
Air France Review – Conclusion
All in all, Air France is a top-tier airline that provides passengers with access to more than 200 destinations around the world. What makes the company stand out from its competitors is its stringent focus on client orientation - making it easy to book tickets, providing 4 different pricing segments, and looking after passenger special needs.
However, prices are usually above average and some people have found their flights disrupted or the level of comfort not satisfactory for the price they had paid.
Find out if you are owed compensation for a disrupted flight.Check Your Flight
About Air France
Embodied with a rich history and a pioneering spirit, Air France, the flag carrier of France, stands tall amongst the world's premier airlines. Incorporated in 1933 following the consolidation of 5 smaller French airlines, Air France has since blazed a trail of growth and expansion.
With its headquarters situated in Tremblay-en-France, the company operates predominantly from its central hubs at Paris-Charles de Gaulle and Paris-Orly airports. Air France, in collaboration with its subsidiaries and allied partners, caters to a vast international network, traversing continents and connecting hundreds of global destinations.
Air France's journey through the years has been marked by a relentless pursuit of innovation and dedication to customer service. With the constant upgrading of its aircraft fleet and product portfolio, the company has kept pace with the ever-evolving aviation landscape. The airline is currently a key part of the Air France-KLM group and is a cornerstone of the SkyTeam global airline alliance.
FAQ / Common Questions
In this frequently asked questions section, we've tackled some of the most common queries about Air France, from their services and amenities to their fleet and reliability:
Is Air France a reliable airline?
Air France, as one of the world's oldest and most prestigious airlines, is widely recognised for its reliability. Not only does it maintain a high standard of safety and operational integrity, but it also delivers consistently in terms of on-time departures and arrivals. The company boasts an expansive route network, connecting hundreds of global destinations, making it a reliable choice for both domestic and international travellers.
Additionally, Air France has established a reputation for its commitment to customer service. From professional cabin crews to a variety of in-flight amenities and services, Air France works diligently to ensure a satisfying and comfortable journey for its passengers. However, it's worth noting that like any large operation, occasional disruptions can occur, but the airline is usually efficient in handling these situations to minimise inconvenience to travellers.
Are Air France flights really cheap?
Air France, being a traditional full-service airline, is not typically categorised as a "budget" or "low-cost" carrier. It's pricing reflects the range of services and benefits it offers to passengers, such as an inclusive checked luggage allowance, in-flight meals, and a high-quality in-flight experience. Therefore, while ticket prices might not be as low as those of budget airlines, they are often competitive when factored in with the value provided.
Moreover, Air France frequently runs promotions and discounted fares, especially during non-peak travel seasons, making certain routes and destinations more accessible. Savvy travellers who can be flexible with their travel dates might find these promotional fares an excellent opportunity to experience the quality service of Air France at a lower cost.
It's always worth comparing flight options, keeping in mind the additional services and amenities Air France includes in their ticket prices.
How uncomfortable is Air France?
Most travellers find Air France to be a comfortable airline. The seats, both in economy and business classes, are designed to provide ample space and comfort. The airline also invests in well-maintained and modern aircraft, contributing to a pleasant flight experience.
Does Air France give free water?
Yes, Air France provides free water to all passengers during their flights. Additional beverages and meals, the nature of which may vary depending on the length of the flight and the class of service, are also typically offered.
Can I take a 10kg bag on Air France for free?
Air France allows one piece of hand luggage and one accessory, like a laptop bag or handbag on board for free. The weight limit for hand luggage is 12kg for Economy passengers and 18kg for Business and First Class passengers. You also have the option to check luggage in, the weight of which depends on the class of your ticket, but typically starts at 23kgs.
Why do people not like Air France?
While Air France often receives positive reviews, some passengers have voiced concerns. Flight delays, a frequent frustration for travellers, have been cited as causing disruptions to travel plans, such as missing connections or arriving late. Additionally, some passengers have reported issues with the onboard entertainment system, which can make long flights seem longer.
There have also been criticisms about the airline's handling of disruptions, with some passengers feeling the resolution process was slow or unsatisfactory. Despite these criticisms, many passengers have positive experiences with Air France, and these issues don't represent the majority of passenger experiences.
Has Air France ever crashed?
Yes, while Air France, like any long-standing airline, has unfortunately experienced crashes in its history, these instances are not frequent. One of the most notable incidents was the tragic crash of Air France Flight 447 from Rio de Janeiro to Paris in June 2009, which resulted in the loss of all 228 passengers and crew onboard. Such incidents, though very rare, have led to comprehensive investigations and significant safety improvements.
Today, Air France, along with the broader aviation industry, maintains a strong commitment to safety, adopting the latest technological advances and rigorous training procedures to ensure passenger safety.
Does Air France fly Boeing or Airbus?
Yes, Air France maintains a diverse fleet comprising both Boeing and Airbus aircraft. The selection of aircraft for a specific flight depends on several factors, such as the route, passenger demand, and schedule. Notably, Air France is a significant operator of the Airbus A320 family for short to medium-haul routes, and Boeing 777 for long-haul flights.
Does Air France cancel flights often?
While flight cancellations can happen with any airline, Air France, like many large international airlines, aims to minimise disruptions and stick to their schedules. However, cancellations can sometimes occur because of various unforeseen circumstances. The circumstances can include adverse weather conditions, unexpected maintenance needs and global health crises, for example. However, Air France puts a strong emphasis on keeping to their schedule and reducing disruptions for passengers.
When a cancellation is inevitable, the airline makes efforts to communicate promptly and provide suitable alternatives to affected passengers. Nevertheless, the overall percentage of flights cancelled by Air France remains relatively low compared to the total number of flights they operate annually.
Will Air France automatically refund Cancelled flights?
If your flight with Air France is cancelled, the airline doesn't automatically issue a refund. Instead, they provide a choice: you can either opt for a rebooking on another flight, request a travel voucher for future use, or specifically ask for a refund. Therefore, it's critical to understand your rights and make an informed choice according to your travel needs. If you require a refund, you'll need to request it explicitly through the airline's customer service or via their online platform.
Is Air France food free?
Yes, one of the appealing aspects of flying with Air France is that they provide complimentary meals and beverages on their flights. However, the specifics of what's served can vary. On short-haul flights, you may be offered a snack and a choice of beverage. For long-haul flights, you can typically expect a full meal service which may include a starter, main course, and dessert, alongside a choice of wine, beer, or soft drinks.
If you're flying in Business or La Première classes, the dining experience is further elevated, with menus designed by renowned chefs, complete with a selection of fine wines and champagnes. It's also worth noting that Air France caters to a variety of dietary needs and offers special meals that can be pre-ordered before your flight.
How can I avoid Air France baggage fees?
To avoid excess baggage fees, you should ensure your luggage meets Air France's size and weight requirements. It's also worth noting that frequent flyer status or travelling in a premium cabin can come with increased baggage allowances.
Where is the best place to sit on an Air France plane?
The best place to sit on an Air France plane will depend on individual preferences and the specific aircraft layout. Some people prefer seats near the front for ease of boarding and disembarking, while others prefer exit row seats for additional legroom. Aisle seats are often favoured for ease of mobility during the flight, while window seats offer views and a wall to lean on for sleep. Upper-deck seats on larger planes like the A380 are popular for their quieter, more exclusive feel.
How old are Air France planes?
The average age of Air France's fleet is around 14.5 years. This may sound old, but it's important to remember that the airline continually invests in new aircraft and regularly services all planes to ensure passenger safety and comfort. Aircraft age can also be deceptive as older planes may undergo refurbishments, modernising the interiors and ensuring up-to-date inflight entertainment and comfort standards.
Does Air France run on time?
Yes, Air France generally has a good on-time performance with approximately 80% of its flights arriving on time. However, as with all airlines, delays can sometimes occur due to factors such as weather conditions, air traffic control restrictions, or unforeseen technical issues. Passengers are usually informed about any significant changes to their flight schedules, and the airline does its best to minimise inconvenience.
How to get a good seat on Air France without paying?
Getting a preferred seat on Air France without extra fees is achievable with timely online check-in, which opens 30 hours prior to departure. This is when you can select your preferred seats for free. However, do note that seat selection is on a first-come, first-served basis, so being prompt can increase your chances of securing a desirable seat.
If you have higher-tier Flying Blue status or are travelling in a premium cabin, you may enjoy an earlier seat selection. The definition of a 'good seat' varies by individual preference, aircraft type, and class of service. If you're unable to secure your desired seat online, ask at the airport check-in or gate as seats may become available last minute.