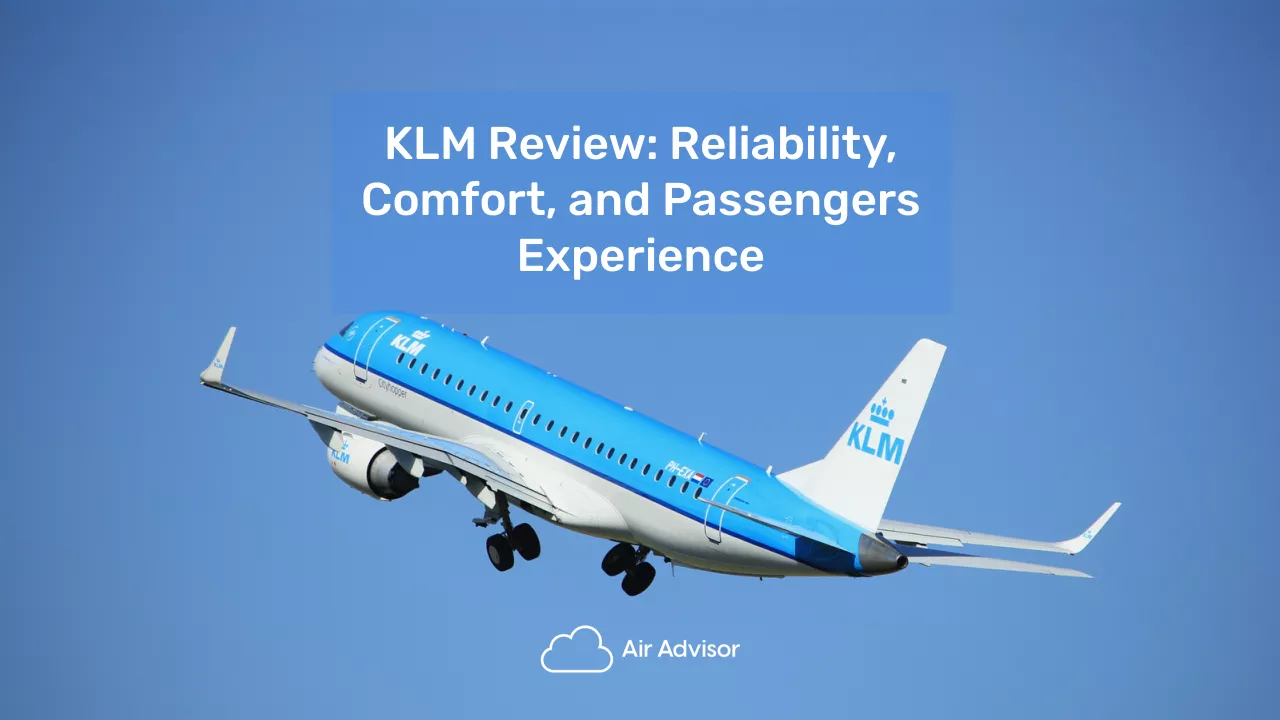 As one of the world's oldest airlines, KLM has been known for providing a comprehensive customer experience that is second to none. From prices and baggage restrictions to helpful service and comfortable cabins, it's easy to see why KLM has been an excellent choice of airline for worldwide travel.
By analyzing over 40,000 KLM reviews across the globe, we uncover what customers really think about their experiences flying with KLM, including everything from booking through check-in and beyond.
Keep reading to find out everything you need to know about flying with KLM.
Key findings:
5th place in AirAdvisors Top 15 european airlines
272 destinations all over the world
Arrival punctuality in 2022 - 75 %
Passenger-friendly booking, check-in and boarding processes
Convenient mobile App
Various benefits with Flying Blue
Delft Blue miniature houses as souvenir in Business Class
KLM Rating by Passenger Reviews
Our team delved into various passenger reviews spread across popular review sites like Trustpilot, TripAdvisor, AirlineQuality, and Google. By looking at the pros and cons highlighted by other reviewers, you can get a better idea of what to expect.
Pros of Flying with KLM:
More than 270 destinations all over the world
Customer-friendly website
Simple booking and check-in processes
Allows pets in cabin, in hold, and in lounge
High-level onboard service and professional staff
Various in-flight entertainment
Cons of Flying with KLM:
Recent reports of poor customer service
Passenger complaints about untimely flight change notifications
Ticket Purchasing and Check-in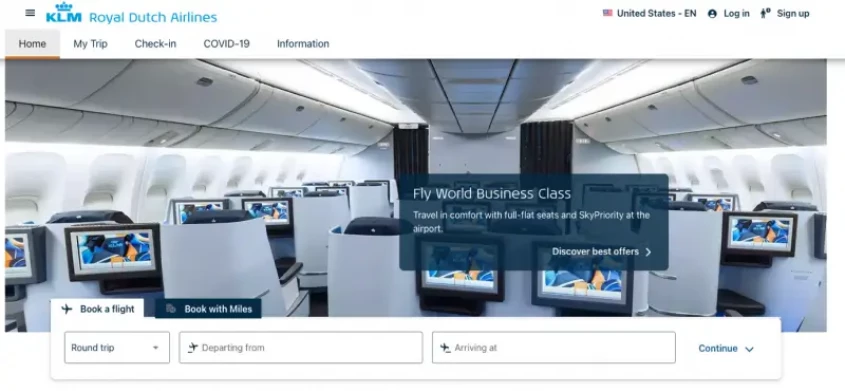 KLM has made booking easier with their user-friendly tool available on the official website as well as on the mobile app. Simply enter your departure and arrival airport, date, passenger number and class to compare prices for different flights and days with varying flight durations. If you need a little extra time to weigh your options, choose the "Time to Think" option on your selected flight for up to 3 days.
The check-in process and timing can differ depending on whether your flight is domestic or international, as well as your method of check-in:
On-line, either via the airline's direct website KLM.com or via the KLM app. Online check-in is available from 30 hours till 1 hour before your flight with the exception of flights to and from the US (24 to 1 hour before departure).
At the airport, either at the check-in desk or by using the self-service kiosks. For staffed check-in desks, passengers must check-in between 2 hours and 40 minutes before their flight departure for European flights, and between 1 to 3 hours before intercontinental flights.
Note: Passengers using the self-service kiosk at Schiphol Airport can check-in at any time on the day of departure. For all other airports, passengers must check-in at least 2 hours before departure.
Official App Ratings
KLM's app allows you to check in, monitor your flight status, receive push notifications for any updates or delays, manage your Flying Blue account, view your travel documents, and save your preferred travel options with just a few taps.



Destinations and Coverage
KLM is a well-connected airline that offers an extensive network of travel destinations all around the world. With 272 destinations to choose from, including 117 in Europe, 23 in Africa, 28 in Asia, 18 in Central America, 12 in the Middle East, 51 in North America, 8 in Oceania, and 15 in South America, there are countless options available for travelers.
Whether you're looking for a relaxing beach retreat, an exciting adventure in a bustling city, or an opportunity to explore a remote corner of the world, KLM's provides a wide range of destinations and coverage. With its world-class reputation, state-of-the-art aircraft, and unbeatable value, KLM is an ideal choice for anyone looking to see the world.
KLM On-time Performance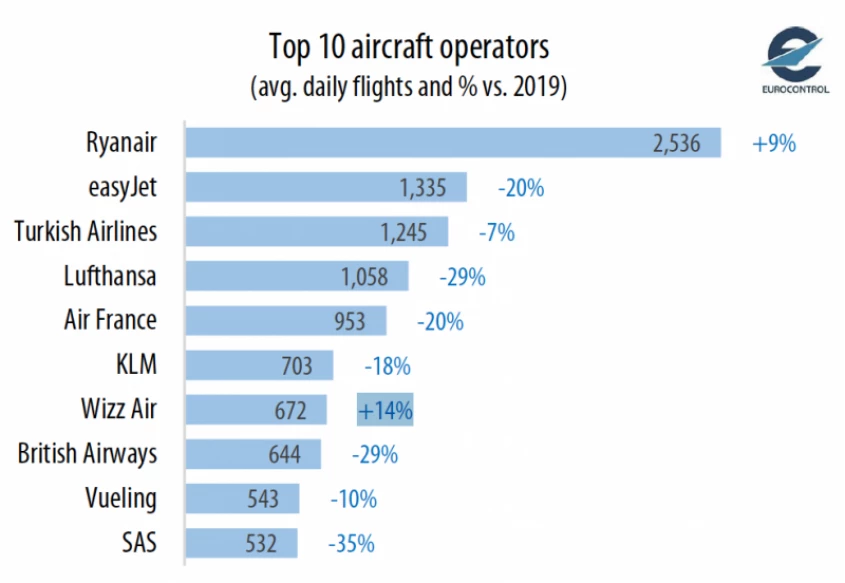 KLM's on-time performance for 2022 is something to boast about, with an average daily flight count of 703 and over 214,000 annual flights recorded. While the average departure delay is 17 minutes, KLM's arrival delay stands at only 14 minutes - impressive for such a high volume of flights. The airline's punctuality rates are also commendable, with a 65% departure punctuality rate and a 75% arrival punctuality rate.
Actual Fleet and Eco-policy
KLM, with a fleet of 107 aircraft, places great importance on sustainability. Their fleet consists of 62 long-haul and 45 medium-haul aircraft, comprising Airbus A320, A321, A330, A350, Boeing 737, 777, and 787. The average age of their fleet is 12.9 years, with 10.7 years for long-haul and 16.1 years for medium-haul aircraft.
To reduce their carbon footprint, KLM invests in sustainable aviation fuel, reforestation, sustainable aircraft prototypes, sustainable ground operations, and fleet renewal. In their efforts towards sustainability, KLM aims to achieve zero net CO2 emissions by 2050 and reduce emissions per passenger-kilometer by 30%. They also plan to use 10% of sustainable aviation fuel by 2030, which is beyond the regulatory mandate envisioned in Refuel EU.
Airport Experience
Your airport experience can vary greatly depending on where you fly from. If you're departing from KLM's primary hub, Amsterdam Schiphol Airport, you can expect a smooth experience.
Make sure you arrive at least 2 hours before departure for a European flight, or 3 hours before for an intercontinental flight. You can drop off your checked baggage at the self-service drop-off points or at the check-in desks. And for a better security checkpoint experience, you can reserve a free-of-charge time slot offered by Amsterdam Airport Schiphol.
While waiting for your flight, you can relax in the KLM Crown Lounge at Schiphol. And if you're a business class traveler, you can access lounges worldwide for free, or for just € 20 if you're not.
Baggage Policy
KLM has specific policies for both carry-on and checked baggage depending on the travel class.
Carry-on Baggage
Economy Class:
1 hand baggage measuring a maximum of 55 x 35 x 25 cm.
1 personal item (accessory such as a handbag, briefcase, or laptop), with the maximum dimensions of 40 x 30 x 15 cm.
The total weight of these two bags must weigh no more than 12 kg.
*This is a general guide for all routes, please ensure you check your ticket before travel to see your own baggage allowance
Premium Comfort and Business Class:
2 items of hand baggage. Each item must not exceed the dimensions of 55 x 35 x 25 cm.
In addition, passengers are permitted 1 personal accessory (for example a handbag, briefcase, or laptop). This personal item is restricted to the maximum dimensions of 40 x 30 x 15 cm.
The total weight of all 3 items should not exceed 18 kg.
*This is a general guide. Please ensure you check your ticket before travel to see your own baggage allowance
Checked Baggage
Economy Class:
1 check-in bag. The combined dimensions (L+W+H) must not exceed 158 cm, and the weight of it must not exceed 23kg.
Passengers flying Blue Silver, Gold and Platinum, or those in SkyTeam Elite and Elite Plus can also bring 1 additional checked bag, of the same weight and dimensions restrictions as above.
Passengers traveling on the light fare do not have any free checked luggage included in their tickets.
Premium Comfort:
2 checked bags, weighing a maximum of 23 kg each and with the maximum combined dimensions (L+W+H) of 158 cm each.
If you're flying on a Light ticket in the Premium Comfort Class, checked luggage is not included.
Business Class:
2 checked bags, weighing a maximum of 32 kg each and with the maximum combined dimensions (L+W+H) of 158 cm each.
Passengers flying Blue Silver, Gold and Platinum, or those in SkyTeam Elite and Elite Plus can also bring 1 additional checked bag of the same weight and dimensions restrictions as above.
If you're comparing KLM's baggage policy with 2 other Scandinavian airlines SAS and Norwegian, you'll find that the size and weight allowances are similar. However, KLM does have higher additional baggage fees, so it's important to keep that in mind when packing for your trip.
Hand baggage

Checked baggage

Additional fees

KLM

- Economy Class - one piece of carry-on baggage maximum of 55cm x 35cm x 25cm and a personal item maximum of 40cm x 30cm x 15. Maximal weight - 12 kg

- Business Class - two pieces of carry-on baggage maximum of 55cm x 35cm x 25cm and a personal item maximum of 40cm x 30cm x 15. Maximum weight - 18 kg.

- Economy Class - one checked bag of combined dimensions maximum 158 cm and maximum weight of 23 kg.

- Premium Comfort - two checked bags of combined dimensions maximum 158 cm each and maximum weight of 23 kg each.

- Business Class - two checked bags of combined dimensions maximum 158 cm each and maximum weight of 32 kg each.

- Extra checked baggage - between 20 and 70 euro for european flights, between 30 and 240 euro for intercontinental flights

- Baggage overweight - between 70 and 200 euro for european flights, between 75 and 300 euro for intercontinental flights

SAS

- Maximum size: 55 cm x 40 cm x 23 cm.

Maximum weight: 8 kg

- 1 carry-on bag for SAS Go Smart, SAS Go Pro, SAS Plus Smart and SAS Plus Pro, SAS Go Bonus and SAS Plus Bonus

- 2 carry-on bags for SAS Plus Smart, SAS Plus Pro, SAS Business Smart, SAS Business Pro, SAS Plus Bonus and SAS Business Bonus (flights to / from Asia, Canada and US)

Maximum size of combined dimensions - 158 cm

1 bag x 23 kg for SAS Go Smart, SAS Plus Smart, SAS Go Bonus

2 bags x 23 kg for SAS Plus Pro, SAS Plus Bonus

2 bags x 32 kg for SAS Business, SAS Business Bonus

Extra checked bag - between 20 and 105 euro

Overweight and oversized baggage - between 35 and 60 euro (domestic flights) and between 45 and 110 euro (european and intercontinental flights)

Norwegian

LowFare, LowFare+, Flex, Premium - one carry-on bag of maximum 10 kg and 55x40x23 cm

PremiumFlex - one carry-on bag of maximum 15 kg and 55x40x23 cm

LowFare - no bags included

LowFare+ - 1 bag of maximum 23 kg

Flex - 2 bags of maximum 23 kg each

Each bag must not exceed 250 x 79 x 112 cm (L x H x W) with max. circumference 300 cm.

Overweight baggage - 15 euro per kilo
Boarding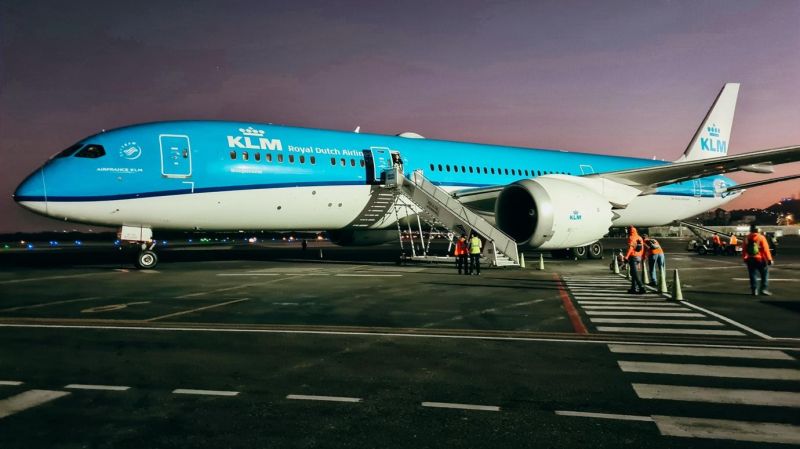 Boarding typically starts 60 to 25 minutes before departure, so keep an eye on the screens at the airport or on the KLM app for the latest updates. Your boarding pass will also have the scheduled boarding time.
Before the official boarding begins, families with young children and passengers needing mobility assistance will be invited to board. Then, boarding starts with Business Class passengers, followed by those with SkyPriority.
If you're traveling from the United States, you may be able to board using facial recognition, which is handled by the United States Customs and Border Protection (CBP).
If you're between 14 and 79 years old on the day of arrival, you can use the biometrics lane, where your picture will be compared to one from your passport or travel documents.
Airplane Interior
The KLM airplane interior is a sight to behold. The modern design is tasteful and welcoming, with attention paid to even the smallest details. The seats are not only comfortable but also 20% lighter on average, reducing the total cabin weight by a whopping 700 kg. This translates to major fuel savings and a reduction of 184 tonnes of CO2 emissions per aircraft every year.
KLM has also modified its Premium Economy seats to their exact specifications, adding little touches like extra storage space for maximum comfort. The tray table is wide and sturdy, with a flip-out stand for passengers who choose not to use the built-in seatback screens for entertainment.
Every seat comes equipped with USB-A ports for easy in-seat power. New, larger overhead bins and LED mood lighting make the cabin feel more spacious and inviting. And to top it all off, passengers are greeted with a cozy pillow, a wrapped blanket, and a pair of noise-canceling headphones.
If your flight was delayed, canceled or overbooked within the last 3 years, you could be eligible for up to €600 in compensation.Check Your Flight
Seat Space
KLM offers a variety of seating options to suit your needs.
Economy Class comes in two varieties - the standard seats and the Comfort option for those who want a bit more space. If you're looking for something a bit more luxurious, Premium Economy Class might be just the thing for you. And for those looking for the ultimate in comfort, KLM's Business Class boasts spacious seating and all the amenities you could need for a relaxing flight.
Let's have a closer look at KLM seat options:
Economy Class Seats
The standard economy class seats typically have the following dimensions and features:
Standard legroom (79 cm)
Standard recline (12.5 cm)
9-11 inch personal entertainment screen
In-seat power
Ergonomically designed
Economy comfort seats provide a bit more room than the standard economy seats and have the following features:
10 cm more legroom than a standard seat
4-5 cm more recline than a standard seat
9-11 inch personal entertainment screen
In-seat power
Premium Comfort Class Seats
Moving up the comfort scale, premium comfort class seats offer more legroom than the economy comfort seats and include the following features:
Up to 17 cm more legroom than a standard Economy Class seat
Up to 20 cm recline
48 to 50 cm of space between armrests
Movable leg and footrest
In-seat power
13-inch personal entertainment screen
Business Class Seats
The ultimate seating comfort you can experience onboard KLM is in its business class:
Full-flat seat
In-seat power and privacy screen
16-18 inch personal entertainment screen
Always a window or an aisle seat
Extra storage space
Disrupted flight? You might have a right to compensation - up to €600.Check Your Flight
Service
KLM is known for their exceptional service. With high standards of service across all their flights, you can always expect to be treated like a valued passenger. The crew is professional, friendly and helpful, ensuring that your travel experience is stress-free from start to finish.
As an added bonus, when flying Business Class on an intercontinental route, you'll receive a Delft Blue miniature house filled with Dutch gin. These unique gifts have been an iconic part of the KLM brand since the 1950s, depicting real Dutch buildings and making for a truly collectible item. And, to celebrate their birthday, KLM releases a new house on 7 October each year.
Food & Drink
Flying with KLM means you won't have to worry about going hungry on your flight as meals and drinks are included in the ticket price.
Your meal options will depend on the cabin class you're in, but rest assured, there is always something satisfying on the menu. Even on shorter flights, you can expect a meal service that includes sandwiches, salads, and yogurt. Economy class passengers can choose from a hot meal with a starter and bread, or they can purchase items from the à la carte menu.
Business class passengers will enjoy a specially prepared dinner with a range of dishes to choose from. And, if you have special dietary needs, you can order a special meal ahead of time.
Take advantage of the complimentary welcome drink and after-dinner coffee, tea, or liqueur. With a drinks service offered once an hour, you'll have plenty of options, including beer, fine wines, and liquors.
KLM Price Policy
KLM Airlines provides a variety of ticket options for travelers to choose from, including the Economy Class with three different options - Light, Standard, and Flex. In addition, they offer a Premium Comfort Class and a Business Class for those seeking a more luxurious flying experience. Families traveling with children can also take advantage of discounts for kids between 2 and 11 years old, and students can benefit from special fares.
For frequent flyers, KLM has the Flying Blue loyalty program. By accumulating Experience Points (XP) through flying, members can level up to different tiers such as Explorer, Silver, Gold, and Platinum, each offering more exclusive benefits.
Flight Disruptions
Like many major airlines, KLM occasionally faces unexpected flight disruptions that can derail your travel plans. A flight disruption might cause you to miss a connecting flight, arrive late to a destination or even experience an outright flight cancellation. Whether due to unforeseen weather conditions, technical glitches, or other operational challenges, you might sometimes endure delays of 3 hours or more.
If you're flying from or to the UK, your passenger rights are protected by UK261, allowing you to potentially claim delayed flight compensation, along with cancelled flight compensation. If you happen to be on a KLM flight that's been disrupted, it's worth noting that the KLM delayed or cancelled flight compensation policies adhere strictly to established standards. Moreover, if a flight gets cancelled, and the proposed alternative doesn't align with your needs, you may choose the refund for a cancelled flight option.
All of your passenger rights are essentially outlined and protected by UK261 and EU261 law. These are the two regulations that protect you when travelling throughout UK and Europe and when flying onboard UK or European airlines.
Find out if you are owed compensation for a disrupted flight.Check Your Flight
How to make a complaint
If you've faced challenges during your journey or had an unsatisfactory experience with KLM and wish to express your concerns, the airline has established an accessible system for addressing KLM complaints.
To make a complaint:
Visit the Official KLM Website: Head over to KLM's official website, where they have a dedicated section for customer feedback and complaints.
Navigate to the 'Contact' or 'Help' Section: Here, you will find various categories of assistance. Look for a section dedicated to complaints or feedback.
Fill out the Complaint Form: Provide all the relevant details about your journey, including your flight number, date of travel, and the nature of your complaint.
Attach any Relevant Documentation: If you have photos, receipts, or any other documentation that supports your complaint, ensure you attach these to strengthen your case.
Submit the Form: After filling out all the necessary details, click on the submit button.
KLM Review – Conclusion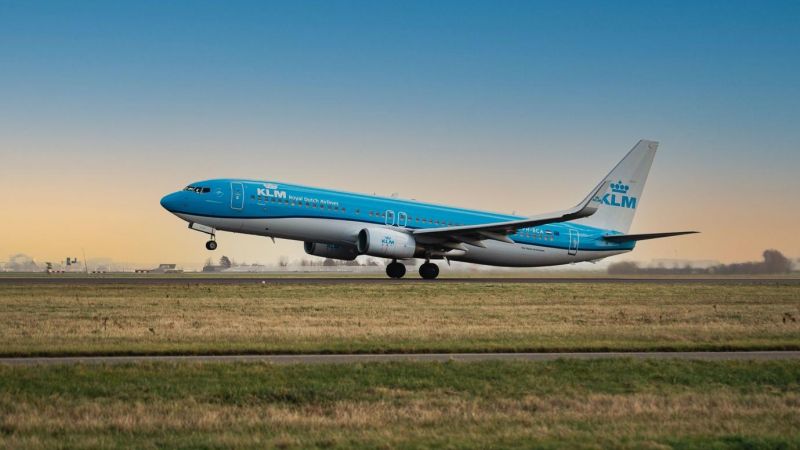 Taking all of this into consideration, KLM air travel is a good choice for many people who are looking to travel around the world due to its wide range of destinations and easy booking process. Although the ticket prices may not be the cheapest option available, there are plenty of other reasons to choose them, such as their generous loyalty programme and various service options.
Unfortunately, like any flight provider, there can be issues surrounding baggage allowance or customer service which may lead to negative reviews.
However, it is reassuring to know that KLM is willing to make adjustments wherever possible to ensure that their customers are satisfied.
About KLM Royal Dutch Airlines
KLM Royal Dutch Airlines holds a remarkable place in aviation history as the world's oldest continuously operating airline. Founded on October 7, 1919, under the name "Koninklijke Luchtvaart Maatschappij," its inaugural flight took place on May 17, 1920, from London to Amsterdam.
Notably, KLM became the first airline to receive the "Royal" title when it was granted by Queen Wilhelmina of the Netherlands in 1920, in recognition of its pioneering contributions to the aviation industry.
Throughout its storied history, KLM has been at the forefront of innovation, introducing the Boeing 747 Jumbo Jet in the 1960s and conducting the world's first passenger flight powered by biofuels in 2008.
Despite facing challenges during World War II, the airline bounced back and expanded its network globally. Today, KLM continues to be a leading force in the aviation industry, offering warm Dutch hospitality and connecting passengers to over 145 destinations worldwide, showcasing a legacy of excellence and dedication to passenger satisfaction.
FAQ / Common Questions: KLM Review
Below, we address some of the most frequently asked questions related to KLM to further guide and inform your travel decisions:
Is KLM a reliable airline?
Yes, it is. KLM is the flag carrier airline of the Netherlands and one of the oldest airlines still operating under its original name. It has garnered a reputation for reliability, safety, and premium service over the decades.
While no airline is immune to the occasional delay or hiccup, the average KLM flight review outlines its efforts in ensuring passenger satisfaction, addressing concerns, and maintaining high operational standards that attest to its reliability.
Are KLM flights really cheap?
The pricing of KLM flights varies based on several factors, such as route, season, and booking period. Generally, KLM is positioned as a full-service carrier, meaning it might not always offer prices as low as budget airlines. However, the value derived from flying with KLM, in terms of onboard amenities, service quality, and overall flight experience, often outweighs the difference in ticket price.
How uncomfortable is KLM?
KLM, being a reputable full-service carrier, prioritises passenger comfort. The perception of comfort can be subjective and vary among travellers, but overall, KLM offers ergonomic seating, ample legroom (especially in their Business Class), and an array of in-flight entertainment options to ensure a pleasant journey.
While economy seats on any airline might feel restrictive over long-haul flights, KLM's interiors and seat designs are curated to maximise comfort within the given space.
Does KLM give free water?
Yes, KLM provides complimentary water to passengers on its flights. On a long-haul flight, not only is water readily available, but passengers are also offered a selection of beverages, both non-alcoholic and alcoholic, as part of their in-flight service.
It's worth noting that even on shorter routes, KLM ensures that passengers stay hydrated by offering water and other beverages at no additional cost.
Can I take a 10kg bag on KLM for free?
Yes, KLM baggage size policies allow passengers to carry one piece of hand luggage on board for free, provided it meets the airline's size and weight requirements, but this is not to be confused with KLM check-in baggage.
For economy class passengers on KLM flights, the hand baggage should not exceed 55 x 35 x 25 cm and should weigh no more than 12kg. In business class, you can have carry-on baggage of the same dimensions, except the weight can be up to 18kg.
It's also worth noting you can have carry-on baggage alongside a carry-on accessory, such as a laptop or handbag, provided the combined weight does not exceed 12kg or 18kg, respective of the class.
These specifications can be subject to change, though, and may vary based on your ticket type and destination. Checking KLM's official website, contacting their customer service and reading a KLM hand luggage review can ensure you know what to expect.
Flight delayed over 3 hours or canceled? See if AirAdvisor can get you compensation.Check Your Flight
Why do people not like KLM?
It's important to note that airlines, even the most reputable ones like KLM, will have a mix of positive and negative reviews. Many KLM reviews are exceptionally positive, citing its punctuality, quality of service, and in-flight amenities. Some criticisms may arise from isolated incidents or subjective preferences.
Common complaints about airlines in general can include issues like flight delays, lost luggage, or dissatisfaction with food. However, KLM, being a longstanding and respected airline, continuously works towards addressing concerns and improving its service quality.
Has KLM ever crashed?
When asking the question, 'Is KLM a safe airline?', it's not always helpful to look into past accidents, as KLM has a long history of operation, which inevitably can result in incidents, many of which happened decades ago when safety and technology weren't at the forefront. The most notable accident, though, was the 1977 Tenerife airport disaster, in which two Boeing 747s, one operated by KLM and the other by Pan American World Airways, collided on the runway.
Since then, advances in technology, safety protocols, and intensive training have made air travel, including on KLM, considerably safer. It's important to remember that statistically, air travel remains one of the safest modes of transportation, and KLM is committed to maintaining high safety standards.
Does KLM fly Boeing or Airbus?
KLM operates a mixed fleet of both Boeing and Airbus aircraft. Historically, KLM has been a significant operator of various Boeing models, including the Boeing 737 for its short to medium-haul routes and the Boeing 777 and 787 Dreamliner for long-haul routes.
In addition to Boeing, KLM also flies Airbus aircraft, with the Airbus A330 being a notable model in its long-haul fleet. The specific aircraft type for any given route may vary based on schedule, demand, and other operational factors.
Does KLM cancel flights often?
Flight cancellations can occur with any airline, but KLM does not have a reputation for frequently cancelling flights without cause. Like other major carriers, KLM might cancel or reschedule flights due to a range of reasons, including weather conditions, technical issues, air traffic restrictions, or other unforeseen operational challenges.
When such situations arise, KLM usually takes proactive measures to inform passengers in advance, offer alternative flight options, or provide compensation in line with EU261.
Will KLM automatically refund Cancelled flights?
If KLM cancels a flight, passengers are typically offered a choice between rebooking to a later flight, receiving a voucher for future travel, or getting a full refund. However, an automatic refund might not always be the immediate default option.
Is KLM food free?
Yes, on KLM flights, especially long-haul ones, passengers are provided complimentary meals. The type and quantity of the food can vary depending on the flight's duration and the ticket class.
How can I avoid KLM baggage fees?
If you've read a negative KLM baggage review concerning hefty baggage fees, you may feel inclined to make sure you can avoid them. To evade or reduce KLM baggage fees, it's essential to be proactive.
Familiarise yourself with KLM's baggage policies for your ticket type and stick to these guidelines. Make the most of your hand luggage by packing wisely, ensuring you stay within weight and size limits. You might also consider joining KLM's Flying Blue loyalty program, which may grant reduced KLM baggage prices.
Where is the best place to sit on a KLM plane?
Selecting the optimal seat on a KLM plane hinges on personal preferences. For enhanced legroom, consider the exit rows or seats immediately behind bulkheads. Front-of-plane seats, especially in Business Class, typically offer a quieter experience and are away from engines, while seats over the wings can help mitigate the feel of turbulence.
How old are KLM planes?
The age of KLM's planes can vary widely, as their fleet is continually being updated and modernised. While KLM operates some newer aircraft models like the Boeing 787 Dreamliner and the Airbus A350, they also have older models that have been in service for a more extended period, though they are well-maintained and periodically upgraded.
Does KLM run on time?
KLM has a solid reputation for punctuality. Historically, the airline has consistently ranked high in on-time performance metrics when compared to other global carriers. Of course, like all airlines, KLM can experience occasional delays due to factors outside of their control.
How to get a good seat on KLM without paying?
Securing a desirable seat on KLM without additional charges requires a mix of strategy and timing:
Early Check-in: Often, the earlier you check-in, the more seat options you'll have. KLM typically opens online check-in 30 hours before the flight. Logging in as soon as it opens might grant you a better choice.
Loyalty Programs: Being a member of KLM's Flying Blue program might occasionally offer seating advantages or priority in seat selection, even without accruing a significant number of miles.
Travel Light: Those without checked luggage can sometimes be among the first to board, especially if there isn't a strict boarding order. This can give you a slight edge if KLM is operating a flight with free seating, though this is more common on short-haul European flights.
Gate Check: Arrive at the gate early and speak with the gate agents. If there are unsold or unassigned preferable seats, they might accommodate your request, especially if the flight isn't full.
Travel Off-Peak: Flights that aren't fully booked naturally offer more seating options. By choosing to fly during off-peak times or seasons, you stand a better chance of finding a good seat without an additional charge.