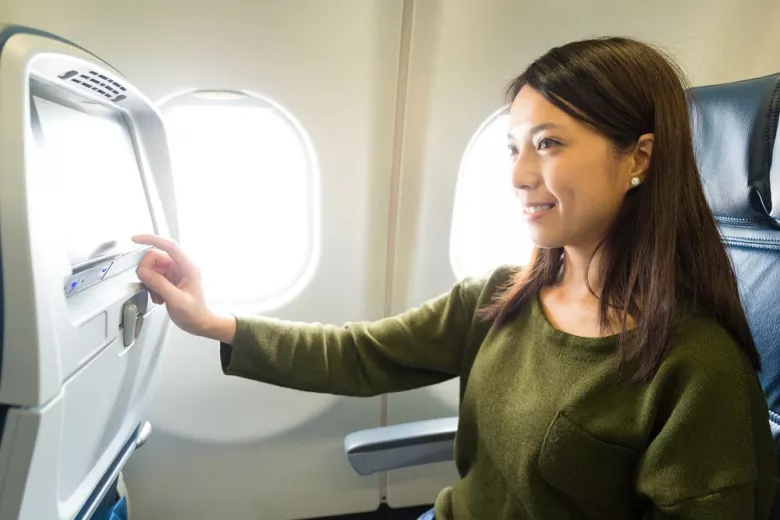 What To Do On A Long Flight: Plane Entertainment
26.01.2023
Long haul flights can take you to amazing places and allow you to explore the world. However, they can also be quite boring and tedious. Sitting in the same seat for several hours isn't always fun. This is why many travelers try to find ways to entertain themselves.
So, what to do on the plane to make the flight more enjoyable? Well, there are actually plenty of different activities you can enjoy throughout your flight. In this guide, we'll look at how to have some flight fun and what to do on a long plane flight in various situations, such as traveling solo or flying with kids.
What to Do on a Plane to Pass the Time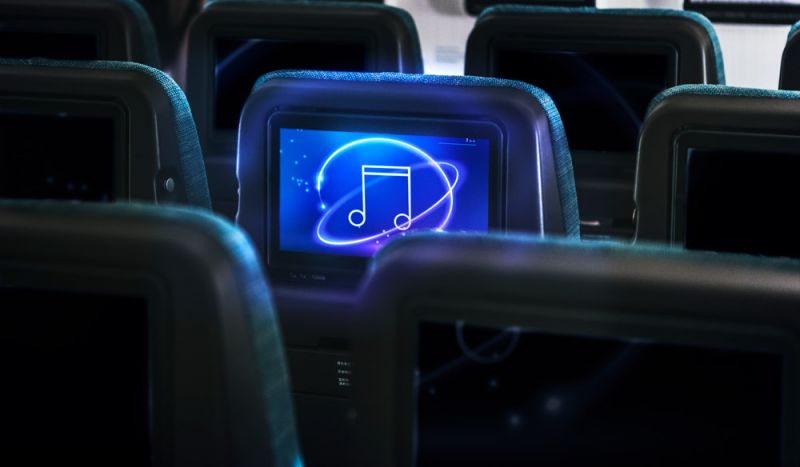 So, what to do on 12 hour flight? Or what activities can you try to help pass the time on other long-haul flights? Well, here are a few fun air travel ideas to help those long hours fly by.
Watch Movies
One of the best activities to enjoy on a plane is to watch movies. Many long-haul flights even offer their own in-flight screens and entertainment systems, with a range of on-demand films you can watch at your leisure. If you really want to pass the time quickly, opt for longer films that last 2-3 hours each.
Listen to Podcasts
Podcasts are another super way to pass the time, and if you find a podcast you really love, you won't even notice the minutes and hours ticking by. You'll be able to listen to your favorite hosts discussing the subjects that interest you, from politics to sports, and gaze out of the window or close your eyes.
Read a Book
Another good option to pass the time on a flight is to read a book. It can take several hours to finish even an average-sized book, so if you find one you really want to read, try and save it for a flight. You'll be able to read through page after page as the flight goes by.
Things to Do on a Plane with Kids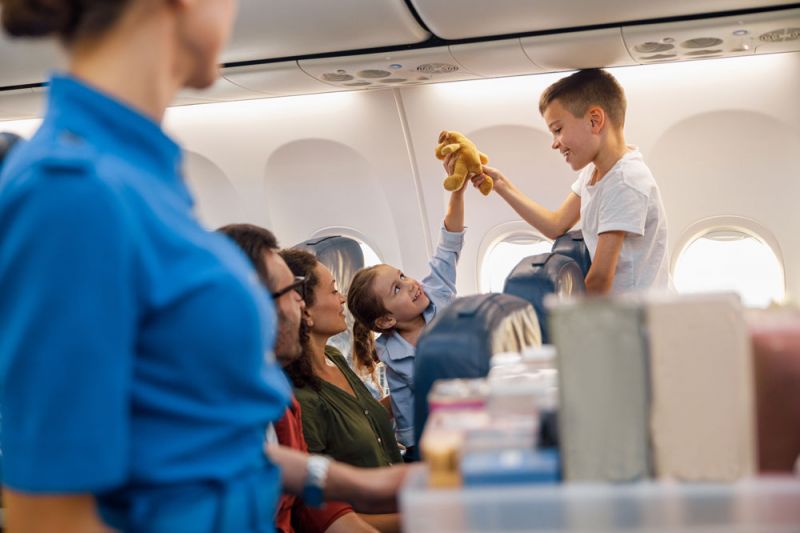 So, how about if you're traveling with little ones? Flying with the family can be a challenge, as young kids tend to get bored and irritated quite easily on long flights. Here are some things for kids to do on a plane and ways for parents to keep them entertained.
Toys and Games
One of the best ways to keep kids entertained is with toys and games. You can bring along one or two of your child's favorite toys to play with on the plane, as well as simple board or card games that you can play together to pass the time. You can also make use of toys and games if you need to kill some time due to a EU airline delay or technical problem.
Tablets and Game Consoles
Many kids nowadays have their own electronic devices, like tablets and handheld game consoles. These devices can be life-savers on long flights. Simply prepare your child's devices before the flight, loading up some new apps, movies, and games for them to enjoy.
Creative and Educational Ideas
If you'd prefer to see your child doing something more productive during the flight, rather than watching movies or playing games, how about opting for some creative or educational activities? Bring along a sketchbook or coloring book for them to fill in, or take some workbooks to do a little studying during the flight.
What to Do on a Plane to Help You Relax
How about if you're someone who easily gets stressed while traveling? What to do on a plane for 6 hours if you're stressed or scared? Here are some ways to help you relax and enjoy the flight as much as possible.
Listen to Soothing Sounds
A great way to calm yourself on a long flight, especially if you get stressed easily, is to listen to soothing sounds. You can actually download free relaxing sounds apps onto your phone or tablet. Then, on the plane, you simply have to plug in your headphones and listen to sounds like water in a stream or birdsong in the forest.
Get Some Sleep
Sleeping is an amazing way to pass the time on a flight. Plus, it's perfect if you don't usually enjoy the experience of flying and simply want to detach yourself from that experience. To help yourself sleep, bring along comfortable things like a blanket and a soft travel pillow to wrap around your neck.
Pamper Yourself
Pampering yourself is another super way to feel more relaxed and calm as you fly to your destination. Bring a cozy travel pillow, order yourself a glass of wine or some tasty snacks, prepare an eye mask or face mask to enjoy, push your seat back, and put your feet up. This is also a good activity at the airport while waiting for a connecting flight.
Games to Play on a Plane
Games are a great way to pass the time on a flight and have some fun with your fellow passengers. You can enjoy games with the person sitting next to you, a whole group of travelers, or simply on your own. Here are a few types of games to consider as flight entertainment ideas.
Card Games
People have been enjoying card games on board airplanes for many years, and cards are still a super way to spend your time. If you're traveling with pals, you can try games like gin and poker. Solo travelers, meanwhile, can enjoy games like Solitaire to pass the time.
Board Games
It's also possible to enjoy your favorite board games on planes, too. There are various mini or travel versions you can buy of popular board games, such as Scrabble, Monopoly, and Yahtzee. Board games like these are also useful for passing the time after missed connections.
Video Games
Of course, video games are also a possibility as an activity on a plane, too. And if you're wondering can you bring a game system on a plane, you certainly can. Handheld systems like the Nintendo Switch and Nintendo 3DS are ideal for plane journeys.
Things You Can Do on a Plane on Your Phone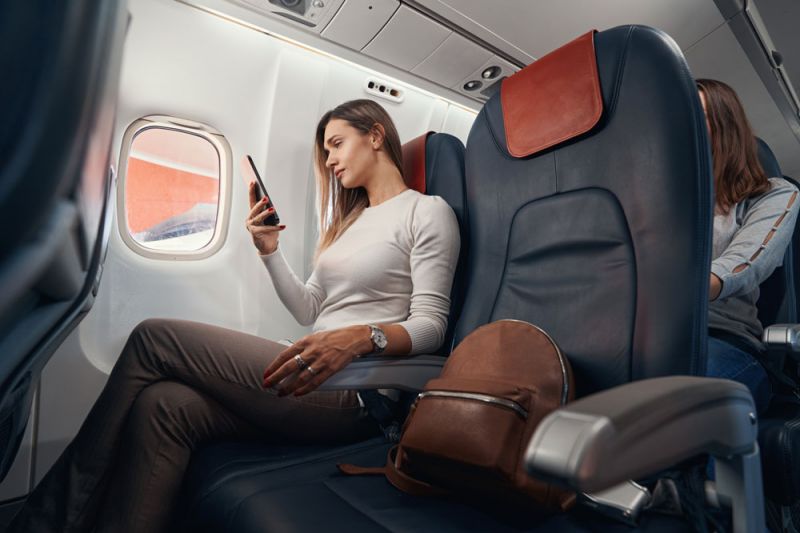 Your phone can become your best friend for long flights. Not only is it useful for things like movies and music, but there are many other good apps for plane rides you can download and use. Here are some super examples.
Educational Apps
Educational apps can help you not only pass the time, but spend it in a profitable way. Wikipedia Offline, for example, can let you learn all about fascinating subjects to bolster your brainpower. Inflighto allows you to learn about local geography as you fly over it. And apps like Duolingo will let you learn a whole new language while flying.
Game Apps
There are also plenty of great game apps to pass the time. Classic mobile game apps include Minecraft for building whatever you want, Bejeweled for puzzle fans, and Stack as a simple way to test your reactions and your patience.
Entertainment Apps
The App Store and Google Play Store are also filled with amazing entertainment apps. Netflix, for example, lets you download shows and movies to watch during your flight. Audible is another awesome option, filled with audiobooks that you can listen to while resting your eyes.
No feedback