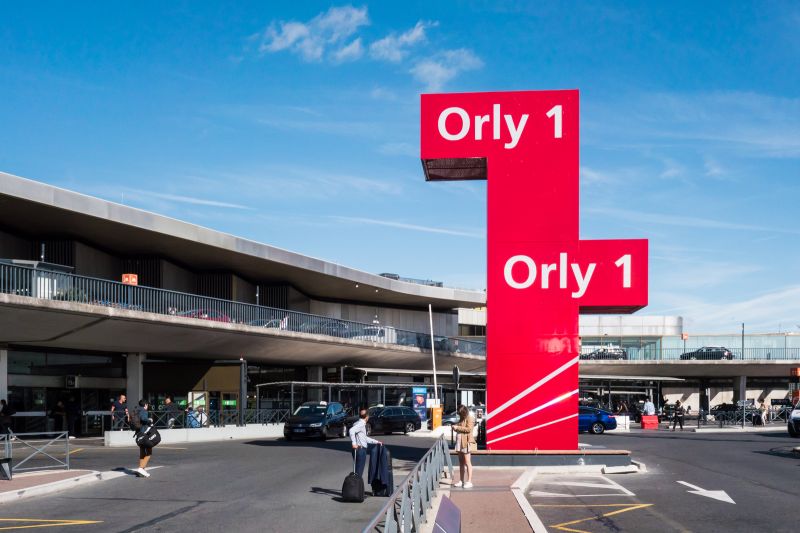 Paris Orly Airport, also referred to as Orly Airport, is one of two airports serving the French capital of Paris. This international airport handles over 13,000 flight departures per month and services over 30 different airlines. Consequently, travellers may experience flight delays or cancellations. So, if you're catching a flight from this airport, it's helpful to know your passenger rights.
AirAdvisor exists to help you learn about your rights as an airline passenger and also enforce them if you experience a flight disruption. In this article, we share important information to know when travelling out of Orly.
Find out if you are owed compensation for a disrupted flight.Check Your Flight
How to Claim Orly Airport Flight Delay Compensation
If you're catching a flight out of Orly Airport and your flight is delayed, you may claim delayed flight compensation. You can find more information about this below:
Passenger Rights in Case of ORY Flight Delay
As stated in EU261, if your flight is delayed by 3 hours or more when travelling from Paris-Orly, you may be eligible to claim up to €600 in compensation. To claim financial compensation for a delayed flight, the delay must be the airline's responsibility. For example, the delay should be because of staffing issues or a late arriving aircraft. EU261 also advises that to be eligible for compensation, you must file your complaint within 3 years of the delayed flight.
In situations where the delay was caused by scenarios outside of the airline's control, such as bad weather conditions or a delayed connecting flight from another airline, you may not be eligible for financial compensation.
How Much Can You Claim for Paris-Orly Airport Delay
The value of the compensation you can claim for a delayed flight from Paris Orly Airport is dependent on how long you were delayed and the distance the flight was travelling. Below is a guide to indicate the amount you may be entitled to claim if your flight is delayed:
for flights travelling less than 1,500 kilometres, you can claim up to €250
for flights travelling between 1,500 and 3,500 kilometres, you can claim up to €400
for flights travelling further than 3,500 kilometres, you can claim up to €600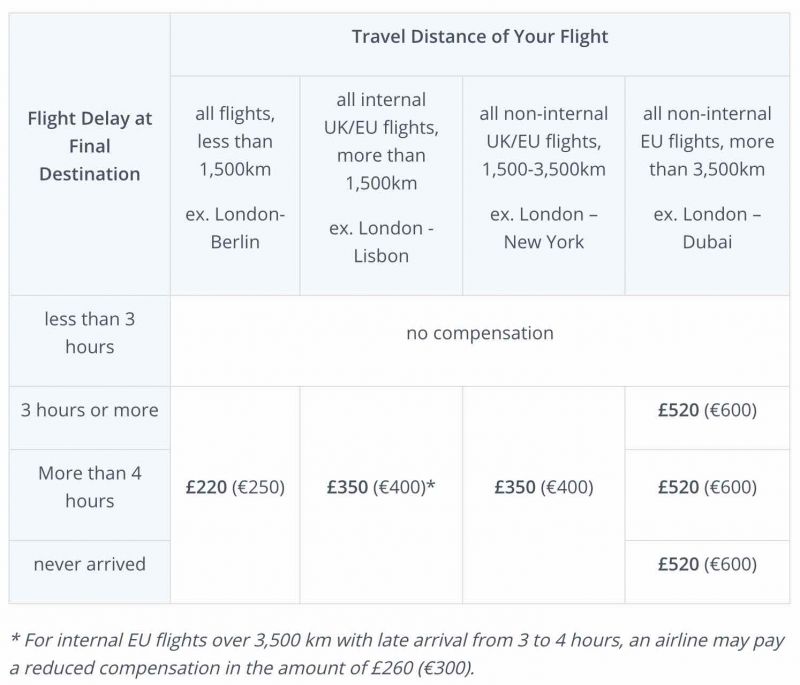 Orly Airport Cancelled Flight Compensation & Refund
No matter where you're travelling from, anyone that has experienced a cancelled flight understands that it's a frustrating reality. To provide you with some comfort, when you travel from Orly, European Union flight law covers you. This is explained in more detail below:
Cancelled Flight Law in Europe
If your flight from Paris Orly Airport is cancelled, it's important you understand your passenger rights. EU261 regulations state that the airline you're travelling with must offer you a full refund on your ticket or a new booking on a flight to your final destination. Furthermore, if the cancellation was a result of the airline's actions and it occurs within 14 days of your scheduled departure date, you may be eligible to receive cancelled flight compensation.
You can explore other compensation claim eligibility criteria below:
Your cancelled flight must have been scheduled to depart from an EU airport or be operated by an EU-based airline
You must have booked the ticket yourself
You must have had a confirmed reservation for the flight that was cancelled (i.e., not a standby ticket/ID90/ZED)
To ease the burden of the flight cancellation, the airline must also provide you with complimentary food and drinks, free calls or emails and overnight accommodation in a hotel when required.
Disrupted flight? You might have a right to compensation - up to €600.Check Your Flight
Paris Orly Cancelled Flight Compensation You Can Claim
The compensation you may be eligible for when travelling out of Orly airport can vary based on the distance you're travelling. For flights travelling less than 1,500km, you may be eligible to claim up to €250 in compensation. For flights travelling between 1,500km and 3,500km, the maximum amount you can claim is usually €400. For flights travelling further than 3,500km, you may be able to claim up to €600 in compensation.
For example, if your flight from Orly Airport to Dubai is cancelled and the airline books you onto a new flight that arrives at your final destination more than 3 hours later than the originally scheduled time, you may be eligible to claim up to €600 in compensation.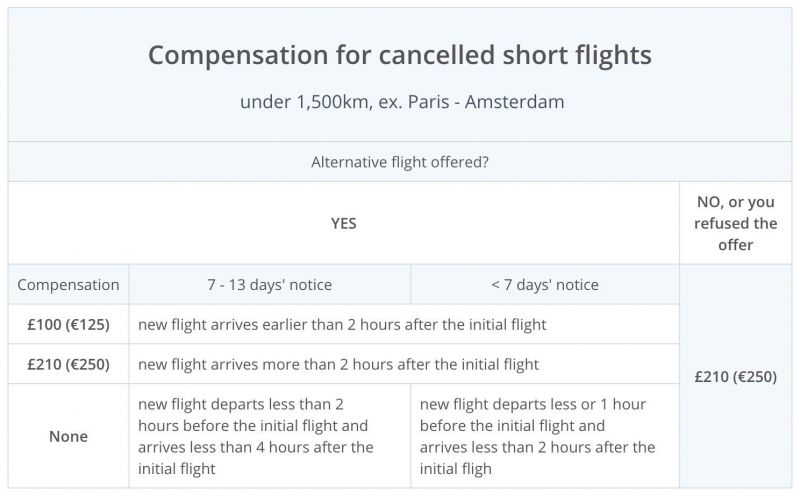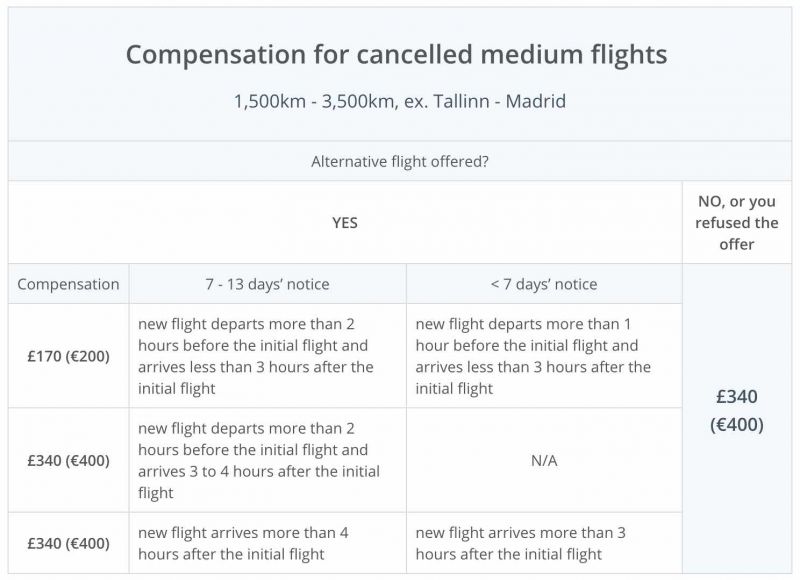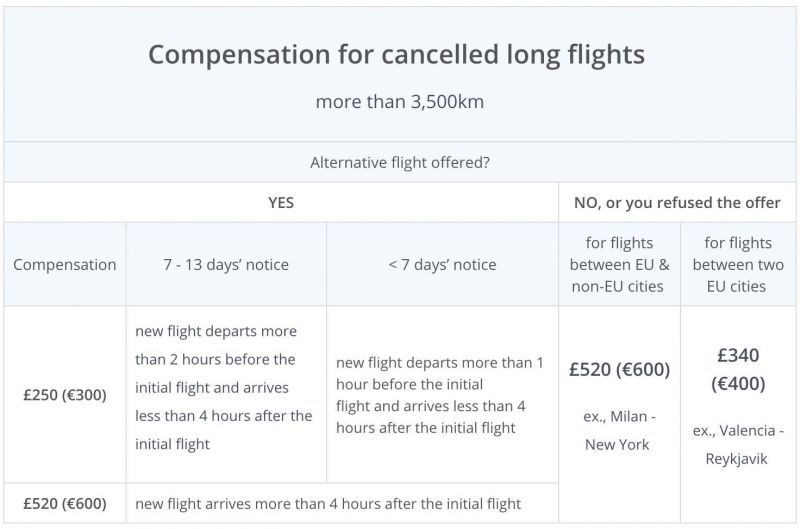 Denied Boarding at Paris-Orly
Airlines departing from Paris Orly Airport are required to obey certain protocols before denying you boarding. For example, they must request for volunteers to relinquish their seats in exchange for financial compensation before involuntarily denying you boarding. If no one volunteers to give up their seat, the airline must provide you with a written statement to outline the criteria for selecting you to be denied boarding, including detailing your rights.
Something else to consider is that you may also be compensated for any expenses incurred as a result of being denied boarding, including transportation, food and drink and accommodation, if it was required. Remember to keep your boarding passes and any receipts to submit as evidence for your claim if you're denied boarding at this airport.
Figuring out how much you are owed for a disrupted flight can be complicated. We're here to help. Let us assess your compensation for you.Check Your Flight
Claim Orly Airport Compensation with AirAdvisor
AirAdvisor can assist you by providing expert advice regarding compensation claims. We can evaluate your claim and handle the legal process on your behalf, providing you with comprehensive support throughout your claims process to ensure your claim is successful.
To claim compensation for your flight disruption at Paris Orly Airport, you can visit our website and complete our user-friendly online claim form. This form will ask you to provide details relating to your flight, including the flight number, the specific reason for the disruption, and the date of travel. The next part of the claims process is handled by our team of legal experts while you sit tight and await an outcome.
It gets better; you don't have to part with any money. We take our fee out of the compensation you receive (and only if you're successful) so you don't have to worry about receiving any surprise invoices.
Questions and Answers
Here are some frequently asked questions and their answers to help you understand flight disruptions from travelling from Paris-Orly Airport:
Why do flights get delayed at Orly Airport?
There are many factors that can affect flights when travelling from Paris-Orly Airport. Flight disruptions and cancellations can be caused by technical problems, bad weather conditions, including heavy rain, and operational issues, including staff shortages.
Flight times can also be affected by elements that are outside an airline's control. Some of these things include security incidents, air traffic control staff strikes and natural disasters. While these aren't common occurrences, it's worth considering them when planning to travel, as they can affect flight schedules and cause flight delays.
How do I claim compensation if my flight from Paris-Orly was delayed or cancelled?
If your flight has been delayed or cancelled when travelling from Orly Airport, our team of friendly staff can guide you through our compensation claims process. We understand how frustrating a delayed or cancelled flight can be, so we're here to make the claims process as easy as possible for you.
We understand the legal complexities and can process the paperwork and deal with the legal jargon on your behalf. Rest assured, we provide a professional and smooth experience so you can sit back, relax and leave the hard stuff to us.
What to do if I am denied boarding at Paris Orly Airport?
If you're denied boarding at Orly Airport, it's essential that you understand why you've been denied. This can occur when an airline has overbooked, i.e. if an airline sells more seats than the flight can accommodate. Additional reasons may include not adhering to an airline's dress code policy or if you have an incorrect travel document or an expired passport.
When this occurs, it's important you talk to airline staff to ensure you understand why you've been denied boarding and what options you have available to be booked onto another flight.
As mentioned earlier, we suggest keeping hold of your boarding passes and any receipts of expenditure to use as evidence for your claim. If you need more advice about your passenger rights or if you would like help with making a claim for compensation, you can reach out to our AirAdvisor team.