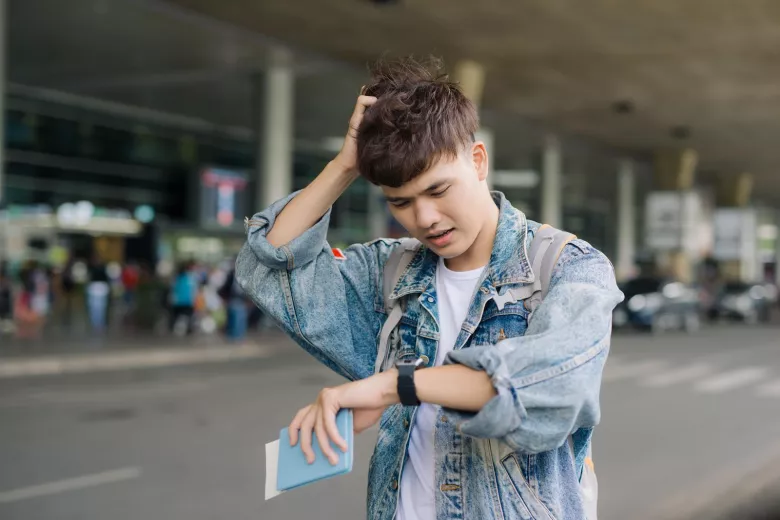 Can I Go to the Airport Later if the Flight Is Delayed?
Air travel can be unpredictable with inconveniences such as flight delays disrupting your carefully planned schedule and raising various questions such as, "If my flight is delayed should I still go to the airport on time?" and "Can I receive compensation for a delayed flight?". You may also wonder how to keep yourself occupied during your delay-induced downtime or be curious whether a flight delay can be reversed.
In this article, our team of experts at AirAdvisor unravel these queries, providing essential insights into navigating flight delays, leveraging your rights as a passenger and turning an exasperating delay into a more manageable situation.
If My Flight Is Delayed Can I Arrive Late?
In short, arriving late to the airport after you learn of your flight delay is not advisable, irrespective of the expected length of the delay.
While it may be tempting to get to the airport later once a delay has been announced, it's important to note that these delays, although predicted, delays are subject to change based on a variety of factors such as weather conditions, maintenance updates and airport congestion. So, arriving late could cause you to miss your flight if the delay is shortened or cancelled altogether or you miss the cut-off for check-in.
If your flight was delayed, canceled or overbooked within the last 3 years, you could be eligible for up to €600 in compensation.Check Your Flight
Are Check-in Times Modified When Flights Are Delayed?
Check-in time is a designated period before a flight's departure during which passengers must report to the airline for boarding pass issuance and luggage acceptance. For international flights, check-in typically starts 2-3 hours prior and closes 60 minutes before the scheduled departure time. For domestic flights, check-in usually begins 1-2 hours beforehand and often closes 30-45 minutes prior to departure.
Despite flight delays, these check-in times and deadlines generally stay the same. This is because of the unpredictable nature of delays, which could be reduced or even reversed. Maintaining the original check-in time also helps prevent logistical issues and confusion. So, if you've ever asked yourself "If my flight is delayed should I still go to the airport on time?", the answer is a big yes.
Can I Get Compensation if My Flight Is Delayed?
Under certain circumstances, you can receive compensation for a delayed flight. This compensation, however, is typically contingent on the region and the airline's policy. For instance, within the European Union, EU261 stipulates that passengers on delayed flights are entitled to financial compensation if their flight arrives at its intended destination over 3 hours later than scheduled. This is provided the delay was not due to extraordinary circumstances out of the airline's control.
The amount of delayed flight compensation you may be eligible to claim varies based on the distance of your flight, but typically ranges from €250 for short-haul flights to €600 for long-haul flights.
The process for claiming compensation can vary based on the airline. Generally, you can start by contacting the airline operating the flight directly through their customer service channels and presenting your claim. Alternatively, you can use our easy-to-use online claim form at Air Advisor. We simplify the process by handling the legal complexities on your behalf. All you need to do is provide the necessary information about your flight disruption, and we'll pursue the claim for you.
Claim with AirAdvisor and get up to €600 compensation. Find out how much you're owed today.Check Your Flight
How to Use Your Time When Flight Is Delayed?
While it's said that patience is a virtue, let's be real - no one enjoys the "gift" of unexpected extra time at an airport because of a flight delay. However, with a bit of creativity, this waiting game can be turned into a surprisingly productive and enjoyable interlude. Here are some examples of how to use your time during a flight delay:
Explore the airport's amenities: Modern airports often have an abundance of amenities like shopping areas, restaurants, and sometimes even spas or art exhibitions. You can take advantage of these to pass the time, for example, by grabbing a bite to eat or even picking up a few last-minute gifts.
Catch up on work or reading: Airports generally provide free Wi-Fi, allowing you to use the delay productively. Consider finishing any pending work or starting that book you've been meaning to read.
Exercise: Walking or even doing light seated exercises can help keep your blood flowing during these idle periods. Most modern airports provide ample space for a brisk stroll and leg stretch.
Learn about your destination: A great way to use this extra time is to research your destination. For example, you can look up points of interest, local customs or even a few phrases in the local language.
Rest and refresh: Some larger airports offer sleeping pods or lounges where you can get some rest. If you've got a long journey ahead, getting some shut-eye during the delay might be a good use of time.
Can a Flight Be Undelayed?
Yes, sometimes flight delays can be reversed and the flight can end up departing closer to or, as per its original scheduled departure time. A flight delay reversal can occur when the initial cause of the delay is resolved quicker than initially expected. For instance, weather conditions might improve sooner than anticipated or a mechanical issue with the aircraft might be fixed in a shorter timeframe than first estimated.
However, airlines might not always be able to communicate these changes promptly to all passengers, which is why it's generally advised to stick to your original travel schedule despite the announcement of a delay. Even if your flight is stated as delayed, staying close to your gate and regularly checking for updates is crucial. This way, you're prepared if the delay gets reduced or cancelled altogether. While it might seem inconvenient, it's certainly less so than missing your flight altogether because of an 'undelayed' situation.
No feedback