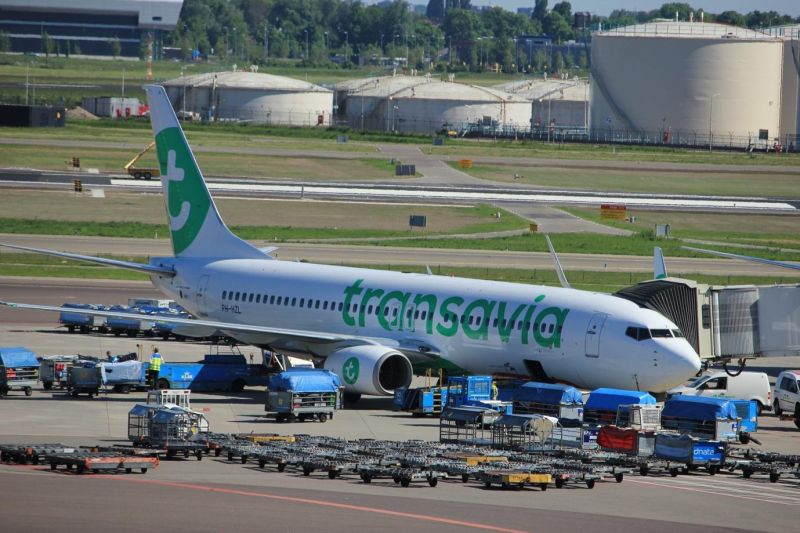 If you have recently flown with Transavia and have experienced an issue that has made you feel disappointed, you might be considering how to file a complaint, what compensation you're entitled to, or if your complaint is justified.
At AirAdvisor, we assist you in determining your eligibility for compensation and support you in filing a claim against the airline. In this article, we share detailed information about Transavia complaints, including valid reasons for complaining and the methods for submitting your complaint.
What Can You Make a Complaint About
You can make a Transavia complaint regarding a variety of issues such as flight delays, flight cancellations, overbooking, lost or damaged baggage, poor service and more. The compensation for each complaint depends on various factors, such as the severity of the issue, the airline's policies and the regulations as stipulated in EU261.
For example, Transavia delayed or cancelled flight compensation typically ranges from €250 to €600. Flight delay compensation is based on your flight being delayed by more than 3 hours. The airline typically issues cancelled flight compensation if they cancel your flight due to a reason within their control. Transavia may offer you a full flight refund in various circumstances. These circumstances can include flight cancellations, significant schedule changes, booking errors and flight delays of over five hours that result in you choosing not to travel.
Claim with AirAdvisor and get up to €600 compensation. Find out how much you're owed today.Check Your Flight
Know Your Passenger Rights
Understanding your rights as an air traveller can help you ensure a stress-free journey and a more streamlined complaints process if you end up needing to file an airline complaint. The EU261 sets out various rights for air travellers within the EU. This includes flights departing from the UK, as they integrated the regulation into UK law after Brexit.
While there's a requirement for airlines to inform passengers of their EU261 rights, including the right to compensation and assistance, familiarising yourself with your entitlements on your own accord can be beneficial for your peace of mind.
How to Make a Complaint to Transavia
Below, you can explore a step-by-step guide to one way of submitting a complaint to Iberia Airlines:
Contact Transavia's customer care team: To make a Transavia complaint, your first step is to get in touch with their customer service team. You can do this via phone, social media or the complaints form on their website.
Present evidence: Providing any evidence that supports your claim, such as photos, videos and receipts, is important. Doing so can assist Transavia in thoroughly investigating your complaint and responding effectively.
Communicate your expectations: Clearly communicate what you expect Transavia to do to resolve your complaint. This might be to issue a refund, compensation or just an apology. Be reasonable in your expectations, but also be firm regarding your passenger rights.
Keep records: Throughout the process, keep a detailed record of all communication between yourself and the airline, including dates, times and the names of the customer service representatives you spoke with. If you need to follow up on your complaint at some point, having this information can be helpful.
Follow-up: If you fail to receive a satisfactory response to your complaint, consider following up with Transavia to ensure the appropriate handling of your complaint. If required, you can escalate the matter to a higher level within the company.
Seek assistance from a third party: If you feel that Transavia has infringed your rights or violated its agreement with you, seeking help from a third-party organisation such as AirAdvisor is recommended. With a team of legal experts on your side, you can be sure your complaint receives the appropriate attention and is resolved effectively.
Ways to Make a Complaint to Transavia
If you intend to lodge a complaint with Transavia, you can do so via one of the following means of communication:
Transavia Complaints Email
Transavia doesn't have an email address you can use for complaints, however, they do have a complaints form on their website, which allows you to submit an online complaint without needing to pick up the phone.
The airline also encourages you to contact them via WhatsApp or Facebook to receive a quick response. You can find links to both on the contact page on their website.
Transavia Complaints Phone Number
Transavia has several phone numbers that serve different purposes. While their bookings number is on their website, if you already have a confirmed flight, they provide a separate phone number you can call along with your booking confirmation.
Transavia Complaints Live Chat
They don't have a live chat on their website, but you can chat with them on their social media platforms.
How to Fill Out a Transavia Complaints Form for Cancelled or Delayed Flights
AirAdvisor offers a user-friendly and free tool that helps you check if you're eligible for compensation and assists you in filing a claim against the airline responsible for any flight disruptions. To get started, visit our website and click on the 'Claim Compensation' option. From there, enter your flight details, including the date, flight number and the reason for your complaint. Our tool will then evaluate your claim and inform you of your eligibility for compensation.
If you're eligible, you can complete the claim submission process by providing additional information, such as your contact details and booking reference number. Once you submit your claim, our team of legal experts will work to resolve your case and ensure you receive the compensation you deserve. Please note that AirAdvisor charges a commission fee for successful claims, which is deducted from your compensation payout.
Find out if you are owed compensation for a disrupted flight.Check Your Flight
Transavia Complaint Response Time
While under EU 261 Transavia has 28 days to respond to a complaint, the airline commits to responding to passenger complaints in 7 to 21 days.
FAQ / Common Questions: Transavia Complaints
Here, you can find a list of frequently asked questions and their corresponding answers:
How do I make a complaint to Transavia?
You can use their complaints form, WhatsApp them, send them a message on Facebook or call them.
How do I contact Transavia directly?
Your best option is by phone.
Does Transavia ever give refunds?
If the airline finds you eligible, then you can receive compensation.
How long does Transavia take to respond to complaints?
Typically, between 7 and 21 days.
Is it worth complaining to Transavia?
If your complaint is within valid reason, then yes.
Does Transavia have a live chat?
They don't.
Why is my Transavia refund taking so long?
The processing time for refunds may vary between cases.
How much does Transavia charge for special assistance?
Transavia does not charge for basic assistance services such as assistance for visually impaired, hearing impaired or disabled passengers.
Can you sue Transavia?
If you have a legal dispute with Transavia, such as a breach of contract or a violation of your rights as a passenger, you may pursue legal action against them. Seeking third-party assistance, such as that of AirAdvisor, is recommended if considering suing an airline.
How reliable is Transavia?
Overall, Transavia is a reliable airline that prioritises passenger safety and has an excellent reputation for customer service.