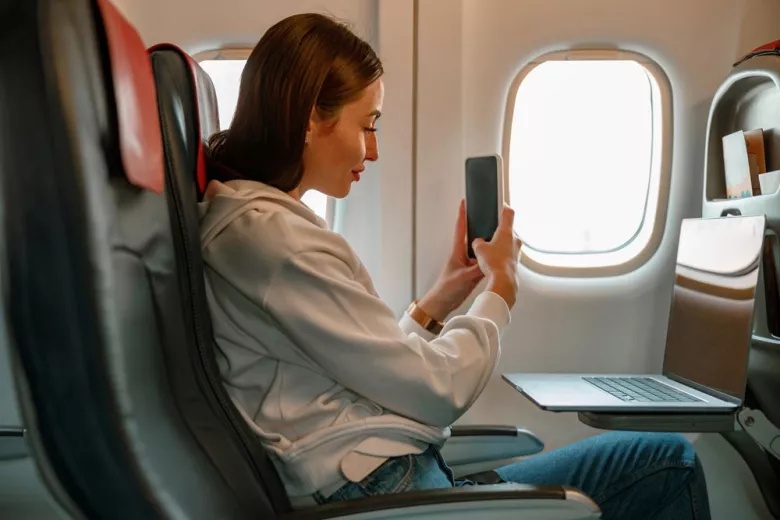 How Do Planes Have WiFi Up in the Air?
In the past, entertainment and communication options on planes were very limited. But now, thanks to the power of modern technology, it's easier than ever to stay connected. But do planes have WiFi? And if so, how does WiFi on planes work?
Well, the truth is that when it comes to answering "Is there WiFi on planes?" the answer is "It depends". Some airlines offer WiFi on flights, and there are more airlines with WiFi than ever before.
This opens up countless new options for passengers in terms of keeping in touch with friends and family, getting work done during a flight, or staying entertained with streaming apps and other online services on delayed flights.
Read on to learn more about WiFi on planes.
Do Airplanes Have WiFi?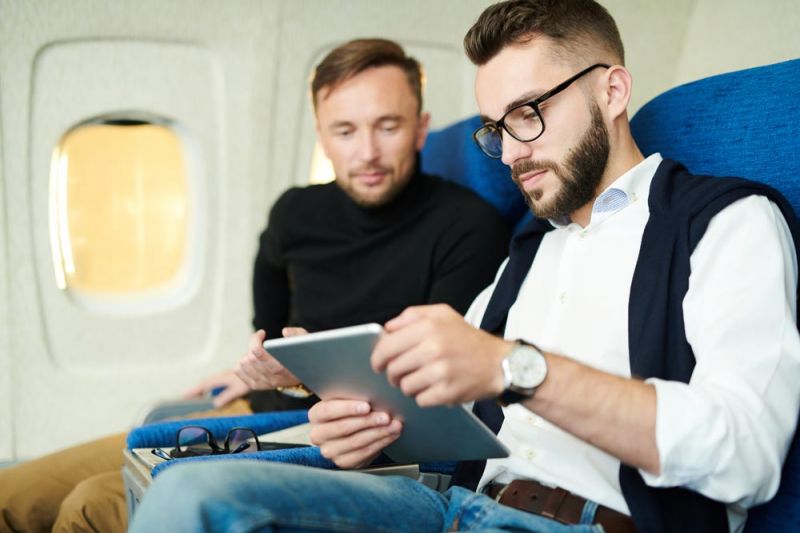 So, can you get WiFi on a plane to catch up with work after a delayed flight or browse the internet and see the latest news? Well, it depends on a few factors, such as the airline you're traveling with, the length and route of your journey, and the type of aircraft you're on.
However, the short and simple answer to "Do they have WiFi on planes?" is yes. A lot of flights now offer in-flight WiFi services for passengers, and it's likely that almost all airlines will offer this service in future to match the rising levels of passenger demand and expectation.
If your flight was delayed, canceled or overbooked within the last 3 years, you could be eligible for up to $700 in compensationCheck Your Flight
How Does WiFi Work on Planes?
You might wonder "how do they get WiFi on planes?" Well, there are actually two different methods that may be used, depending on the airline and aircraft in question: air-to-ground and satellite WiFi.
The air-to-ground method makes use of cell towers, just like the towers that provide internet connections on your phone when you're on the ground. These towers send WiFi signals up into the sky, delivering connections to planes flying above.
The other method involves satellites. Planes have an antenna mounted on top of them which can pick up signals from satellites to provide WiFi services for the people on-board the plane. This is relatively new technology, but a lot of airlines are adopting it.
How Do You Get WiFi on Planes?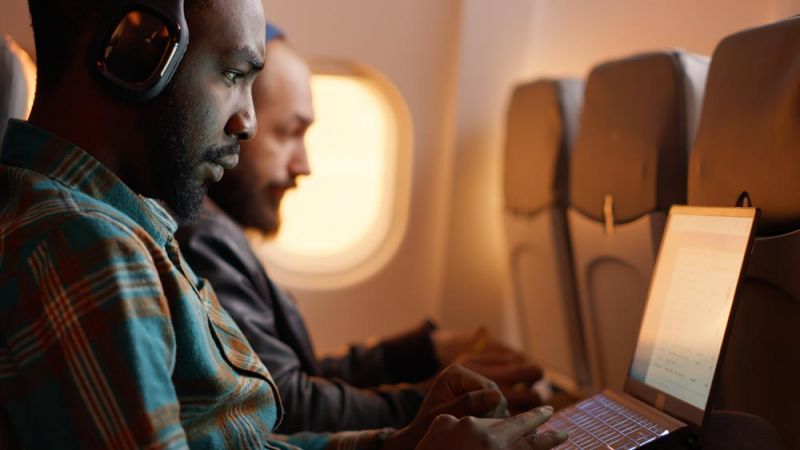 So how do you actually access in-flight WiFi services, like WiFi on planes to the UK or WiFi connections on your next flight to the United States? Well, the airline should usually provide all the information you need about this service.
They may even let you know at the time of booking or once you're seated on board the aircraft. There may also be reference to the in-flight WiFi on a leaflet or manual in the pocket in front of your seat.
Usually, connecting to in-flight WiFi is just like connecting to any other kind of public WiFi service; you simply need to activate your device's WiFi, find the relevant hotspot, and click on it to connect.
You might need to enter some details about your ticket number or other information to confirm your identity and access the service, and you may need to pay for it, too, which leads us to the next section.
Do You Have to Pay for WiFi on Planes?
Once again, the answer is that it depends. Some airlines offer free WiFi as standard (like JetBlue, for example), but others charge set amounts for the flight or per hour of usage (like Delta Air Lines).
Sometimes, WiFi might be included as part of the cost of your ticket. For example, business class WiFi may be provided to business class passengers, while economy passengers have to pay.
Different airlines have their own systems and structures in place, and all of this is subject to change. It's likely that airlines will adapt their payment plans over time in response to customer feedback and trends in the industry.
FAQs
Claim with AirAdvisor and get up to €600 (700$) compensation. Find out how much you're owed today.Check Your Flight
Can You Use WiFi on Airplane Mode?
No, when you activate airplane mode on your phone or tablet, it cuts off all WiFi connections and data connections. So you won't be able to access the internet in any way until you deactivate this mode.
Can I Get WiFi on a Plane?
It depends on the airline you're flying with. More and more airlines are offering in-flight WiFi, but some still don't.
Can You Use WiFi on a Plane to Use Streaming Apps?
It depends on the strength of the connection. Some in-flight WiFi services are good enough to stream videos and use various online services, but many of them are quite slow and weak, at the moment.
Which Airline Has WiFi on the Plane?
You can consult this list to see all the airlines that currently offer WiFi on the plane. Some of the top names include Air Canada, Air France, American Airlines, British Airways, Etihad, JetBlue, and United.
No feedback