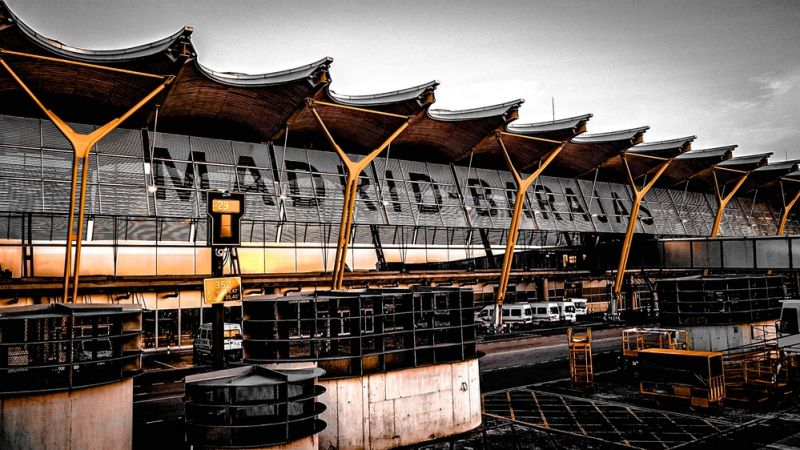 Adolfo Suárez Madrid–Barajas Airport is a busy European airport, serving millions of passengers each year. While the airport aims to maintain smooth and efficient operation, flight delays and cancellations are sometimes inevitable. If you experience a disruption like this, you may be entitled to compensation under European Union law.
AirAdvisor exists to help you claim compensation for a range of air travel disruptions by providing you with the tools and support to navigate the complex legal process. In this article, we discuss the types of compensation you may be eligible for at this Madrid airport, how much the compensation can be worth, and how to claim it.
How to Claim Madrid-Barajas Airport Flight Delay Compensation
Like any other major international airport, Madrid–Barajas Airport experiences flight delays from time to time because of a range of reasons. These reasons might include air traffic congestion, technical problems, weather conditions and other circumstances. The good news is, if you're on the receiving end of a delayed flight at this airport, you may be eligible for flight delay compensation in accordance with your rights as a passenger in the EU.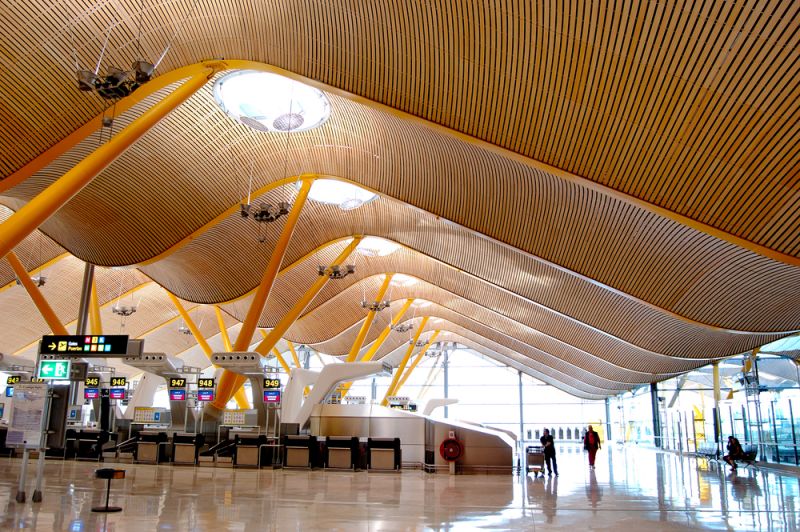 Passenger Rights in Case of MAD Flight Delay
As Madrid Airport is based within the European Union, if you're departing on flights from this airport, you're covered under EU Regulation 261/2004, also known as the EU261. The regulation stipulates that if your flight is delayed by over three hours for reasons excluding extraordinary circumstances (severe weather, political instability, etc.) you may be eligible for delayed flight compensation.
Besides monetary compensation, you may also be eligible for other benefits, for instance, meals, refreshments and accommodation, though this depends on the length of the delay you experienced and the distance of your flight. It's important to note that if you're seeking flight delay compensation, there's typically a requirement for you to claim it within three years of the flight.
Find out if you are owed compensation for a disrupted flight.Check Your Flight
How Much Can You Claim for MAD Delay
The amount of compensation you can claim for a flight delay experienced at Barajas Airport usually ranges from €250 to €600. How much compensation you receive depends on a number of factors, illustrated by the table below: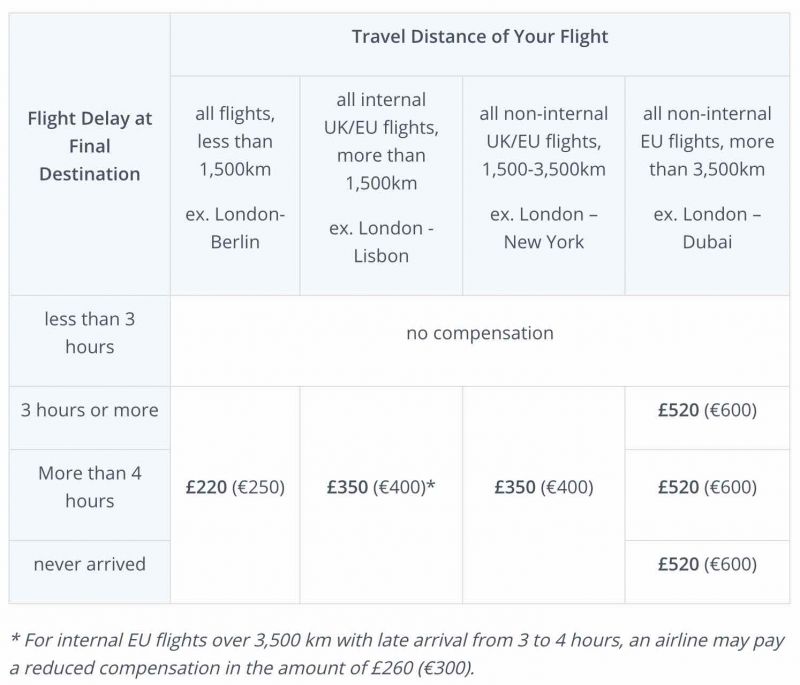 Madrid Airport Cancelled Flight Compensation & Refund
There are numerous reasons your flight departing from Adolfo Suárez Madrid–Barajas Airport may be cancelled. For example, adverse weather, technical issues, strikes and other operational issues. Luckily, in many of these cases, you can be eligible for cancelled flight compensation and a full flight refund.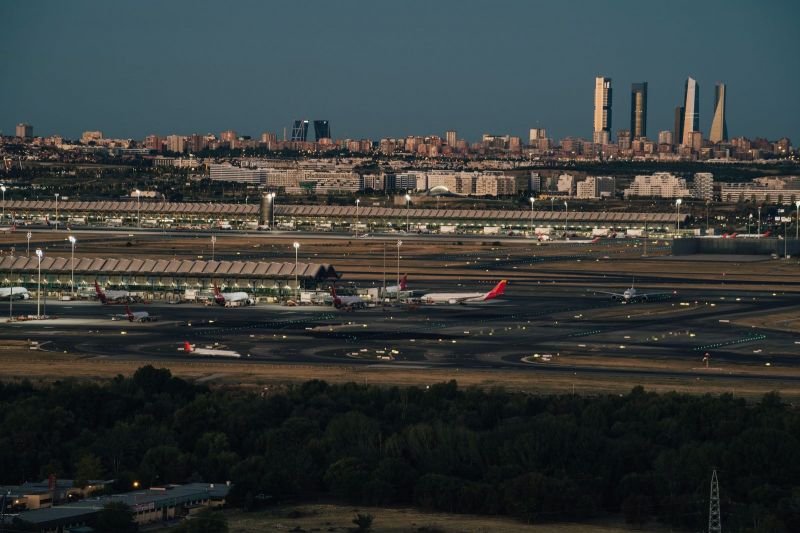 Cancelled Flight Law in Europe
The cancelled flight law within the EU261 protects your rights as a passenger and ensures that airlines are held accountable for cancelled flights, whereby the disruption was within their control. The regulation stipulates that you may be eligible for monetary compensation, as well as other assistance, such as meals, refreshments and accommodation if you meet the following criteria:
you booked the flight yourself
your flight was cancelled within a two-week period from the scheduled departure date
the cancellation was due to a reason within the airline's control
the flight leaves from an EU airport (which it does if departing from Adolfo Suarez Madrid Airport)
In addition to compensation, you may choose between receiving a full refund for your flight or being booked on an alternative flight to your final destination on an available date of your choice.
Claim with AirAdvisor and get up to €600 compensation. Find out how much you're owed today.Check Your Flight
Madrid MAD Cancelled Flight Compensation You Can Claim
How much compensation you can claim for a cancelled flight at Madrid Airport can depend on a number of factors. These factors can include your flight distance and the extent of the delay caused by the cancellation. Typically, the amount you can claim varies from €250 to €600.
Should the airline offer you a travel voucher in response to a cancelled flight, it's important to carefully review the terms and conditions of the voucher. By doing this, you can ensure you're not waiving your rights to a cash refund or compensation by accepting it.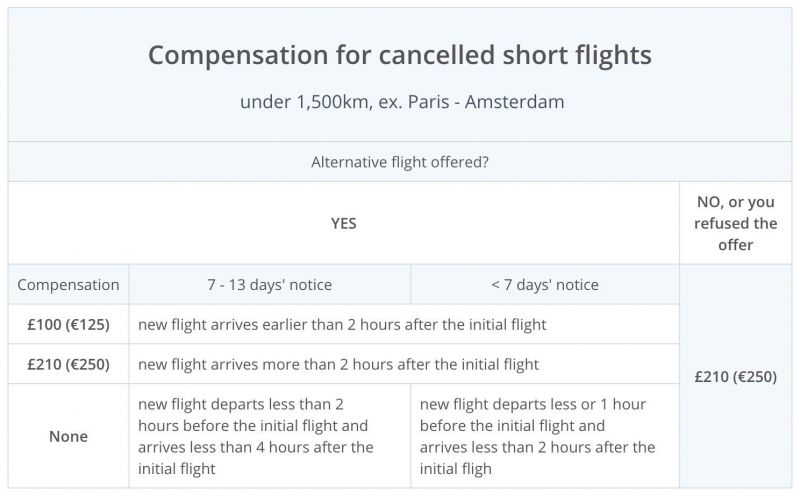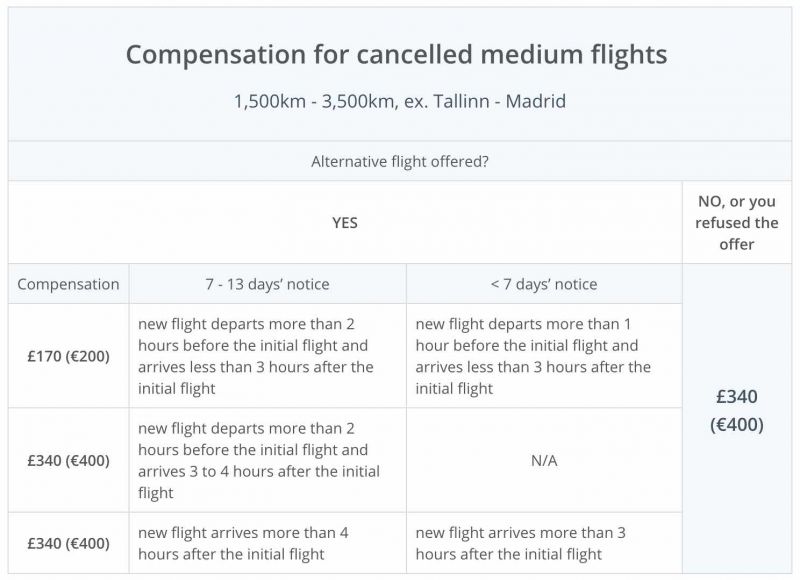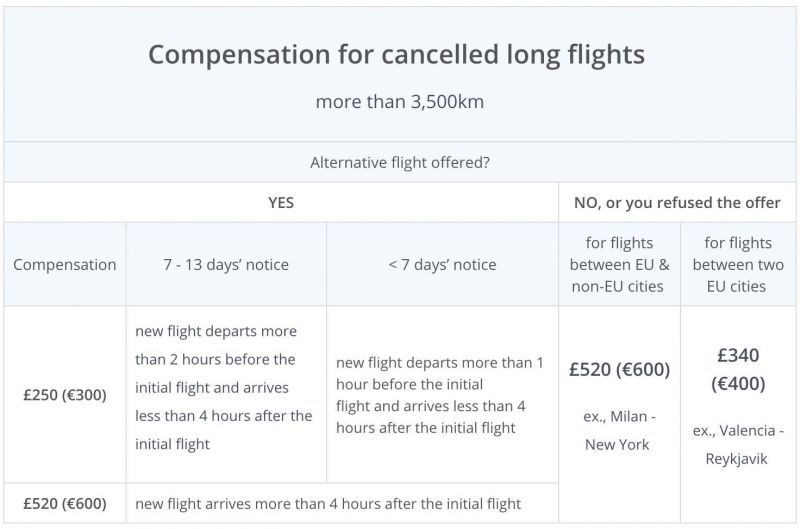 Denied Boarding at Madrid MAD Airport
Being denied boarding at any airport can be an extremely frustrating experience. Knowing your rights in case of denied boarding and options for compensation, in this case, can help lighten the burden. If you're denied boarding at Madrid–Barajas Airport, you can be eligible to receive compensation, re-routing or a full ticket refund. The compensation you're entitled to depends on the reason you were denied boarding and the length of the delay you experienced as a result.
For example, under EU261, if you had a confirmed booking and checked in within the specified timeframe but were denied boarding due to overbooking, the airline may owe you compensation ranging from €250 to €600. Depending on the circumstances, you may also be entitled to free refreshments, meals and accommodation.
Figuring out how much you are owed for a disrupted flight can be complicated. We're here to help. Let us assess your compensation for you.Check Your Flight
Claim Madrid Airport Compensation With AirAdvisor
AirAdvisor understands that experiencing a delayed, cancelled or overbooked flight can be a stressful experience. We're here to help you claim the compensation you deserve with our easy-to-use service that guides you through the claims process and handles all the legal aspects on your behalf. The best part is, there's only a fee for our services if we're successful in obtaining the compensation you deserve, meaning no financial risk to you.
Below, you can review the steps for claiming Madrid–Barajas Airport compensation through AirAdvisor:
Go to the AirAdvisor website and click on the "Check Compensation" button.
Enter your flight details, including the airline, flight number, departure and arrival airports, and date of the flight.
Provide any additional information about the delay, such as the reason for the delay or any communication you received from the airline.
Submit your claim, and we'll evaluate your case to determine if you are eligible for compensation.
If you're eligible for compensation, we'll handle the legal process on your behalf, including communicating with the airline.
If your claim is successful we'll take a commission from the compensation amount as payment for our services.
Questions and Answers
Below, you can explore some frequently asked questions about inconveniences you may experience as a passenger at Madrid Airport, such as delayed flights, cancelled flights and denied boarding:
Why do flights get delayed at Madrid–Barajas Airport?
There are several factors that can cause delays at Madrid Airport, most of which are unpredictable in nature. You can explore some of the main causes of delayed flights at this airport below:
Weather conditions: Bad weather, such as heavy rain, fog or strong winds may affect flight operations, causing flight delays.
Air traffic congestion: Madrid Airport can experience high levels of air traffic, which can lead to delays in takeoff or landing.
Technical issues: Technical problems with the aircraft, such as mechanical or electrical issues, can delay your flight.
Late aircraft arrival: Delays on previous flights can cause the aircraft to arrive at Madrid Airport late, which can cause delays for the subsequent flight.
Airline or airport operations: Issues such as staff shortages, gate availability and baggage handling problems may also cause flight delays.
Runway maintenance: Scheduled or unscheduled maintenance work on the airport's runways or taxiways can cause flight delays, as flights may require rerouting or rescheduling.
Security incidents: A suspicious package or unauthorised access to a restricted area, for example, can cause delays as the airport conducts security procedures to ensure the safety of airport personnel, passengers and crew.
How do I claim compensation if my flight from Madrid was delayed or cancelled?
If you experienced a delayed or cancelled flight at Barajas Airport, you can contact the airline responsible directly, or rely on our expert team at AirAdvisor to handle it for you. You'll need to provide flight details and any supporting evidence along with your claim. It's also important to act quickly as there can be time limits in which you're eligible to make a claim for compensation.
What to do if I am denied boarding at Madrid Airport?
If you're denied boarding at Madrid Airport, your first step should be to seek an explanation from the airline, preferably in writing. Typically, airlines deny boarding if the flight is overbooked or if you're without the required travel documents or visas.
If you believe that the airline wrongly denied you boarding, you may be eligible for compensation under EU261. It's important to keep all your travel documents, boarding passes and any other evidence to support your claim.
Your next step can be to contact a customer service representative at the airport or the airline's customer service centre to discuss your options for rebooking or obtaining a refund. Should you have issues with this process, AirAdvisor is, of course, here to lighten the load.