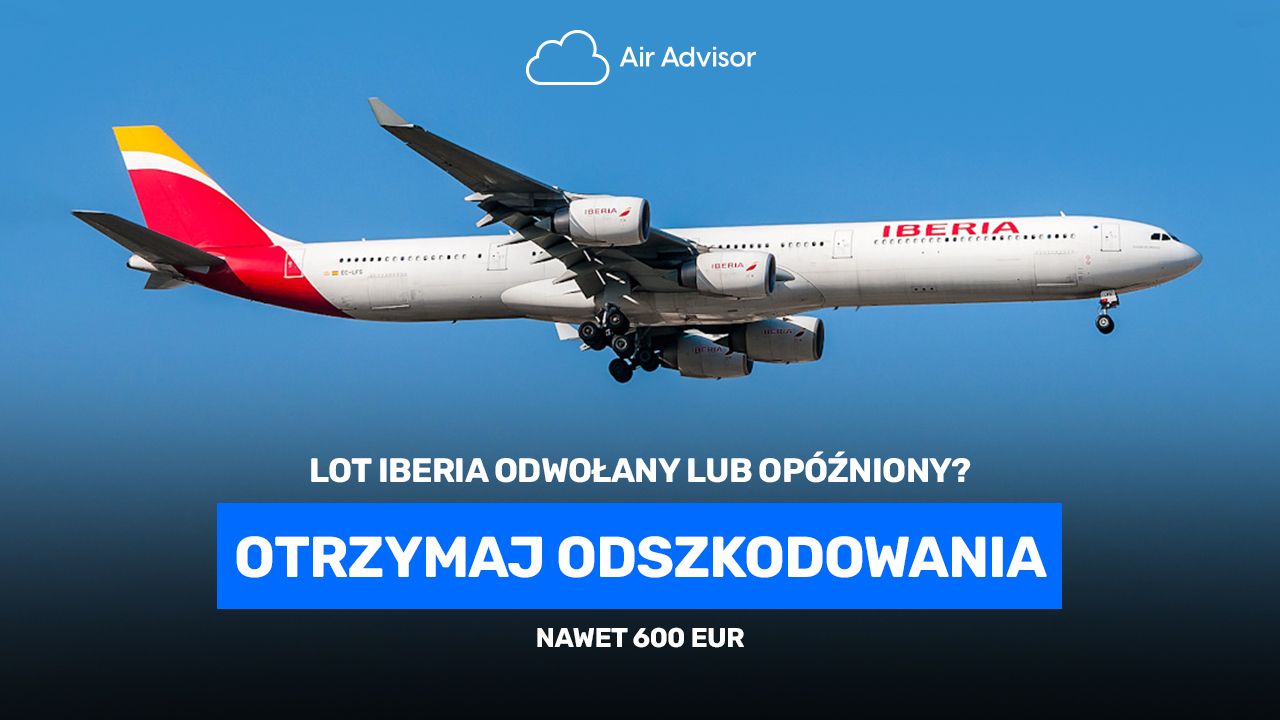 W jakich sytuacjach przysługuje odszkodowanie za lot linią Iberia?
Podczas podróży samolotem mogą mieć sytuacje, które w istotny sposób wpływają na plan dalszej podróży. Niepotrzebny stres związany z oczekiwaniem na dalsze komunikaty, może sprawić, że cała przyjemność z lotu znika. W takich sytuacjach warto mieć wiedzę na temat tego, jak się zachować oraz czego domagać. Uregulowane są bowiem pewne sytuacje, w których możesz mieć prawo do odszkodowania.
Prawo do odszkodowania może przysługiwać pasażerom w wymienionych poniżej przypadkach:
Na całym świecie, kwestie roszczeń odszkodowawczych od linii lotniczych są opisane w różnych przepisach i regulaminach. Na terytorium UE kluczowe znaczenie mają przepisy unijne, a zwłaszcza Rozporządzenie (WE) nr 261/2004.
Według Rozporządzenia WE 261, pasażer w określonych przypadkach ma prawo uzyskać odszkodowanie za lot opóźniony bądź odwołany. Ubiegać się o odszkodowanie na mocy rozporządzenia może, gdy:
Rozkład lotu obejmował terytorium Unii Europejskiej.
Lot dotyczył trasy zaczynającej się w kraju UE, a kończącej się poza UE.
Lot zaczynał się poza UE, ale kończył na terytorium UE. Dodatkowym warunkiem jest obsługa lotu przez europejską linię lotniczą.
Zazwyczaj unijne przepisy mają zastosowanie w przypadku polskich podróżujących. Jeśli jednak ma miejsce sytuacja, w której unijne rozporządzenie nie ma zastosowania, należy powołać się na inne przepisy, które są wiążące w danym kraju (np. w Stanach Zjednoczonych są to przepisy Amerykańskiego Departamentu Transportu).
Co więcej, w unijnych regulacjach znaleźć można odpowiednie zapisy dotyczące wysokości rekompensaty finansowej. Jest ona zależna od długości trasy i maksymalnie może wynosić nawet 600 euro.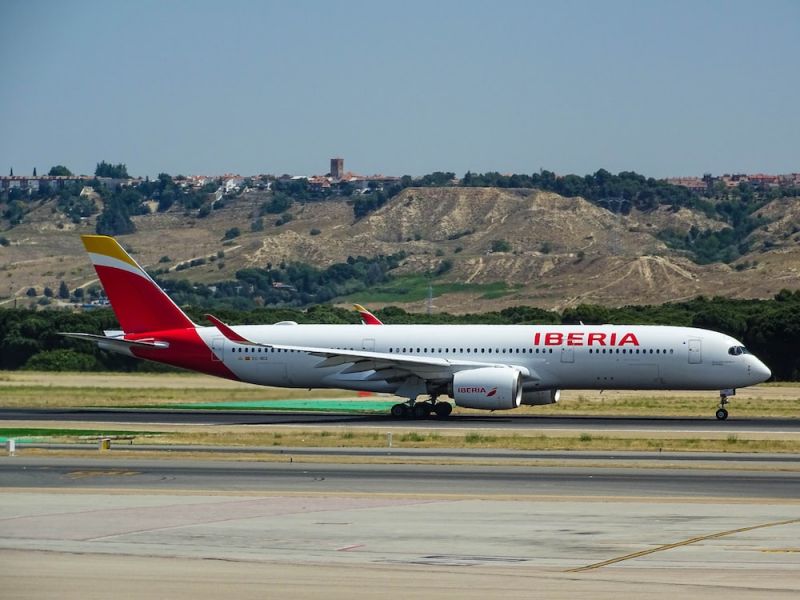 Zakłócony lot? AirAdvisor może Ci pomóc w ubieganiu należnego odszkodowania.Dowiedz się więcej!
Jak uzyskać odszkodowanie, gdy lot Iberia był opóźniony?
Istnieje możliwość otrzymania odszkodowania za opóźniony lot, na podstawie unijnych regulacji, w uregulowanych prawnie sytuacjach. Muszą jednak zostać spełnione określone wymogi. Przede wszystkim długość opóźnienia musi wynosić więcej niż 180 minut.
Kolejnym warunkiem do uzyskania odszkodowania jest powód opóźnienia. Musi on wynikać z czynników zależnych od linii lotniczej, w tym przypadku od linii Iberia. Tak więc, jeśli Twój lot został opóźniony, ponieważ ma miejsce strajk linii Iberia bądź nastąpiła awaria maszyny, przysługuje Ci prawo do ubiegania się o odszkodowanie.
Natomiast w przypadku, gdy Twój lot Iberia był opóźniony z powodu nadzwyczajnych okoliczności (np. niebezpieczne warunki pogodowe), przewoźnik nie ma obowiązku pozytywnego rozpatrzenia wniosku o odszkodowanie.
To jaka kwota może zostać wypłacona za opóźniony lot, zależeć będzie od trasy jaką pokonał samolot.
| | |
| --- | --- |
| Odległość lotu | Wysokość odszkodowania |
| Mniej niż 1500 km | 250 euro |
| Pomiędzy 1500 km a 3500 km | 400 euro |
| Ponad 3500 km | 600 euro |
Powyższe dane są wyłącznie orientacyjne. Wpływ na zasadność i wysokość roszczeń odszkodowawczych ma nie tylko szereg przepisów, ale też specyfika konkretnego roszczenia, z jakim wiąże się konkretny Iberia lot i jego opóźnienie.
Warto pamiętać, że prawo do odszkodowania za opóźniony lot przysługuje również przy locie z przesiadkami. W takiej sytuacji przy określaniu długości opóźnienia, należy obliczyć różnicę pomiędzy planowanym a rzeczywistym czasem przybycia do miejsca docelowego.
Dowiedz się jaka kwota odszkodowania może Ci przysługiwać za odwołany lub opóźniony lot.Sprawdź możliwe odszkodowanie!
Iberia: odszkodowanie, gdy lot został odwołany
Lot odwołany to całkowita zmiana planu podróży. Warto mieć świadomość, że na podstawie praw pasażerów, można domagać się należnej rekompensaty finansowej. W tym przypadku również wiążące są unijne regulacje, dlatego należy zweryfikować czy obejmują one Twój lot.
Jednym z kluczowych wymogów do spełnienia jest powód odwołania lotu. Odpowiedzialność za anulację rejsu musi spoczywać na linii lotniczej. Wystąpienie wszelkich okoliczności nadzwyczajnych nie uprawnia do tego, aby wniosek o odszkodowanie Iberia został rozpatrzony pozytywnie.
Moment poinformowania pasażerów o odwołaniu lotu, również ma znaczenie. Przewoźnik powinien przekazać informacje o tym nie później niż 14 dni przed planowanym wylotem. Skrócenie tego czasu do siedmiu dni może nastąpić tylko wtedy, gdy linia lotnicza zaproponuje równocześnie alternatywny lot o podobnych parametrach.
Przy spełnieniu powyższych wymogów, pasażer może otrzymać należną rekompensatę finansową w określonej kwocie.
| | |
| --- | --- |
| Długość przebytej trasy | Odszkodowanie za odwołany lot Iberia |
| Krótsza niż 1500 km | 250 euro |
| Pomiędzy 1500 a 3500 km | 400 euro |
| Dłuższa niż 3500km na obszarze Unii Europejskiej | 400 euro |
| Powyżej 3500 km poza Unią Europejską | 600 euro |
Decydując się na ubieganie o należne odszkodowanie, warto z dokładnością i uwagą sprawdzać oferty proponowane przez linię lotniczą. Często oferowane są bowiem vouchery, których przyjęcie zazwyczaj skutkuje zrzeczenia się prawa do ubiegania się o odszkodowanie.
Wysokość odszkodowania za zakłócony lot zależy od odległości.Zweryfikuj swój lot!
Linia lotnicza Iberia: czy mogę zażądać zwrotu kosztów za odwołany lot?
Na koniec warto zwrócić uwagę, iż określone są przypadki, w których pasażerowie lotniczy mogą żądać nie tylko odszkodowania, ale również zwrotu pieniędzy, w tym za dodatkowo odniesione koszty. Wniosek o zwrot pieniędzy Iberia ma uzasadnienie np. wtedy, gdy linie lotnicze odwołały lot na kilka godzin przed jego planowanym rozpoczęciem.
W takich sytuacjach można ubiegać się o zwrot kosztów za bilet w pełnej jego kwocie, a także domagać się zakwaterowania oraz opłacenia kosztów transportu i pożywienia.
Zwrot kosztów za odwołany lot Iberia obejmuje wszystkie uzasadnione kategorie wydatków, które pasażer był zmuszony ponieść, ze względu na zaistniałą sytuację. Ważne jest tu to, aby zachować wszystkie rachunki. Warto zadbać o dokładną dokumentacje..
Chcąc szybko i bezstresowo przejść przez proces odszkodowawczy warto skorzystać ze wsparcia specjalistów z AirAdvisor . Doświadczeni eksperci dopełnią za Ciebie wszelkie formalności. Jedyne co musisz zrobić, to skontaktować się z nami. Zwiększ swoją szansę na rekompensatę, decydując się na pomoc AirAdvisor.
Dowiedz się jak możesz uzyskać należne odszkodowanie za opóźniony lub odwołany lot Iberia.Uzyskaj informacje!
FAQ Iberia: najczęściej zadawane pytania
Odszkodowanie za opóźniony lot z Iberia: ile się należy?
W przypadku zasadnego wniosku o odszkodowanie za opóźniony lot, pasażer może otrzymać aż do 600 EUR rekompensaty. Każdy formularz przesyłany do nas jest rozpatrywany indywidualnie, ponieważ bierzemy pod uwagę różne czynniki.
Jak odzyskać pieniądze od linii lotniczych Iberia?
Pierwszym krokiem jaki należy wykonać, jest złożenie wniosku o odszkodowanie od Iberia. Aby zwiększyć szansę powodzenia o realizację takiego wniosku i otrzymanie odszkodowania za lot, warto skorzystać ze wsparcia AirAdvisor, czyli grona ekspertów od odszkodowań lotniczych.
Ile wynosi podatek od odszkodowania lotniczego od linii lotniczej Iberia?
W przypadku odszkodowań lotniczych od linii lotniczej Iberia jak i od innych linii lotniczych, są one zwolnione z opodatkowania.
Jak uzyskać odszkodowanie za spóźniony lot od Iberia?
Po weryfikacji wstępnej, czy lot kwalifikuje się do otrzymania rekompensaty, należy złozyć odpowiedni wniosek do Iberii. Najprostszym, a zarazem najskuteczniejszym sposobem, aby ubiegać się od odszkodowanie za opóźnione loty Iberia jest skorzystanie z pomocy specjalistów w tym temacie, czyli AirAdvisor.
Ile czasu na złożenie wniosku o odszkodowanie do Iberia?
Czas na złożenie wniosku o odszkodowanie do Iberia wynosi do trzech lat od daty w której odbył się albo miał się odbyć lot. W niektórych przypadkach, ten czas może być krótszy, dlatego rekomendujemy o złożenie wniosku o odszkodowanie Iberia tak szybko, jak jest to tylko możliwe.
Jak udokumentować, że lot Iberia był opóźniony?
Najważniejszą kwestią jeśli chodzi o otrzymanie odszkodowania od linii lotniczych Iberia, jest zachowanie odpowiedniej dokumentacji podczas ubiegania się o otrzymanie odszkodowania. Należy zachować wszystkie dokumenty i informacje dotyczące lotu z Iberia. Do wniosku powinny być dołączone takie dokumenty jak:
karta pokładowa
harmonogram lotu
rachunki (potwierdzające poniesienie dodatkowych kosztów)